A spirited celebration of all things Caribbean, Notting Hill Carnival is Europe's biggest street festival – and it's not to be missed
Celebrating the culture, artistic talent, creativity and spirit of the capital's Caribbean community, the Notting Hill Carnival is now in its 55th year. In 2018, over two million visitors took to the street – and this year could potentially see even more. To avoid getting overwhelmed by the crowds and the flurry of exotic costumes, colourful floats and parade bands, this guide can help you navigate your way to the best foodie hotspots.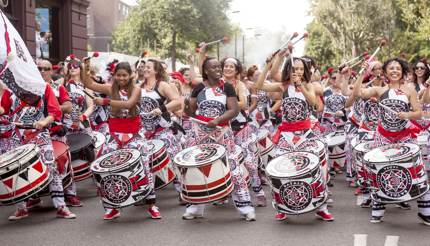 The story behind Notting Hill Carnival
Although the carnival is a vibrant spectacle today – its history is not as colourful. Dating back to the 1950s, workers from Caribbean islands, such as St Lucia, Jamaica and Trinidad immigrated to the UK, as the region's economy was badly affected by WWII. Many of these migrants lived in Notting Hill and Brixton, where the conditions were bad and crime, poverty and racial tension was rife. In 1958, the first of the country's race riots began, and the creation of Notting Hill Carnival came about – to bring people together and alleviate the tension.
Claudia Jones, a Trinidadian political activist and journalist, was instrumental in the birth of the first carnival, which was originally held at St Pancras Town Hall on 30 January 1959. From that year on, the carnival occurred annually and moved from the hall to the streets of London, where it continued to gather more and more momentum.
Where does the carnival take place?
Notting Hill Carnival takes place across W10 in West London, in areas including Notting Hill, Westbourne Park and Ladbroke Grove. A highlight of the event, the main parade starts on Great Western Road and continues along Chepstow Road and Westbourne Grove before returning to Ladbroke Grove.
Usually, the carnival happens on the bank holiday weekend at the end of August, and this year, the dates of Notting Hill Carnival are the 25 to 26 August. Sunday is 'Family Day', which is generally less raucous than the Monday. The carnival is also free – so you don't have to buy tickets or pay to get in.
How to get there
Many of the roads will be closed over the weekend, so the best way to travel is via public transport, and there will be extra buses running. Nearby Tube stations will either be closed or exit-only, or lines can be disrupted – make sure to check your route before you set off.
What to expect
On Sunday 25 August, the carnival starts at 6.00 am – and the traditional opening ceremony is called J'ouvert. The main attractions on this day include a Children's Parade, with music dancing and bright costumes, as well as the main parade and the steel band music competition. Sunday is known as 'Family' Day', which is generally less raucous than the Monday party and there are many kid-inspired floats in the parade. On Monday, 26 August, you can witness the Grand Finale – a parade with more dancing, floats and steel pan performances.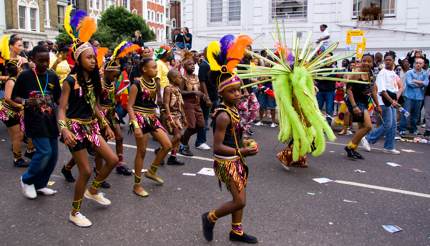 Closed, flat and comfortable shoes are recommended, as you will be doing plenty of walking and dancing throughout the day. Many people also choose to dress-up in vivid clothing and accessories, so if you want, you too can get into the spirit of things this year. It's also a good idea to pack some sunscreen and bottles of water to stay protected and hydrated throughout the merriment.
There aren't many ATMs located along the carnival route and not every street food vendor will accept card payments, so be sure to carry cash with you.
Arrive early and be prepared
As the carnival can get extremely packed – it's best to head there early to make your way around some of the 300 food stalls before the queues start snaking down the streets. Do your best to hold back on a heavy breakfast too, as a wealth of delectable Caribbean delicacies await you. Authentic Caribbean cuisine has many influences, ranging from British and Spanish to African and Dutch. As a result, the dishes and flavours are delectably diverse, so be brave and try to sample a bit of everything.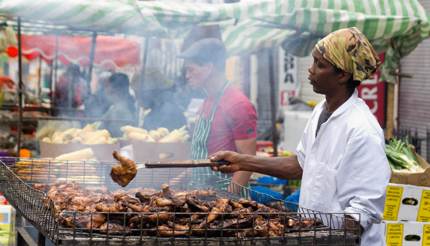 Where to go for Caribbean must-try meals
Prepare your palate for a Caribbean feast of jerk chicken, Jamaican patties, curries, plantain, and copious amounts of rum.
Jamaican jerk chicken is one of the most iconic Caribbean dishes, and this eatery has mastered it to perfection. Jerk refers to the style of cooking, which is native to Jamaica and involves marinating and rubbing the chicken or other meat in a spicy marinade sauce. Here, you can also dabble in chips dusted with a homemade jerk rub, the signature Biryani, Biriyardi, as well as jerk spiced saltfish cakes.
Specialising in jerk chicken and authentic Caribbean fare with a sophisticated twist, The Rum Kitchen is all about playful dishes and powerful flavours. You can't go wrong with the curry mutton and roti, the firepit fish or pork belly ribs, all washed down with one of the cocktails from their rum-based drinks menu or keep things classic with a can of Red Stripe – a Jamaican pale lager.
The burgers whipped up here have a Caribbean influence – and you can forget about bland meat patties and dry buns. Instead, the menu pays homage to the owner Josh de Lisser's Caribbean heritage and is heavy on the spices. The jerk chicken burger is remarkably tender, served with mango, pawpaw sauce, rocket and fried plantain. Mouthwatering sticky wings and plantain fries can serve as excellent pick-me-ups during the carnival.
Rudie's roots are truly Jamaican – and the dishes here are outstandingly tasty and authentic. The jerk is prepared using traditional methods, marinated for 24 hours and cooked in a drum over coals to give it a delicious smoky flavour. The menu is small and selective, but the slow-cooked jerk pork shoulder is bound to impress, as is the jerk platter, offering you a bit of everything. It would also be a shame not to conclude your meal with a slice of the rich chocolate rum cake, served with a dollop ice cream and caramel.
This spirited London Caribbean local is all about good vibes and equally good food. Their signature jerk chicken has made a name for itself – and it's definitely worth the hype. Marinated in a bold blend of spicy Jerk paste, created from secret ingredients, this dish is served with pineapple and mango salsa, rice and peas, and coleslaw. For vegetarians, the chunky slices of jerk halloumi, smothered in the jerk blend are sure to tick all of the boxes.
This article was first published in 2017 and was updated on 21/08/19.
Before you go, take a look at:
If you found this interesting, you might also enjoy: