Blessed with fertile soil and an abundance of fish, Tenerife offers an eclectic sampling of dishes and wines for you to enjoy
The largest of the Canary Islands off the coast of north-western Africa, Tenerife is a sun and sand hotspot among Europeans. When it comes to food, the Canarian cuisine showcases a unique cultural tapestry that stretches from the island's original inhabitants to the 20th century Canarian migrants who travelled between the islands and Latin America. Traditional Canarian food and drink packs a punch and is best uncovered on Tenerife and its capital, Santa Cruz. Here are some of our favourite options on the island:
1. Mojo
Mojo sauce is the Canary Islands' unofficial condiment and is paired with just about everything, including the famous papas arrugadas (wrinkled potatoes), a highly popular dish in the Canary Islands. There are several versions of mojo sauce but the two most common types are mojo rojo (made from red pepper and garlic) and mojo verde (made from coriander and parsley).
Where to try mojo in Tenerife: Almost every restaurant in Tenerife serves at least two versions of mojo source.
2. Goat cheese
It is said that the residents on the Canary Islands consume more cheese per person per year than other parts of Spain so if you are on the island, try a few local varieties.
Fresco (fresh) goat cheese is most commonly eaten here – this type of cheese is barely a few days old and has a pleasant taste. Cured and smoked cheese are also available – usually from farms around the remote Anaga region. Some of the dairy farmers cover the cheese with pepper or Gofio (a type of flour made with roasted grains). You can order them fresh, grilled (queso a la plancha) or fried (queso asado), accompanied by your preferred mojo sauce.
Where to try goat cheese in Tenerife: You can order goat cheese from almost every restaurant or buy them from grocery stores. If you want to polish off a three-course meal with delicious fried goat cheese as a starter, head to La Hierbita (Calle Clavel 19).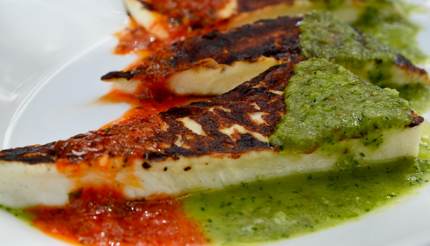 3. Papas Arrugadas (Wrinkled potatoes)
Potatoes, or papas as they are known in Spain, hold a special place in the local diet. These "wrinkled potatoes" are boiled in sea salt water for around 30 minutes first, before roasting them to wrinkle the skins and create a crusting of salt. The dish is usually served with mojo sauces.
While relatively simple, potatoes grown on Tenerife and nearby islands are famous for their flavour, thanks to the rich volcanic soil, so give these wrinkled potatoes a go while you're in Tenerife.
Where to try papas arrugadas in Tenerife: Arcón Tapas (Plaza Concejil 2) is a good spot for some traditional papas. Alternatively, head to Bar Restaurante El Cine (Calle Juan Bariajo, 8).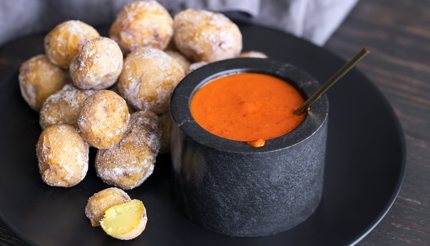 4. Fish and Sancocho Canaria
On this sun-drenched island, fish is traditional. Fishermen deliver sardine, pollock, grouper, sama, mackerel and other fresh fish to restaurants daily. You can have it grilled, fried, stewed or as tartare.
Atún en adobo (marinated tuna) is popular among the locals. To make it, marinate fresh tuna with herbs and spices overnight before frying. It's absolutely delicious.
Sancocho Canario is a type of fish dish commonly eaten on Good Friday. Sancocho usually means stew or thick soup particularly in Latin America. But in Canary, the dish is presented without much gravy. To make this dish, preserved and salted fish is used – after soaking it for 24 hours, boil the fish with potatoes gently and served with your preferred mojo sauce.
Where to try a fish dish in Tenerife: Many restaurants serve fantastic fish dishes in Tenerife. If you want something cheap and affordable, head to Michelle Restaurant (Urbanizacion Playa Fañabe 3). If you are looking for a sea-front restaurant with great ambience, then head to Restaurante Mayte (Avenida Rafael Puig Lluvina).
Sancocho Canario is usually served on Good Friday, so ask around if you happen to be there during the Holy Week.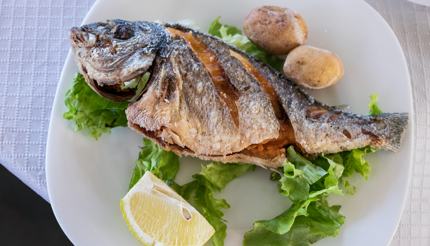 5. Ropa Vieja Canaria
Ropa Vieja is a Cuban dish that is popular throughout the Caribbean but the version in Tenerife is quite different. Here, chickpeas are the main ingredient and in the pot you add leftover meat – sausages, beef, chicken – or you can use odd cuts of meat like trotters or ribs. Herbs and spices are also added into the stew.
Ropa Vieja is an authentic meal served at dinner tables around the isles, variations abound and inspire heated competition among restaurateurs.
Where to try ropa vieja in Tenerife: Restaurant La Cueva in Chinamada (in the remote Anaga region) serves a delicious version of this dish. If that is too far, check out Bodeguita Canaria (Calle Imeldo Serís18) right in Santa Cruz.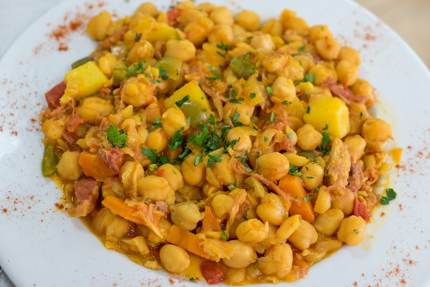 6. Conejo al salmorejo (rabbit stew)
This rabbit stew with a generous pinch of paprika is very popular in Tenerife. To make this dish, marinate rabbit meat with a sauce made of oil, wine, vinegar, paprika, chilli pepper, garlic, vinegar and herbs like rosemary and thyme overnight first. On the following day, fry the meat before simmering it with the sauce over low heat.
Where to try conejo al salmorejo in Tenerife: Bodeguita Canaria (Calle Imeldo Serís 18) in Santa Cruz serves a splendid version. Otelo2 (CC Litoral) is a chicken restaurant but its rabbit stew deserves a mention.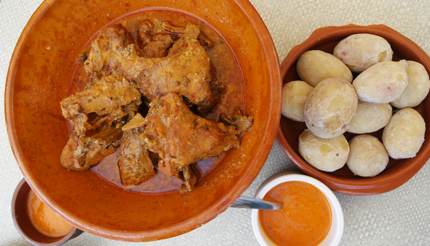 7. Gofio
You are likely to hear the term gofio often if you chat with the local foodies because gofio is a legacy left by the Guanche people (the native inhabitants). Gofio is actually a type of flour made with toasted grains – most commonly from millio (sweet corn).
Gofio is used throughout the islands. Hotels usually have a large bowl of nutritious gofio flour next to an array of cereal for you to sprinkle gofio on your cereal or mix it with milk. Restaurants use gofio in many dishes too, most commonly in a dish called escaldón (gofio is mixed with fish broth). Increasingly, gofio is also used in dessert – from gofio mousse, gofio ice cream to gofio chocolate.
Where to try gofio in Tenerife: Almost every restaurant in Tenerife has a dish that is made with gofio. Failing that, visit a grocery store and grab a gofio energy bar.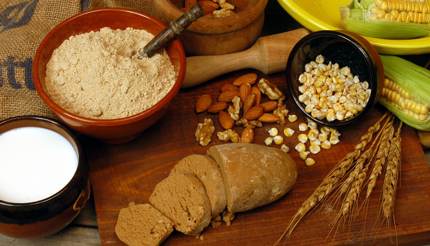 8. Arroz a la cubana
Banana is the main crop in Tenerife and not surprisingly, it is part of the key ingredients in arroz a la cubana, a dish supposedly borrowed from Cuba (although many Cubans are unaware of the dish).
Essentially, this dish consists of rice, sausage, fried egg, along with one or two fried bananas. It is quick to make, also healthy and delicious.
Where to try arroz a la cubana in Tenerife: The best version is usually home-made but failing that, try Restaurante Guaracarumbo (Carretera General Tf55).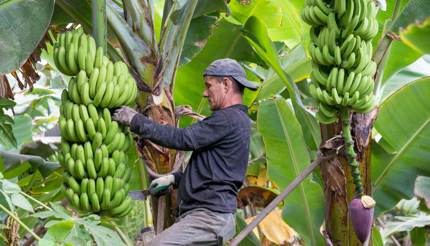 9. Vegan
Nowadays Tenerife isn't all about fish and meat but has a good selection of vegan restaurants. Among them, Buenavida Vegan is our top favourite. The meat-free burgers served with healthy spelt bread are absolutely delicious.
All burgers come with a baked potato at Buenavida Vegan but leave room for dessert if you can, the vegan chocolate cake here is incredibly yummy.
Buenavida Vegan (Centro Comercial Fañabé Plaza in Costa Adeje), about 79km (49 miles) south of Santa Cruz.
10. Wines
The best-kept secret of Tenerife is its wine. The island's mountainous landscape and mineral-rich soil have seen vineyards thriving for centuries, producing excellent dry and acidic white and easy-drinking red. There are a number of wineries on the island that offer wine tasting tours. Some of the best include Bodegas Monje (Camino Cruz de Leandro 36) and Bodega Reveron (Los Quemados 8).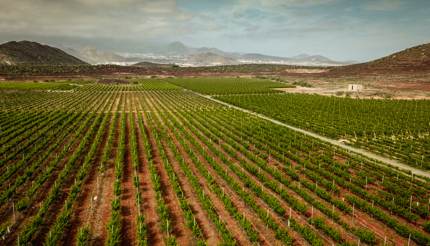 Before you go, check out: