As one of the most diverse cities in the world, London's culinary scene offers an eclectic mixture of British classics and modern, multicultural cuisine
London, the UK's capital and one of the world's most popular tourist destinations, is home to culture-rich ethnic communities that speak over 300 languages and dialects. Multiculturism is woven into many aspects of London life and accordingly, restaurants reflect this in their representation of favourite dishes and tastes. But if you think that food in London is all about immigrants and their traditional recipes, you'd be wrong – reliable and comforting British classics are still ubiquitous, especially in pubs.
In this article, we aim to take you around London and share the nation's favourites, honourable classics, and also authentic ethnic food which we believe all visitors (and maybe even locals) should try in this great city.
English Breakfast
There's no better place to get an English breakfast than England. Often called a 'Full Breakfast', this traditional meal is rather substantial, with bacon, sausages, eggs, hash browns, baked beans, tomatoes and mushrooms all laid out on a big plate. Sometimes you get a side of buttered toast too. While Britain's history brought about many changes and different trends, the full English fry-up has remained a staple of British cuisine and identity – enjoyed among the gentry and the working classes alike.
Where to try English breakfast in London:
Considered London's finest provider of a Full English, Regency Cafe (17-19 Regency St, SW1P 4BY) in Westminster has remained an affordable favourite for over 70 years. This no-frills corner café has also served as a popular location for several TV series and films, including Layer Cake and Rocketman.
If you're after a breakfast served by attentive staff in a grand setting, check out The Wolseley (160 Piccadilly, W1J 9EB), before enjoying a morning stroll in Green Park.
Fish & Chips
For any international visitor, fish & chips are a must-try. This British favourite – battered snow-white fish paired with fluffy chips, liberally sprinkled with salt and doused in vinegar – has been well-loved since the 1800s. The origins of this dish are contested – some credit a Lancastrian named John Lees who opened a fish & chips shop in 1863, while others argue that Joseph Malin, a Jewish immigrant living in East London, sold fish & chips even earlier in 1860. No matter which version you believe in, there is no denying that fish & chips are hugely popular, not just in London but also across the country.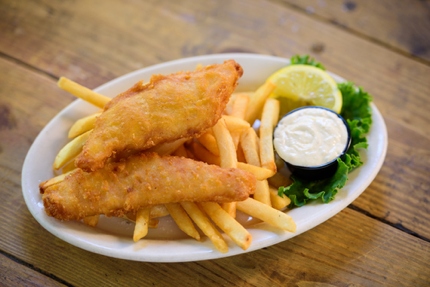 Where to try fish & chips in London:
Poppie's (6-8 Hanbury St, E1 6QR) is for those who want to indulge in delicious fish & chips while going on a journey through British pop culture history. The restaurant's interior is adorned with iconic British imagery and references. Two other branches are in Soho (55-59 Old Compton St, W1D 6HW) and Camden (30 Hawley Cres, NW1 8NP).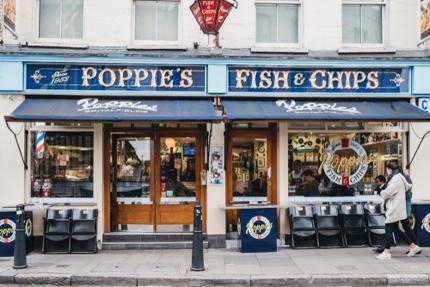 Savoury pies
Thought to have been invented in ancient Egypt, pies might have been introduced to England by the Romans in the 12th century. For many subsequent years, pies helped the nation tackle the food storage challenge – in the days where refrigeration was inconceivable, pie pastry (often thick and hard in those days) acted as a container to help preserve the meat fillings inside for days (or even weeks). Today, the brick-like pastry from yesteryear is being replaced by flaky shortcrust, made with plain flour, butter, a pinch of salt and cold water.
Popular savoury pies to try are steak & ale, steak & kidney, chicken & mushroom, and of course, various vegetarian versions.
Where to try savoury pies in London:
The Windmill (6-8 Mill St, W1S 2AZ) in Mayfair has won awards for its delicious pies, including their Hampshire venison, smoked bacon and wild mushroom pie.
Another place to go for pies is Battersea Pie Station (28 The Market, WC2E 8RA).
Sunday roast
Another tradition of the British Isles, the Sunday roast consists of meat slices (beef, lamb or chicken), roast vegetables (usually carrots, parsnips and potatoes), Yorkshire puddings (a savoury, batter-based pastry) and gravy. In the past, it was probably the best meal people would have all week, and they would use the leftovers in the following days, as cold cuts or in stews.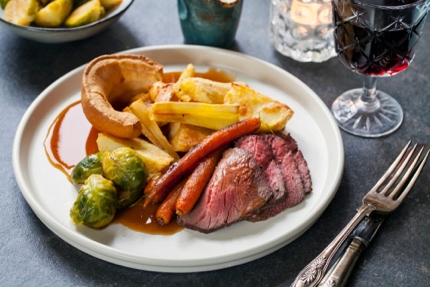 Where to try a Sunday roast in London:
Many pubs across the city offer Sunday roast specials, among them are The Pig & Butcher (70 Liverpool Rd, N1 0QD) in Islington, The Grazing Goat (6 New Quebec St, W1H 7RQ) in Marylebone, and The Guinea (30 Bruton Pl, W1J 6NL) in Mayfair.
Chicken Tikka Masala
In 2001, British Foreign Secretary Robin Cook famously said that chicken tikka masala is a true British national dish, as it is a "perfect illustration of the way Britain absorbs and adapts external influences". He wasn't wrong, of course, as chicken tikka masala has been voted as Britain's favourite dish multiple times. This gloriously delicious Indian curry, with chunks of grilled chicken swimming in a spiced and tomato-based sauce, is available in curry houses and even in some pubs.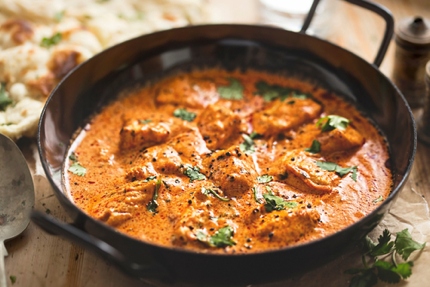 Where to try chicken tikka masala in London:
Most visitors tend to check out London's 'Curry Mile', referring to numerous curry houses that line Brick Lane in the East End, but our firm favourite is Punjab (80 Neal St, WC2H 9PA) – the UK's oldest North Indian restaurant.
Roast duck
Typically associated with Chinese cuisine, roast duck is now enjoyed around the world with Britons enjoying their roast duck just as much as the next country. In London, you can get Peking-style (the duck is inflated with air to separate the skin from the meat before roasting) and Cantonese-style (marinated in a soy-based sauce and requires less preparation time than the Peking counterpart).
Of course, you can also enjoy a British spin on this oriental favourite – a glazed duck breast served with cabbage and served with a rich jus.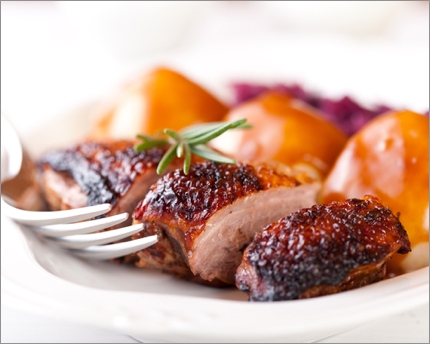 Where to try roast duck in London:
For a feast of delicious Peking-style roast duck, check out Shikumen (58 Shepherd's Bush Green, W12 8QE) or Hutong (33 St Thomas St, SE1 9RY) – both restaurants serve this dish in two stages, with the crispy skin wrapped in pancakes first and the meat later. Hutong is located on the 33rd floor of The Shard, London's tallest building, so it also offers unobstructed views of London.
To enjoy a Cantonese-style roast duck, head to Chinatown and check out Four Seasons (12 Gerrard St, W1D 5PR). They also have a branch nearby (30 Gerrard St, W1D 6JS).
For a traditional British roast duck experience, visit Rules (34-35 Maiden Ln, WC2E 7LB). Established in 1798, it's the oldest restaurant in London.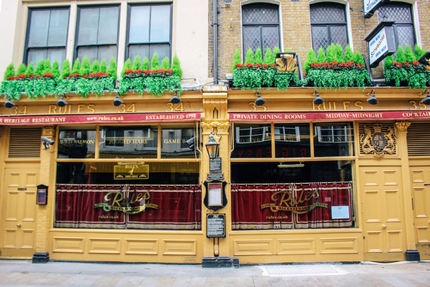 Afternoon Tea
According to royal chefs, Queen Elizabeth II takes a break at 4 pm daily to enjoy a cup of Earl Grey or Darjeeling, accompanied by a selection of cakes, scones and jam pennies (bite-sized delights of white bread filled with raspberry jam and cut to the size of an old England penny). This quintessential British experience is also embraced by the public and visitors alike, and many establishments now offer sumptuous sweet treats in a gilded tiered stand to satisfy your mid-afternoon craving.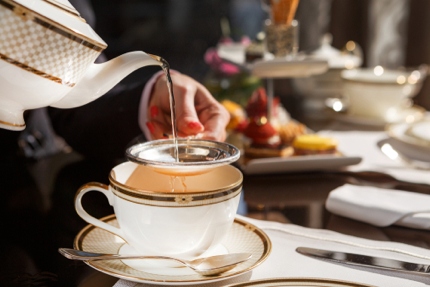 Where to try afternoon tea in London:
For those who are willing to splash the cash, Claridge's (Brook St, W1K 4HR) is the place to go for truly exquisite, traditional afternoon tea enjoyed in a refined setting.
For a modern-day take on this tradition, check out Farmacy (74-76 Westbourne Grove, W2 5SH). This vegan restaurant excels at infusing Cannabidiol (CBD), a natural compound found in hemp plants, into truffles. The hemp loose leaf tea is also worth a mention.
Gin & tonic
Britons love a good drink – and one of the country's most loved beverages is gin & tonic. G&T, as it is affectionally known locally, is said to have been invented by British troops in India in the 19th century. In those days, soldiers were recommended to drink tonic water that contains quinine, a bitter-tasting traditional medicine for malaria. To make the drink more palatable, they cleverly mixed gin, sugar, lime juice with tonic water. The drink soon became popular and found its way into the homes and daily lives of British families.
Where to try G&T in London:
For an immersive gin-tasting experience, you'll want to visit The Distillery (186 Portobello Rd, W11 1LA) to taste their famed gin or to try your hand at gin blending at The Ginstitute.
Another good alternative is the Gin Bar at Holborn Dining Room (252 High Holborn, WC1V 7EN) – with over 500 types of gin and 30 tonics to explore, this is certainly one fun place to pair different brands and find your favourites.
Craft Beer
London has a long history in the act and art of brewing – it was once a powerhouse of craft beer in the 18th and 19th centuries, but the industry had mostly collapsed by the 21st century, with breweries being bought out or moved to other parts of England. In 2010, it was said that only 14 breweries were left in London. Thankfully, the craft beer movement has rejuvenated the industry and they are now over 120 breweries across the city today.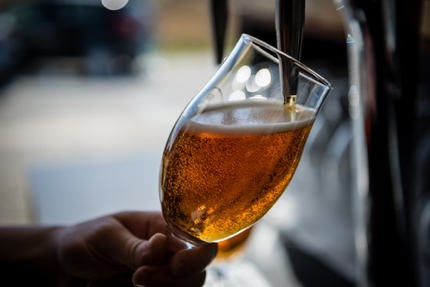 Where to try craft beer in London:
The Bermondsey Beer Mile, made up of different breweries and taprooms along the railway arches, is actually closer to two miles long and an excellent place to start. Here you'll find the likes of Southwark Brewing (46 Druid St, SE1 2EZ), Fourpure (25 Rotherhithe New Rd, SE16 3LL) and Hiverquarters (56 Stanworth St, SE1 3NY), the latter sells honey-flavoured and unpasteurised beer, one of the best we've tasted.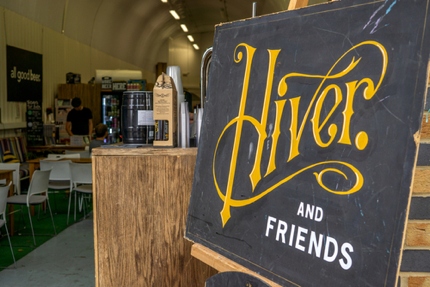 Vegan cake
Animal rights group PETA calls London "the most vegetarian-friendly city in the world" while HappyCow, an online directory for vegan and vegetarian restaurants, crowns London "the world's most vegan-friendly city". Indeed, demand for plant-based dishes has seen a great number of vegetarian and vegan restaurants appear in recent years. Within this boom there is also demand for sweet vegan treats – we know, because we have become rather good at ordering vegan cakes for every office function.
Where to try vegan cakes in London:
Ruby's of London (Greenwich Market) is our go-to vegan cake provider. Vida Bakery (139 Brick Ln, E1 6SB) is also a terrific alternative for sweet-toothed vegans.
You may also like:
This article was updated in June 2021.