Glorious vistas, sublime food, complete seclusion – whatever your idea of the perfect meal out, here's how to find a restaurant to match
Not everybody has the same take on what makes a restaurant 'perfect'.
One person's idea of a relaxed dinner can be too informal for another person's taste. While some love flickering candlelight and snug corner seating, others may prefer bright modern décor or spacious balconies complete with sweeping views. And then, of course, there's your taste in food – does local cuisine tickle your taste buds, or will only a Michelin-starred à la carte experience bring a smile to your face?
Whatever your preference, we've scoured the world for restaurants that offer the most beautiful vistas, extraordinary experiences and delectable cuisine to make your next 'perfect' meal out a memorable one.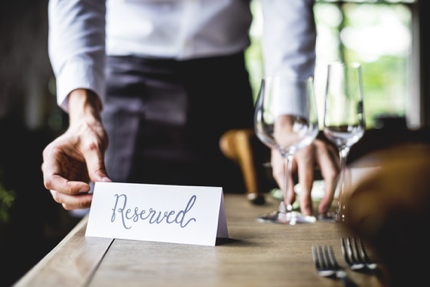 Epic views
Picture sipping Champagne as you look over the ocean at sunset, or perhaps you'd prefer a city view, with the lighted windows of skyscrapers growing brighter as their shadows fade into the dusk. If a spectacular backdrop is likely to impact your definition of a perfect restaurant in a big way, your best bet is to look for a waterfront restaurant, a rooftop venue, or a lovely structure perched on a mountainside. Thankfully, there are plenty of restaurants around the world where the food is as scintillating as the scenery.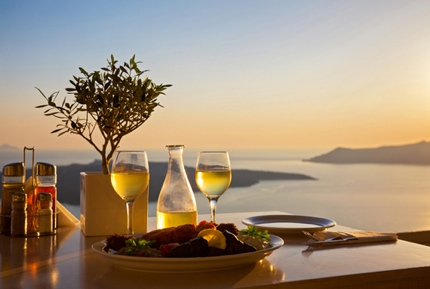 Where to go for ocean views
For a kaleidoscope of vivid colours that often comes with the sun slowly disappearing over the horizon, check out Petra in the famous village of Oia, Santorini. The gorgeous setting of Petra has graced many magazine covers, but fans also gush about its impeccable service and delectable dishes, essential characteristics of the perfect experience for many.
Equally glorious ocean views are on offer at Merriman's in Maui, Hawaii. This oceanfront restaurant, located in Kapalua Resort, is a pioneer in the farm-to-table concept, mainly serving locally grown or caught produce.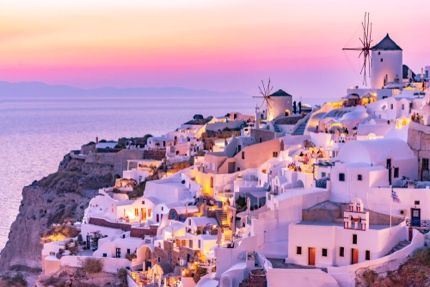 Where to go for city vistas
Perched 345m (1,132ft) above Tokyo with views all the way across to Mount Fuji in the distance, Sky Restaurant 634 must boast one of the world's most scenic dining experiences. The food is delicious as well, and we particularly like the Teppanyaki meal.
Other restaurants with unrivalled views of capital cities include the chicly industrial Bokan in London and Vertigo in Bangkok; the latter is set on a rooftop terrace 61 floors above the city.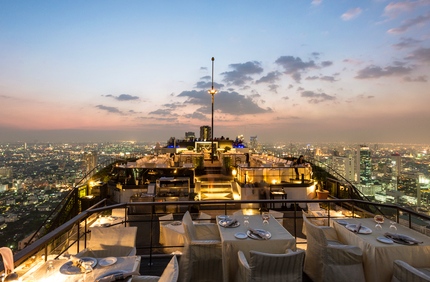 Where to go for mountain montages
Dubbed 'Canada's most elevated dining experience', Eagle Eye Restaurant in Kicking Horse Mountain Resort is sat gracefully at 2,347m (7,700ft) above sea level. To access the restaurant, you must purchase a lift ticket (or a ski pass) that allows you to take a 15-minute gondola ride. Once you get there, you will enjoy a gourmet meal while drinking in panoramic views of the six surrounding National Parks.
Another knockout mountain dining experience is on offer at Ice Q in the Austrian resorts of Sölden, where beef tartar and truffled meatballs are served in a glass-walled building that perfectly presents the snow-capped peaks of Tyrol.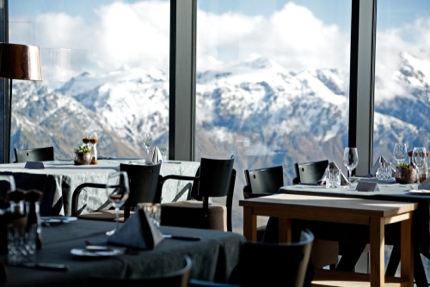 World-beating food
For true gourmands, a perfect restaurant is where the quality of the cuisine takes centre stage, and a good place to start looking is the World's 50 Best Restaurants list, highlighting the planet's most highly regarded eateries.
Mirazur in Menton, a pretty town on the French Riviera, topped the World's Best Restaurants list for 2019, winning praise for its 'Universe' menu, inspired by the cycle of nature and divided into roots, leaves, flowers and fruits.
The Michelin Guide is another trusted source that offers a discerning window into gourmet dining around the world. At the time of writing, Tokyo has 446 restaurants listed in the Micheline Guide Tokyo 2021, making it the city with the most starred restaurants.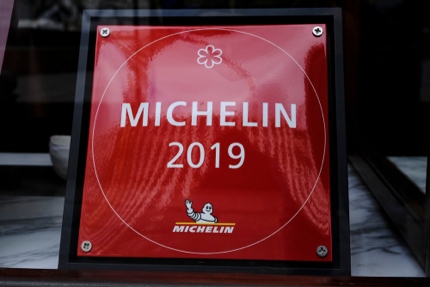 Our favourite, however, is Baiersbronn in Germany, just 16km (10m) away from the stunning Black Forest National Park. In this small community, some 6,000 residents live in an idyllic landscape of low hills and fragrant shrubs, dotted with steep-roofed houses, many of which are adorned with window boxes full of cheerful flowers. It is easy to fall in love with Baiersbronn, even more so if you are a foodie, for it is home to three exceptional restaurants – Schwarzwaldstube (now housed in a temporary location following a devastating fire in January 2020), Bareiss, and Schlossberg. The former two are three-starred restaurants, while the latter is one-starred. If those three aren't enough, there are also five other restaurants here with a Michelin Plate award.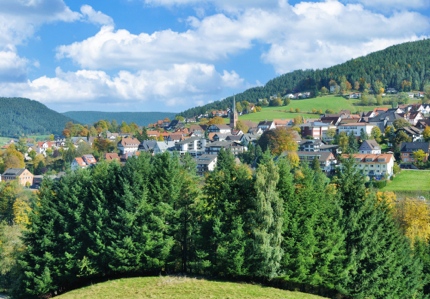 Not all tip-top restaurants make it into the guidebooks, though. Many young and talented chefs are gaining fans through a series of pop-ups. It is worth asking food-minded friends for their recommendations is a great way to discover hidden gems.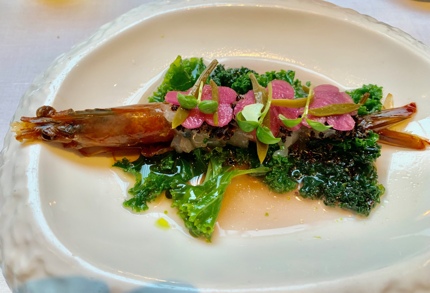 Out of the ordinary
Some restaurants deliver not just extraordinary food but extraordinary experiences as well. Here are our handpicked favourites.
IceRestaurant365, located in Kemi, a town on Bothnian Bay in Lapland, Finland, is about one-and-a-half-hour by plane from Helsinki. In this part of the Arctic, frozen seawater and snow are in abundance, so the clever locals use them to construct a large, frozen 'Snow Castle' – now a year-round attraction. Within the icy complex lies the restaurant, where you sit on a reindeer fur-covered log and enjoy warm meals on an ice table. Should you turn up in your summer clothes, the restaurant can also provide you with warm clothing, so that you can tuck in more comfortably.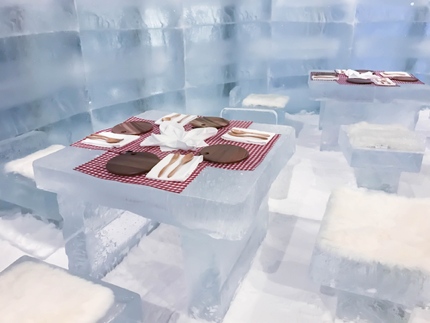 If you are not a fan of ice and snow, then head to Villa Escudero, about 100km (62m) south of Manila in the Philippines. Here, you will be enjoying sumptuous Filipino lunch as you dabble your toes in the plunge pool of a waterfall, which is actually a runoff from the nearby Labassin Dam.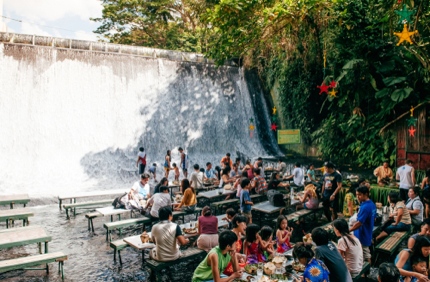 Grotta Palazzese, just 34km (21m) outside of Bari, Italy, is another restaurant worth a mention. Nestled in a limestone cave overlooking the Adriatic Sea and decked out in polished wood flooring, the restaurant manages to feel cosy and stylish at the same time. Thought to be hosting weary travellers since 1700, diners today are treated to modern, innovative Apulian cuisine, all fresh and delicious.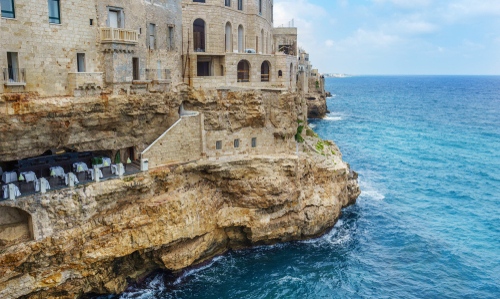 Perfect seclusion
For some of us, there is a thrill in getting off the beaten track to discover hidden gourmet gems, and the journey is all part of the experience.
The Old Forge gastro pub on Scotland's Knoydart Peninsula is the mainland UK's most remote pub, reachable by a boat trip through wildlife-rich waters or a 45km (28m) walk across remote mountainous terrain.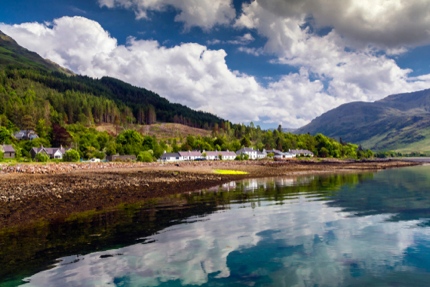 Another remote option is the Faroe Islands. Smack in the North Atlantic Ocean, about half-way between Iceland and Norway, this sparsely populated Nordic archipelago has the two-Michelin-starred restaurant KOKS, which has wowed the gourmet world with dishes made from foraged produce and locally-caught seafood and seabirds.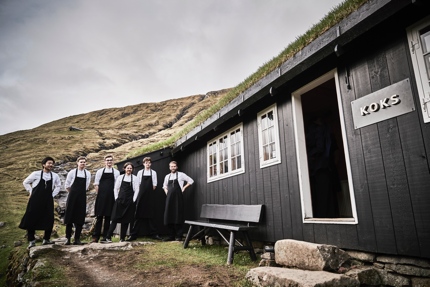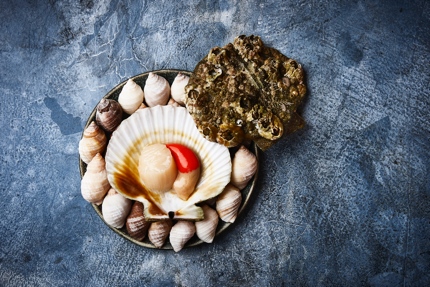 If you had somewhere a little more tropical in mind, Ithaa in the Maldives is an underwater restaurant only accessible by seaplane or boat. With a limited capacity of just 14 people, those who are lucky to get a booking can watch the fish swim by outside the glass walls while enjoying a delicious Maldivian-Western fusion cuisine.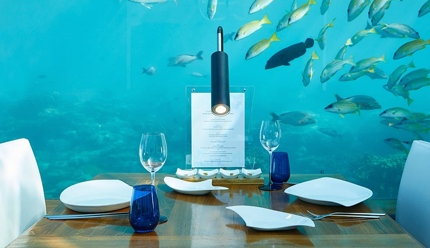 Another hidden gem to be discovered is on Turtle Island, Fiji. This 200-ha (500-ac) private island, part of the 20 volcanic islands in the South Pacific Ocean, is incredibly fetching – you can safely expect to see palm tree swing gently in the breeze and waves crashing on a beach. When it comes to dining, you can choose to dine on an outcrop, under the stars in front of your villa, or on a floating pontoon – that's right, a lantern-lit table, set for two, floats in the Blue Lagoon, and your meal is served by boat. It really is hard to imagine a more perfect setting.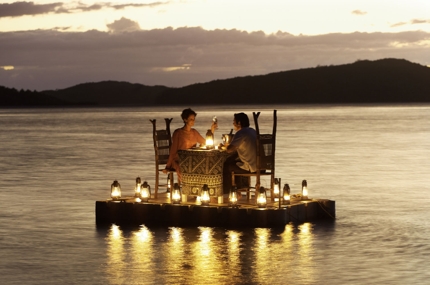 You may also like: