Classic hot dogs are well-loved throughout the world, but increasingly chefs are creating unique hot dog variations that are also delectable
Who invented the first hot dog? If you were to ask a search engine, you would be bombarded with a series of articles with conflicting information – some say that hot dog originated from Germany, others say it is from Austria, and there are also some historians who believe that it was invented by Gaius, the cook of Roman emperor Nero.
Regardless of how this popular snack came about, hot dog is well-loved by many people today, particularly Americans who are said to consume 20 billion hot dogs a year, roughly 70 dogs per person per year. The consumption is said to reach its peak every July, during the so-called National Hot Dog Month.
In recent years, we have also witnessed young chefs from different cultures trying to reinvent hot dogs, so let us go on a journey to look at the different options around the world.
Keeping it classic – Nathan's Famous
Nathan's Famous, a chain of fast-food restaurants specialising in hot dogs, initially began as a nickel hot dog stand in New York's beach resort of Coney Island in 1916. The stand was named after the co-founder and Polish immigrant, Nathan Handwerker, who began the business with his wife, Ida Handwerker. It was Ida who formulated the original and now celebrated hot dog recipe, featuring a secret spice from her grandmother.
Following the stand's success, a number of locations were opened in American and around the world, from Yerevan (Armenia) to Kuwait City (Kuwait), Rajasthan (India) to Southampton (England). But you can still visit the original hot dog stand on Coney Island, which is open for business 365 days a year and has served several famous visitors including Al Capone, Cary Grant and Winston Churchill.
The chain's Coney Island site is also home to the legendary 4th of July Nathan's Famous International Hot Dog Eating Contest (74 hot dogs in 10 minutes is the record to beat). If you are not up for that, you can just order one of these delicious hot dogs served in a soft bun with a mix of mustard and sauerkraut, plus a side of crinkle-cut fries.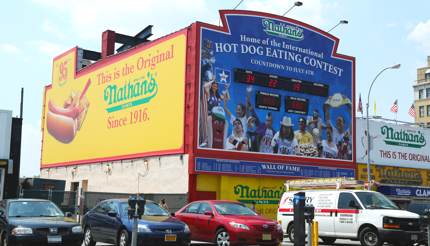 Their website: https://nathansfamous.com/
Before you go check, check out the New York travel guide.
With a Dutch difference – Bulls and Dogs
The Bulls and Dogs in Amsterdam reinvented our beloved snack by switching things around – instead of soft white buns, they use crispy German pretzel buns; instead of mustard and ketchup, they use three-coloured cabbage (white and red cabbage, plus yellow which is made of white cabbage boiled in saltwater and turmeric) – as a result, you get a hot dog that is pleasing to the eye and can also satisfy your appetite.
It isn't just pork meat either; you can get lamb, beef, chicken (halal), tuna, and vegetarian (cheekily known as "It's Not A Dog"). The snack is best enjoyed with its decadent milkshakes or local beers.
Their website: https://www.bullsanddogs.com/van-woustraat/
Before heading to Amsterdam, use our Amsterdam travel guide to plan your trip.
From Japan with love – Japadog
When Noriki Tamura and his wife, Misa, moved from Tokyo to Vancouver in 2005, they had planned to set-up a crêpe store and sell Japanese-style crêpes. Unfortunately (or fortunately), street food vendors were only allowed to sell a limited range of items at that time – one of them being hot dogs. So Tamura decided to switch from crêpes to hot dogs and Japadog was born.
Terimayo is their signature hot dog – a winning combination of hot dog doused with sweet and salty teriyaki sauce, creamy Japanese mayo and topped with shredded nori.
Other popular choices include Ebi Tempura (shrimp tempura and rice in a bun), Kurogoma Kimuchi (turkey sausage with kimchi), and Yakisoba (pork sausage with fried noodles in a bun).
You can find Japadog in seven locations across Vancouver and also in Los Angeles and Santa Monica Pier.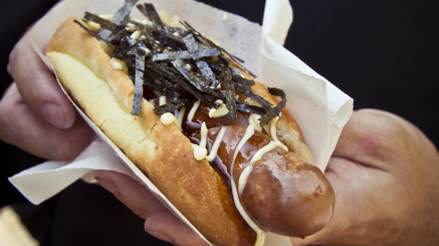 Their website: http://www.japadog.com
Before you go, see our Vancouver travel guide.
A Thai invention – Khanom Tokyo
Despite its name, the only connection between this popular Thai street food and Japan is that it was first sold at the now-defunct Japanese-owned Daimaru departmental store at Central World Plaza in Bangkok in 1967. Khanom means 'snack' or 'sweet' in the Thai language, while the word Tokyo refers to the once Japanese-owned premises.
Khanom Tokyo is now a popular street food in Bangkok and throughout Thailand. The preparation process is fascinating – a street vendor will spread a thin layer of pancake batter on a flat pan, then crack a quail egg and lightly mix the egg white and yolk with a spoon, add some minced meat and a hot dog, drizzle soy sauce and oyster sauce, before rolling it up to form a package that fits all the ingredients snugly.
Instead of sausage, you can also choose to enjoy a sweet treat by having it filled with custard cream, taro paste, or coconut cream flavoured by pandan (a plant-based flavouring).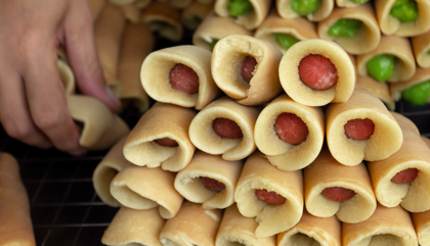 Before you go, use our Bangkok travel guide to help you plan your trip.
An exotic fair – Dat Dog
When you hear that a former federal prosecutor decided to turn hot dog seller, your gut feeling is that the story will just get better and it sure does. Dat Dog started with one hot dog stand in New Orleans and very soon, its diverse array of hot dogs made not just from pork and beef, but also from more exotic options like duck, crawfish and alligator, started to win over a strong local following.
Its four vegan options are equally outstanding. Our firm favourite is the Chipotle dog; made with chipotle and arbol peppers, this dish can ignite a small campfire in your mouth.
Today, Dat Dog has three locations in New Orleans, and one outlet each in Lafayette (Louisiana) and College Station (Texas).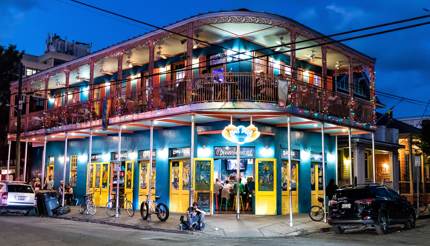 Before you go to New Orleans, use our New Orleans travel guide to help you plan your trip.
This article was first published in 2017 and was updated on 26/09/19.
If you found this interesting, you might also enjoy: