Bulgaria is not yet a well-known wine country, but that is about to change as Bulgarian wineries are carving an admirable niche, writes Vivien Yap
"Finding Bulgarian wine is like finding lost money down the back of your sofa, there is an element of pleasant surprise, in this case it is about how good the wine is," I quip.
I have been expressing my disbelief for the past half-an-hour to my friend Miros as we sit in the tasting room of Dragomir Winery in Plovdiv, Bulgaria. The tasting room, I should point out, is more like a home office, with packaging scattered on one side and various bottles on the other side. The winery is in the process of moving to the village of Brestnik, 10km or 6 miles south of Plovdiv, so I can excuse the apparent chaos. But honestly, with wine this good, you can put me in a cowshed and I would still be smiling. So, let us go on a journey to discover Bulgarian wine together.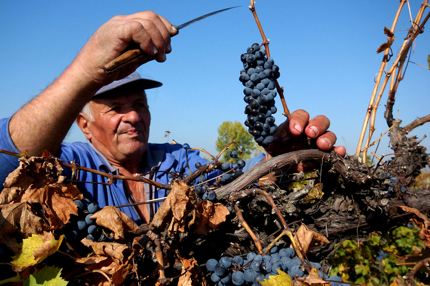 The winemaking started a long time ago
"Did you know that Homer wrote about Thracian wine?" Antonina Porteva, the manager at Bendida wine shop in the heart of Plovdiv, asks me. I have no idea but Google quickly points me to The Iliad. It reads, "Prepare a feast for your councillors; it is right and reasonable that you should do so; there is abundance of wine in your tents, which the ships from the Achaeans bring from Thrace daily."
"We have been making wine for 8,000 years in Plovdiv," she says, her voice laced with pride and I can understand why. I am told that back then, the wine was sweet like cherry and black like ink, and it was rather common to dilute wine with water. Then the craft of winemaking continued to evolve over centuries, spanning through various ethnic groups and cultures from Thracians, Macedonians, Romans, Byzantines, Ottoman Turks to Bulgarians. During the communist years, wineries in Bulgaria blossomed as comrades in the Eastern Bloc held a deep appreciation for Bulgarian wine.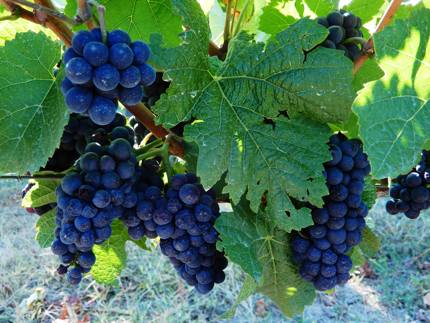 Following the fall of communism, the wine industry was on the decline as painful social reforms and high unemployment plagued the country. This lasted till the late 1990s when liberalisation of trade between the former Eastern and Western blocs began to flourish. On 1 January 2007, Bulgaria joined the EU, ushering in a period of stability which fuelled the wine trade and consumption further. Today, at the time of writing, there are about 300 wineries in Bulgaria and the number is set to increase every year.
The upshot is that Bulgaria has a long history of winemaking, aided by a favourable climate (toasty summers and icy winters), fertile soil, and a culture that is so deeply entrenched with good wine. I believe it is only a matter of time before Bulgaria becomes a formidable force on the world's wine map.
Where should you start
There are five official wine regions in Bulgaria: The Danube Plain in the north, Black Sea Coast in the east, the Thracian Valley in the south, the Struma Valley in the southwest, and the Rose Valley, which is a narrow band squeezed between the Danube Plain and the Thracian Valley.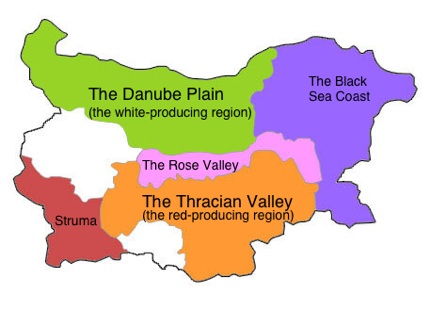 If it helps you to visualise, simply divide the country into two parts in your mind – the white-producing Danube Plain in the north and the red-producing Thracian Valley in the south. The Thracian region is arguably the most important wine-producing region in Bulgaria, and Plovdiv lies in the heart of the Thracian Valley, making it an ideal launch pad to start looking for Bulgarian wine.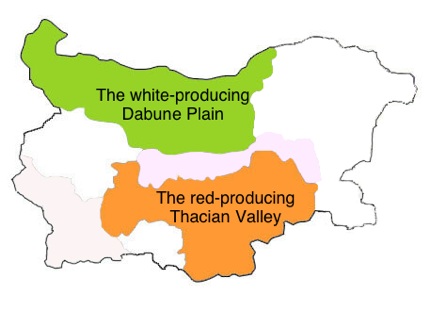 Bulgarian grape varieties
Popular international varieties like Cabernet Sauvignon, Merlot, Syrah and Chardonnay are grown in the rolling hills and grassy meadows around the country. Increasingly though, wineries in Bulgaria are beginning to place a strong emphasis on local grape varieties. As you will hear names like Mavrud and Melnik time and again while in Bulgaria, here is what you need to know:
Mavrud – indigenous to the Thracian Valley, Mavrud is like a Bulgarian superhero capable of producing outstanding spicy, full-bodied wine with a clean, herbal finishing. This grape variety is certainly the one to watch.
Rubin

– invented in 1944 by crossing Syrah and Nebbiolo, Rubin has an abundance of berry flavours on the palate.

Melnik

– Melnik has two popular clones, namely Broad-Leaved Melnik and Melnik 55 (which is created from Broad-Leaved Melnik, Valdiguié, Durif, Jurançon and Cabernet Sauvignon). Both varieties thrive in the warmest part of Bulgaria, so expect full-bodied and positively spicy wine.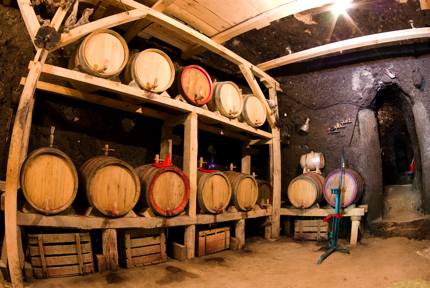 Pamid – like Mavrud, Pamid is an ancient variety. It produces wine with delicate toasted notes.
Ruen – a hybrid between Shiroka Melnishka (aka Broad-Leaved Melnik) and Cabernet Sauvignon, Ruen has rich fruit flavours and a slight peppery note.
Dimyat – a highly popular grape variety, Dimyat produces well-structured and aromatic white wine with a sweet edge.
Misket Cherven – aka Red Misket, this white grape produces light-bodied wine that tastes like honey-cream and smells like a spring garden. There is also a cousin called Sandanski Misket, an aromatic white with notes of citrus and melon.
Luc Sougné, a merchant who imports Bulgarian wine to Belgium, told me that although the Bulgarian varieties produce excellent wine, they are harder to sell in supermarkets overseas because not many people have heard of them. In other words, the local grapes require a personal explanation and experience. I agree; I had never heard of Mavrud before my trip to Plovdiv but now I am a devoted fan, seeking out this heroic red between sightseeing.
Plovdiv: your launch pad to Bulgarian wine in the Thracian Valley
The ancient city of Plovdiv, 145km or 90 miles southeast of Sofia, is easily accessible by bus, train or taxi from Sofia. There is also a direct Ryanair flight from London Stansted to Plovdiv. See the "getting to Plovdiv" section below for more information. Once you have arrived, you can make use of this guide to plan your own wine route.
Start your wine journey in Bendida, a tiny wine tasting shop in the Kapana neighbourhood, a seriously hip and vibrant area bordering the Old Town. Antonina Porteva is the 3rd generation winemaker in charge of the shop, while her daughter, Elizabeth Porteva, oversees the winery in Brestovitsa (18km or 11 miles southwest of Plovdiv). The shop specialises in higher-end wines from their own winery and also from other wineries.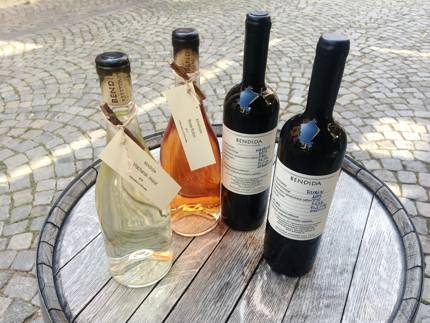 2. Dragomir Winery (http://www.dragomir.bg), 15 Kuklensko Shose Blvd
Set-up by two enologists, Dragomir now aims to include at least one local grape variety into each vintage. At the moment they have three labels: Sarva, Karizma and Pitos. Sarva is entry-level, Karizma is mid-range, while Pitos is high-end and complex.
Don't make the same mistake as I did. Before I came here, I had wrongly assumed that an entry-level wine like Sarva Mavrud would be somewhat similar to an entry-level Montepulciano, meaning very easy on the palate but does not have a complex and persistent finish. As Miros and I sat down in the tasting room to enjoy the drink, it became apparent that I was wrong – the colour of Sarva Mavrud is intense, the texture is velvety, and with less tannins, it has an exceptional depth and deeper flavour. Needless to say, I was blown away.
Note: Dragomir is in the process of moving to Brestnik, a village 10km or 6 miles south of Plovdiv, so check their website before dropping in.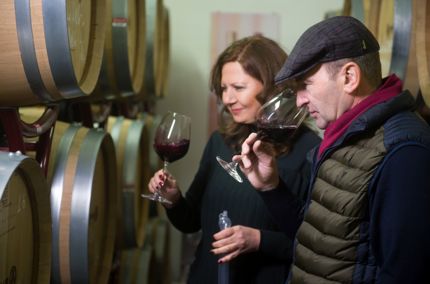 This superlatively beautiful corner of Bulgaria is 27km or 17 miles southeast of Plovdiv, and Villa Yustina is really the star of wine tourism in the Thracian Valley, welcoming wine amateurs and connoisseurs from 53 countries in 2018.
Villa Yustina also has three main labels: Villa Yustina (entry-level), Four Seasons (mid-range), and Monogram which caters to the high-end market. Made from the indigenous Rubin variety, the Four Seasons Rosé is fruity and extremely pleasant, highly suitable for a warm summer's evening.
Monogram Mavrud and Rubin deserve special mention. My friend Stanislav proclaims this is an authentic Bulgarian wine, as it uses local Mavrud and Rubin grapes, aged for 18 months in 100% Bulgarian oak then two years in a bottle. This elegant wine goes exceptionally well with red meat, particularly goat meat. Coincidentally, the winery also raises a herd of Boer goats and uses the meat in pairing courses.
At present, Villa Yustina has a guest house but is in the process of launching a hotel right next to the winery, making it easier for visitors to stay over and enjoy long days of peace and relaxation with healthy doses of fantastic wine.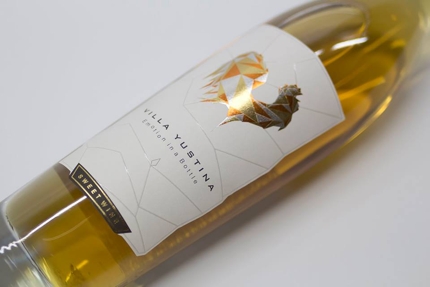 From Plovdiv, if you follow route A1 (Highway Trakiya) and drive towards Burgas on the Black Sea Coast, you will come across the Minkov Brothers winery if you make a left turn when you see route 7. The distance between the winery and Plovdiv is about 195km or 121 miles, so roughly a 2-hour drive.
This winery has a long history stretching back to 1875 when Ivan, Vasil and Nikifor Minkov established a winery in Venets, a village near Karnobat within the Burgas Province. Their wine went on to win Bulgaria its first gold medal from the wine fair in Brussels in 1894.
Today, the winery produces excellent white and red wines, though I am partial to their dry White Cuveé, a complex wine with plenty of peach and floral notes.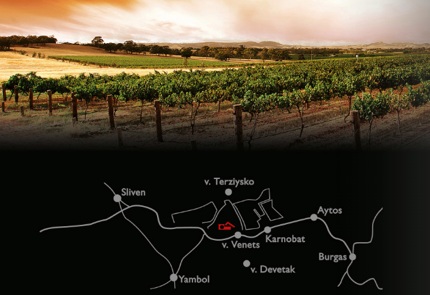 Unique selling points of Bulgarian wine
After trying several bottles and talking to friends in Bulgaria, here are the five reasons why I think Bulgarian wine will soon become a tour de force on the world stage:
Bulgarian wine has all the elements needed for success: a long history of winemaking, a continental climate, fertile soil, passion, and money (funding from the EU).
Most wines retail below €15 so it is good value for money. This is because labour is affordable, and most wineries are small and family-run where everyone does multiple tasks.
The local red varieties tend to have less tannins, but you get deeper berry flavours.
In general, I find the entry-level and mid-range Bulgarian wines to be exceptionally good. They give similar wines from Argentina, Chile, Italy and Spain a good run for the money.
At present, about 20% of its wine is exported, but with the internet and e-Commerce, this will change soon.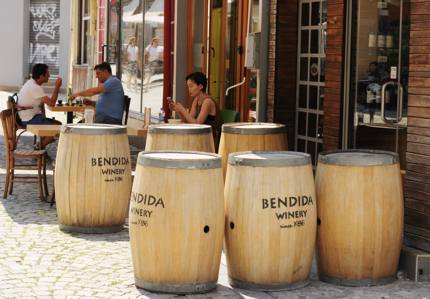 How to get to Plovdiv
Getting to Plovdiv is easy.
1. Fly to Sofia and take a bus from Sofia to Plovdiv If you fly into Sofia, you can get Metro Line 2 from Terminal 2 to Serdika Metro Station in the city centre, then switch to Line 1 to the Central Bus Station. You can take a direct bus from Central Bus Station in Sofia to Plovdiv – multiple bus companies provide this service. The cost is around 14 Bulgarian lev each way and the journey takes about 2 hours with the last stop at Bus Station South (Yug) in Plovdiv. Before you go, you can check out the Sofia Airport guide for all the transport options and also the Central Bus Station website.
2. Fly to Sofia and take a train from Sofia to Plovdiv Take the Sofia-Svilengrad or Sofia-Burgas lines from Central Railway Station Sofia. If you get on a fast train, the journey takes about 2 hours 30 minutes. For more information, see this page.
3. Fly direct to Plovdiv You can also take a direct flight from London Stansted to Plovdiv with Ryanair. Search for your flights on this Skyscanner.
Useful travel tips
The currency in Bulgaria is lev. There are several money exchange shops in Plovdiv if you would like to convert pounds or euros to lev.
The main language is Bulgarian but many people speak excellent English.
The best time to visit Plovdiv is from April to July, then September to October. The city sizzles in the summer with temperatures averaging 33°C (91°F) in July and August, and it is fairly common to see the mercury reaching 40°C (104°F). Winter is cold and snowy so layer up if you go.
Before you go, check out the Bulgaria travel guide and the Sofia Airport guide.
If you liked this article, you might also like: