New Orleans is one of the best places to eat, drink and listen to live jazz, then repeat the next day
New Orleans is fondly referred to as "The Big Easy" for its overall mellow attitude and happy-go-lucky way of life. But when it comes to its cuisine, the locals take things very seriously.
Fried chicken – Willie Mae's Scotch House
2401 St Ann St, New Orleans, LA 70119
You simply can't venture to New Orleans without getting your fill of fried chicken, the ultimate comfort food.
In 1972, Popeyes launched its first store in Arabi, a suburb of New Orleans, selling fried chicken doused with a bold blend of seasoning, which the flavour-seeking locals promptly fell in love with. Over the years, Popeyes has expanded overseas and become more creative with its menu – for instance, it launched the chicken sandwich in August 2019 and sent Twitter into a meltdown.
While Popeyes remains very popular with ten stores across New Orleans, our vote goes to Willie Mae's Scotch House. Here, succulent pieces of chicken are marinated in buttermilk and coated in flour to produce the crispiest skins, christened as the best in the United States. Established in 1957, this family-owned eatery in the historic neighbourhood of Treme is all about satisfying the soul and goes heavy on the flavour.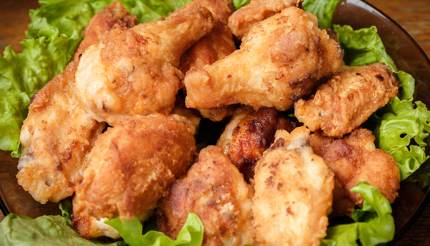 Crawfish Boil – Clesi's Restaurant & Catering
4323 Bienville St, New Orleans, LA 70119
If you visit New Orleans during the main crawfish season (March to June), you will see plenty of people eating their way through heaps of steaming crawfish, devouring those tasty morsels with one swift slurp. Boiled crawfish, or locally known as crawfish boil, is a simple but highly flavourful dish of poached crustacean in a boiling liquid of cayenne pepper, smoky paprika, garlic, onions, and thyme.
If you want to try crawfish boil (and don't be scared to get your hands dirty), head to Clesi's. Managed by brothers James and Carlo, plus sister Sonya, this is our favourite place to sample the pride of Louisiana with cold beer and lots of friends.
Pro tip: if you really want to eat like a local, suck the juice from the crawfish head.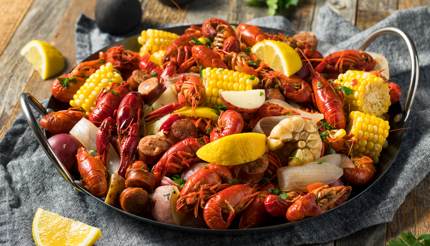 Gumbo – Gumbo Shop
630 St Peter, New Orleans, LA 70116
It is said that every restaurant in New Orleans has its own gumbo recipe – we would go one step further to argue that every family in New Orleans also has at least one treasured gumbo recipes passed down from a relative. While it is hard to pin down who has the best recipe, gumbo always starts with a roux and the Louisiana "holy trinity" (celery, onion and bell pepper). From there, okra and paprika, along with chicken, sausage, and shellfish are added, quantity depends on the chef.
The best place to enjoy gumbo is the Gumbo Shop in the heart of the French Quarter.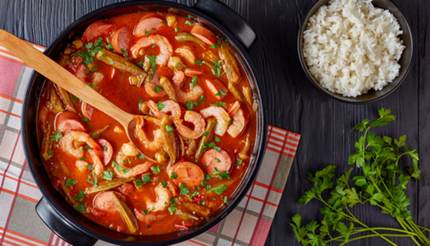 Muffaletta – Central Grocery & Deli
923 Decatur St, New Orleans, LA 70116
Forget everything you know about your average sandwich with a sliver of cheese and some tasteless ham. In New Orleans, the muffaletta is one large and tasty sandwich that you can sink your teeth into.
Created from a round Sicilian bread and packed with ham, salami, Italian sausage, Swiss cheese and marinated olive salad, this true work of art should only be sampled at the family-owned Central Grocery & Deli, the birthplace of muffaletta.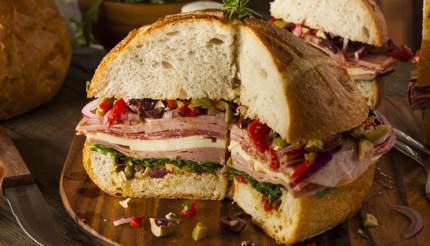 Shrimp and grits – Café Amelie
912 Royal St, New Orleans, LA 70116
You can be assured that this flavourful Southern staple tastes a lot nicer than its name. The grits, referring to stone-ground cornmeal, are cooked with milk and butter. Then the shrimp are fried in butter and bacon fat, before being served over warm grits.
Café Amelie, in the French Quarter, provides the most pleasant courtyard setting to indulge in shrimp and grits, one of its best-selling dish.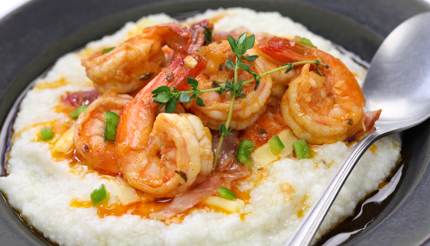 Po'boy – Parkway Bakery and Tavern
538 Hagan Ave, New Orleans, LA 70119
It is said that po'boy, a slang for 'poor boy sandwiches', was created in 1929 during the streetcar strike when Bennie and Clovis Martin gave free sandwiches to the protesters (the 'poor boys'). Today, this tasty snack is usually topped with roast beef or, keeping with the city's seafood obsession, anything from fried shrimp, oysters, catfish to soft-shell crab.
While Domilise's Po-Boy & Bar is often touted as the go-to place for colossal po'boys, our favourite is actually Parkway Bakery and Tavern on Hagan Avenue – their straight-from-the-fryer shrimp and oyster po'boys are well worth your time and money.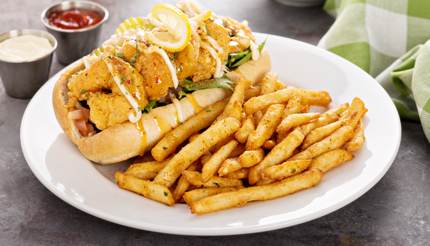 Beignets and chicory coffee – Café Du Monde French Market
800 Decatur St, New Orleans, LA 70116
Beignets, odd-shaped fried doughnuts covered in powdered sugar, can be enjoyed any time of day – morning, afternoon, or in between shopping and sightseeing.
Café Du Monde, unfairly deemed a tourist trap by many, is the go-to place for a cup of chicory coffee served au lait (a mixture of half-and-half cream with hot milk in this case) and a plate of delicious beignets.
Craft beer – 504 Craft Beer Reserve
3939 Tulane Ave, New Orleans, LA 70119
America's craft beer boom is evident in every major city including New Orleans where the thirst for craft beer has delivered 18 breweries and counting. NORA brewing is a prominent player that excels at crafting small-batch IPA, while Parleaux Beer Lab is the place to seek out sour beer. If you can't decide where to go, head to 504 Craft Beer Reserve which works with craft breweries in New Orleans and Louisiana, bringing the best brew under one roof.
Fruit wine – NOLA Tropical Winery
500 Port of New Orleans Place, New Orleans, LA 70130
A perfect antidote to the crushing humidity in New Orleans and the Deep South is a glass of cold fruit wine. Citrus wines, berry wines, exotic wines made with tropical fruits and hot peppers are perfect complements to the rich Cajun food. Landry Vineyard, located in West Monroe, Louisiana, is one of the major producers of fruit wine. West Monroe is about 450km (279 miles) north of New Orleans, don't worry if you can't travel this far, as you can sample a wide range of aromatic fruit wines at NOLA Tropical Winery, conveniently located in Riverwalk, New Orleans, right by the Mississippi River.
Before you go, check out:
If you found this interesting, check out:
This post was first published in 2013 and was updated on 05/09/2019.