Great wine can amp up your mood and enhance your experience, and this guide can help you choose fantastic Italian wine for major foodie and special occasions
In the article Everything you need to know about Italian wine, we shared wines produced from all the 20 Italian regions and listed the ones we really liked. But in our daily lives, many of us don't tend to purchase a bottle of wine for the sake of tasting. Instead, we're inclined to pair wine with food, open a bottle when our emotions run high (from joyful to sorrowful), and splurge a little when we celebrate a special occasion. With this in mind, we want to share some great Italian wines that make perfect companions to your special and foodie occasions.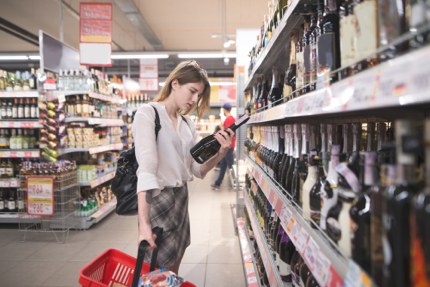 Wine for an intimate movie night
The lights are dimmed and the snacks are ready, bringing the cinema to your sofa is also the time to lose yourself in a fictional world, and a bottle of wine can certainly accentuate the experience.
The crisp and delightful Sauvignon Blanc is often the go-to choice if you have prepared a tub of buttery popcorn. Alternatively, opt for Fiano, a lively and aromatic white wine from the Italian region of Campania. Often drunk young, Fiano is easily distinguished by seductive aromas of peach and apricot, and it goes exceptionally well with snacks like cheese crackers and gummy bears.
If you prefer red wine, or if your movie night involves bars of creamy chocolate, then the affordable Montepulciano d'Abruzzo often measures up. This DOC or Denominazione di Origine Controllata wine from the region of Abruzzo often has a fruity bouquet with a rich taste.
For something bold and powerful, with massive black fruit flavours and spicy notes, you can't go wrong with Primitivo. The Primitivo grape is widely cultivated in the region of Apulia (Puglia), and is related to the famed Zinfandel grape, although the price of a standard bottle is often cheaper than Zinfandel.
Check out Primitivo di Manduria DOC from Produttori Di Manduria if you're looking for an excellent bottle.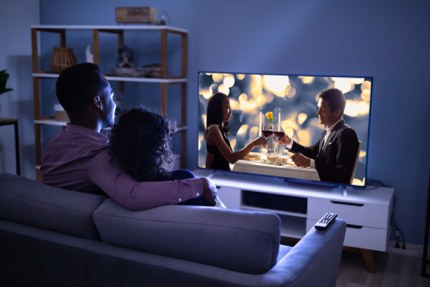 Wine for a special dinner
Be it a birthday, an anniversary, or simply a long-overdue date night, chances are you will take some time to prepare the dishes with your heart as much as your hands. These self-giving moments certainly call for a bottle of Prosecco.
Made from Glera grapes in the Veneto region, Prosecco goes through the secondary fermentation in a large tank to produce a massive amount of bubbles. This method, known as the Charmat method, also gives Prosecco a very floral perfume. Check out Valdobbiadene Prosecco Superiore DOCG by Villa Sandi. This Prosecco is silky smooth with great depth of flavours, yet it is also easy on your wallet.
Another sparkling wine we would recommend is Franciacorta. The pride of Lombardy, Franciacorta is a straw-coloured white wine with a fresh fragrance of tropical fruit. A good recommendation is Ca del Bosco Cuvee Prestige.
If a meaty main course is the star of your special meal, then you need an A-lister that can match the glamour. The perfect choice is Barolo, from the hilly region of Piedmont (Piemonte). Often described as one of Italy's greatest red wines, Barolo is powerful, well-structured, at times complex, often with a high level of tannins and a good balance of acidity. A good recommendation is Barolo Serralunga DOCG by Ettore Germano.
To round off an exceptional dinner, an Italian dessert wine like Moscato d'Asti will complement anything from crème brûlée to sticky toffee pudding.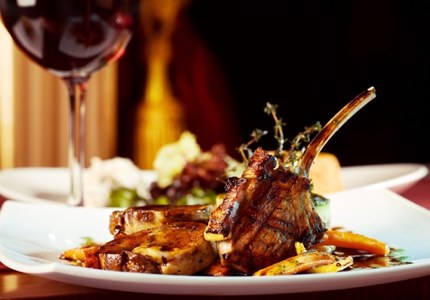 Wine for a stress-free pizza meal
Pizza, considered as the ultimate comfort food by many, is readily available to satisfy our craving at any time of the day. You can order from a takeaway, buy a fresh hand-stretched pizza from a grocery store, reach for a frozen one at the back of your freezer, or simply spend 15 minutes to create a no-yeast pizza with just plain flour, baking powder, salt and oil, plus toppings of your choice.
Italian white wines that pair well with pizza include Pinot Grigio and Frascati, a crisp, easy-to-drink white wine from the Frascati township in Lazio.
You can also pair pizza with red wine, and Valpolicella from Veneto can easily hit the spot. Valpolicella that carries a DOC appellation is usually made from primarily Corvina grapes, plus a small percentage of Rondinella. The wine tends to have red fruit notes, while the style is soft and smooth, with little tannin.
A good recommendation is Cantina di Negrar Recioto della Valpolicella DOCG.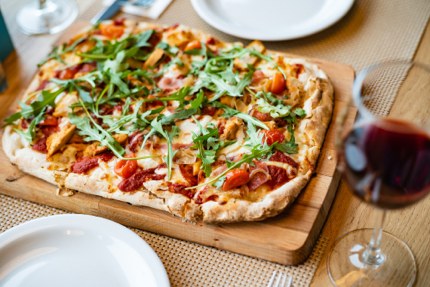 Wine for a tasty backyard barbecue
Wine is definitely a key ingredient for a backyard barbecue bonanza, and we believe rosé is the perfect wine for an enjoyable day of grilling and indulging. Rosé tastes refreshing when it is chilled (especially if the weather is sunny), and pairs well with many BBQ favourites like sausages, prawn skewers, and sweet corn.
When it comes to Italian rosé, we recommend the dry, light and fruity Castel del Montel DOC rosé from Cantine Rivera. Castel del Montel is a 13th-century citadel in Apulia, surrounded by small vineyards growing grapes such as Uva di Troia and Bombino Nero. The rosé from Cantine Rivera is made from 100% Bombino Nero grapes; it is packed full of peach aromas and has a pleasant green apple finish.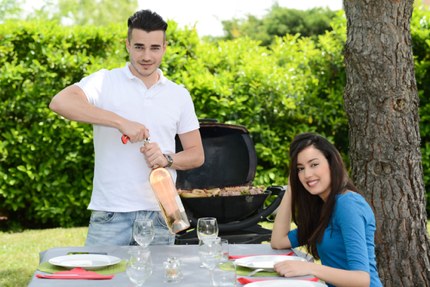 Meaty showstoppers, such as juicy steaks or caramelised ribs, call for a bottle of Vino Nobile di Montepulciano. The wine comes from vineyards neighbouring the medieval hilltop town of Montepulciano, about 50km (31 miles) southeast of Siena in Tuscany. Sangiovese are the primary grapes, plus a small mix of Canaiolo and Mammolo. Vino Nobile must be aged for a minimum of two years before release (three years for the riserva wines), of which at least a year must be spent in oak barrels. Thus, the wine is intense, well-balanced, and brimming with plum and cherry flavours. If you're keen to try a good bottle, we'd recommend Vino Nobile di Montepulciano by Salcheto.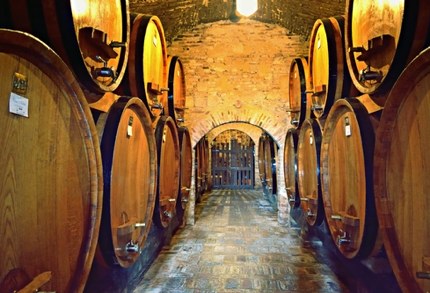 Wine in times of crisis
We all have experienced loss, grief, failure, or simply 'one of those days'. When unpleasant events trouble us, we tend to share our feelings with someone over a glass of wine.
Most of the time, we find a bottle that is available in the pantry. But if you know beforehand that you're going to spend some time with a grieving friend or relative, then it's worth going out and getting something special.
In times of crisis, we turn to Verdicchio, a highly versatile white wine from the region of Marche in Central Italy. Verdicchio is light and delicate, with gorgeous floral aromas and a sweet almond aftertaste – we find the aromas calming, and the lovely long and balanced finish allows the sensation to stay with you. A good recommendation is Verdicchio di Matelica from Cantine Belisario.
If you prefer red, then look no further than a quality bottle of Chianti Classico, with soft, silky tannins and a bright, elegant finish. All quality Chianti Classico wines bear the famous Gallo Nero logo – a black cockerel in the centre surrounded by the words Chianti Classico Dal 1716 – which can also make an interesting conversation topic and a welcome distraction in times of struggle. Our recommendation is Chianti Classico from Barone Ricasoli, one of the famous producers in Tuscany. This ruby-red wine has aromas of cherry, vanilla, liquorice and teasing hints of spices.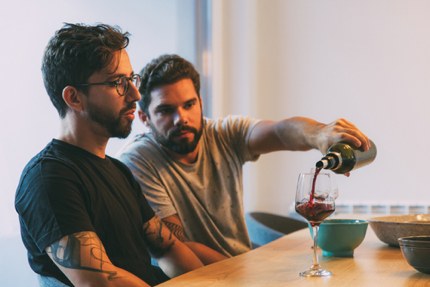 Wine for la dolce vita
Life can knock us down sometimes, but it also gives us many joyful, beautiful moments. If things are going well and you are feeling on top of the world, it's time to pop open a bottle of Lambrusco, a brilliant sparkling red wine from the region of Emilia-Romagna in northern Italy.
Like Prosecco, Lambrusco goes through the secondary fermentation in a pressurised tank, allowing sugar, yeast and time to do their magic and create trillions of happy bubbles. When you open a bottle of Lambrusco, you'll certainly hear the 'fizz' sound, and when you pour it, you'll see fizzy bubbles rising to the top, lifting your mood in the process.
Our recommendation is Lambrusco Grasparossa from Cantina Di Soliera, a sparkling red wine with a hint of sweetness, balanced by vibrant acidity.
Generally, Italian wines are wallet-friendly, and if you have found a few types of Italian wine that you like, then there's always time to enjoy a glass of your preferred wine and live la dolce vita, full of pleasure and luxury.
You may also like: