Tickle your taste buds with the best noodle dishes you can try in London
From noodles swimming in nourishing broth to fragrant stir-fries, you don't need to go far to find great noodle dishes in London. Here are a few of our favourites – and we should add that every outlet listed below has a food hygiene rating of either 4 or 5 (out of 5), meaning they comply with food hygiene law well and care about the health of their customers.
Lanzhou Lamian Noodle Bar, Leicester Square
This inconspicuous little joint greets you the minute you step out of the Leicester Square tube station, but you might just miss it at first glance.
Unlike many flashy dining spots in the city, Lanzhou Lamian Noodle Bar isn't about the glitz and glam, but the simple experience of hearty, delicious food and the bustling action of the kitchen that comes with it. What makes it special is its delectably authentic embodiment of the rich culinary culture and history of China, of which noodles have played a significant and long-standing role (they can be traced back more than 4,000 years to the Han dynasty).
Central to the restaurant's menu is a selection of the most popular Chinese noodle dishes, and you're free to choose from two types of noodles (pulled la mian or thicker, knife-cut dao xiao mian). The standout is the dan dan mian, an iconic pulled la mian dish of Sichuan, which sings with lip-numbing Sichuan pepper and chilli oil, while sesame paste lends a nutty creaminess.
The stewed beef noodles also come highly recommended. The frequent queues are a testament to the noodle excellence housed between Lanzhou Lamian's four small walls. A must visit.
Address: 33 Cranbourn St, WC2H 7AD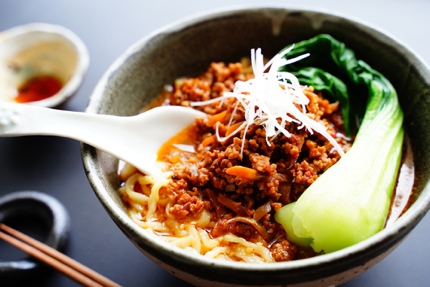 Supawan Thai Food, King's Cross
London is flush with many Thai restaurants and as you'd expect, some are more authentic than others, and Supawan Thai Food is one of Londoners' go-to for authentic and cherished recipes. This vibrant restaurant, located a stone's throw from King's Cross station, expertly captures the quintessential flavours of Thai cuisine, so you can be sure to get a pungent hit of fishy saltiness, zingy sourness, intense sweetness or fiery spiciness (or a combination of all four) in every dish.
Only one noodle dish graces Supawan's menu and it's a well-loved classic: the Pad Thai, a traditional street food offering of stir-fried rice noodles with chicken, prawns or tofu, made sweet and slightly tangy with tamarind and a squeeze of lime, and finished with a sprinkling of crushed peanuts.
Supawan's rendition of Thailand's most famous national dish delivers everything you'd expect – the noodles have a glistening sheen without being greasy, juicy prawns and crunchy beansprouts provide bite, and, importantly, the flavour packs a punch. Though the restaurant's pleasant décor and ambience add an elegant flair to the dining experience, it doesn't distract from the food itself, which comfortably remains as the main attraction.
Address: 38 Caledonian Rd, N1 9DT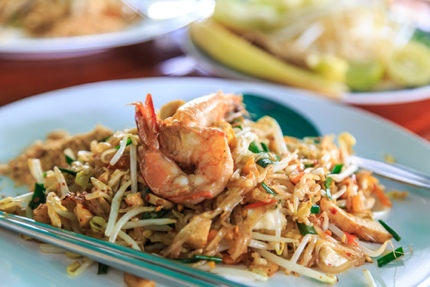 Q&T Vietnamese Kitchen, Finsbury Park
In Vietnam, the locals can have noodles for breakfast, lunch and dinner, and pho, a type of flat rice noodle, is a key component of numerous Vietnamese dishes, though the name has also come to represent a dish in itself – a wad of pho noodles in a light broth topped with fresh herbs and, if you like, a generous drizzle of hoisin and sriracha sauce.
Q&T's ode to the world-famous pho encapsulates the delicate flavour so vital to getting the dish right, traditionally achieved by boiling meat bones, charred onion and an assortment of spices for hours or even days.
One of the best ways to enjoy their pho is with slivers of raw beef that instantly start to cook when plunged into the hot broth, emerging as tender and juicy morsels that are offset by the fragrant bite of the vegetables sitting on top. Slurping up the entire bowl is of course optional, but recommended to savour every last drop of the broth and finishing your meal on a satiated high.
Address: 57 Stroud Green Rd, N4 3EG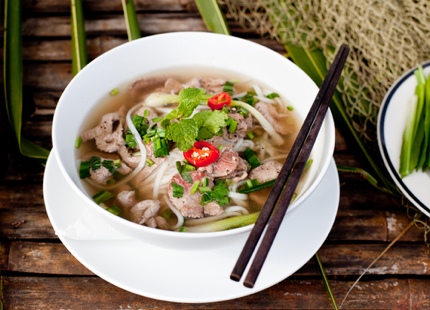 Sambal Shiok, Holloway
During the COVID pandemic, many London restaurants have had to rapidly adapt the way they operate to stay afloat. At Sambal Shiok, a Malaysian joint specialising in various types of laksa (a Malaysian rice noodle soup), their offering of meal kits delivered straight to your doorstep is a nifty way to enjoy the dishes at the comfort of your home.
If you try one dish, it has to be the Assam Laksa – a fishy, tangy version of this classic noodle soup from the tropical island of Penang – which sets the taste buds ablaze with the broth's warming heat, mingling with the smoky saltiness of generously meaty flakes of mackerel, and finishing with a note of sour. This is all counterbalanced with a heaping of freshness from cucumber, mint, red onion, pineapple and red chilli, making for a truly unique and moreish bowl that'll leave you feeling both warmed and refreshed at once.
Address: 171 Holloway Rd, N7 8LX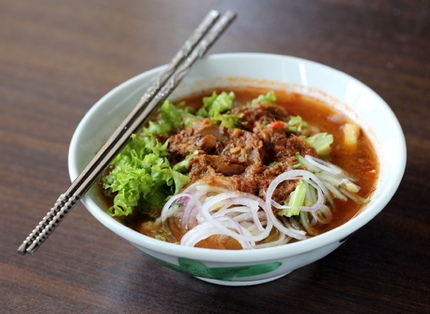 Ippudo, Canary Wharf
In Japan, there are four main types of ramen – miso, shio (salt), shoyu (soy sauce) and tonkatsu. The first three refer to seasonings while the fourth refers to the wonderfully rich pork bone stock. Out of these four types, there are endless regional variations, of course. For instance, the locals in Sapporo, on the northern island of Hokkaido, prefer their miso ramen topped with a knob of butter. When you head south towards Kagoshima, you may find fish is added to make tonkatsu stock.
Ippudo specialises in Hakata-style ramen, distinguished by its rich, savoury, and almost milky broth, made with pork bones simmered for hours. The home-made thin wheat noodles offer four firmness levels: yawa (soft), futsu (medium), kata (firm) and bari kata (very firm).
When the rain starts to fall in London, enjoying a bowl of their signature "Shiromaru Classic" or "Akamaru Modern" is like receiving a warm, welcoming hug, which we can all do with.
Ippudo boasts four locations across London – Canary Wharf, St Giles, Villiers St and Goodge St. The address for the outlet in Canary Wharf is Unit 28, 1 Crossrail Place, E14 5AR.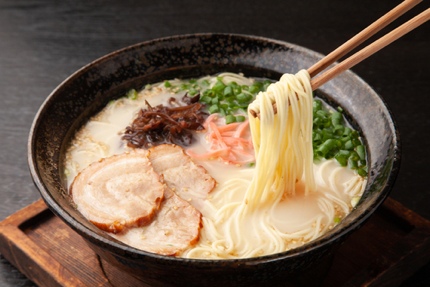 Padella, London Bridge
Admittedly, spaghetti and noodles aren't exactly the same (they differ mainly by their ingredients, size and texture), but the gastronomical excellence on offer at Padella is just too good not to include.
This popular pasta spot has made waves with critics and diners alike thanks to its signature dish, the cacio e pepe, which translates as 'cheese and pepper' in Italian. And for good reason. The rustic unevenness of the pasta is reminiscent of some styles of noodle commonly eaten in Asia – such as the Chinese dao xiao mian mentioned earlier in this list – and lends the dish an irresistible chewiness as well as acting as the perfect partner for the creamy sauce to latch onto. An explosion of salty cheese, flecked with fiery nuggets of coarse black pepper, is what will likely compel you to immediately raise your fork for another bite, and another, until your plate is empty – and likely licked clean.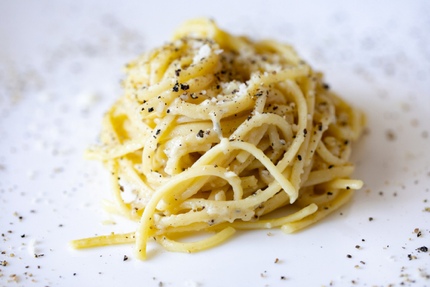 You may also like: