Take a tour of rice and see how this humble staple is being prepared across the world
Rice, a pantry staple, is often the solution when you can't think of anything else for lunch or dinner. Once you get a pot of rice simmering nicely on the stove, you got time to rummage through the fridge, open a can of beans, or fry up an egg for a quick, no-fuss meal. Of course, you can also devote more time to make a rice dish that will brighten up any plate.
Jollof Rice, West Africa
As one of Africa's best-known rice dishes, jollof is a staple in the majority of the West African countries, including Senegal, Ghana and Nigeria.
To make jollof rice, you cook long-grain rice in an aromatic stock made of tomatoes, red peppers, onions, Scotch bonnets, plus one organic chicken cube. Herbs – such as dried thyme and bay leaves – can also be added to boost the flavour. Once the rice is cooked, you can serve it with meat, fish or a meat-free alternative to make a balanced and filling meal.
It's worth noting that West Africans take their jollof very seriously, so much so that August 22 of every year is the dedicated 'World Jollof Rice Day'.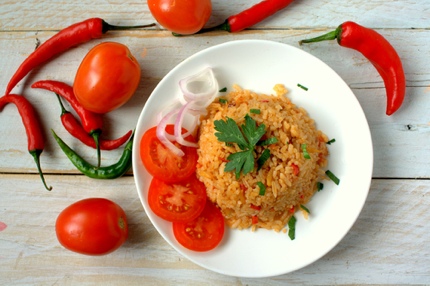 Yellow Rice, South Africa
A traditional favourite of South Africa, yellow rice – known locally as geelrys – gets its name from the vibrant colour of turmeric.
Yellow rice is a mixture of basmati rice (although other long grains are sometimes used), sugar, salt, pepper, oil, and of course, turmeric. Additionally, cardamom and cinnamon can be used to give the dish a nice kick. Sometimes, raisins are also added to enhance the flavour.
Yellow rice is usually served with a South African curry dish called bobotie, which is quite similar to moussaka.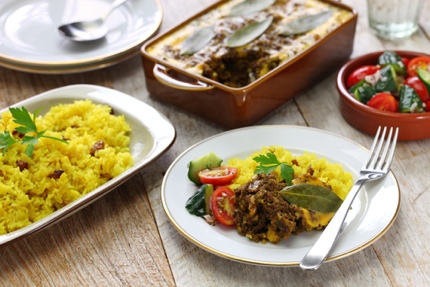 Harissa Rice, Tunisia
Harissa is a delicious roasted pepper paste made with red peppers, chillies, garlic, cumin, coriander seeds, salt and olive oil. Sometimes, rose petals and caraway seeds are also added.
Harissa is highly versatile; it can be used as a condiment or as a key ingredient in dishes across Tunisia and the neighbouring countries. For instance, you can use it to marinate meat, enhance the flavour of a vegetable stew, spread on bread, or turn an ordinary plate of rice into a taste sensation.
The best bit about harissa rice, in our opinion, is there isn't a standard recipe – you can cook your rice in water spiced with harissa paste or you can mix cooked rice with a tablespoon of harissa paste, lemon juice, freshly chopped mint leaves – and voilà, you get a plate of rice that packs a massive flavour punch.
Paella, Spain
This popular dish has quite a few regional variations yet many still prefer the original Valencian version. The recipe requires you to sauté small pieces of rabbit and chicken first, before adding green beans, chopped tomatoes, sweet paprika, saffron and water to create a flavourful stock. You then spread the rice – preferably the starchy and absorbent Valencia variety – across the paella pan (a flat, round pan that allows the rice mixture to cook evenly).
Here's a good tip from a Valencian – the paella is cooked when the stock has evaporated, but don't remove the pan from the stove just yet, leave it a little longer to achieve a crispy layer of caramelised bottom (known as socarrat), which is cherished by all Valencians.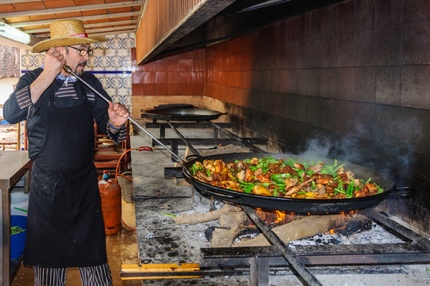 Risotto, Italy
Arguably the most popular rice dish in Italy, risotto is thought to have been created in Milan during the Middle Ages. To make risotto, you need two things: quality short-grain rice such as arborio, carnaroli or violone nano, and your undivided attention, for you must add in the stock, one ladle at a time, while the risotto simmers, allowing the rice to absorb the liquid fully before adding more. The creamy (but not stodgy) texture of the dish comes from the starch released when the rice is slowly cooked.
Risotto is delicious when eaten plain or can be enhanced with wild mushrooms or chopped vegetables. Another striking variant is squid ink risotto, popular in Venice.
If you're pretty familiar with making risotto, consider taking a step further to make arancini, risotto rice stuffed with mozzarella and deep-fried to perfection.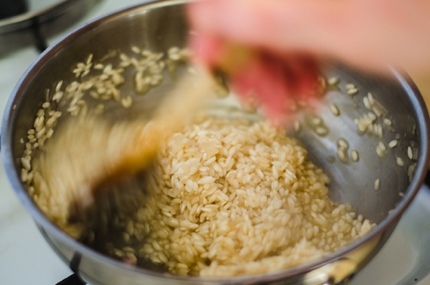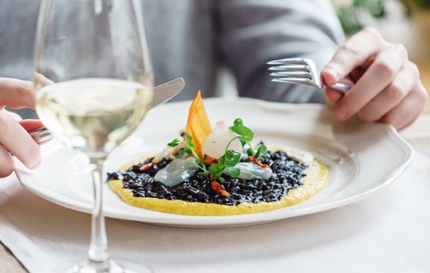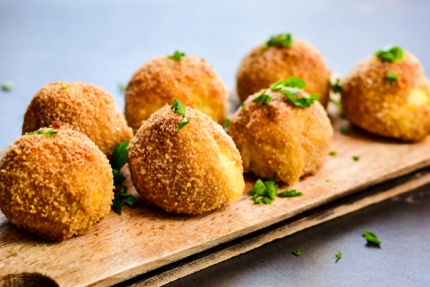 Most chefs use the treasured violone nano variety, which you can get from Amazon.
Dolma, Balkans and Central Asia
Hugely popular across the Balkans and Turkic countries, dolmas (or dolmades) are rice mixed with ground lamb (or beef), vegetables and spices, and wrapped in young grape leaves (or other leafy vegetables like chard and cabbage). They make a tasty appetiser, street food or main dish.
While the name dolma is of Turkish origin, Azerbaijan embraces the tradition so much that its dolma making and sharing culture were inscribed on the UNESCO Intangible Cultural Heritage List in 2017.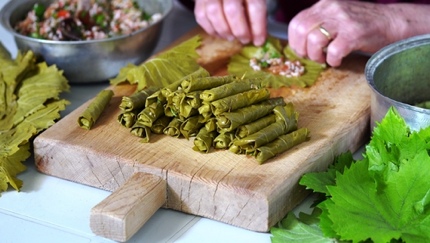 Mansaf, Jordan
Mansaf is the national dish of Jordan – an eye-catching plate of tender meats and vegetables sitting on a plentiful bed of turmeric-spiced rice, often accompanied by shrak (flatbread). What makes mansaf really special is laban jameed, a flavourful yoghurt made by boiling sheep or goat's milk and left to dry and ferment.
Mansaf is served to a big crowd at all important functions, so if you're looking for a recipe, make sure that you don't get one that requires you to use a whole lamb.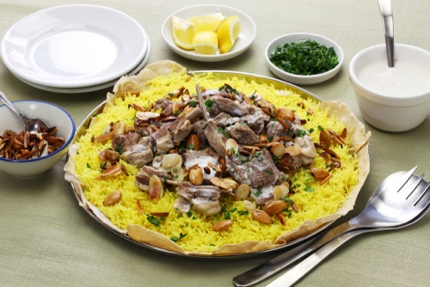 Biryani, India
Hugely popular in India and also Southeast Asia, biryani is an aromatic rice dish served with meat or vegetable. The secret starts with using a fragrant rice variety such as basmati or jeerakasala, and to that you add ghee (clarified butter) and plenty of spices (may include cardamom, cinnamon, saffron, nutmeg, coriander, ginger and turmeric). If you don't have all the spices available, get a pack of Shan seasoning mix can save you time (and money).
An interesting fact about biryani – it was the world's most Googled Indian dish of 2019 (specifically chicken biryani) with close to half a million searches a month – beating out firm favourites such as butter chicken, samosas and even chicken tikka masala.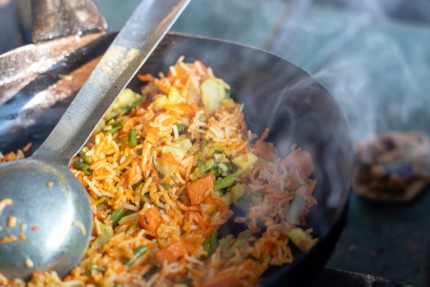 Bibimbap, Korea
Bibimbap is a popular Korean rice dish served in a stone bowl – with rice in the centre and topped with sliced meats (mostly beef), tofu, raw or sautéed vegetables (carrots, bean sprouts, cucumber or spinach), pickles and a fried egg. When you're ready to eat, you mix the ingredients and gochujang (fermented chilli paste) together.
Bibimbap from Jeonju, a city in southwestern Korea, is highly revered. The locals here consider bibimbap as the perfect food that reflects ancient wisdom and modern understanding of a balanced meal that can help maintain one's health and energy. Each bowl of bibimbap here is prepared with five colours (and five flavours) depending on what is available seasonally, and each colour refers to a food that is supposedly beneficial to an organ that it represents. For example, the green colour in a bowl of bibimbap is usually cucumber or spinach, which can improve liver health according to ancient wisdom. As it turns out, both cucumber and spinach do support liver health according to modern nutrition science.
If you're interested in visiting Jeonju and eating its famous bibimbap, plan to coincide your trip with the annual Bibimbap Festival held every October.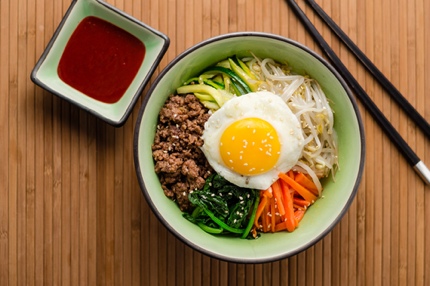 Sushi, Japan
For us living in the west, we've come to recognise sushi as part of supermarket meal deals, a quick lunch option, or simply 'rice with raw fish'. We're wrong, of course. Sushi actually is a made-up word of su (vinegar) and meshi (rice). Rice – sticky and vinegared – is paired with a garnish, which can be raw or cooked vegetables, a variety of seafood, and other toppings such as bean curd and folded omelette.
When it comes to sushi eating etiquette, dab your sushi with wasabi lightly (if you like) and only dip the topping in a soy sauce (never let the rice part touch the soy sauce). The accompanying ginger is meant to cleanse your palate and not as a topping.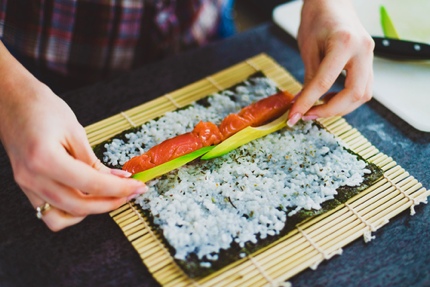 Yangzhou Fried Rice, China
You may not be familiar with the city of Yangzhou in China, but almost anyone who has frequented or ordered from a Chinese restaurant will know Yangzhou fried rice or its English name 'House Special Fried Rice'.
What makes it special? Yangzhou fried rice features a combination of protein – pork, shrimp, chicken and egg, sometimes duck and Chinese sausage may also be added. It also has a good amount of vegetables – peas, corn, carrots and bamboo shoots are commonly added.
This dish is thought to date back to 16th century China in Yangzhou in the eastern province of Jiangsu. Today, it remains one of the most popular Chinese dishes in the UK and America.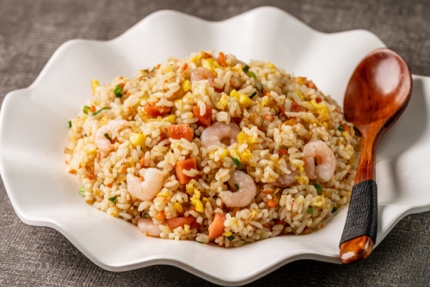 Nasi Lemak, Malaysia
Considered to be Malaysia's national dish, nasi lemak is distinguished by its dome-shaped rice mound – with the rice cooked in pandan leaf and coconut milk to give it a lovely fragrance.
There are many variants nowadays, ranging from Malaysian Chinese to Singaporean Malay and vegetarian options. However, many still prefer the traditional version which includes peanuts, fried anchovies, boiled egg and a hot, spicy sauce called sambal.
In 2019, nasi lemak's popularity got quite a boost when it was featured as a Google Doodle – the ever-changing, interactive images that appear on the search engine's home page.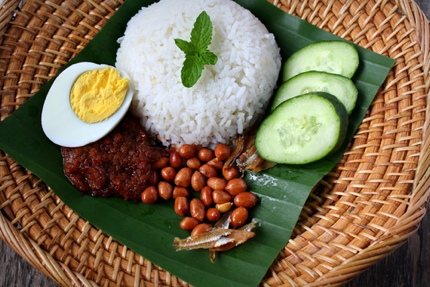 Hainanese Chicken Rice, Singapore
The Chinese immigrants from the Hainan Province began moving to Southeast Asia in the early 1900s and brought with them a dish that is now popularly associated with Singapore and Malaysia.
The method is to poach the chicken at sub-boiling temperature first, then use the chicken stock, along with garlic, ginger and pandan leaf, to cook the rice, giving it a wonderful flavour. Once the rice is ready, it is served with the poached chicken, accompanied by tiny plates of chilli sauce, ginger sauce, and sweet sauce.
As of 2021, there are eight Michelin-listed Hainanese chicken rice hawkers in Singapore – including one Michelin star, four Bib Gourmands and three Michelin Plates.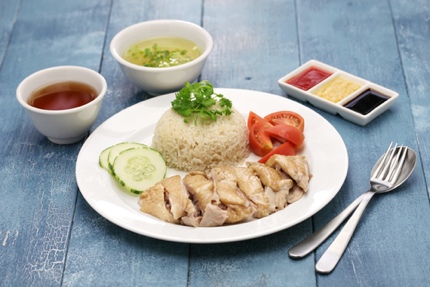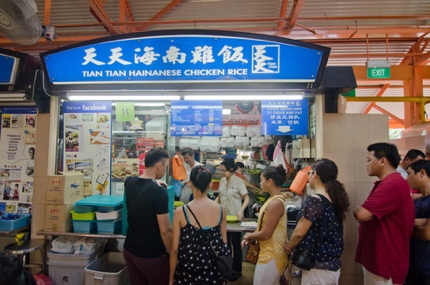 Ketupat, Indonesia
Known by many as 'packed rice' due to it being beautifully packaged in woven palm leaf pouches, Ketupat is a rice cake that is hugely popular in Indonesia and across Southeast Asia.
Ketupat is all about the rice. Once the uncooked rice is nicely wrapped, all the pouches are boiled together in a big pot. This method allows the rice grains to swell first, before compressing themselves to fit the size of the package. The rice is then served with dishes such as rendang (meat and coconut stew) and gado-gado (a type of salad).
Ketupat is consumed mostly during Eid al-Fitr (the breaking of fast at the end of Ramadan).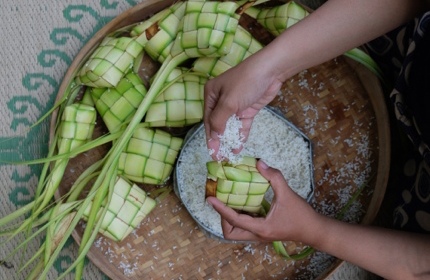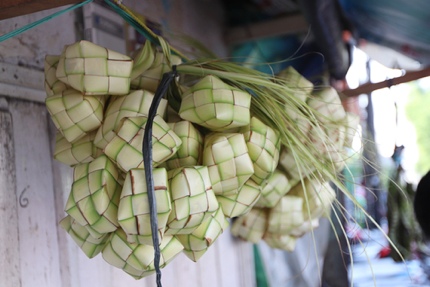 Pabellón Criollo, Venezuela
A traditional dish of beautiful Venezuela, pabellón criollo is a medley of steamed rice, stewed black beans, shredded beef and fried plantain. Simple yet delicious.
During Lent, beef is not allowed among Roman Catholics, so freshwater fish or caiman (a small type of alligator) is used instead.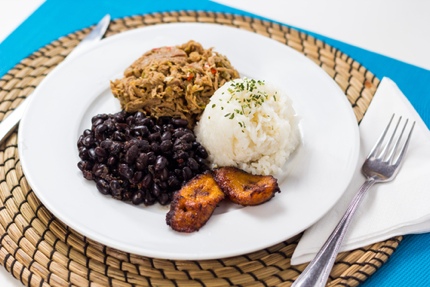 Juane, Peru
Juane is a rice dish wrapped in massive bijao leaves and enjoyed on June 24, the feast of St John the Baptist (San Juan). The rice package is sizeable – it contains rice, chicken pieces, hard-boiled eggs, olives and spices (turmeric, cumin, oregano) – so big that some say it resembles the head of St John.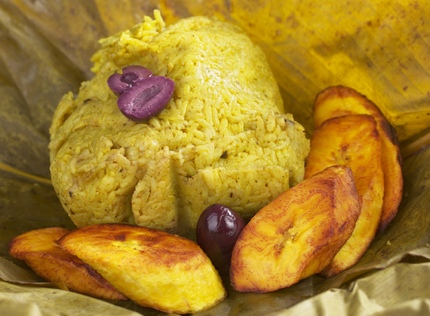 Arroz Verde, Mexico
Also called 'Mexican green rice' due to its healthy-looking hue, arroz verde is an inexpensive and tasty white rice meal to make at home. The method is to combine white rice with loads of greens (peas and spinach), herbs (cilantro and parsley) and spicy peppers (jalapeños and poblano). It can be enjoyed on its own as a light meal or combined with protein to make it a main meal.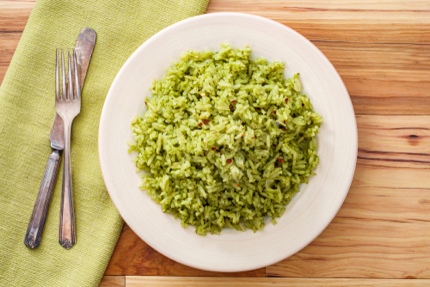 Arroz con Gandules, The Caribbeans
Arroz con gandules is also known as 'Rice & Pigeon Peas'. Pigeon peas are a legume widely consumed in the Indian subcontinent, where they're often cooked into dal. The peas are also favoured throughout the island nations in the Caribbean Sea. This rice dish has plenty of variations – some add sofrito (an aromatic puree of tomato, peppers and herbs) while others use coconut milk to boil the rice. There are also vegan-friendly versions to carnivore-approved arroz con gandules with meat added to this one-pot dish.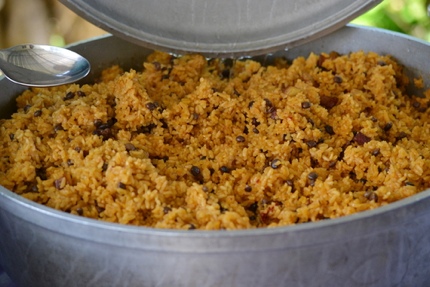 Arroz Junto, Puerto Rico
Puerto Ricans love rice so much that they cook it in many ways – with beans, eggs, meat, olives and seafood. Among the many popular rice dishes, arroz junto, meaning 'rice together', is a satisfying one-pot rice dish. The key ingredients are rice, beans, meat and sofrito, along with olives, capers and spices.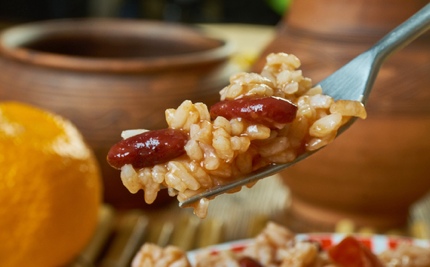 Dirty Rice, Louisiana, USA
The name may not fill you with hope if you're used to pleasant-sounding dishes, but you'd be wrong to pass up on this luscious, Cajun stomach-filler from the American South.
Dirty rice is actually a mixture of rice and multiple proteins, including pork, beef, or chicken, as well as vegetables. In the past, families would brown leftover meat and giblets with spices first, before adding vegetables and rice; hence the dish looks 'dirty' but tastes sensational.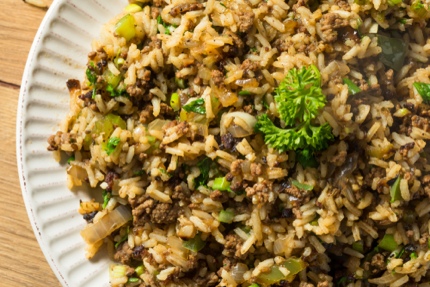 Jambalaya, Louisiana, USA
If you're looking to feed many people but are short on time, then you can never go wrong with jambalaya, one of the most famous all-in-one pot dishes.
Originated in Louisiana in the 18th century, jambalaya is a rice dish with a hodgepodge of different ingredients such as andouille (smoked pork sausage), chicken and seafood (prawns or crawfish). The dish also calls for the 'holy trinity' – a mixture of onion, celery and bell pepper – the essential ingredients in any Cajun kitchen.
Jambalaya is also celebrated in song – Hank Williams first released Jambalaya (On the Bayou) in 1952, and subsequently, the song was covered by Elvis Presley and The Carpenters.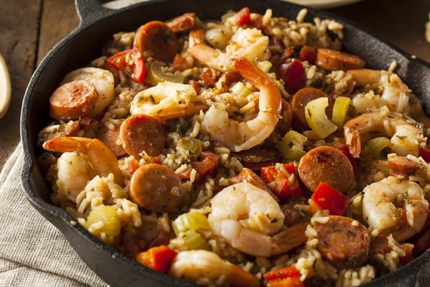 Poke Bowl, Hawaii, USA
Our final rice dish is a Hawaiian classic – the poke bowl. The term poke means 'to cut into pieces', referring to sliced raw fish, chopped green onions and pieces of seaweed that usually grace a poke bowl with either sushi rice or white glutinous rice at its base.
Seasoned to perfection, the Poke Bowl can be anything from an afternoon snack or appetiser to a proper meal.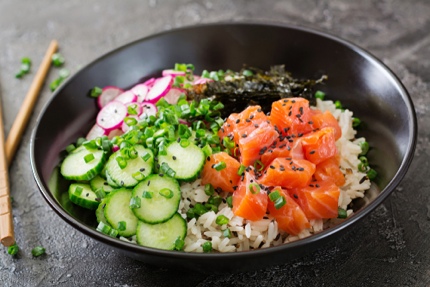 You may also like: