A good breakfast can boost your energy levels and provide essential nutrients to help you power through the day
Breakfast, meaning breaking the fasting period of the previous night, is considered the most important meal of the day in many cultures. Here are some international breakfasts that look good and taste even better to help you start the day.
Oat porridge in Scotland
While visitors to Scotland tend to order a traditional Scottish breakfast featuring local delicacies like haggis (sheep's offal), black pudding (pork and pig's blood) and tattie scones (potato bread), the locals actually love a good bowl of oat porridge. They even create a special wooden tool, known as spurtle, to stir porridge in a pot.

If you like making porridge as much as eating it, consider taking part in the annual World Porridge Making Championships, held every October in the small Scottish Highland village of Carrbridge.

Croissant and coffee in France
Breakfast items in France don't usually go beyond a freshly baked pastry and a cup of steaming coffee, but the French certainly know how to do them well – even a simple croissant is unrivalled for taste.
Other popular French pastries consumed in the morning include pain aux raisins (raisin pastry) and chausson aux pommes (apple turnovers).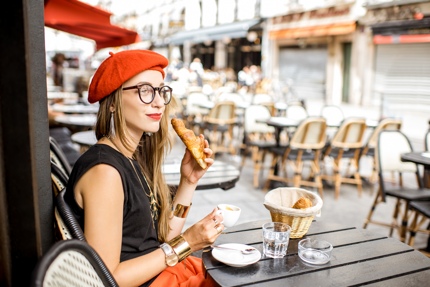 Skyr in Iceland
Iceland's dairy products are known for their wholesome flavour and skyr, a yoghurt-like cultured product high in protein but low in fat, has been a staple food for over a thousand years. While it remains a good-for-you breakfast item, Icelandic chefs are finding innovative ways to use skyr, including in ice cream and cheesecake.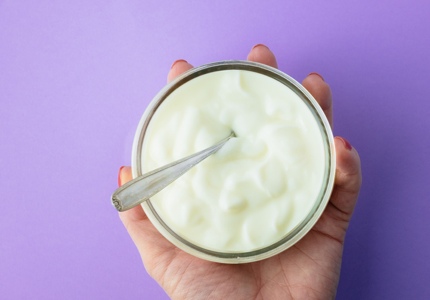 Banitsa in Bulgaria
If you want to spoil yourself, opt for Banitsa, a traditional Bulgarian pastry dish stuffed with delicious Bulgarian cheese and yogurt, and baked to golden brown. The perfect banitsa should be crispy on the outside but moist on the inside, and never too greasy.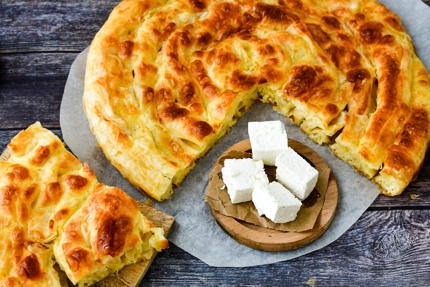 Kasha in Russia
In Russia, kasha refers to any type of cooked grain, including barley, buckwheat, rice and spelt. There is even a child-friendly version called mannaya kasha, made with finely ground wheat berries and it looks like thick cream when cooked.
We like to get our organic roasted buckwheat from Amazon.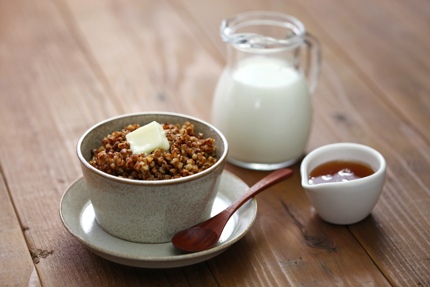 Baghrir in Morocco
Baghrir or 'thousand-hole pancake' makes a delicious start to your day in Morocco. The ingredients call for fine semolina flour and water, along with a pinch of yeast, baking powder, sugar and salt. The mixture should be left to rest before it's pan-fried in batches.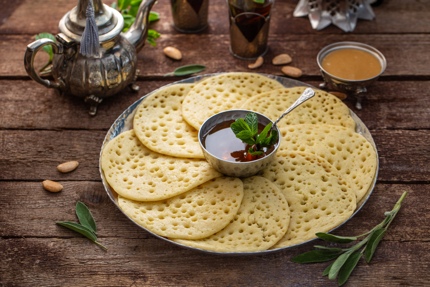 Mandazi in Kenya
A popular breakfast item among Swahili people in Kenya (and parts of Tanzania), mandazi is a type of fried dough, fluffy on the inside and crispy on the outside, and has enough coconut and cardamon to give it a fragrant boost.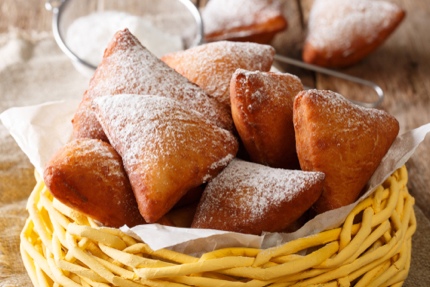 Kahvaltı in Turkey
Kahvaltı, meaning 'before the coffee', is an elaborate affair in Turkey. The spread usually consists of several types of bread (including simik, a bagel-like sesame bread, and pide ekmek, a type of flatbread), honey, jam, tomatoes, cucumber, eggs, black olives and cheeses.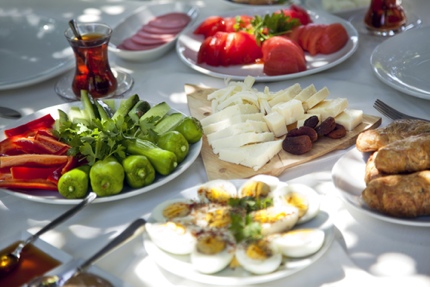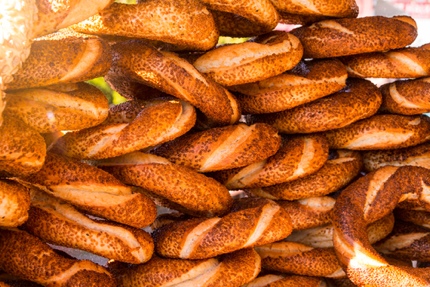 Dates and qahwa in Saudi Arabia
In the Middle East, they like to keep breakfast simple – but not less healthy – with dates and strong qahwa (Arabic coffee). Dates are rich in minerals, vitamins, fibre and protein, yet they have negligible fat. They are also high in carbohydrates which the body will turn into energy.
We recommend these pitted organic dates from Amazon.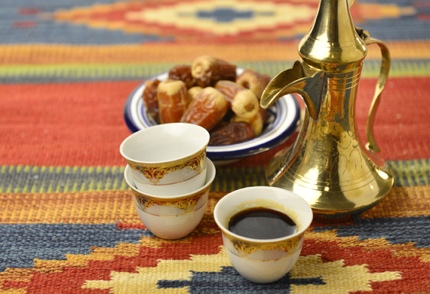 Appam in India
There must be over 100 breakfast items in India but we like appam the best. This south Indian pancake is made of rice flour, coconut milk and yeast, and the mixture is left to ferment overnight. On the following morning, you spread a ladle full of the batter onto a hot pan, allowing the batter to curl at the edges and give rise to a spongy centre.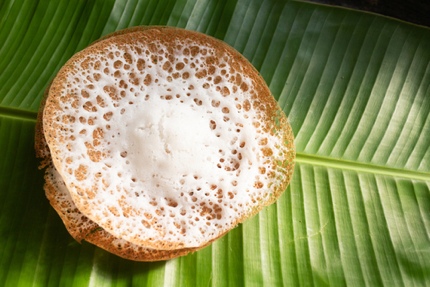 Dim sum in Hong Kong
Like India, China has a heroic list of breakfast items, and if you can't decide what you're craving, head to a dim sum restaurant in Hong Kong and wait for the servers to push their carts, loaded with bamboo steamers, to your table. If you see something that you like, order directly from the server and they will transfer the steamer from the cart to your table.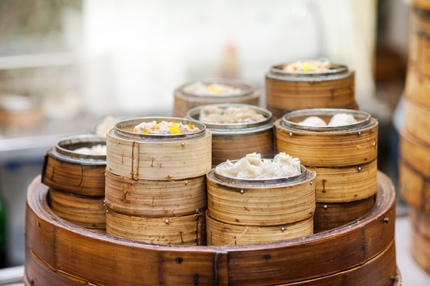 Nasi Lemak in Malaysia
Meaning fragrant rice in English, Nasi Lemak is the national dish of Malaysia and often eaten in the morning or at lunch. Consisting of rice steamed with coconut milk and served with dried anchovies, eggs, peanuts and most importantly, sambal (a hot chilli paste), this breakfast is bursting with colour and flavour.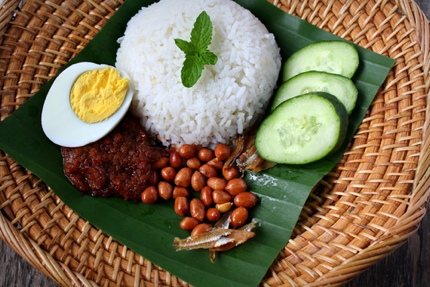 Kaya toast and soft-boiled eggs in Singapore
Kaya is a traditional jam made of coconut, eggs and pandan leaves (for flavour and natural colour). This sweet and delicate jam pairs heavenly with slices of charcoal-grilled toast and two soft-boiled eggs, creating an unbeatable combo to start your day.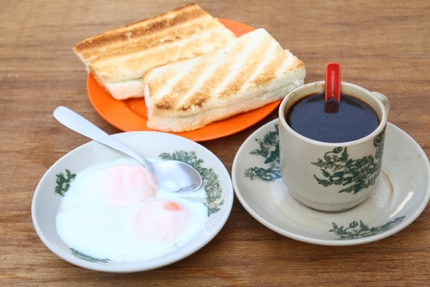 Vegemite in Australia
Vegemite is controversial because you either love or hate it. A thick gooey paste made from yeast extract, Vegemite is chiefly malty and salty, although some claim that it's also bitter. Like it or not, Vegemite is versatile – Australians spread it on avocados and toasts in the morning and also use it to enrich soups and savoury pies.
An interesting fact about Vegemite is that due to its high levels of B vitamins, some doctors even prescribe it as a health supplement.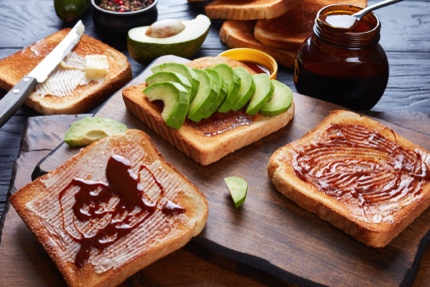 Pancake in the USA
There's something immensely satisfying about pouring maple syrup over a stack of pancakes and watching it dribble down. And if you aren't counting calories, add a layer of fruit compote and some crispy fried bacon on the side.
American pancakes are made of eggs, flour, butter, milk, plus a couple teaspoon-full of baking powder. It's the baking powder that makes the pancakes spongier than the English counterpart.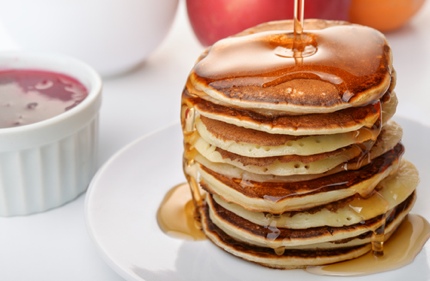 Huevos rancheros in Mexico
This visually arresting breakfast dish has eggs on tortillas and topped with salsa. When you're ready to eat, sprinkle hot chilli sauce and squeeze a little lime over the dish because this winning combo makes everything taste glorious.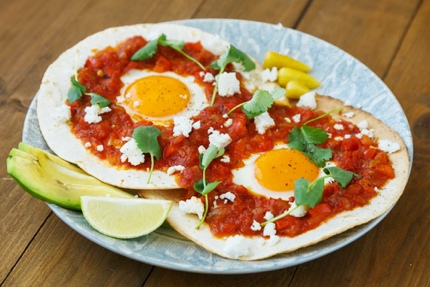 Pão de queijo in Brazil
Best served warm with a cup of strong coffee, Pão de queijo or Brazilian cheese buns are soft, pillowy and flavorful, thanks to the mixture of tapioca flour, vegetable oil, eggs, milk and grated hard cheese, with the former two ingredients responsible for an airy and elastic dough.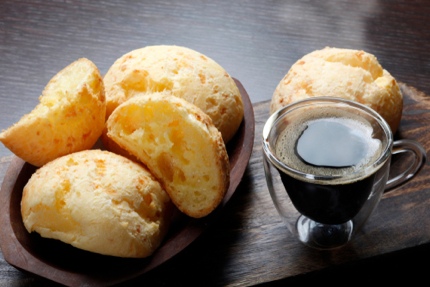 You may also like: