With a pleasing mix of locally-sourced and contemporary cuisine, Dubrovnik is the foodie pearl of the Dalmatian coast
Situated on the stunning Dalmatian coastline, Dubrovnik is proud of its fresh local produce and the city is a rapidly growing cosmopolitan gastronome hotspot. Read on to learn about the 10 must-try dishes and specialty drinks in Dubrovnik.
1. Black Risotto
Being surrounded by sea and with fishermen delivering their daily catch to restaurants across the city, it should come as no surprise that Dubrovnik offers some of the best seafood dishes. Black Risotto, or Crni rižot, gets both its name and colour from gloriously dark, velvety squid ink. At some restaurants, they may incorporate mussels, clams and other shellfish into the dish, making it a real harvest of the produce of the Adriatic.
Where to try black risotto in Dubrovnik: Gverovic Orsan (Shtikovica 43), well-loved by both locals and tourists, prides itself on its wonderful black risotto.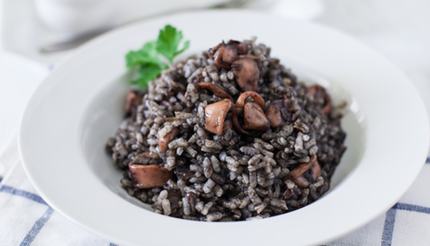 2. Zelena Menestra
With the earliest written records of the recipe dating back to the 15th century, zelena menestra, literally translated as 'Green Stew', is a one-pot meal founded on three basic ingredients: meat, potatoes and cabbage. Various types of cured meat like ham, bacon, sausages, and dried mutton are often used, giving this dish a smoky and salty flavour.
Where to try zelena menestra in Dubrovnik: Poklisar (Od Ribarnice 1) makes zelena menestra that tastes like the most comforting home cooking at its finest.
3. Pašticada
A meal for important functions, pašticada is also often called Dalmatinska pašticada because it originates in Dalmatia – in fact, the oldest recorded recipe is traced to the 15th century Dubrovnik. This dish requires long preparation – beef is stuffed with herbs and marinated in vinegar overnight, then roasted and stewed for hours before surviving it with pasta or gnocchi.
Where to try pašticada in Dubrovnik: Kopun (Polj R Boškovića 7) serves traditional Croatian dishes including pašticada. Another great choice is Konoba Veranda (Štikovica 24a).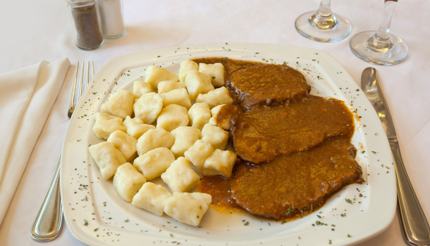 4. Šporki Makaruli
Although literally translated as 'Dirty Macaroni', don't let the name alarm you. This dish pairs macaroni with a rich, tomato and meat sauce similar to a Ragu or a Bolognese, and just as delicious to boot. Napkins most definitely required while enjoying this dish.
Where to try šporki makaruli in Dubrovnik: Kapun (Polj. R.Boshkovica 7) does šporki makaruli very well.
5. Rožata
You can't leave Dubrovnik without trying its most famous dessert rožata. Similar to crème brûlée in texture, this pudding has a secret ingredient – homemade rose liqueur. Rum is often added to give it a kick.
Where to try rožata in Dubrovnik: Almost all restaurants in Dubrovnik serve rožata and a good option is Gverovic Orsan (Shtikovica 43).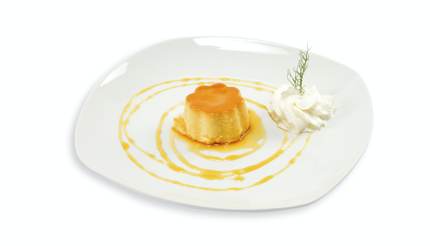 6. Arancini (candied orange or lemon peel)
The earliest records of this simple sweet treat date back to the Romans when it was a popular gift for friends and family. Centuries on, arancini is still a popular gift so do come home with a pack or two.
Where to try arancini in Dubrovnik: You can find arancini in the market on Gundulićeva poljana in the heart of the Old Town.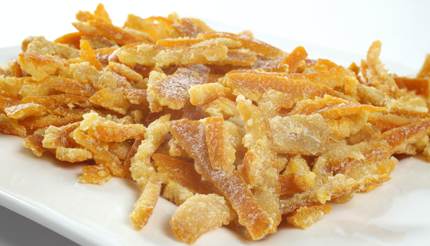 7. Olives
Dubrovnik and its surrounding areas have grown deep-green olives for centuries and many families still cure their own olives. Keep a lookout for Croatian olive oil too.
Where to try local olives in Dubrovnik: Most restaurants offer them. Alternatively, you can purchase quality Croatian olives and olive oil from the market on Gundulićeva poljana.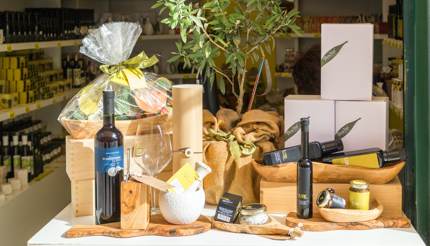 8. Pošip Wine
A perfect pairing with seafood, this white wine is made on the nearby island of Korčula. Light but robust, almost honey-like in taste, it's also good with soft crumbly cheeses like feta.
Where to try Pošip Wine in Dubrovnik: Dalmatino Dubrovnik (Prijeko 15) has a number of excellent vintage Pošips on their wine list.
9. Rakija
Ubiquitous in Croatia, rakija is a brandy made with plums, pears, pomegranate or other fruits. The locals believe that rakija is also a good remedy for cold and stomach aches.
Where to try rakija in Dubrovnik: Almost every restaurant in Dubrovnik serves rakija, or you can buy it from any of the liquor stores.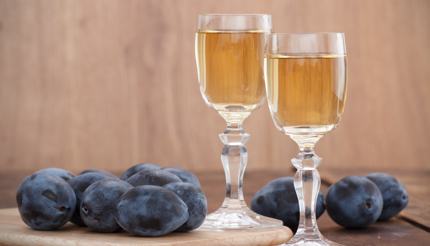 10. Craft Beer
Once upon a time, well-known beer brands are popular in Dubrovnik but these days, it's craft beer that rules. From light and refreshing Zmajska Pale Ale to robust dark beer Križevačko Tamno Pivo, you'll be spoilt for choice here.
Where to drink craft beer in Dubrovnik: Glam Café (Palmoticeva 5) has a wide range of Croatian craft beers.
You may also be interested in:
Before you go, check out:
This post was first published in November 2017 and updated in April 2020.