Hungarian food is not for the faint-hearted, from deep-fried treats to an abundance of sour cream, loosen your belt now for the top 10 things to try in Budapest
Many restaurants in Budapest serve up hearty Hungarian food, with rich stews cooked in spices that recall the Ottoman occupation, though the dining scene has also seen the emergence of lighter palate-pleasing variations. Read on to discover the top 10 things to try in Budapest and where to find them when you visit this magnificent city.
1. Gulyás
Welcome to the cradle of gulyás. Known around the world as goulash, this rich stew is made of meat and vegetables, generously seasoned with paprika. Although beef is used commonly, you can also find gulyás made from pork, chicken and even a few vegetarian and vegan versions. The golden rule is to use paprika as the main seasoning spice. Hungarians are proud of their gulyás and love having the stew served with tiny egg noodles called csipetke, straight from a cast-iron cauldron.
Where to try gulyás in Budapest: For a unique dining experience, visit Vagon restaurant (Vérmező), which is hosted inside an old train carriage parked beside a busy train station. For an unpretentious option, try Gettó Gulyás (Wesselényi u. 18), a mid-range restaurant in the Jewish Quarter.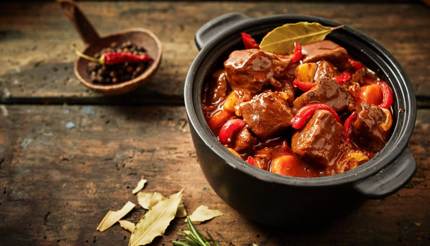 2. Chicken paprikás
As you can guess by now, paprika is widely used in Hungary. To make chicken paprikás, rosy and flavourful sweet paprika is the spice of choice for the creamy sauce which the chicken meat is simmered in for over an hour. Serving chicken paprikash with anything other than egg dumplings called nokedli is highly frowned upon.
Where to try chicken paprikás in Budapest: Paprika Jancsi (Ráday u. 16) is our firm favourite.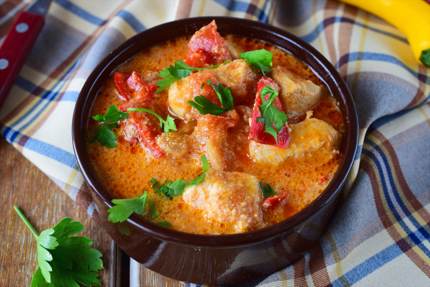 3.Lecsó
Lecsó (pronounced lech-o) is a vegetable stew with tomatoes, yellow peppers and onions seasoned with salt and a generous amount of either sweet or hot paprika powder. Served with bread and often with a scoop of sour cream, this is a must-try dish for vegetarians visiting Budapest. 
Where to try lecsó in Budapest: The restaurant Béla (Béla 10) is a local spot that offers multiple versions of lecsó including tofu and feta options. Lecsó Hungarian Restaurant (Szent Istvan Korut 10) is another great spot.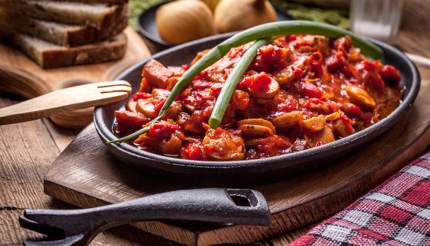 4. Lángos
The beloved street food lángos (pronounced lan-gosh) is a deep-fried dough served with toppings of one's choice. Just a few years ago, asking for anything other than sour cream and cheese on your lángos was unheard of, but street vendors in Budapest today are updating traditional recipes with a modern twist. You can now get a variety of toppings, much like what you would get on a pizza.
Where to try lángos in Budapest: Try it at any food market in the city, such as the Great Market Hall (Vámház krt. 1-3).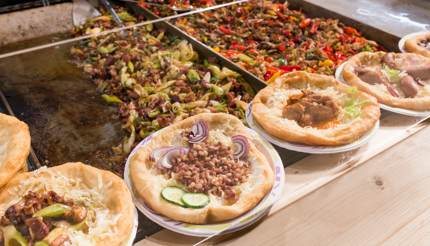 5. Halászlé
Commonly known as Fisherman's soup, this tasty dish is cooked from carp or other freshwater fish caught in the river Danube. Like other Hungarian dishes, halászlé relies on a generous use of, once again, paprika powder, which gives it a lovely bright red colour. It is often spicy so check with your waiter before rushing to order one.
Where to try halászlé in Budapest: Horgásztanya Restaurant (Fő u. 27) makes a delicious version of this hearty soup.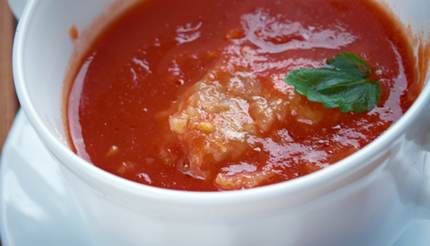 6. Sólet
Kidney beans, onions, barley and paprika form the basis of this hearty stew. Traditionally a Hungarian-Jewish dish, restaurants today may also serve it with pork to meet popular demand. A whole or a halved egg is a typical garnish.
Where to try sólet in Budapest: Try it in the heart of Budapest's Jewish Quarter, at the restaurant Kőleves (Kazinczy u. 41).
7. Somlói galuska
If you have a sweet tooth, this lavish dessert is a must-try. Somlói galuska is a trifle made with three different flavoured sponge cakes, cream, raisins as well as walnuts and chocolate sauce. When somlói was first created in the late 1950s, it enjoyed much success and even won an award at the World Expo in 1958.
Where to try Somlói galuska in Budapest: Step back in time and try Somlói right at the restaurant where it was created, the Gundel (Gundel Károly út 4). Prepare for a royal experience, as Queen Elizabeth II of England and Pope John Paul II have also dined here.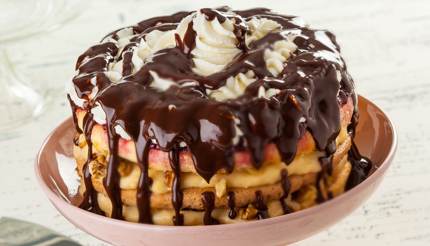 8. Fröccs
If you are visiting Budapest during summer, you will notice the drink of choice among the locals is fröccs, a basic cocktail of wine and soda water. Depending on the wine-to-soda ratio, fröccs can have a dozen different, very creative names.
Where to try fröccs in Budapest: While you can order fröccs at every establishment in Budapest, for the most authentic fröccs experience, visit an open-air bar, like Szimpla (Kazinczy u. 14), a famous starting point for those going on a city bar crawl that might run long into the night.
9. Pálinka
Pálinka is a strong alcoholic beverage, traditionally distilled from plums and pears, in recent times brewers have also tried wild fruits like sloe berries. Pálinka is typically enjoyed at the end of a meal to aid digestion. Did we mention that only fruit spirits mashed, distilled, matured and bottled in Hungary (and part of Austria) can be called Pálinka?
Where to try Pálinka in Budapest: Abszolut Palinka (Kazinczy utca 52) offers a selection of premium pálinkas in 250 different flavours.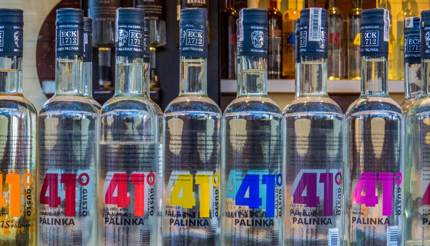 10. Milk bars
As unusual as it sounds, drinking milk in dedicated milk bars is a tradition in Budapest. Milk bars open early enough to welcome locals who are stopping by for a quick drink and a breakfast pastry on the way to work or school.
Visit a milk bar in Budapest: Head to Cserpes Tejivó (Sütő u. 2), which offers a large selection of sweet or savoury pastries to pair with your choice of dairy.
This post was first published in December 2017 and updated in April 2020.
You may also be interested in:
Before you go, check out: