Olive oil, vegetables, fish and feta are key ingredients in Greek cuisine. Read on for the best food and drinks to try while you're visiting Athens
It is widely believed that the Greek cuisine was founded on the "Mediterranean triad", referring to its heavy use of cereals, olives and grapes. But overtime, fresh vegetables, sweet honey, tasty fish, succulent lamb and smooth cheese are added to deliver dishes that are unmistakably Greek.
If you're heading off to Athens on a trip, then you're in for a real taste treat. Here are 10 dishes and drinks that are worth a try while you're visiting Greece's capital.
1. Tzatziki
We should begin this article by recommending Greece's most famous dipping source: tzatziki. A great complement to fish and grilled meat – especially during sunny days – tzatziki is a savoury sauce made of Greek yogurt, cucumber, garlic, olive oil and herbs (mint, dill, parsley and thyme being common), with a generous splash of lemon juice or white wine vinegar.
Where to try tzatziki in Greece: While you may have tasted more watered down versions elsewhere in the world, nothing beats the creamy tzatziki you'll experience in Athens. O Thanasis (Mitropoleos 69), in the heart of Athens, is a popular café among the locals. Strofi (Rovertou Galli 25) offers an amazing view of the Acropolis to go along with tzatziki and other classic Greek fare.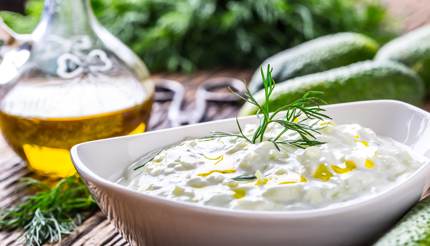 2. Souvlaki, also known as kalamaki
Arguably the most famous Greek fast food in the country, souvlaki or kalamaki is as 'classic' as the architecture in Athens. Souvlaki is a simple, tasty dish consists of small chunks of meat (and sometimes vegetables) grilled on a skewer. It can be eaten straight from the skewer or served with potatoes and pita bread.
Where to try souvlaki in Athens: For a classic souvlaki skewer, head to Kalamakia O Elvis (Plateon 29), an Elvis Presley-themed grill shop that offers tasty skewers.
If you're looking for souvlaki served in a pita, head to Kostas (Pentelis 5), a family-run restaurant that has perfected souvlaki over the course of half a century. The long queues are a testament to its popularity.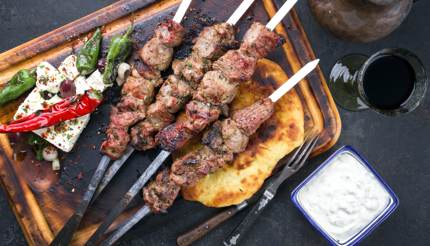 3. Gyro or gyros
The difference between a gyro and souvlaki is how the meat is prepared. Souvlaki has pieces of meat on a skewer and cooked over a grill. Gyro, on the other hand, is like a kebab and made with meat cooked on a vertical rotisserie. In Athens, the meat used in this delectable dish is usually pork or chicken (as opposed to lamb) and is served in a pita wrap alongside vegetables, potatoes, tzatziki and lemon.
Where to try gyro in Athens: All That Jatz (Agiou Filippou 10) and O Gyros Pou Gyrevis (Athanasiou Diakou 1) are our firm favourites for a tasty gyro. For a vegan version, try the mushroom gyro at Vegan Beat (Pandrosou 7-15).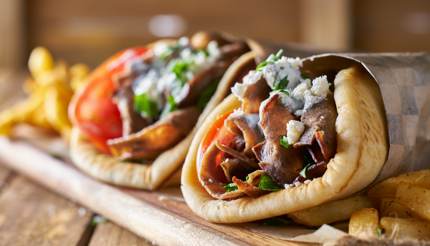 4. Dolma or Dolmathakia
While Dolmathakia did not originate in Greece, the country exports the canned version of this dish to many countries around the world. Referring to tender wine leaves stuffed with rice and meat, dolma is a popular appetiser but sometimes also served as a main course.
Where to try dolma in Athens: While it is fairly common to find dolmathakia in restaurants across Athens, Ydria (Adrianou 68), not far from the Ancient Agora, offers delicious dolmathakia with yogurt and spearmint sauce.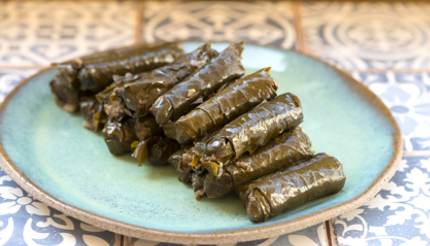 5. Spanakopita
For visitors who love a savoury pastry treat, spanakopita (spinach pie) is a must-try. Encased in a lovely and flaky phyllo dough, spanakopita delivers a surprisingly refreshing taste thanks to a combination of spinach, herbs and feta cheese. This melt-in-your-mouth dish can be enjoyed as a main, as a side, or as a takeaway snack. Careful though, if you like flaky pastry with a savoury cheese and spinach filling, you can get addicted to this.
Where to try spanakopita in Athens: Athenians absolutely love the spanakopita and other cheese pies in Ariston Bakery (Voulis 10), a small and unassuming bakery near Syntagma Square that has been with the same family for over 100 years. Makedonikon (Solonos 73) is another great spot for spanakopita.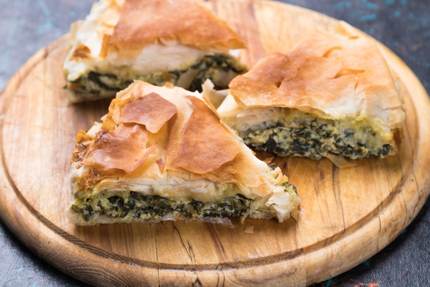 6. Loukoumades
Loukoumades are small doughs deep-fried to crispy, drenched in honey syrup, and sprinkled with a range of toppings from ground cinnamon, sesame seeds to chocolate source. While they look a lot like profiteroles in size, many consider them to be the 'Greek doughnuts' – but a wise Greek may very well point out that doughnuts are like loukoumades (and not the other way around) as loukoumades are one of the oldest pastries in the world.
In fact, it is reported that winners of the ancient Olympic Games were awarded loukoumades. Medals weren't as important as these sweet fluffy balls apparently. So if you believe that you are a winner, give loukoumades a try in the Greek capital.
Where to try loukoumades in Athens: Undoubtedly, the Athens-based specialist Lukumades (Eolou 21) is a popular dessert café for traditional loukoumades, as well as loukoumades with modern fillings like lemon cream served with a scoop of ice cream. Ktistakis (Sokratous 59), where they have served nothing but delicious loukoumades since 1912, is another popular spot.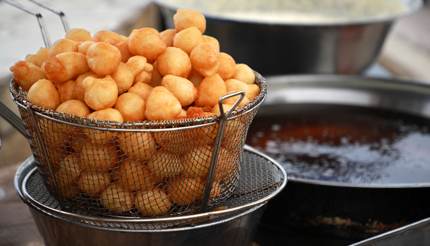 7. Greek yogurt
Sure, you may be able to buy Greek yogurt in just about any supermarket in big cities across the world, but the mass-market versions just can't beat the authentic, creamy yogurt served in Athens. Often crafted from sheep's milk or cow's milk from the countryside farms, Greek yogurt is strained three times, giving it a thicker and creamier texture. So don't miss out on your opportunity to sample one of Greece's most popular exports in its authentic form and setting while you are in Athens.
Where to try Greek yogurt in Athens: Stani (Marikas Kotopouli 10) is a traditional dairy bar that has proudly stood for over a century. This is where you will find the authentic, thick Greek yogurt topped with walnuts and honey.
Fresko Yogurt Bar (Dionysios Areopagitou 3) near the Ancient Agora is another favourite. This place sells five types of yogurt – traditional Greek yogurt, a lighter version of the traditional, cow yogurt, sheep yogurt and goat yogurt.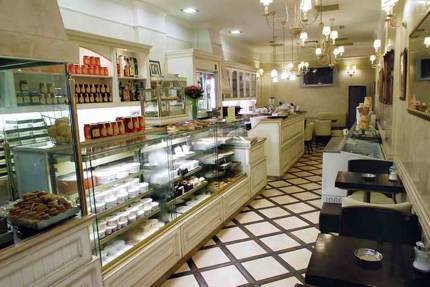 8. Amygdalota
Amygdalota is a lovely almond cookie often made with a splash of orange or rose water. Crunchy on the outside and chewy on the inside, these cookies symbolise new beginnings and are often served in weddings and baptisms.
Where to try Amygdalota in Athens Mitropolitikon (Voulis 39) is our firm favourite.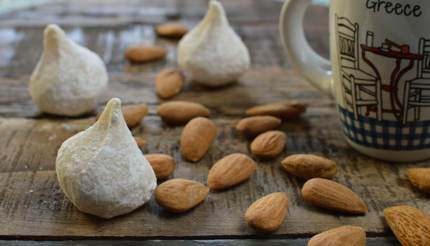 9. Ouzo
If there is one thing the world knows about Greece, it is ouzo. Thanks to films such as My Big Fat Greek Wedding, ouzo is now enshrined in popular culture. This delicious anise-flavoured alcohol is often consumed as an accompaniment to a meze platter (a large tray consisting of Greek yogurt, cold cuts, fresh vegetables and pita) among friends.
Where to try ouzo in Athens: Head to Athens' oldest distillery, Brettos Bar (Kidathineon 41). The snug setting is complemented by a colourful array of backlit bottles stacked on shelves, from floor to celling, to create a really beautiful, rainbow-coloured backdrop that makes for some unique mood lighting.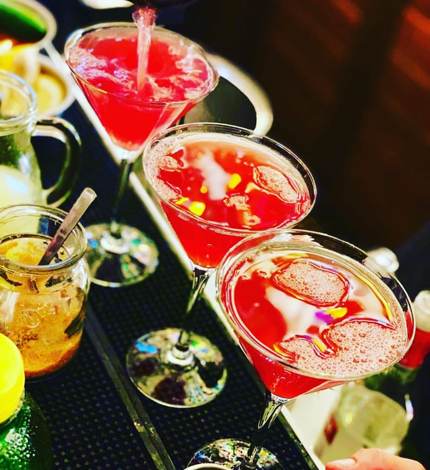 10. Frappé
Closing out our list is frappé, a veritable institution of Greece's famous all-hours coffee culture.
Accidentally invented in the 1950s by a representative of Nescafé in Greece, frappé took the country by storm during the country's economic 'golden age' in the 1960s. The drink is made from instant coffee, sugar, milk and ice, blended together to create a smooth mixture. Sometimes whipped cream is also added.
Where to try frappe in Athens: There are too many places to pick from when it comes to great frappé, so we've made some selections based on atmosphere. Want to enjoy your frappé somewhere super cosy and quiet? Then give Little Tree Books & Coffee (Kavalloti 2) a visit. Here, you can enjoy a lovely frappé while reading a book.
If you like learning about the famous Greek actress Melina Mercouri, head to the Melina Mercouri Café (Lisiou 22) where you can enjoy a great frappé while surrounded by a pretty setting adorned with her memorabilia.
If you want to mingle with chess players, head to Panellinion (Mavromichali 16). Founded over 100 years ago, this is where you will see many locals of all ages enjoying (and arguing over) games of chess as they sip on frappé or alcohol.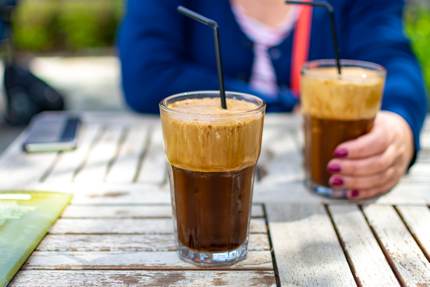 If you liked this article, you might also like: