Italian cooking prides itself in creating a mesmerising experience with simple ingredients, and Rome is a one-stop shop for culinary excellence
The simplicity and flavourful nature of Italian cooking has led itself to be the theme of many Michelin-starred restaurants across the world. In Rome, restaurants and cafés have a healthy obsession with seasonal produce, chosen for ripeness and taste. Many chefs also don't measure out the exact ingredients, turning Italian cooking into an artistic expression with each dish having its own individuality. Here are 10 of the best things to eat and drink while in Rome, Italy.
1. Roman Pizza (Pizza Romana)
Arguably, pizza is the most quintessential Italian dish, synonymous with the nation itself. In Rome, there are two types of pizza to try – pizza al taglio and pizza tonda – both are Roman inventions. Pizza al taglio refers to a large rectangular tray covered with different types of pizza. Each type has its own toppings and is cut into several smaller rectangular or square pieces. Customers usually order one or two slices (the name al taglio means by the slice) and eat it while walking down the streets.
Pizza tonda, on the other hand, is usually enjoyed in a café or a restaurant. This style of pizza has a wafer-thin base baked until crispy. The toppings tend to be simple, with just one or two ingredients liberally scattered on the pizza.
Where to try the best pizza in Rome:
For a delicious slice of pizza al taglio, head to Antico Forno Roscioli (Via dei Chiavari 34) or Panificio Beti (Via del Vascello 46).
For pizza tonda, check out Emma (Via del Monte della Farina 28).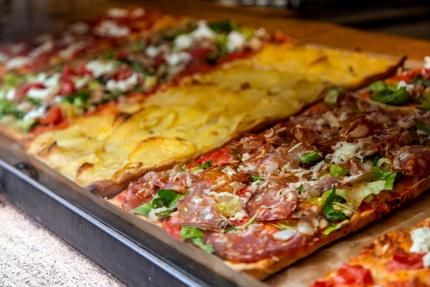 2. Trapizzino
Originated in Rome, this triangular-shaped street food is like a cross between a pizza and a sandwich, stuffed with mouth-watering ingredients and a home-made source. All the Trapizzino stores have five classics available at every outlet – chicken cacciatore, meatball with sauce, eggplant parmigiana, double burrata stracciatella and Cantabrian anchovies, and tongue in salsa verde. Often, each store will also add a few special flavours each day.
Where to try Trapizzino in Rome: Trapizzino has several outlets, including one in Mercato Centrale Rome (Via Giovanni Giolitti 36).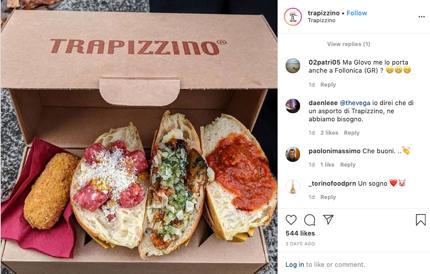 3. Porchetta
Each restaurant has its own secret recipe when it comes to making this savoury, melt-in-your-mouth pork roast. The careful preparation and slow cooking process (at least 8 hours are required) are like an anthem of traditional Italian cooking. A generous concoction of salt and herbs are also vital in creating this iconic dish.
Where to try porchetta in Rome:
Angrypig Birretta e Porchetta (Via Tunisi 38) has a great selection of sandwiches and Porchetta being a highlight of this café.
Trattoria Pigneto (Via del Pigneto 68) also sells delicious porchetta sandwich.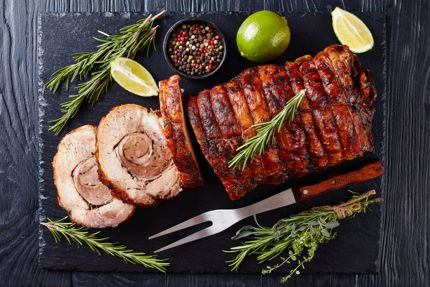 4. Mozzarella bar
Visiting a mozzarella bar in Rome is a delightful experience, particularly for a cheese connoisseur. Here, you can enjoy mozzarella fresh, smoked or deep-fried, served with accompanying acts such as focaccia, cured meat, olives or different types of pesto. If that doesn't fulfil your cheesy desires, pizza and pasta dishes served with mozzarella are also available.
Where to find a mozzarella bar in Rome: Obica is the pioneer in Mozzarella Bars, with multiple chains in Rome, including one in Via dei Prefetti 26a, diagonally opposite Palazzo Larderel Giacomini.
5. Pasta
Classic pasta dishes originated in Rome include carbonara (egg and hard cheese), cacao e pepe (cheese and pepper), alla gricia (rich guanciale sauce), and amatriciana (slightly spicy and salty tomato sauce). You can get a satisfying pasta dish from a corner café or you can also splash out and enjoy a pasta meal prepared by a Michelin-starred chef.
Where to try pasta in Rome:
Ristorante Roscioli (Via de Giubbonari 21) is often touted as the best place for carbonara in Rome.
Checchino dal 1887 (Via di Monte Testaccio 30) serves authentic amatriciana using cured pork jowl (guanciale) that will make you return for more.
Le Pergola (Via Alberto Cadlolo 101) is a three-Michelin-starred restaurant in Rome. Its pasta parcels in veal stock have glorious reviews by fellow chefs and food critics.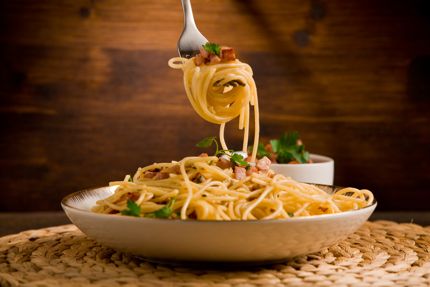 6. Roman Jewish Cuisine
A sub-cuisine with historic undertones, the Roman Jewish Cuisine sees a wide variety of dishes that harness the various cuisines from the Jewish diaspora from centuries ago to modern days. While in Rome, visitors can try a few famous Roman Jewish dishes like:
Hraimi – a spicy fish few served with couscous
Mafrum – stuffed vegetables
Carciofi alla giudia – deep-fried artichokes
Concia – fried courgette or zucchini
Where to find Roman Jewish cuisine in Rome:
Nonna Betta (Via del Portico d'Ottavia 16) is synonymous with Roman Jewish Cuisine, providing diners with a capsule of Roman Jewish history.
Piperno Restaurant (Via Monte dè Cenci 9) is another spot that provides an exemplary experience in Roman Jewish Cuisine.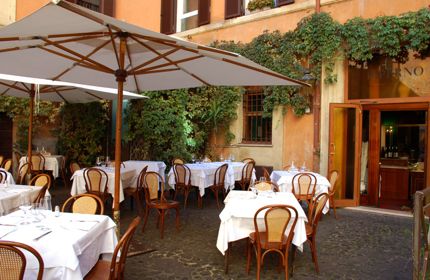 7. Ricotta Cake
Ricotta cake is another example of Italian food with Jewish heritage. Originating as a dessert made for Hanukkah, it has adapted over time and become a custom during Italian Christmas. Ricotta cake can have various flavours ranging from chocolate, lemon, orange and cinnamon, so there is a choice for everyone.
Where to find the best Ricotta Cake in Rome: Pasticceria Boccione (Via del Portico d'Ottavia 1) is the crown jewel of the Jewish Ghetto and its ricotta cake with cherry offers many satisfactory bites.
8. Gelato
Gelato is ice cream in Italian, however, there are clear distinctions between the two. Gelato is much denser and richer than ice cream, made with more milk but less cream and fewer eggs, also being churned more slowly. Available in a few dozen flavours, gelato is a perfect antidote to hot summer days in Rome.
Where to find the best gelato in Rome:
Gelateria del Teatro (Via dei Coronari 65) serves a range of flavours, all prepared on-site.
Otaleg (Via di San Cosimato 14a) and Frigidarium (Via del Governo Vecchio 112) also make good choices.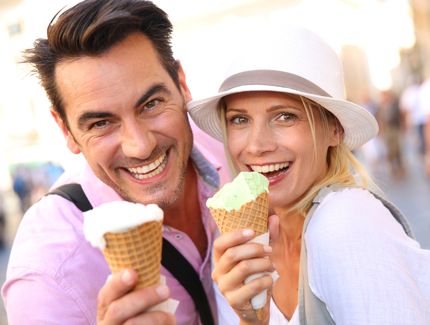 9. Coffee
Mocha, latte, espresso, cappuccino, macchiato – Italians have been influential in our daily dependence of coffee. Coffee shops are ubiquitous around Rome, serving up stronger coffee in smaller cups. Enjoying an espresso while seated in a pavement café in Rome, watching the world moves around is an unforgettable experience.
Where to try coffee in Rome:
Visit Tazza D'Oro (Via Degli Orfani 84) near the Pantheon and enjoy a cup of cappuccino.
Antico Caffè Greco (Via dei Condotti 86) is the oldest coffee shop in Rome and well worth a visit.
10. Aperol Spritz
You can't go to Rome without trying Prosecco, Aperol, or Aperol Spritz, a heady combination Prosecco and Aperol with a splash of soda water. A common aperitif, Aperol Spritz is enjoyed by residents of Rome with friends from early evening onwards.
Where to find Aperol Spritz in Rome:
Bar San Calisto (Piazza di S Calisto 3) provides both an indoor and outdoor experience with astounding cocktails by skilled mixologists.
Salotto42 (Piazza di Pietra 42) has a cosy atmosphere perfect for an aperitif.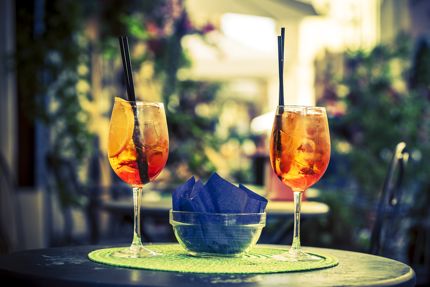 Before you go, check out:
If you liked this post, you might also like: