Featuring the best dishes of many ethnic groups, Israeli cuisine is hard to resist. As Israeli cuisine is now a popular source of ideas for recipe hunters, we're bringing six popular Israeli dishes to your kitchen
Tourism is booming – Israel yet again welcomed a record-breaking number of international tourists to the alluring nation in 2019, and British Airways has named Tel Aviv as one of the top destinations to visit in 2020.
Cities in Israel are now top global destinations for food and drink, with Tel Aviv clearly leading the way. Touted as the vegan capital of the world, Tel Aviv's vibrant food scene has galvanised everyone from top chefs to street vendors into staying on top of their game.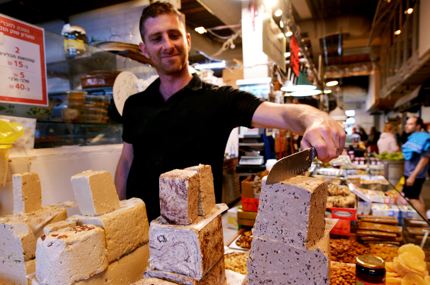 For many holiday-makers, after sampling a wide range of mouth-watering Israeli cuisine in Tel Aviv and other parts of Israel, you may want to master the art of making the same dish at home through easy-to-follow recipes that will bring the taste of Israel directly into your home. Here are six healthy, delicious and approachable recipes that you can try today.
Falafel with tahini and Israeli salad
As a staple of the Middle Eastern diet, falafel has become an immensely popular cultural export from the region to the rest of the world with Israel playing a big part in popularising these delicious deep-fried patties.
This recipe combines falafel with tahini, a condiment popularised by Mizrahi Jews in Israel which can serve as either a dip or, more commonly, a topping for falafel. Serve your falafel with a refreshing side of Israeli salad to complete the experience.
Serves: 4
Falafel Ingredients
1 small onion (diced)
1 clove of garlic (diced)
400g of chickpeas
1 egg (beaten)
2 tbsp of extra virgin olive oil
2 tsp of ground cumin
1 tsp of mixed herbs
1 lemon zest (grated)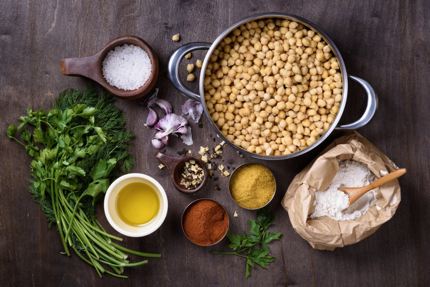 Tahini ingredients
4 garlic cloves
3 tbsp of tahini paste
2 lemons (juiced)
1 tbsp of olive oil
A pinch of paprika
Israeli salad ingredients
4 medium-sized tomatoes (skinned, deseeded and diced)
1 cucumber (skinned, deseeded and cubed)
1 medium-sized red onion (diced)
3 tbsp of chopped flat leaf parsley
5 tbsp of extra virgin olive oil
1 lemon (juiced)
To make the falafel, start by adding the olive oil to a heated pan, followed by the onion. Cook until soft before adding the garlic and keeping it on medium heat for 1 further minute. Transfer to a mixing bowl.
Prepare the chickpeas (drain them if they come in a can) and place them in the same mixing bowl as the onion and garlic. Use a potato masher to crush these ingredients down. Once sufficiently mashed, add the mixed herbs, cumin, lemon zest and the egg to the mixing bowl and mix all of the ingredients together with your hands.
Carefully roll the mix into 16 individual balls that are the size of a walnut and place them onto a non-stick tray. Transfer the tray to the fridge for 20 minutes to allow them to form.
Once the 20 minutes has elapsed, place the falafel in a pre-heated oven at 180°c/gas mark 6 for approximately 25 minutes, turning occasionally to ensure the exteriors are evenly golden and crisp.
While waiting for the falafel to cook, it is time to make the salad and tahini dressing. Mix together the salad ingredients in another mixing bowl, starting with the lemon juice and olive oil. Then add the tomatoes, cucumber, onion and parsley and mix all of the ingredients together until there is an even consistency.
For the tahini dressing, crush the garlic with a dash of salt and pepper in a pestle and mortar, a blender or with the back of a knife. Mix the garlic together with the tahini paste and whisk the two together before adding the lemon juice. Finish by sprinkling a dash of paprika into the mix before topping with a drizzle of olive oil. Mix again until your ideal consistency is reached.
Serve all three together and enjoy this simple yet incredibly tasty dish!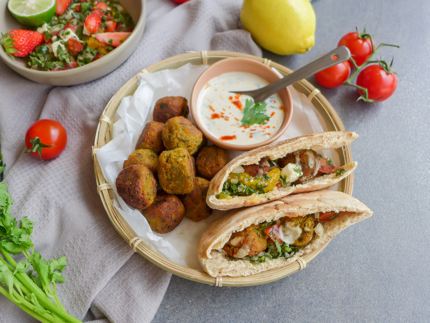 Jerusalem bagels
In the popular TV programme 'Paul Hollywood City Bakes', the celebrity chef Paul Hollywood walked the alleys in Jerusalem in search of traditional breads, pastries and confectioneries. Even though TVs could not adequately deliver the sensations that Paul enjoyed, many viewers were left salivating. In the programme, Jerusalem bagels inspired Paul so much that he created his own version – but the real version is better (in our opinion) and it is also easy to re-create at home.
Ingredients
510g of flour
3 ½ tsp fresh yeast or 20g of dry yeast
260ml of milk and 130ml of water (heated together)
4 tbsp of vegetable oil
3 tbsp of sugar
1 egg (beaten)
½ cup of sesame seeds
2 tbsp of sugar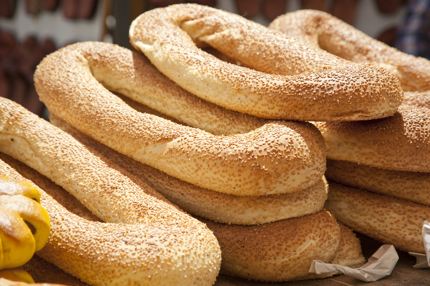 To begin making the bagels, transfer the yeast to a large bowl along with the water/milk mixture, the sugar and the oil. Stir the ingredients together in a gentle manner before covering the bowl. Leave for 10 minutes, allowing the yeast to rehydrate. Whisk the mixture together until there are no lumps. Once smooth, sift the flour over the bowl and vigorously mix it into the mixture.
If you are using a mixer, fit the dough hook and mix the dough together for 10 minutes. If kneading by hand, knead for approximately 10 minutes. Whatever method you use, the dough should have a smooth texture (if a little tacky).
Cover the bowl with either a recycled plastic bag or some plastic wrap and leave for 30 minutes. This will allow the dough to rise up and double in size. After the time has elapsed, sprinkle some flour on a work surface before dividing the dough into six equal portions. You'll want to roll each piece so that they resemble a "snake", about 18 inches in length.
From here, join either end of each "snake" together, creating a circle, and pressing them together. Hook a finger into the bottom of that hole and gently stretch the dough until you make a long hole that resembles an oval. Once all six resemble this oval shape, it is time to start baking.
Preheat the oven to 175°c/gas mark 4 and line two trays with baking parchment paper. Place three pieces of the dough on either tray, making sure that the sides with the joined ends are facing down. Brush each piece with the beaten egg, making sure to reach all sides of the bagels. It is important to perform this action now as the bagels will become light and fragile with more handling, possibly collapsing under the pressure of the brush.
In a mixing bowl, combine the sesame seeds with the sugar and mix. Sprinkle this mix over the bagels, again turning the tray so that the surface is evenly covered with the mixture. The sesame seeds play an important role in giving the bagels their distinctive taste. Let the bagels rise for about 30 minutes until they have doubled in size.
After that, it is time to bake them. Put the uncooked bagels in the oven for 12 to 15 minutes, or until the bagels are golden brown from top to bottom. When this has been achieved, remove the bagels from the oven and set them on a cooling rack, making sure to cover them with a towel.
Once cooled, your bagels are ready to be enjoyed. Jerusalem bagels are popular street food – you can tear a small chunk off and dip it in a dry za'atar spice mix (see below) or a sauce that you like.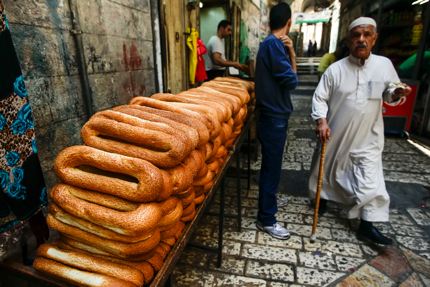 Za'atar
A blend of herbs that is such an inherent part of Israeli cuisine, za'atar is so popular now that you can get the spice mix from online shops or major supermarkets. You can, however, make za'atar spice mix at home easily. Once you have made the first batch, you may want to continue making new batches.
Ingredients
2 tsp of cumin seeds
2 tsp of sesame seeds
2 tsp of dried oregano
2 tsp of sumac
2 tsp of salt
1 tsp freshly grown black pepper
Place the cumin seeds in a dry pan and lightly toast them until you start to smell the aroma. When this happens, take them off the heat and grind them into a fine powder using a pestle and mortar. Stir in all the other ingredients, seasoned with salt and pepper. That's it!
Keep your za'atar spice mix fresh by storing it in an airtight container. Use it within a month.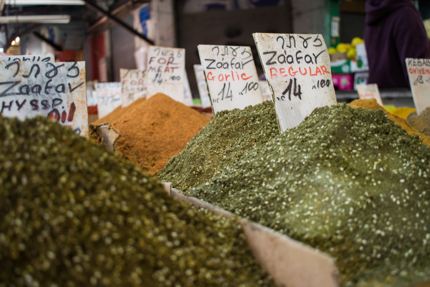 Shakshuka
Originating in Northern Africa but now a firm dinner favourite among the Israelis, Shakshuka is a one-pot meal of poached eggs atop a spicy tomato stew. It is easy, wholesome, and most importantly, flavourful.
Serves: 1
Ingredients
5 tbsp of extra virgin olive oil
1 medium onion (sliced)
1 clove of garlic (finely chopped)
½ tsp of cumin powder
½ tsp of caraway seeds
½ tsp of cayenne pepper
1 tbsp tomato puree
400g of tinned chopped tomatoes
a small bunch of fresh coriander (chopped)
a small bunch of parsley (chopped)
1 free range egg
40g of feta (crumbled)
1 tbsp of thick natural yoghurt
Seasoning (sea salt and freshly ground pepper)
Extra virgin olive oil (for drizzling)
Start by frying the onion in olive oil in a cast-iron casserole dish until it is soft and translucent, then add the garlic and cook for a further minute. From here, add the cumin powder, caraway seeds, cayenne pepper and then cook for another minute before adding the tomato puree and cooking for an additional minute.
Add the chopped tomatoes to the mix and cook it all down for about 10 minutes until all the ingredients are well integrated. Make a well in the middle of the sauce and then crack an egg into it.
Transfer the casserole dish into a pre-heated oven at 160°c/gas mark 4 for about 5 minutes. By then, the egg white should be cooked and the yolk should still be runny. Remove it from the oven and garnish the shakshuka with crumbled feta, natural yoghurt, salt and pepper seasoning and finish it by drizzling some olive oil over it.
This disk is so versatile and can be created for vegans with aubergine, chickpea and/or tofu instead of an egg and feta.
Hummus
Another immensely popular Middle Eastern creation that is so easy to make – and your home-made hummus will certainly beat the store-bought version.
Serves: 4
Ingredients
400g of chickpeas
1 garlic clove (small)
1 tbsp of tahini
1 lemon
Extra virgin olive oil
A pinch of sea salt
Start by draining the chickpeas and placing them into a food processor (don't turn it on yet). Peel the garlic and add it to the processor alongside the tahini, a good squeezing of lemon juice and 1 tbsp of the olive oil. Season it with a little bit of sea salt before popping the lid on and blending it all together.
Stop when you notice the hummus mix sticking to the sides of the processor, take a spatula and scrape off any hummus that has stuck to the sides. Blend again until the consistency is smooth. Taste, and if needed, add some more lemon juice. If it's still a bit solid, add a small dash of water to loosen the mix. Transfer it to a serving bowl and enjoy.
While most of us use hummus as a dip, in Israel, it is common to see people enjoy a plate of hummus liberally sprinkled with chickpeas and olive oil as a main dish, accompanied by fresh pitta bread, onions and several types of pickles.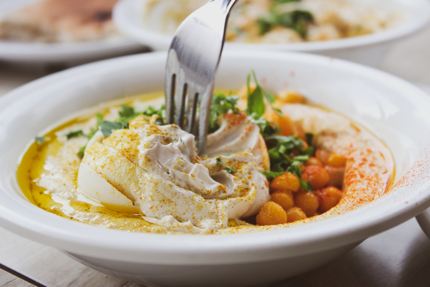 Ma'aroud
This date roll is a traditional dessert in Israel and the best recipes are passed down from one generation to another.
Dough ingredients
45g of plain flour
20g of semolina flour
¼ tsp of baking powder
1/3 tbsp of sugar
15g of butter or vegan butter
15ml of canola oil
25ml of water
Filling ingredients
80g of pitted dates (soaked and ground)
½ tsp of canola oil
½ tsp of cinnamon
Icing sugar (for decoration)
Starting with the dough mix, place the dry ingredients into a mixing bowl and mix well. Then add the butter, oil and the water to the bowl and use your hands to make the dough. Once that has been achieved, move onto the filling. Place the chopped dates into another mixing bowl before adding the oil and the cinnamon, combining it all together.
Moving back to the dough, divide it and roll them into balls. From here, roll them into ½ cm thick rectangles. Now take the date mixture and spread it over one side of the dough before folding the dough over the mix to make a roll. Once this has been done, place the rolls onto a baking tray covered in baking paper and then place it into the oven at 170°c/gas mark 4 for about 25 to 30 minutes. When the rolls have been removed from the oven, dust them with a little icing sugar, let them cool and then enjoy!
If you want to make it more authentic, add 1 tsp of rosewater into the dough.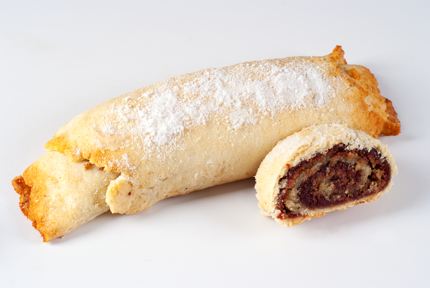 If you liked this post, you might also like: