Such is the reputation of French cuisine that no one batted an eyelid when a roadside pitstop won a Michelin star. Nione Meakin wasn't surprised either
When the modest roadside diner Bouche a Orielle in the town of Bourges in France was awarded a Michelin star earlier this year, no one thought it odd. Crowds rushed to make the most of their €12 ($14) boeuf bourguignon before it emerged that the café had been confused with a far ritzier restaurant of the same name near Paris.
There are a few things France just does better than almost anywhere else; bread, of course; wine and cheese, obviously, and, if you're a driver, motorway services. While making a stop on a UK road is little more than a bleak necessity, in France it's an occasion, yet another opportunity to sit down somewhere pretty and enjoy decent food and a petit glass of wine.
Who needs Michelin stars when you have a captive audience and a world of regional specialties?
Here are 5 of France's greatest pit stops.
Aire de Montelimar Ouest
Petrol – check. Coffee – check. Nougat…uh? Yes, nougat is such a big deal in Montelimar that it's flagged as one of the chief attractions of this sweet stop on the A7 between Lyon and Marseille. This service station sells some 200 tonnes a year of the chewy delicacy, which has been produced in the southeastern French town since the 1700s.This has led to the mayor's recent proposal that it be renamed the 'Aire de Nougat de Montelimar'.
Inside, the range is overwhelming – you feel like running for the Haribo just to put an end to the indecision. If you don't want to spend 10 per cent of your holiday staring at shelves in a motorway services, just grab a bar of the classic soft white variety. It may not look to be anything special but, drenched in lavender honey and studded with roasted almonds, it is delicious. Those with loose fillings should probably head instead to stretch their legs in the leafy, spacious picnic area.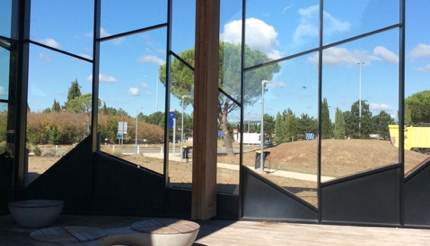 Aire du Viaduc de Millau
Even by French standards, these super-scenic services off the A75 are something quite magnifique. Where its British counterparts might offer an overpriced chow mein and a view of the car park, here you can eat the (admittedly, still rather overpriced) capuchins of chef Andre Bras, overlooked by the architectural splendour of the viaduct between Clermont-Ferrand and Beziers. Capuchins are crisp pancake cones filled with combinations of confit duck, truffle, lamb, lentils and Laguiole cheese, the regional speciality.
There's an equally well-executed visitor centre that gives more information on the construction of the viaduct, and a gift shop selling handmade Larzac folding knives and Causse leather gloves. Add a touch of class to the onward journey by picking up a bag of Roquefort crisps in the deli.
Arche Aire Du Poulet de Bresse
The region of Bresse has for centuries been synonymous with the chickens it produces, lauded by Jean Brillat-Savarin as 'the poultry of kings' and latterly by UK chef Heston Blumenthal of the Fat Duck, who used one in his book In Search of Perfection. Reared to strict standards on small farms in a tightly-controlled appellation of Bresse, the chickens are prized for their rich, gamey flavour and tender flesh.
At this rustic stop, whose black and white beams were designed to evoke a Bressan farm building (as much as a service station can), chicken is the dominant motif both on the restaurant menu and in the shop. Pack a cool bag and take the famous fowl home, for around €30 ($35), or try it here. Half a chicken, with frites and vegetables costs around €20 ($24).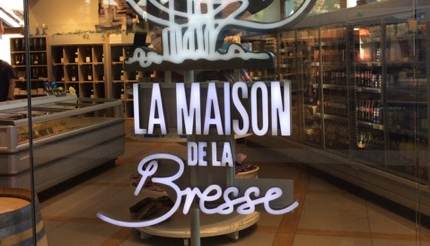 Catalan Village
It's hard to say why travellers should need a Catalan-themed service station when actually in Catalonia, but in 1975, Autoroutes du Sud de la France decided they did. The first themed motorway service in France is located past Perpignan on the southbound side of the A9. Drivers weary of baguettes and steak-frites should enjoy the switch to paella, boles de picolat and a picnic area complete with its own olive grove, while a visit to the shop gives a quick précis of all the area's specialities, including espadrilles, sausages and Roussillon wines. Many people also rate the on-site hotel, which, decked out in striped Toile de Soleil (the famous local linen weave) and with its own pool, is a good deal fancier than the average motorway stopover.
L'Escale
While not strictly a motorway services, this speciality seafood restaurant near Chateauroux in central France is just a few hundred metres from the A20 motorway. Open 24 hours a day, with an enormous car park, it's popular with drivers. Moreover, it must be one of the few truck stops where you can enjoy half a lobster followed by an artfully-composed dessert before heading off into the night. There are even house cocktails – although whether a Cosmopolitan is compatible with long-distance driving is debatable.
L'Escale has a cult following: devotees wear their appreciation on their sleeves in one of the restaurant's lobster-motif bomber jackets or baseball caps. Both are on sale in the shop, alongside takeaway seafood platters for those who don't have time to crack open a crustacean there and then.