The Rioja bodega has just celebrated its 30th anniversary in one of the world's best restaurants. Adam Lechmere reports
As the outskirts of Bilbao gave way to the forbidding wooded hills of the Basque Country, there was some debate as to exactly where Asador Etxebarri stands in the "World's Best Restaurant" rankings.
Our driver insisted it's been voted best in the world. Other listings like the influential "World's 50 Best Restaurants" put it at sixth. The Real Academia de Gastonomía (Spain's Royal Academy of Gastronomy) has just given it the top prize.
At this level, though, it hardly matters: it's the waiting list you need to look at, and that's definitely one of the longest in the world.
Which makes it the perfect place for a block booking of 18 journalists to celebrate the 30th anniversary of Roda, that quintessentially modern Rioja bodega which was founded in 1987 by Mario Rotllant and his wife Carmen Daurella.
An old-fashioned approach with New World sensibilities
Roda is one of the most fascinating of the small band of old wineries clustered around the train station in the little town of Haro. Viña Tondonia, Cune, Gómez Cruzado, La Rioja Alta and Bodegas Bilbaínas were all founded a century and more ago. Muga, founded in 1930, was a newcomer – until Rotllant, who had been looking around Spain for suitable terroir, arrived in town in 1987. A chemist by training, he made his money in soft drinks distribution, and was also in wine, importing such icons as Mondavi, Gaia, Pol Roger and Barons de Rothschild.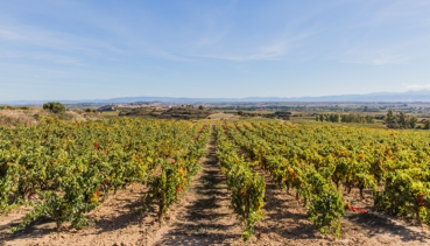 "I met all the winemakers and really I was astonished. Very impressed. They all inspired me. I had the chance to talk with them, to negotiate with them and to represent them." The late Robert Mondavi – who had long been recognised as the father of American wine – was, he said, "a leader, an incredibly sharp man".
Rotllant took his vision from these pioneers. "They talked about the land, the vines, the harvesting, the pruning, the sorting table, the cold maceration, French oak, all these things."
Roda eschewed what it calls the "globalized and productivity-oriented winemaking" of the 1980s. Everything that Rotllant envisioned 30 years ago is now common practice. It's essentially an old-fashioned, artisan approach combined with New World sensibilities: reduce yield and pay attention to detail in the winery. They searched out old bush-grown vines, and used only natural yeasts in fermentation (again, a practice that's common enough now, but radical then).
There's also a commitment to research and development: seven per cent of the gross turnover is goes to RDI. The latest project is to develop a tempranillo clone that will be resistant to climate change.
Three decades of wines
All this was quite new for 1980s Rioja, and it made Rotllant realise he couldn't go down the route of employing a well-known consultant winemaker. "What I was proposing was very difficult for established people to understand. I had to have a young team. I was looking for people with knowledge, not experience."
So he employed a winemaker in his 20s, Agustin Santolaya, and a vineyard and technical team that were similarly untried. They've all grown up (and greyed) together, and Roda has grown as well.
The bodega today, with its hall of 17 big oak fermenters and humidity-controlled barrel cellar, still turns heads in a region known for its avant-garde architecture (Frank Gehry's Marques de Riscal is just down the road).
Rotllant and Santolaya now have three decades of wines to prove the success of their experiment. At Etxebarri, we tasted six wines, two from each decade, and then a handful of wines over lunch, including the prestige cuvée Cirsion, and Corimbo, Rotllant's new venture in Ribera del Duero.
"We were a young team," Rotllant said. "And now we're all 30 years older, and we're proud and humble."
Astonishingly alive and fresh
If humility is quiet confidence, then he's spot on. There's nothing brash about Roda. The wines, meticulously crafted, aged in French oak (American oak, which can give more obvious vanilla and spicy notes to younger wines, is still the norm in Rioja) are astonishingly alive and fresh, and they age beautifully.
Rotllant and his team are perfectly aware of their worth, and even more so given the current upheavals in Rioja. Some celebrated bodegas are defying the current classification system and labelling their wines as "single vineyard". Some are calling for a new classification that puts such wines at the top of the pyramid. The inescapable implication is they are somehow "better" than blends.
But there is a steel-belted single mindedness to Santolaya (maybe it's relevant that he's an aficionado of the bullfight). "We make 17 wines from single vineyards, and we blend them. In no sense is a single vineyard automatically better than a blend."
Are they going to make a single vineyard cuvée? "No. Why would we change the model that Mario conceived and that we've been building on all these years?"
The wines speak for themselves. They went beautifully with the delicate smoked dishes (15 of them – we had the tasting menu) of Asador Etxebarri. Particularly fine were the wines that have an 'Atlantic' profile – fresh, bright acidity and a saline edge – with Victor Arguinzoniz's fish and seafood. The facility with which the wines enhanced the food (and vice versa) goes to prove my long-held theory that if a wine is good enough you can throw the rulebook out: it will go with almost anything.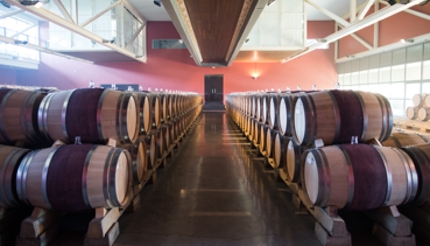 Tasting notes
It should also be forcefully noted that Roda I can be bought for not much more than a couple of cinema tickets: the UK merchant Majestic sells it for £45 ($59). Wines of this calibre in Tuscany or Bordeaux will be at least twice that price.
All are Tempranillo with (in most years) a dash of Graciano.
Roda I 1994 Dark ruby, quite evolved brown rim. Salty, mineral nose with submerged sweet black fruit, plum and damson, savoury and earthy with a hint of river mud. It's dry, with a powerful and youthful tannic edge washed with welcome juice, the whole fresh and seductive. Lovely length, despite the age, the tannin, the precise acidity, with a roundness just this side of voluptuous.
Roda I 1995 Slightly darker in colour than the 94. Less evolved. The nose is shy with hints of salinity; everything opens on the palate to perfume and a generous roundness, some herbiness or cut hay, fine acidity, dry in the finish with fine-grained tannic dryness, a mist of juice.
Roda I 1997 My notes say "still more gorgeous" (the '99 was served before this). A blast of perfume and black plum and damson fruit – flavours leaping out of the glass. Very fine acidity, persistence, elegance. It appears big and bold, but there's a delicacy at its heart. Extraordinary poise.
Roda I 1999 The initial impression is one of modernity: the palate is full and round. But it is shot through with razor-sharp acidity which serves to anchor the fruit, and give an effect of leanness. This is supremely confident winemaking – it's intense, austere, precise and at the same time generous and open. A lovely wine at its peak but with many years ahead.
Roda I 2004 At Roda, they love to talk of Atlantic (fresh, saline, precise) and Mediterranean (garrigue, warmth, perfumed) influences on their wines. This 04, with its oyster-shell saltiness and sea-spray freshness is definitely Atlantic. There's a hint of earthy black cherry and split damson skin on the nose. Serious bitterness on the palate, tannins with velvet grip, violet perfume, acidity, tobacco, spice and liquorice. So complex, so layered, so adult in its sourness and tannin. Cries out for food. Very, very fine.
Roda I 2005 Classic bright just-see-through ruby colour with light rim. Seashell-salty nose, then voluptuous rangy tannins releasing parsimonious juice. This feels closed for now, tightly-wound, steel-belted, waiting for release.
Roda I 2008 Cool and fresh, mussel-shell salinity leading to intense earthy, liquorice palate. Dark fruit, dancing acidity and fine wash of juice.
Roda I 2010 Elegant and powerful attack with lots of spice and earth on the nose. Then liquorice, chocolate and damson notes – even some sloe. Very young still with insistent tannins throughout and a grainy finish, with juice fighting to come through. Rotllant: "One of my criteria was that I wanted a wine to enjoy young but also that would age." Right.
Roda I 2011 Softer attack than the '10. Very delicate at first with dark fruit and great acidity. It's all herb and hedgerow with young sappy tannins and no nose to speak of, but grippy and lip-smacking to the end, with that signature bitterness and spice. The finish is mighty – all this intensity of young fruit suddenly comes smack up against a wall of acidity and tannin, which when it breaks will release a flood of flavour. In 10 years this will be a wine of epic, voluptuous proportions.