In a delicious Diwali feast, four top Indian chefs share their favourite recipes for the Festival of Lights
Diwali is a major cultural festival and a celebration that marks the triumph of good over evil. It is also a time of family get-together and enjoying delicious food. If you are keen to participate, follow the recipes below for a five-course Diwali feast that will impress your guests.
Starter: Vegetable samosa by Atul Kochhar
Makes: 24 samosas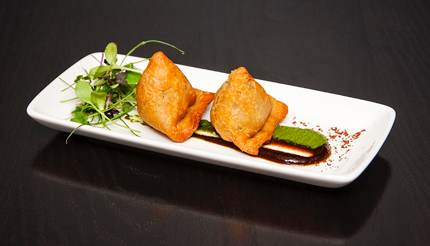 Ingredients 1 potato finely diced (5 to 10 mill cubes) 1 carrot finely diced – as above 2 cloves of crushed garlic 1 onion finely chopped 1 cup of frozen peas 1 tbsp vegetable oil 2 tsp curry powder or your own spices according to taste Salt and pepper to taste. 100ml vegetable stock
For the pastry 225g plain flour 2 tsp salt 2 tbsp vegetable oil 80 ml warm water
Method
Heat the oil in a frying pan, add the onion and garlic, mix in the spices and fry until soft. Add the vegetables, seasoning and stir well until coated.
Add the stock, cover and simmer for 30 minutes until cooked.
Mix flour and salt into a bowl. Make a well into the centre and add the oil and enough water to make a firm dough. Knead the dough on a floured surface until smooth and roll into a ball. Cover in plastic wrap and set aside at room temperature for 30 minutes.
Divide the pastry into 12 equal pieces. Roll each piece into a ball and roll out into a circle of 15 cm. Divide this circle into two equal pieces with a knife.
Brush each edge with a little water and form a cone shape around your fingers, sealing the dampened edge.
Fill the cases with a tbsp of your mixture and press the two dampened edges together to seal the top of the cone. Deep fry the samosas in hot oil until crisp and brown take out and drain on a paper towel.
---
Main course: Grilled lamb chops by Vicky Bhogal
Serves 4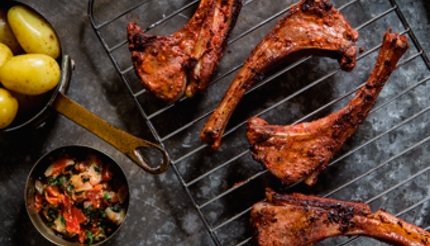 Ingredients 3 tbsp natural yoghurt 1 tsp dried red chilli flakes 1 tbsp lemon juice 1 tsp salt 1 tsp tandoori masala powder 4 lamb rib chops 1-2 tbsp oil, or use butter if eating the chops hot straight away 1 tsp grated fresh root ginger 1 tomato, deseeded and finely chopped ¼ onion, finely chopped A handful of fresh coriander, chopped
Method
Beat the yoghurt, chilli, lemon juice, salt and tandoori masala powder together in a bowl with a fork.
Rub into the lamb chops. Place the chops in a dish and cover with clingfilm. Marinate for 2 hours minimum.
Grill the lamb chops until brown and fully cooked, under a medium heat, about 15 minutes, turning frequently, or as you prefer your meat cooked, as we don't tend to serve our meat anything less than fully cooked through.
For the last 5 minutes of the cooking time for the chops, heat the oil or butter in a frying pan and add the ginger, tomato, onion and coriander. Stir-fry for 5 minutes and then pour over the chops just before serving.
---
Sides: Lemon rice and aloo posto by Monisha Bharadwaj
Lemon rice Preparation time: 10 minutes Cooking time: 25 minutes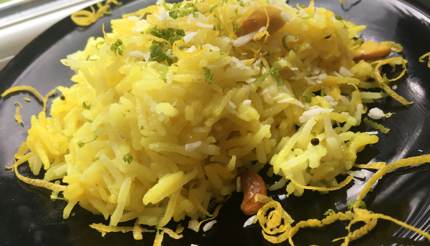 Ingredients 200g basmati rice, washed and drained 1 tbsp sunflower oil 1 tsp mustard seeds 6 fresh or 12 dried curry leaves 10 cashew nuts 1 tsp turmeric powder 3 tbsp lemon juice and 1 tsp lemon zest Salt
Method
Put the rice and double the quantity of water by volume in a heavy saucepan. Bring to a boil. Reduce heat, stir and cover. Cook for 10 minutes, without lifting the lid, until done. Reserve for 5 minutes then open the lid and fluff the rice with a fork.
In a separate pan, heat the oil and fry the mustard seeds until they pop.
Add the curry leaves and cashew nuts. Reduce heat.
When the cashews are slightly brown, add the turmeric.
Take off the fire at once and pour in the lemon juice and zest. Season with salt.
Gently fold the rice into this mixture and serve hot.
---
Aloo posto (potatoes cooked with poppy seeds) Preparation time: 15 minutes Cooking time: 40 minutes
Ingredients 3 tbsp white poppy seeds 2 tbsp mustard or vegetable oil 1 tsp nigella seeds (kalonji) 2 fresh green chillies, finely diced 2 large potatoes, peeled and cubed 1 tsp ground turmeric Salt
Method
Make a poppy seed paste. You can do this in several ways – by crushing the seeds with some water in a pestle and mortar, by blitzing the seeds with some water in a spice or coffee mill or by grinding the seeds to a powder in a spice mill, then mixing them with water.
Heat the mustard oil in a frying pan over a high heat to smoking point, then reduce the heat and add the nigella seeds and chillies. If using vegetable oil, warm it before adding the seeds. Fry for a few seconds then tip in the potatoes.
Increase the heat, add the turmeric, season with salt and fry the potatoes for a couple of minutes, then stir in the poppy seed paste and add enough water to barely cover the potatoes. Bring to the boil, reduce the heat and simmer for 30–35 minutes until the potatoes are tender.
Remove from the heat and season to taste. You can serve this dish dry or with a bit of sauce, depending on your preference.
---
Dessert: Kesar Pista Phirni (saffron and pistachio rice pudding) by Maunika Gowardhan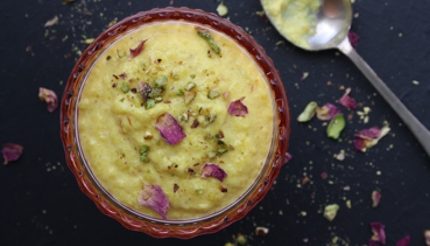 Ingredients 50g basmati rice 1 litre full fat milk Generous pinch of saffron strands 60g caster sugar 6 cardamom pods; seeds only pounded to a fine powder Handful pistachios crushed for garnish 1 tsp rose water or rose petals (optional)
Method
In a mixer grinder, coarsely grind the rice to a grainy mix. Add 50mls of the milk to the ground rice and set aside. This will soften the rice and let it soak while you get on with the rest of the prep.
In a wide heavy bottom saucepan, heat the remaining milk over a medium flame for 10 minutes. Stir frequently. Add most of the saffron, leaving some behind to garnish. Lower the heat and simmer the milk. Scrape the side of the pan and reduce the milk for 25 minutes. Make sure to keep stirring so it doesn't stick to the bottom of the pan.
Add the rice mix and continue to cook over a low heat for 15-17 minutes. Stir well as the mix begins to thicken ever so slightly. Now add the sugar and ground cardamom powder. Stir and make sure the sugar is dissolved in the phirni. Simmer for 12 minutes. Turn the heat off and let the phirni cool slightly. 4. Serve with a garnish of crushed pistachios and remaining saffron strands or, if you prefer, refrigerate the Phirni and serve chilled with the garnish or fresh fruit.
---
Snack: Hot dry masala mixed nuts by Vicky Bhogal
Serves: 4, as nibbles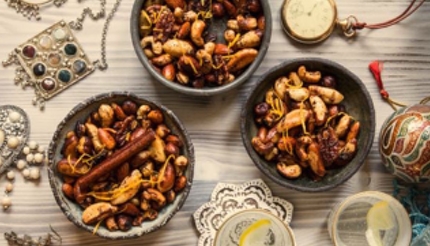 Ingredients A glug of oil 1 tsp spoon cumin seeds 2 tsp orange zest, plus some curls of rind for serving 1 tsp garam masala 2 cloves A good sprinkling of coarse sea salt ½ tsp pomegranate-seed powder ¼ tsp red chilli powder Small piece cassia bark 1 cracked brown cardamom Good pinch ground cinnamon Good pinch ground ginger 300g/2½ cups unsalted, shelled mixed nuts Fresh coriander leaves, to scatter
Method
Heat the oil in a frying pan, and add the cumin seeds. Fry gently on a very low heat for a few seconds and then add the orange zest and the spices. Fry gently for a couple of minutes, stirring.
Add the nuts, coat well and fry for a few minutes further until hot and golden.
Serve in dishes and top with the curls of rind and some coriander.
If you liked this post, you may also like: