Blessed with fertile soil and an abundance of fish, Tenerife offers an eclectic sampling of stews, fish and wines for you to enjoy
Spain's largest and most populous island is a hotbed of cultural and culinary amalgamation. While officially a unitary state of Spain, expect more than just Spanish tapas here – Canarian cuisine, particularly in Tenerife, showcases a unique cultural tapestry that stretches from the island's original inhabitants to the 20th century Canarian migrants who travelled back and forth from Latin America. Traditional Canarian food and drink packs a punch and is best uncovered on Tenerife and it's capital, Santa Cruz. Here are some of our favourite options on the island:
Mojo
Mojo sauce is the Canary Islands' unofficial condiment and is paired with just about everything, including the famous papas arrugadas, the Canary Islands' most popular dish. There are several varieties of mojo sauce, including red and green (mojo rojo and mojo verde) and the spicier mojo picon.
Where to try: Restaurante Las Aguas (Calle de Destilla 20) in Santa Cruz is a great spot to sample some of these sauces first-hand.
Papas Arrugadas
Potatoes, or papas, as they are known in Spain, hold a special place in the local diet. These "wrinkled potatoes" are boiled in sea salt water for around 30 minutes first, then roasted in a pan and later garnished with mojo sauce. While relatively simple, Canary Islands' potatoes are famous for their flavour, a consequence of the region's volcanic climate.
Where to try: Nestled in an actual cave beneath the Anaga Mountains, La Cueva Caprichosa (Calle la Brita 9) is a scenic spot to try some traditional papas.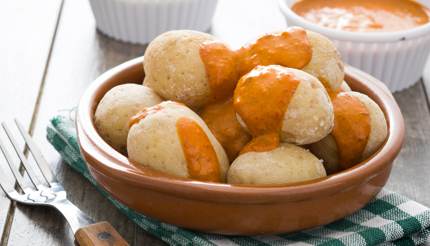 Ropa vieja
This dish consists of meat, onion, and chickpeas and likely derives from the popular Spanish dish, puchero. An authentic meal served at dinner tables around the isles, variations abound and inspire heated competition among restaurateurs.
Where to try: The restaurant at hotel Parador de Cañadas del Teide (Las Cañadas del Teide) serves an excellent version with fantastic views of Spain's largest peak, Mount Teide.
Sancocho
This fish dish has its origins in the Canary Islands' historical relationship with Latin America and is usually prepared with parna, a type of bass, and mojo sauce.
Where to try: Sabor Canario (Calle Carrera del Escultor Estévez, 17) and Masia del Mar (Calle El Muelle 3) are popular spots to taste this and many other Canarian specialties.
Gofio
This nutty flour made from roasted cereal crops or beans has its roots in the Canary Islands' native inhabitants, the Guanche people. Gofio is used throughout the islands in soups, drinks, stews and even ice creams. Throughout Tenerife's history, the flour has provided nutritional value to the islanders, and notably, during periods of food scarcity like the Spanish Civil War.
Where to try: Travel to La Máquina (C/San Francisco 3), a mill in La Orotava on the northwest coast of Tenerife to sample this product at its source.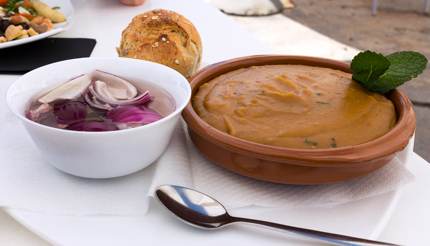 Puchero Canario
This meat and vegetable stew is a delicious and hearty meal made from pumpkin, cabbage, sweet potatoes, pork and beef. Interestingly, the broth from the stew is drained and served first, while the meat and vegetables arrive as the second course.
Where to try: Casa Pedro (Calle La Sirena 12) in Las Chafiras is a local secret. The façade is unassuming and the interior is basic, but the Puchero Canario is excellent and incredibly priced.
Conejo al salmorejo
This rabbit stew descends from Spanish immigrants and is doused with white wine and spices.
Where to try: Bodeguita Canaria (Calle Imeldo Serís 18) in Santa Cruz serves a splendid version in the heart of the capital.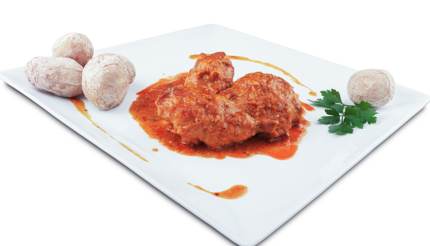 Bienmesabe
This dessert is a Canarian specialty made from almonds, eggs, cinnamon and sugar. The translation is "it tastes good to me," so bienmesabe is a must-try for any traveller to Tenerife.
Where to try: La Hierbita (Calle Clavel 19) in Santa Cruz has mastered this delicious concoction.
Wines
The best kept secret of Tenerife is its wine. The island's mountainous landscape and mineral-rich soil have seen vineyards thriving for centuries, producing excellent dry and acidic white and easy-drinking red. There are a number of wineries on the island offer wine tasting tours. Some of the best include Bodegas Monje (Camino Cruz de Leandro 36) and Vinedos Angola (C Gral 7).
Before you go, check out: