The first wine from the actor's estate above the Napa Valley has been made – by the owners of Bordeaux superstar Château Pontet-Canet. Roger Morris reports
When the actor Robin Williams died in 2014, he left behind a lavish, isolated retreat, Villa Sorriso, nestled in in the folds of Mount Veeder along the Napa Valley's southwestern perimeter. Williams had personally supervised development of the estate in the early 2000's, but divorce and fewer big film roles forced him to put it on the market at a price of $35m, four years before his death.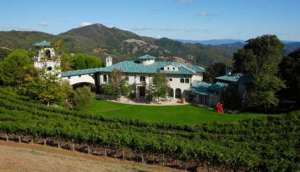 Villa Sorriso was, and is, a magnificent estate consisting of 264ha (653 acres) with a nine-bedroom mansion, guest house, the obligatory swimming pool, more than 100 producing olive trees – and 7.50 ha (18.4 acres) of mature Cabernet Sauvignon, Merlot and Cabernet Franc vines grown on blue shale and sandstone, some at steeper elevations up to 1,800 feet. But there was no winery, and all the grapes grown at the estate were sold to premium wine producers such as Robert Craig and Rombauer. A little more than a year after Williams' death, a Frenchman, Alfred Tesseron, took possession of the estate.
For four generations, the Tesseron family has successfully farmed grapes in the flatlands of France's southwest, first in Cognac to make prize-winning spirits and then, with the winegrowing assistance of the Comme family, to produce much-sought-after red wines at Bordeaux's Château Pontet-Canet, in the great appellation of Pauillac (its vineyards adjoin those of Chateau Mouton-Rothschild). In January 2016, Villa Sorriso became Tesseron Estate, reportedly at a price of $18m.
"We have been working on finding a vineyard for the last four years," Alfred Tesseron, who runs the family business with his niece, Melanie, told me at the time. "Finally, we decided to buy Sorriso, even if the house is too large for our use, and the vineyard is too small. We are very pleased to be in that part of the world, but now we have to understand the terroir and try to make the best wines we can."
It is a challenge only successfully attempted previously by two other royal families of Bordeaux, although both ventures are on the Napa Valley floor. The Rothschilds were first in partnership with the Mondavi family at Opus One, followed by the solo effort of the Moueix family at Dominus. "We changed the name to Tesseron Estate, but we're calling the wine 'Pym-Rae,'" which is what Robin Williams called the vineyard, Tesseron says. The Tesserons and Commes immediately made plans to make wine from the fast-approaching 2016 vintage, and the bulk of that task fell to young Thomas Comme, who relocated immediately to Napa Valley.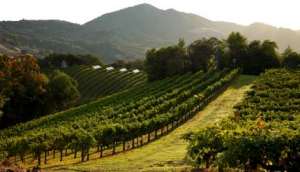 Thomas' father, Jean-Michel Comme, had come to Pontet-Canet to make wine in 1989. Comme had a brief fling in Napa Valley at Pine Ridge, but he had through the years become entranced with the gospel of biodynamic winemaking, which starts in the vineyard. Simplified, biodynamics, or "biodynamy," as it is known in France, is a combination of back-to-nature practices similar to organic growing, celestial guidance, particularly with the lunar phases, and a soupçon of mysticism. Originally skeptical, Alfred Tesseron became a convert, but says he had to show results to convince his iron-fisted father back in Cognac.
Thomas Comme says he has had little problems in beginning the conversion Pym-Rae to biodynamics. "It was raining when we came here in April of 2016," he says, "so we never turned the irrigation pumps on, and we won't. The other changes are not difficult, such as not using chemical sprays." And he praises what Williams and his crew had done with the vineyard from the beginning. "They planted the right grapes in the right spots, so there was no need for replanting."
Although Pym-Rae is using rental facilities for winemaking, "We brought in some tanks from France," Comme says. "But there were the standard delays, so we barely got them before harvest. We picked the grapes, then hauled them down the mountain, across the valley and up the mountains on the east side to where we are making wine in Angwin." Pym-Rae is the only wine being made there, and Comme says he and the Tesserons are in no rush to build or buy a winery. There was only one cuvee made in 2016, he says, so no blending was needed.
"We plan to make about 25,000 to 30,000 bottles from the 2016 vintage," he says. "We cut back grape production and expected two tons per acre – but got a little less." He says the wine will spend another year in the barrel and the bottle before being released. Thus far there hasn't been set a price per bottle.
And how has Comme fitted in with the local winemaking community? "We're sort of isolated," he says, as the estate is at the end of the road and is surrounded by steep terrain, dense forests and wild animals. "I haven't had much time to socialize."
The Wine
Tesseron Estate "Pym-Rae" Napa Valley Red Wine 2016 (in barrel). Ripe, rich, purple fruits, well-rounded and long on the palate with a creamy finish. The tannins are there, but they have been well-integrated and are hiding behind the fruit. (Price to be determined.)