Brighton's sister town is getting a reputation for a dynamic and exciting new food scene. Barnaby Eales takes a look
A new dynamism in food and drink has spread westward from Brighton to Hove, where a range of quirky restaurants and bars is ramping up the competition with established eateries.
Brighton and Hove is actually two towns combined to make a city. But there are marked differences between them. In the past three years, more young professionals have moved to Hove (cheaper, edgier, hipper than Brighton – at the moment) than any other part of Britain. This has fuelled a rapidly-changing gastronomic scene in the seaside town's leafy streets and avenues. From small dishes to haute cuisine, restaurants and bars have increasingly exuberant, if pricey, wine lists and menus.
This trend is invigorated by the burgeoning English wine industry, which is concentrated in the surrounding vineyards of Sussex. Thirty years after its merger with Brighton, Hove (known as 'Hove, Actually'), retains its own identity.
Holy Phok
Holy Phok is the acme of contemporary Hove. Quirky, colourful and independent, it's one of the newest and most popular venues. Exquisite Vietnamese dishes are paired with superb (and reasonably priced) German wines. Guest wines are imported directly by chef-owner Andrew Tainton, who previously lived in Berlin with his wife, Hannah Warwick, the maître d'. As you peruse the enticing and entertainingly-written menu, bass lines flow from four speakers positioned high on the ceiling. The outstanding A Piece of Me riesling, from the Gunderloch estate, is lean and dry and just right for succulent grilled pork skewers and vermicelli noodles, served with an addictive version of the classic Vietnamese nuoc cham dressing.
Reservations essential. Opening times and address at www.holyphok.com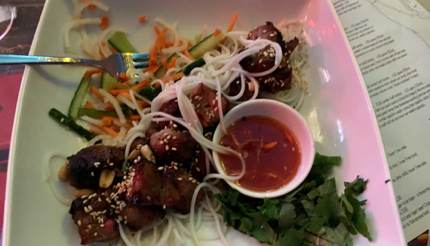 The Little Fish Market
This unassuming restaurant, in a pretty street next to the Old Market gallery and music venue, has evolved into one of the most acclaimed fish restaurants in Britain. Dishes created by former Fat Duck chef Duncan Ray have perfectly contrasting and complementary flavours. Each dish and glass of wine is served with nice timing and wit by the charming maître d', Rob Smith. Upbeat nu-jazz and electro music further elevates the diner's state of well being, which is further stimulated by five haute cuisine dishes paired with a riesling and a pinot noir rosé. Outstanding ravioli has rich crab tempered by lemon verbena leaves, served alongside a tender Scottish halibut. The 'Strawberries n' Cream' finale of clotted ice cream encircled by sweet strawberries is the perfect complement to a crunchy Breton sable biscuit topped with a sorbet.
Reservations required. Opening times and address at www.thelittlefishmarket.co.uk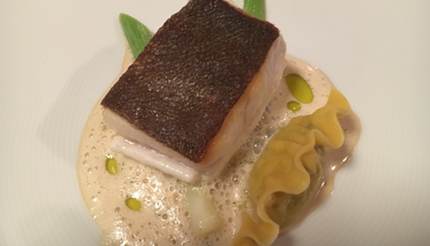 Café Malbec
Café Malbec offers Argentinian malbec in a wide range of emerging and classic styles. And it comes in various guises, including malbec rosé sorbet and criollo chorizo cooked in red malbec. Damian Kelly opened this wine bar, deli and wine merchant this year, following the success of Latino-America, his popular Argentinian restaurant next door. The mood is relaxed and upbeat, and dishes like the freshly-baked savoury empanada paired with a Blanc de Malbec, Vicentin 2015, make it very hard to leave.
Opening times and address at www.cafemalbec.co.uk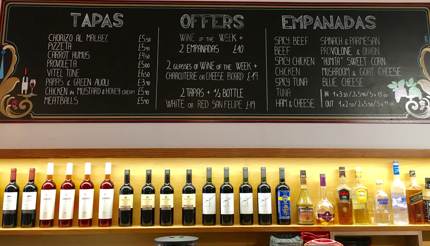 The Urchin
Australians Nick Jerrim and Brad Jacobsen have transformed a dying residential pub into one of Hove's hippest venues. The offering of Asian-influenced shellfish dishes with craft beers has been enriched by an exuberant new wine list, including the English sparkling Goring Brut, made in the South Downs. A crisp, aromatic Txacoli by Hiruntza, a refreshing Basque wine, washes down delicious oysters. Malaysian–style king prawns, cooked with sweet chilli and curry powder, are garnished with lime.
Reservations recommended. Opening times and address at urchinpub.wordpress.com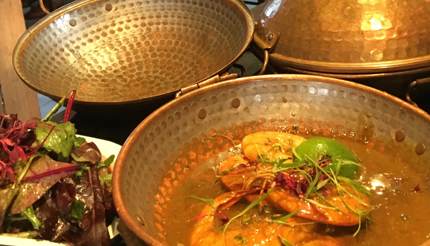 Market
English sparkling and and five styles of sherry are available alongside local Sussex dishes and Spanish tapas, the ingredients of which are often put together to form unusual hybrids. A crispy croqueta oozes cheddar and chorizo; there are goats cheese churros with a white truffle and honey dip. Drinking a rich, nutty Amontillado sherry at the refurbished green-tiled bar, I eat slices of manchego (the hard cheese from La Mancha) with spicy charcuterie from rare Mangalitza pigs, from nearby Beal's farm.
Reservation recommended. Opening times and address at www.market-restaurantbar.co.uk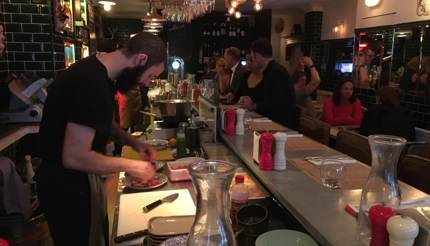 etch
Masterchef winner Steven Edwards and his team (backed by ten local investors) produce high-end, four-to six course taster menus of small but inventive dishes in the open kitchen of this contemporary, spacious restaurant. Ingredients are sourced from Sussex and Brittany, and menus change weekly. The wine list features several Sussex wines by the glass. "It is great to be part of the Sussex food and drink revolution, particularly with the local sparkling wines," Edwards tells me. He's not hidebound though, and doesn't slavishly keep to local produce. "I want the best products, at the right price," he says.
Reservations required. Opening times and address at www.etchfood.co.uk