Mercato Centrale Roma in Rome is your springboard to discover the mouth-watering world of renowned Italian cuisine
When in Rome, do as the Romans do, which is to immerse yourself in the city's fine culinary culture. Rome boasts a countless choice of gourmet restaurants, but for a classic combination of location, cuisine and price, you can't do better than Mercato Centrale Roma (Via Giolitti 36, Termini station).
Location, location, location
Mercato Centrale Roma is located inside Termini station and close to main attractions such as the Basilica of Santa Maria Maggiore (6 minutes' walk), the National Roman Museum/Palazzo Massimo alle Terme (7 minutes' walk) and the Baths of Diocletian (9 minutes' walk). Even the romantic landmark Trevi Fountain is a leisurely 25-minute stroll away. Open daily from 8am to midnight, this market makes a great venue for breakfast, lunch, dinner, late-night snacks and drinks. You can also do your grocery shopping here if you're staying in an Airbnb apartment and keen to prepare your own food.
With the airport bus located in front of the main entrance, and the metro stop (Termini) a mere 5 minutes away (simply get Line A or Line B), Mercato is an ideal stop if you are coming, going, or moving around the city looking for a place to relax and a fulfilling meal.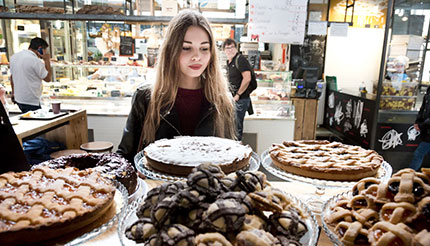 Goodness is simple
The concept of Mercato is la bontà é elementare, meaning 'goodness is simple'. This is a key principle of the artisan – great food should go back to basics and cut through all the noise; the kind of food you deserve. Using wholesome ingredients with an emphasis on farm-to-kitchen, the food artisans are the stars at Mercato as they embrace their strong culinary heritage and make each dish with love and passion. The result? Quality, nutritious food that speaks volumes and brings you both renewed energy and a sense of comfort.
The market is divided into three areas.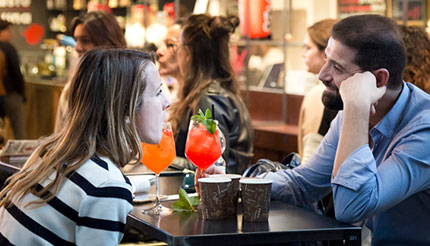 Ground floor: 18 food shops
1. Il pane e la pasticceria by Gabriele Bonci, who is known as "The Michelangelo of Pizza". 2. Il Trapizzino is home to trademarked triangular pizza pockets made daily with fresh sourdough.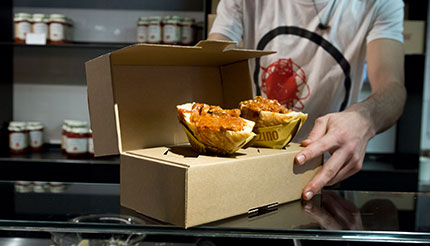 3. Il Tartufo works with over 650 truffle foragers in the Tuscan region.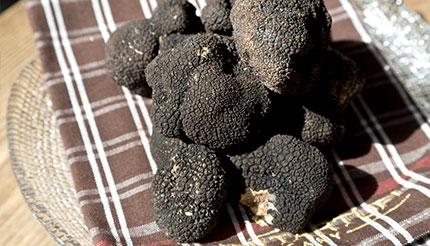 4. Il Vegetariano e Vegano delivers traceable, fresh seasonal produce that those with vegetarian and vegan diets can enjoy. 5. L'Hamburger di Chianina is the best place to taste authentic Chianina beef. 6. Le Specialità siciliane specialises in Sicilian treats steeped in tradition.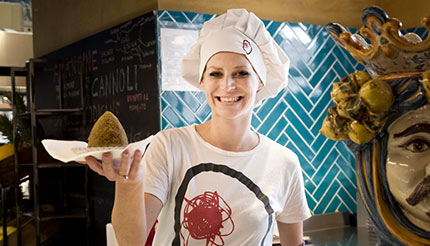 7. Il Fritto fries up mouthwatering pizza dough, pasta, rice balls and more. 8. Il Gelato keeps their gelato 100% natural by using Locust bean gum obtained by crushing the endosperm of the seeds of the carob tree.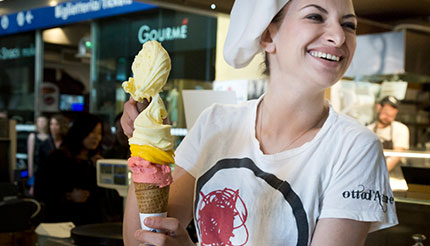 9. La carne e i salumi gets its meat from animals that roam freely in a 1,000-acre wilderness. 10. Il Formaggio produces top-notch cheeses using non-pasteurised milk from sheep, goats and cows.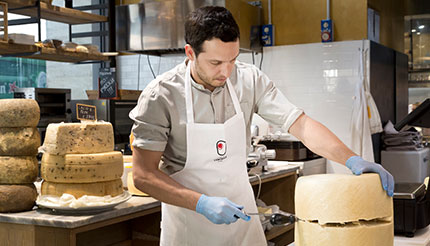 11. La Pasta fresca prepares fresh pasta and sauces with traditional recipes that have been passed down in the family for generations.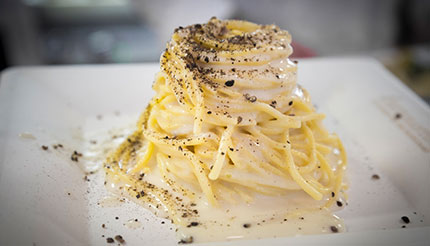 12. II Ramen cooks their special broth for more than 10 hours to get the rich, silky goodness. 13. La Pizza prepares their pizza dough with different types of flour. A great place for traditional pizza.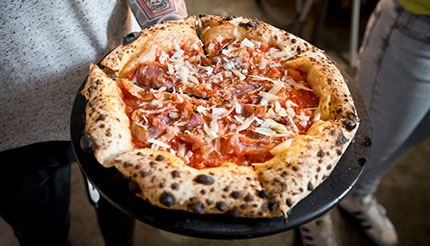 14. I Carciofi e I funghi is run by Alessandro Conti, the go-to-guy for artichokes in Rome, and Gabriele La Rocca, a mushroom expert. 15. II Sushi delivers quality sushi in exquisite bento boxes.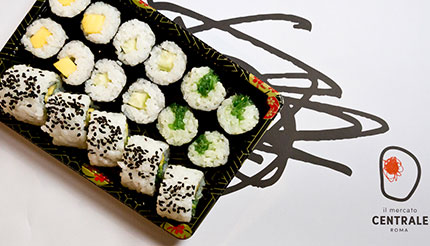 16. II Vino al bicchiere offers more than 100 bottles of wine handpicked by the owner Luca Boccoli.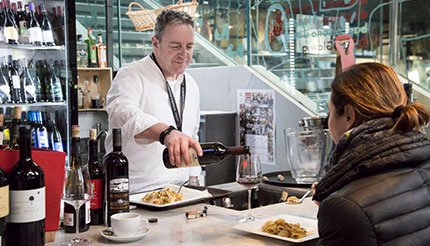 17. La Pasticceria introduces visitors to classic Italian desserts in an elegant setting. 18. La Caffetteria is the place to enjoy a delicious cup of coffee. They offer a special coffee blend created in collaboration with Mondicaffè, among others.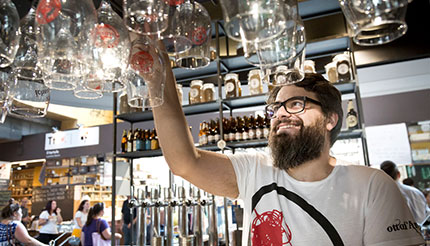 La Birreria brews beer using a special blend of hops and fine malt that provides a unique aroma.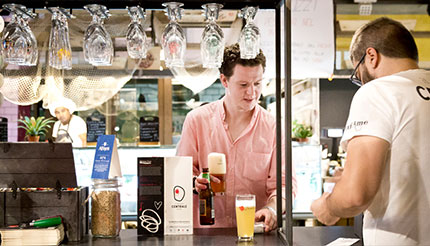 First floor: La Tavola, il vino e la dispensa
La Tavola, il vino e la dispensa, which translates to "The table, the wine and the pantry", is the pride and joy of Oliver Glowig – an internationally renowned Michelin Starred chef and ambassador of the Italian gastronomic culture. The restaurant occupies the first floor and showcases some of the chef's signature dishes, including Eliche cacio e pepe ai ricci di mare (eliche pasta with cheese, pepper and sea urchins) and Tortelli di coda vaccinara (tortelli pasta in oxtail stew).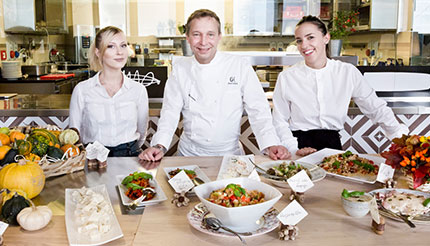 Second floor: Spazio Fare
This entire floor is dedicated to public events, private parties, as well as tasting the delicious cuisine made by Mercato Centrale's food artisans.
Our Rome travel guide likens the city to a moveable banquet of endless courses because there's so much to see and do in Rome that the possibilities are almost limitless. And in the heart of it all is Mercato Centrale Roma, delivering a feast of dishes packed with flavour. This is the place that is guaranteed to keep your stomach happy while you're in Rome.
About Mercato Centrale
Mercato opened its first location in the heart of Florence after refurbishing the old covered market. The Mercato Centrale in Rome also revived an important historic area – this time an old railway dining hall inside Termini Station. The project in Rome has given the area around #ViaGiolitti36 a boost and made Termini Station a key landmark for locals and tourists once again.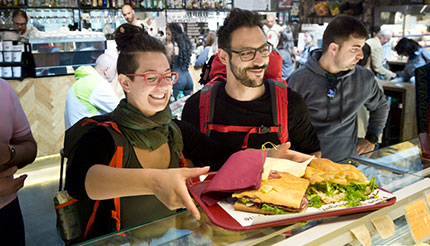 Before you go, check out