Celebrating the International Beer Day (August 3), we put together the 9 best ways to enjoy a nice cold brew in California in 2018
1. Visit a local brewery in San Diego
California's number one beer county, San Diego is home to over 150 operational brew houses loved by residents and visitors alike. Located in the heart of Little Italy, Ballast Point Brewing Company is the perfect stop to experience delicious food and a vast selection of craft beer with a brand new intimate dining area. Visitors can book a spot in the private Kettle Room nestled in the tasting room of the on-site brewery. Surrounded by an eclectic array of wall art, the dedicated table service provides guests with four outstanding courses paired with award-winning beers.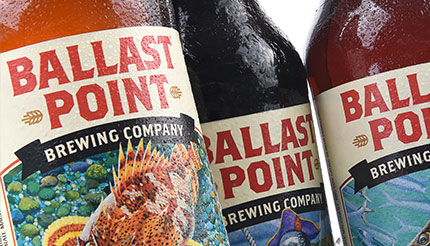 2. Visit California's largest craft beer festival in Sacramento
Sacramento is the capital of California and also an increasing popular beer spot. The explosion of the farm-to-fork movement in the city, coupled with the countrywide resurgence of craft breweries, led to more than 50 local breweries. The California Craft Beer Summit and Beer Festival, taking place September 6 and 7, is the largest craft beer festival in California. The three-day event features hands-on education and interactive exhibits, ending with the Summit Beer Festival, offering tastings of 450 beers from 160 breweries in California.
3. Bluesapalooza in Mammoth Lakes
Hidden among the pine forests in California's Sierra Nevada mountains is the tranquil town Mammoth Lakes. From August 2 to 5, the city hosts Mammoth Bluesapalooza, a unique variety of legendary blues performances, a mix of styles and genres with both national and international headliners. The craft beer line-up is equally as impressive with breweries coming in from all over the country. The four-day festival is hosted with Mammoth Brewing Company, the highest elevation brewery on the West Coast. The venue is set in a beautiful location, surrounded by pine trees and is recognised as one of the best festivals of its kind in the USA.
4. Join the Brew Cruz in Santa Cruz
Santa Cruz is home to Brew Cruz – a refurbished, vintage school bus which shuttles groups of 15 to local craft beer spots around town. Founded by Santa Cruz native, Annie Pautsch, the bus interior has been converted into a comfortable mobile living room, Doug Fir benches, mounted vintage chairs and hanging succulents. Tour guide Annie highlights points of interest, such as the site of an old beer garden with subterranean caves, as the bus skirts the scenic coastline of the Pacific.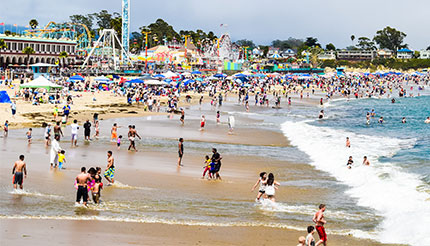 5. Swap wine for beer in Sonoma County
Already renowned for its premium wine, Sonoma County also boasts a thriving beer scene, including nearly two dozen craft breweries and nine cider works. A tasty alternative to the traditional wine country experience, the area offers many favourite local breweries including Russian River Brewing Co. in Santa Rosa, recognised across the beer industry as an artist and innovator.
6. Combine burgers and beer in Huntington Beach
American Dream, Huntington Beach's new beachside bar and eatery, plays on the notion of beer, burgers and beach being the 'all American dream'. 60 craft beers are available on tap to enjoy alongside a range of burgers, from chorizo chilli to buffalo fried chicken. The American Dream is the coolest hangout to enjoy a refreshing beer post-surf or to watch the pro surfers carving their way through the waves.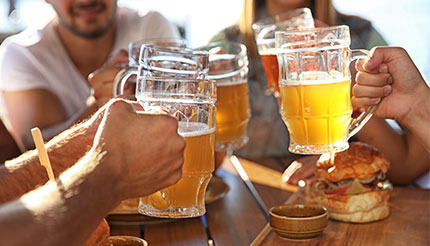 7. Try a Social Cycle in Greater Palm Springs
For those wishing to enjoy a beer or two, guilt-free, now is the chance with Social Cycle, a 16-person bicycle which takes bar crawling to a whole new level. Visiting 15 different bars in the trendy downtown area of Palm Springs, cyclists will work together to peddle the Social Cycle between each stop, where they will catch their breath and enjoy a deliciously refreshing cold beer.
8. Try the iconic beers in San Francisco
San Francisco's beer scene is thriving, with more than 120 breweries in the greater Bay area, and over 30 of them within city limits. A classic San Francisco brewery, visitors can make a reservation for a tour at Anchor Brewing, which includes a brief look into the history of the company and a walk through three floors of the brewery, followed with a visit to Anchor Public Taps just across the street where they can sample the Anchor Steam Beer.

9. Enjoy beers and a BBQ in Santa Barbara
Following the success of the inaugural festival last year, the California Brew & BBQ Festival is back, and bigger than ever. Taking place on 29th September along Santa Barbara's oceanfront, visitors can taste drinks from over 50 drink vendors and experience the region's renowned 'tri-tip,' where Santa Barbara's restaurants compete for the accolade of Best BBQ. Live music will also play throughout the day, creating a chilled-out atmosphere that's not to be missed.
Before you go, check out: