Bogota is a city of fascinating contrasts where you'll discover juxtaposing architecture, a diverse population and cuisine as varied as its culture
Approaching the 500th year since its foundation, Bogota has remained Colombia's capital city since the country declared its independence from colonial Spain in 1810. But despite the separation, Spanish influence on Colombian cuisine prevailed. Over time, this influence has amalgamated with native Colombian, African and Arabic cuisines – alongside those of surrounding countries – to create truly diverse and unique Colombian flavours.
Unlike the cuisine of other countries, Colombian fare can be broken down into six distinctive regional cooking styles: Amazonian, Andean, Caribbean, Insular, Orinoco and Pacific. As the capital city, Bogota captures elements from all these regional cuisines to create a dining scene full of wonderful dishes and drinks. Here is a list of ten of the top fixtures of Bogota cuisine and where they can be found in the city.
Ajiaco
Known as Bogota's famous signature dish, ajiaco is as much a part of the Bogota experience as the city's churches and mountains. Due to the city sitting at an altitude of 8,646 ft (or 2,620m), the weather can get quite chilly. As such, ajiaco is the perfect remedy to warm up your insides. This steamy soup is made with chicken, potatoes, herbs, corn, and avocado – and delivered with a serving of rice. Feel free to add cream and capers for additional texture and flavour.
Where to try: To experience ajiaco like a local, you'll want to visit 200-year-old La Puerta Falsa (Calle 11, No. 6-50) – the city's oldest restaurant. Get there as early as possible for lunch so you can get a seat with ease. If the wait is a bit much, it's worth checking out nearby La Escuela Restaurant (Calle 9, No. 8-71), which is also located in the beautiful La Candelaria district.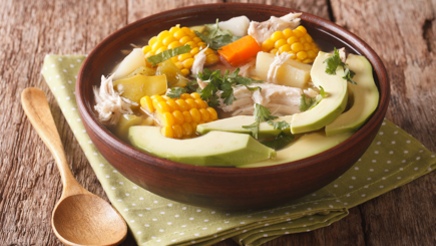 Tamales
Enjoyed across all of the American regions, the Caribbean, and even some former Spanish colonies, tamales are an incredibly popular fixture of Bogotan restaurants. Each area has a variation, with Colombia's tamales consisting of rice, corn flour and chicken. The ingredients are wrapped in plantain or banana leaves and tend to be much larger than their Mexican counterparts.
Where to try: As tamales can vary from town-to-town, Bogota is full of many different variants of tamales. For the tamal tolimense version of the dish, often served for breakfast with a cup of hot chocolate and cheese, visit Pastelería Florida (Carrera 7, No. 20-82). Be warned though: the portions are massive! If you're vegetarian or vegan, you'll find breakfast and lunchtime tamales at La Esquina Vegetariana (Carrera 11, No. 69-26).
Changua
While perhaps not Bogota's favourite soup, this breakfast dish is nonetheless beloved by locals and tourists alike for its comforting effects. It's made from a combination of hot milk, poached egg and spring onion, which is served with pan calado (stale bread). The bread is then dipped into the soup to soften it. The dish is given a bit of flavour thanks to a light dusting of coriander and is suitable for lacto-ovo vegetarians.
Where to try: Specialising in Colombian comfort food, Mama Lupe (Calle 11, No. 6-14) is ideally located right beside Bolivar Square. A favourite with the locals, Panadería Golconda (Calle 118, No. 6-74) in trendy Usaquén delivers a terrific changua that's a great way to start the day before visiting the local flea market.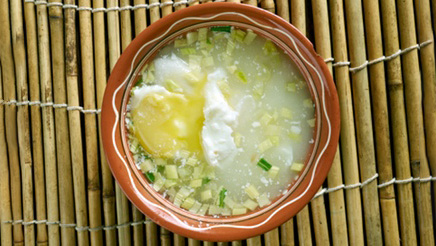 Arepa
As soon as you arrive in Bogota, the smell of arepas in the air tells you all you need to know about the popularity of these tortilla-like maize treats. Made with a combination of wheat and corn flour, cheese, butter and sugar, and finished with a topping of your choice, it's a safe dish that will sound appealing and inoffensive to most. History buffs will be interested to know that clay slabs dating well into the pre-Columbian era have been found in Colombia and Venezuela – suggesting that arepa could be a tradition that is thousands of years old.
Where to try: Trying them fresh is the key. One way to do that is by visiting Misia by Leo Espinosa (Avenida Carrera 7, No. 67-39), a casual and friendly eatery that is home to some terrific freshly pressed juices. Tiny El Envigadeño (Calle 23, No. 5-19) may look unappetising to tourists from the outside, but the inside has an utterly pleasant aesthetic that doesn't feel forced. Oh, and the arepas are delicious too.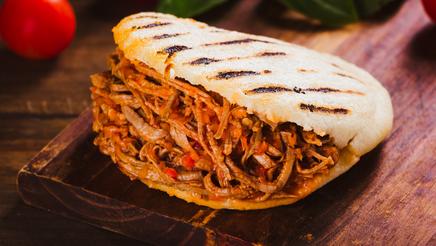 Caldo
Every cuisine needs its own hangover cure, and caldo is precisely that. This breakfast or supper soup served hot has two primary permutations: caldo de costilla (simmered in beef ribs) and caldo de carne (boiled with a slice of beef). The soup itself features potatoes, cilantro, garlic, onion and, of course, beef. It's so popular as a hangover remedy that restaurants located close to Bogota's nightclubs, and popular pubs will stay open late so they can serve caldo.
Where to try: If you've enjoyed yourself a bit too much at the end of the night, then the closest place that serves caldo is probably your best bet. For everyone else wanting to enjoy caldo (rather than medicate with it), try the Plaza de Mercado de Paloquemao (Av 19, No. 25-02) – an old farmers' markets where you'll find caldo de costilla being served in the stalls. However, if you desperately need that hangover cure, Caldo Parao Gigio (Calle 161, No. 18-35) is open 24 hours a day.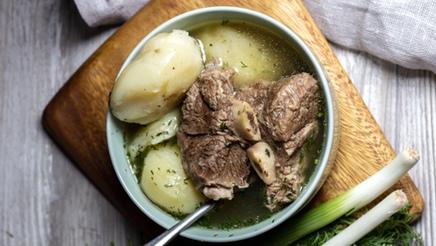 Aromática
This herbal fruit 'tea' utilises herbs, fresh fruit and sugar cane to create a deliciously toasty beverage. Certain restaurants will provide you with various fruits that you can put into your hot water to infuse it with the fruity taste that you desire.
Where to try: As aromática is a tea-like beverage, it's possible to find it served by street vendors and local cafes in various locations across the city. Each version of the drink is genuinely unique – thanks to many vendors taking their own approach to the tea-making process, as well as using different herbs. In terms of cafe experiences, try Oma Cafe (Avenida Carrera, No. 15-1)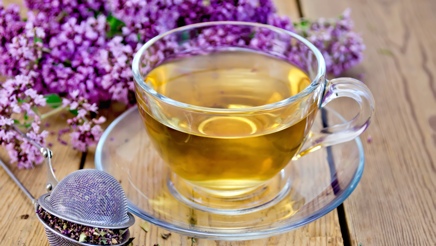 .
Refajo
One of the country's most popular alcoholic beverages, refajo, is a blend of lager with a popular carbonated Colombian drink named 'Colombiana'. This tipple is an excellent accompaniment to foods that are high in animal fats – which is why locals particularly enjoy it at barbecues. Those who are familiar with Caribbean cuisine may know it as 'Kola Roman'.
Where to try: Simple, affordable and satisfying, La Esquina de la mona (Calle 82, No. 13-48) serves up a meaty cuisine that is well suited to refajos. To experience the drink in an authentic Colombian bar setting, take a trip to Huerta Bar Cocteleria Artesanal (Calle 69a, No. 10-15). Its speciality is craft cocktails, but you'll find loads of refajo variants here too.
Chicha
Known as the 'indigenous beer' of Colombia, Chicha is derived from fermented corn and honey. However, the alcohol content can vary – from zero alcohol to a heavy dose of it. It's an extremely sweet drink with the non-alcohol or low alcohol versions served in large bottles, and the more potent stuff traditionally served in shot glasses.
Where to try: With it rumoured that national hero Simón Bolívar met with revolutionary Manuela Sáenz to have chichas at La Puerta Falsa (Calle 11, No. 6-50) in the early 1800s, it would be silly not to recommend having a glass here. If you're feeling a bit adventurous, then grab a glass at El Portal del Chorro (Carrera 2, No. 13-94). Don't be fooled by the graffiti and run-down look – it's all part of the charm.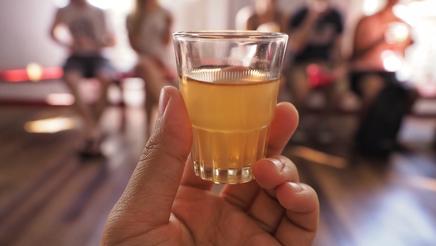 Hot Chocolate and Cheese
Before you judge the combination of these ingredients, answer these two questions: do you like hot chocolate? Do you like cheese? If you answered 'yes' to both, then you're well placed to love this Colombian dish. Hot chocolate, which is an absolute necessity in the lives of the locals, is served alongside a plate of cheese that can then be dipped into the beverage – causing it to melt. Use a spoon to lift the resulting gooeyness out and enjoy!
Where to try: This is another drink and dish, which should be sampled at one of the local cafes. The best place to try this delightfully inspired clash of textures and tastes is at La Puerta Falsa (Calle 11, No. 6-50).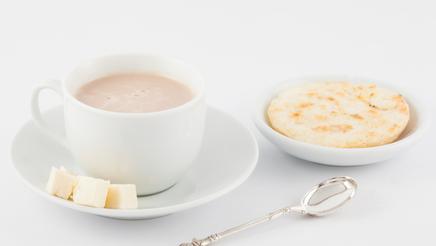 Obleas
Oblea, the sweetest of street snacks, is a favourite with locals and visitors to Bogota. The dessert consists of two large, round wafers that can sandwich a filling of your choice – whether it's arequipe, raspberry sauce, coconut, cheese or a combination.
Where to try: This dessert is another speciality of street food vendors that are dotted around the city centre area. One of the most famous street vendors is the owner of Obleas Mick Jagger (Avenida Calle 53, No. 70-18) whose claim to fame is that he served The Rolling Stones' Mick Jagger with an oblea that he supposedly enjoyed. We can't be sure that Mick Jagger approved of the stall's name though.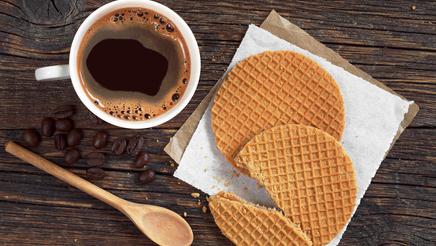 Before you go, check out: