With a foot in both Europe and Asia, Istanbul's cultural and geographical diversity collide, providing a rich and varied cuisine
Consisting of two distinct parts that are separated by a waterway, Istanbul retains a European and Asian identity. It's a terrific bonus for visitors as they get to experience two cities in one location. But that's not the only advantage of this unique destination.
Istanbul's cuisine is an amalgamation of southeast European staples and Middle Eastern tastes. The result? A delightful assortment of dishes and drinks that are different from anything else you'll find in the world. Here are 10 of the top foods and drinks to sample while you're in Istanbul.
Meze
A huge part of Turkish cuisine is the starters and appetisers – a variety of small dishes served together to, essentially, create a main meal. These small dishes of deliciousness are referred to as meze (or mezze). While individuals take their pick from a vast tray of various meze, the dishes are often shared among a table. The first serving of meze tends to be cold, before being followed by a round of hot meals. For the very best meze, select one of the many meyhanes – traditional restaurants that specialise in meze cuisine.
Where to try: If you're in search of a genuine meyhane experience without the bells and whistles, visit Tarihi Cumhuriyet Meyhanesi (Huseyinaga Mh. Sahne Sk, No. 47) in Beyoğlu on the European side. The building of this restaurant is over 100 years old and its interior and approach have barely changed since its opening. Another 100-year-old meyhane is Safa Meyhanesi (Ilyas Bey Cd, No. 121) in Fatih. The classic interior is effortlessly pleasant, and the restaurant remains one of Istanbul's most famed meyhanes.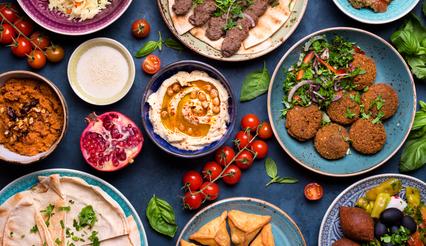 İskender Kebap
This popular dish of northwest Turkey is named after its creator, Iskender Efendi – a 19th-century nobleman who lived in Bursa during the reign of the Ottoman Empire. Interestingly, the dish's actual name is 'Kebapçi İskender'. However, this name is trademarked by İskender Efendi's family – leading to it being served under the more well-known name of İskender kebap. Served on pita bread, laden with butter and tomato sauce, this dish of döner meat is often accompanied with yogurt.
Where to try: While the dish is traditionally associated with Bursa, many believe Meshur Bursa Kebaapçısı (Atif Yilmaz Cd, No. 8) in Beyoğlu offers the best İskender kebap in Istanbul. Situated on the Asian side of the city, Iskender Iskenderoglu (Albay Faik Sozdener Cd) in Kadıköy, serves İskender kebap as it's only dish.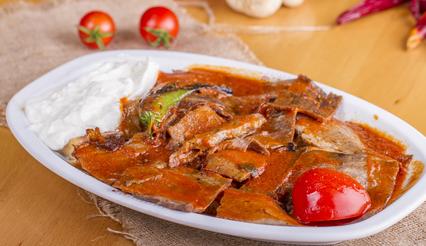 Mantı
Another classic staple of Turkic cuisine is mantı – a tasty dumpling made of dough and a filling, similar to ravioli. Generally, the mixture consists of onion, ground lamb or beef, seasoned with salt and pepper. However, it's also possible to swap out the lamb or beef for chicken or salmon. Vegetarians can even request spinach as an option. It's normally served with a side of yogurt and smothered in a tomato sauce, which is cooked in butter. The dish is popular not only in Turkey but also in Russia and other former Soviet countries.
Where to try: When talking about mantı, it's imperative to mention Casita (Etiler Mah, Nispetiye Cd, No. 65/A) on the Asian side of the city. This popular restaurant serves traditional mantı, as well as fried mantı. For something a little different, Hingal Mantı (Cumhuriyet Cd, Mirac Sk, No. 3) in Çiftlik to the north of the Asian side offers a Dagestan influenced take on mantı. The dumplings, resembling something between mantı and tortellini, come served in all manners of beautiful colours, including blue and green.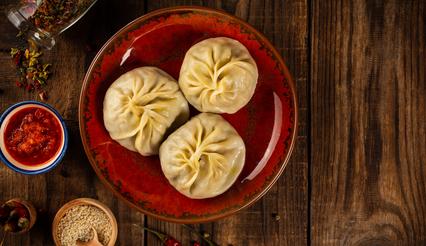 Menemen
Named after a district of Turkey's İzmir Province, this omelette includes egg and tomato. As tomatoes were first grown in İzmir in the 1920s, it's thought that tomato growers were inspired to create tasty meals with excess produce. A variety of other ingredients are used to complete the dish – such as herbs – with some variants containing mushrooms, sausages and cheese.
Where to try: Bebek Kahve (Cevdetpasa Cd No. 18) ensures delectable menemen and great views. The restaurant is positioned right on the waterfront of the Bosphorus Strait – allowing you to gaze at the passing boats and the Asian side of Istanbul. Sütiş Taksim (İstiklal Cd No. 7) in Beyoğlu is a perfect breakfast spot – serving several varieties of menemen.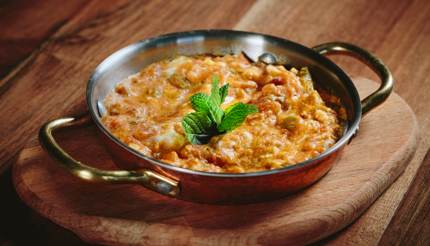 Kuyu kababı
This specialty dish originates from the Kastamonu Province to the north of the country, in an area known as the Black Sea Region. The dish's name, translating roughly as 'pit kebab', comes from how it's cooked. The meat is hung over a pit-like charcoal or coal oven for hours to cook the organless male lamb slowly. In Turkey, and other areas around the Central Asian region, this type of oven is referred to as a 'Tandır'.
Where to try: For authentically cooked kuyu kababı, head to Siirt Şeref Büryan Kebap Salonu (Itfaiye Cd, No. 4) in the Fatih district on the European side of the city. Slightly south of here, you'll also uncover Sirkeci Restaurant (Nobethane Cd, Serdar Sk, No. 24). Both restaurants are considered two of the city's most excellent eateries.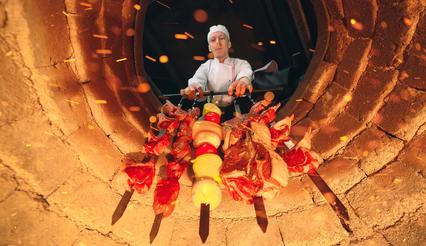 Künefe
This cheese pastry dish is a traditional recipe found in many Arab cuisines – often under the name 'kanafeh'. Despite the savoury cheese element, künefe is a dessert. The cheese is sandwiched between two sheets of stringy pastry known as tel kadayıf. In Turkish cuisine, the pastry is served in syrup with a side of clotted cream, and walnuts or pistachios are sprinkled on top.
Where to try: The dish's popularity in Turkey comes from the Hatay Province where Hatay peyniri (translating as cheese of Hatay) is used in the recipe. Akdeniz Hatay Sofrasi (Ahmediye Cd, No. 44/A) in Fatih specialises in the traditional version of this dish. On the Asian side of the city, look for Künefecizade (Fahrettin Kerim Gökay Cd, No. 31) in Kadıköy where the künefe is beautifully presented.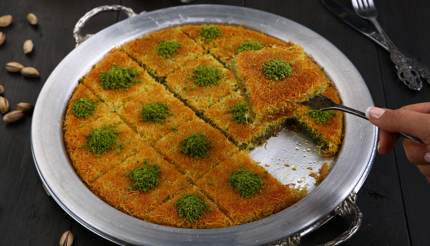 Rakı
Wherever there is meze, there is rakı. Known as Turkey's national alcoholic drink of choice, rakı is an anise-flavoured beverage that goes hand-in-hand with meze. Even if you're not a fan of the liquorice taste, this strong liquor is (too) easy to consume and a must-try for visitors.
Where to try: You can sample rakı at any meyhane or bar, but Safi Meyhane (Mesrutiyet Cd, No. 84) in Beyoğlu is particularly favoured for rakı – so much so that they even serve a rakı ice cream! The restaurant itself, in contrast to the previous meyhanes, has a more updated and modern feel. Also in Beyoğlu is Çukur Meyhane (Turnacibasi Caddesi, Kartal Sk, No. 1/A) – offering a relaxed, genuine rakı and meze experience.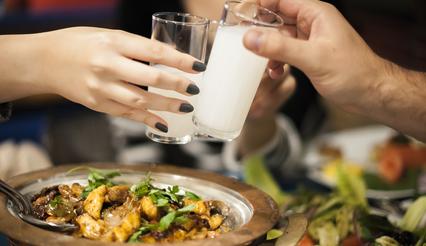 Ayran
Perhaps Turkey's most treasured non-alcoholic drink, ayran is a summer must-have. Containing no sugar, this refreshing beverage is a blend of water, cold yogurt and salt. You can even find it in the country's McDonalds and Burger King restaurants, and it's most enjoyed with meat dishes. The drink's history is thought to extend back thousands of years to the times of the Göktürks.
Where to try: One of the best ayrans can be found at Babo'nun Yeri Şanlıurfa Zaman Kebap (Simitçi Şakir Sk, No. 30/A). Here, it's created from ingredients sourced in Turkey's villages, as opposed to those imported from a factory. If you're visiting the Topkapı Palace Museum – once home to the Ottoman sultans – make sure to stop off and try ayran at The Han Restaurant (Alemdar Cd, Soguk Cesme Sk, No. 26).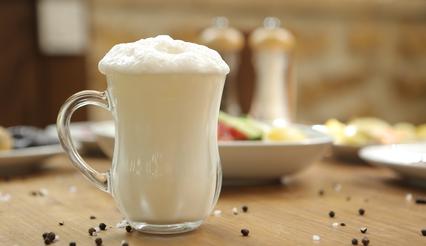 Salep
While ayran is for summer, salep is perfect for drinking in the winter months. Originally made from the tubers of orchids, salep is also created with artificial flavouring. People have resorted to this because the type of orchid used in the beverage is becoming extinct in some areas. That should tell you all you need to know about the popularity of salep! Consisting of hot milk and sugar, thickened with flour, this steaming treat is also sprinkled with cinnamon.
Where to try: Due to the rarity and price of real salep, it's common to find cheap variants of the drink in plenty of places around Istanbul. One genuine seller of salep is Dondurmaci Ali Usta (Moda Cd, No. 264/A) in Moda, Kadıköy on the Asian side. It's also worth visiting Maiden's Tower, dating back to the Byzantine Empire on the Bosphorus Strait. Apart from being a historical wonder, the tower now features a café and restaurant where you can happily warm up with a glass of salep.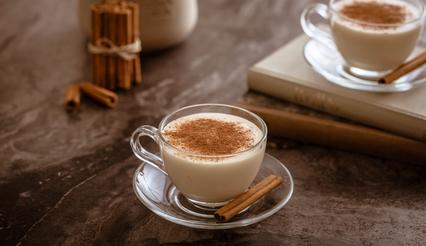 Baklava
Easy to make but devilishly tricky to master, baklava is Turkey's most famed dessert. The form by which we know baklava by today was developed in the kitchens of the Topkapı Palace during the Ottoman Empire's reign. Thin layers of phyllo (yufka) dough are strewn with nuts (walnuts, pistachios or hazelnuts) before being covered in butter, baked and then given a sweet dressing of syrup or honey. When baked properly, it's one of the most moreish dishes you'll ever taste.
Where to try: Two places in Istanbul are famed for their baklava – and both can be found in Karaköy. Firstly, there's Köşkeroğlu (Mumhâne Cd, Katlı Otopark Altı, No. 2/2). This quaint little restaurant has received the 'Certificate of Excellence' from TripAdvisor for four years running. On the other side of the same building you'll see Karaköy Güllüoğlu (Rıhtım Cd, Katlı Otopark Altı, No. 3-4) with the same certification from TripAdvisor. Many believe that this specialty dessert shop is the best place for baklava in Istanbul.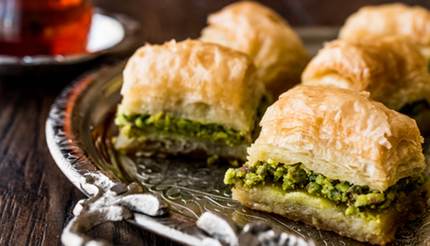 Before you go, check out: