Switching up the spirit industry, one of Sweetdram's leading liqueurs, Escubac, is a perfected blend of botanicals that we can't recommend enough
Those in search of drinks with a difference will be highly appeased by Sweetdram's modern liqueurs. The first product to have been released from Sweetdram, Escubac, is an innovative botanical spirit, created with sufferers from gin fatigue in mind. This spicy and citrusy aperitif draws inspiration from a British cordial, which was later adopted by the French, who used it as a medicinal liqueur. As a result of a reinvented recipe, this old style drink has been transformed into a new age nectar and is continuing to make its mark.
The story behind Sweetdram
Andrew MacLeod Smith and Daniel Fisher founded Sweetdram in 2014 with a shared mission to make liqueurs that they would want to drink themselves. After meeting at university while studying for their Master's degrees in brewing and distilling, the pair decided to create a modern drinks brand centred on original flavours instead of overdone adaptations.
Based in an innovative distillery in Edinburgh, Scotland, Sweetdram produces spirits that are far from dull or tasteless. Instead, Sweetdram prides itself on carefully crafted liqueurs that are free from artificial flavours and colourants and contain limited amounts of sugar. These spirits feature complex flavours and are made to be sipped, nursed and appreciated – definitely not glugged down in one swig.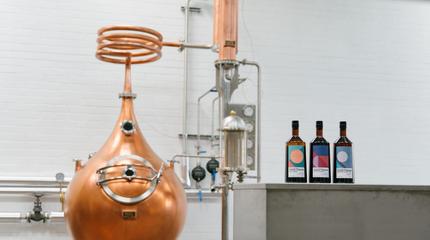 Escubac: the liqueur alternative to gin
Inspired by a vision to create a new liqueur steeped in history, tradition and distilling, the co-founders sifted through history books in search of ideas. This process led to the creation of Escubac – their interpretation of the British cordial turned French medicinal liqueur.
Created by distilling 14 different natural botanicals, including cardamom, nutmeg, caraway and citrus, this lightly sweetened spirit features delicate hints of raisin and vanilla. Only a small amount of sugar is added after the distillation process, and Escbubac gets its golden shade from being naturally coloured with saffron.
The taste is hard to put your finger on, but you will be far from disappointed. If anything, the subtle flavours can be compared to that of a more nuanced, lighter version of a sweet medicine that you would have had as a child – a nod to the drink's French medicinal roots.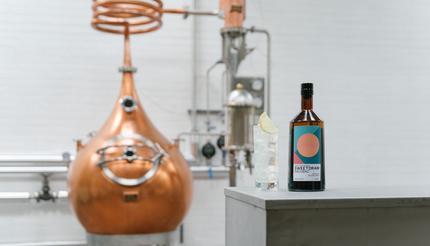 E&T not G&T
Escubac is positioned as an alternative to a G&T – offering a more sophisticated juniper-free twist to the bar classic. You can enjoy this drink neat, or with a tonic, which can really bring out all of its characteristics. Alternatively, Escubac can be used in cocktails or long drinks as a replacement to gin.
The afternoon aperitif
Along with the creation of Escubac, MacLeod Smith and Fisher also seek to bring back the concept of enjoying an afternoon aperitif, which they believe, has been forgotten. Ideally, this drink-crafting duo wants their liqueurs to be relished in the late afternoon – when you can switch off, pour a tipple and start sipping as you contemplate your day.
If you liked this article, you might also like: