Prague is one of Europe's hottest travel destinations – and its sugary-based cuisine, in particular, keeps travellers coming back for more
While the Velvet Revolution in 1989 was when Czechoslovakia changed forever, it wasn't until 1993 that the Czech Republic came into existence. This name change provided the impetus for many travellers to give the former Soviet state a chance – and, since then, Prague has remained one of the most popular places to travel to in Europe.
In fact, Prague is the fifth most visited city on the continent after London, Paris, Istanbul and Rome. Given its relatively small size and populace compared to those giants, this is an impressive achievement. Art, culture and history play a large part in this popularity – as well as the excellent travel deals – but so too does its cuisine. Here are 10 things you should try when visiting Prague.
Chlebíčky
Also known by the name 'open-faced sandwich', chlebíčky is one of the city's most popular snacks. The dish's history dates back to the days of when Czechoslovakia declared independence from the Austro-Hungarian Empire. It consists of a slice of baguette-like bread (sometimes toasted) that is finished off with a variety of toppings – hence why it's called an open-faced sandwich as no bread is placed on top of the contents.
Where to try: The Sisters Bistro (Dlouha 727/39) is being heralded for its reinvention of the dish by combining Scandinavian and Czech cuisine. However, should you wish to try the classic version of the dish, Lahudky Zlaty Kriz (Jungmannova 34 by Wenceslas Sq) is an old-school deli serving traditional Czech fare.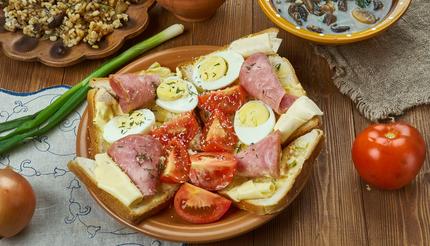 Schnitzel
As pretty much everyone from Prague grew up having Schnitzel for their lunch or dinner, it's a must-try for when you're in the city. A favourite of Central European cuisine, Prague schnitzel is either breaded pork or chicken that is often served with either potato salad or creamy mash. There's a very good chance you'll love schnitzel, and soon, like the locals, you'll be arguing over which variant is best!
Where to try: Offering the two traditional pork variants (roast pork leg and roast pork neck), Lokál Dlouhááá (Dlouha St 731/33) is a great way to experience traditional schnitzel. Make sure to enjoy it with one of their refreshing beers! If you're looking for the chicken version, try Baráčnická Rychta (Trziste 23).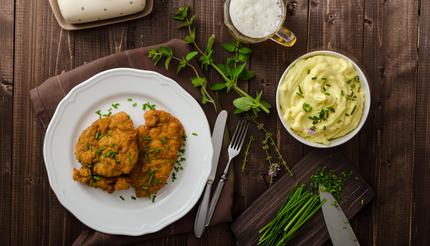 Svíčková
A classic dish often served as part of Sunday lunches and dinners with family or at weddings, svíčková is sirloin beef covered in a creamy vegetable sauce, and served with bread dumplings. This interesting combination of many different food types in one dish is classic Czech comfort food. Keep in mind that the recipe of this dish varies from person to person – there are numerous ways to make this dish and not everyone agrees on certain approaches.
Where to try: While it is a favourite with tourists, Cafe Louvre (Narodni 1987/22) is also a restaurant of historical importance in Prague and this is a great place to sample some svíčková. If you'd like to sample it somewhere that's a little quieter, try U Medvídků (Na Perstyne 345/7) for a perfectly portioned dish. Make sure to have some beer while you're there too as it's also a tavern that has been running since 1466.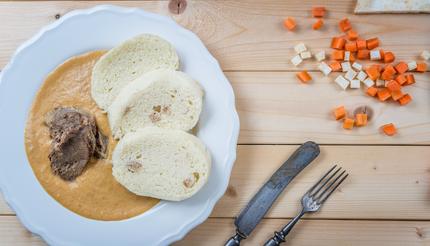 Ovocné Knedlíky (Czech Fruit Dumplings)
It's interesting to note that Czech cuisine features a somewhat unique designation in that specific sweet dishes can actually be main dishes. One such dish is sweet dumplings stuffed with fruit or jam. Popular fruit fillings include strawberries, blueberries and apricots. Often these dumplings are accompanied alongside sugar, melted butter, cottage cheese and many other toppings or condiments.
Where to try: You'll fall in love with the fruit dumplings served at Krystal Bistro (Sokolovska 99/101). However, if you want fruit dumplings that aren't as sweet, head to Havelská Koruna (Havelska 502/21).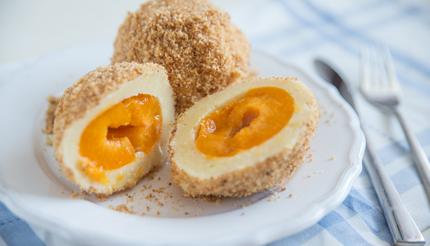 Buchty
These filled dough buns (also called buchteln) are sweet treats to many Czechs – particularly since they have served as a sort of Lembas bread (à la Lord of the Rings) to heroes and heroines in Czech fairytales. While perhaps not as durable as its fictional counterpart, buchty is high in energy and nourishment. They're often served at breakfast or as a late night snack.
Where to try: Some of the best fresh buchty can be found at Cafe Lounge (Plaska 615/8), but availability can vary. For a more consistent provider of buchty, visit one of Prague's many Antonínovo Bakery (Laubova 1689/4) stores.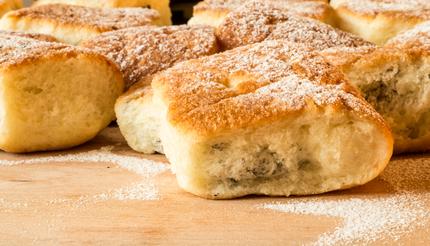 Vetrnik
As we've established, Prague loves sweet dishes – particularly pastries. Arguably the city's finest sweet snack (we'll clarify the 'arguably' later) has to be vetrnik. While you'll find a whole host of places offering this creamy filled choux pastry, you're likely to find just as many variants – so if you like it, re-discover it all over again at another restaurant or café.
Where to try: The vetrnik at the lovely Café Savoy (Vitezna 124/5) is often talked of as the best in the city. However, Cukrárna Myšák's (Vodickova 31) vetrnik is also tasty and beautifully presented.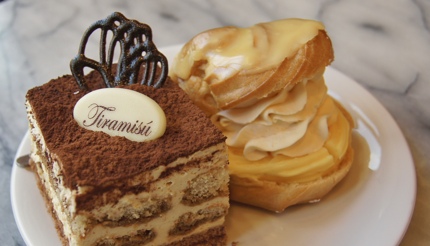 Trdelník (Chimney Cake)
Arguably the city's finest sweet snack (see above), trdelník's history surrounding its origin is debated. What isn't debated, however, is that it's intrinsically linked with Prague today. Known by the name 'chimney cake', trdelník consists of yeast dough that is rolled out before being wrapped around a wooden or metal stick, which is cooked over, traditionally, an open coal flame. The outside is crispy while the inside is lovely and gooey. Often the inside of the chimney can be coated with a spread of your choice – such as hazelnut or chocolate.
Where to try: You'll find speciality stands and vans around the city that serve only trdelník. As long as you get a freshly cooked batch – as they can have a short shelf life – feel free to try as many as your stomach can manage. If you want your trdelník served with a variety of toppings, head to MLS Waffle point U Kajetana (Nerudova 248/17).
Kolache
While there's so much more to enjoy in Prague, we can't round off the dessert list without including kolache. Yes, it's another pastry – but we can't help it! These scrumptious dough treats are Czech through and through. Today, they are enjoyed all around the world in different ways. You'll find sausage variants in Texas or breakfast versions in London. And kolache in Prague is (yes, you guessed it) sweet, not savoury.
Where to try: Head over to the adorable and quaint Perníčkův Sen (Hashtalska 757/21) to pick up some wonderfully made kolache – and devour some gingerbread people while you're at it too! If you're looking for a breakfast meal to go with your kolache, Cafe~Café (Rytířská 10) is a great choice.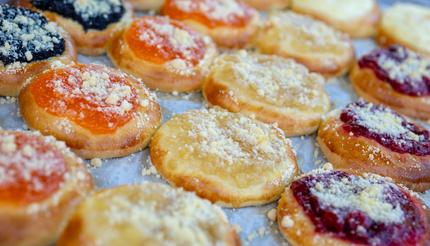 Beer
It may not be unique to the Czech Republic, but beer is undoubtedly a crucial part of the Prague experience. The people love their beer – so much so that the country has the world's highest beer consumption per capita! Czech lands have been home to beer making efforts since the 6th century. Today, the city of Prague is home to 42 breweries – meaning there's a brewery for every 32,000 people in the city. As such, some people even consider Prague the beer capital of Europe and, when you consider the stats, it's hard to argue with them. The Czech beer that is most well-known is pilsner, a type of pale lager named after the city of its origin.
Where to try: You'll find plenty of great places to have a beer. Firstly, head to U Fleků (Krěmencova 11) where you'll be met with a charming exterior complete with a gorgeous clock. Established in 1499, this brewpub is thought to be the oldest in the world. If you book in advance, you can also enjoy a museum or brewery tour.
If traditional beer doesn't take your fancy, you can try flavoured beer at the more modern U Dobřenských Brewery (U Dobřenských 268/3) where you can also sit down to have a filling meal.
Wine
Often overshadowed by beer as the city's alcoholic beverage of choice, wine is just as big a part of the Prague experience. This is thanks to the country having two wine producing regions: Moravia to the east (particularly southern Moravia), and Bohemia to the north. Many Czech wines have impressed or been awarded prizes at international competitions. However, they can still be quite hard to find once you leave the country. So make use of the opportunity to enjoy a Czech wine in Prague!
Where to try: Experience a Michelin star meal with some fine Czech wine at Field (U Milosrdných 12). For a more relaxed experience, head to Veltlin (Křižíkova 488/115). Here, you'll discover historic and modern Czech wines that use organic produce without pesticides and industrial chemicals.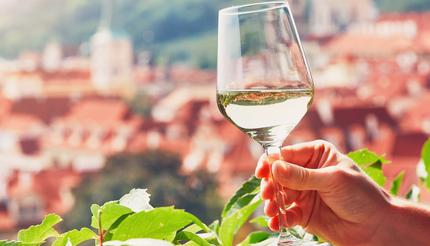 Before you go, check out: