There's no better place to get acquainted with Italian cuisine than within Mercato Centrale Roma – a unique marketplace and a celebration of culinary excellence
A new approach to eating
Born from the concept of 'la bontà é elementare', meaning 'goodness is simple', the Mercato Centrale format was founded by Umberto Montano, an entrepreneur in the restaurant business and cofounded by the Human Company Group – the leader in the open-air accommodation sector in Italy. The central idea behind Mercato is to celebrate good quality artisanal food and the people behind it in a restored historical setting.
Mercato Centrale first opened in the centre of Florence in 2014 and sought to give local food artisans a special space to embrace their culinary heritage and display their handmade creations. In 2016, Mercato Centrale Roma was opened with the aim of taking the concept to another level, allowing visitors in Rome to experience truly authentic Italian cuisine.
In Rome, Mercato Centrale is conveniently positioned in the Termini Train station in an old railway-dining hall, making it an ideal pit-stop for travellers, but also for those in search of fresh, local fare. Spread across three floors, Mercato Centrale Roma features a gourmet food hall of 18 stalls on the ground floor, a restaurant on the first floor, and Spazio Fare, a space on the second floor has additional seating and is where Mercato Centrale Roma hosts private and public events.
Whether you're in need of a light snack, a more substantial meal or a quick coffee, Mercato Centrale Roma should be your first port of call in the Eternal City. As well as offering some of Rome's best cuisine in one place, Mercato Centrale Roma is also a cultural hub and is often home to free art and music shows.
Breakfast options
If you have just arrived at the Roma Termini Train station or have an early visit to Rome, make sure that you refuel in Mercato Centrale Roma with one of its delicious breakfast options.
La Caffetteria
Those in need of a caffeine kick can head straight to this stall, which promises the best coffee blends in the city. With a philosophy focused on acquiring the most excellent beans around, La Caffetteria also pays attention to detail when selecting ingredients and makes use of innovative water filters and coffee machines. By collaborating with another reputable coffee shop in Rome, Mondicaffè, this stall ensures that you only taste the highest quality blends, which boast remarkably flavourful aromas. A cup of the espresso or filter coffee is sure to put a spring in your step.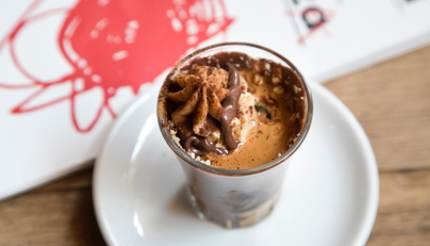 II Pane e la Pasticceria
For the freshest pizza, bread and pastries, II Pane e la Pasticceria, is the go-to spot. Here, you can taste the finest baked masterpieces of the renowned Italian baker, Gabriele Bonci, who is famously referred to as "The Michelangelo of Pizza". From a young age, he started experimenting with different kinds of flours and grains and went on to find the highest quality ingredients to achieve a perfect balance for his products. By employing traditional methods, experimenting with ancient grains, and working with small farmers, his delectable bread is created from a combination of flavours, textures and colours. The white focaccia, pizza topped with potatoes and the maritozzi – a Roman speciality, and a sweet-yeasted bun topped with whipped cream – are all recommended.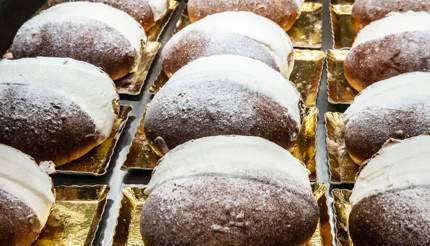 Lunch options
To beat the midday slump, Mercato Centrale Roma has plenty of mouthwatering lunch options to choose from.
II Trapizzino
Trapizzino, a triangular pizza pocket made with natural yeast, served warm and stuffed with an array of toppings is another local favourite. The recipes used to make this cheap snack can differ depending on personal preference and family traditions, but the most popular fillings include chicken cacciatore, aubergine parmesan and meatballs with sauce. The Italian chef and creator of the Trapizzino, Stefano Callegari, wanted to make a new generation fall in love with old recipes and cooking traditions, and the creation of Trapizzino has succeeded in doing just that. The success and reputation of this new take on pizza can be attributed to the extensive research conducted to source the best recipes as well as the conservation of traditional cooking methods.
II Vegetariano e Vegano
Vegetarian and vegan meals can be found at this stall within Mercato Centrale Roma, and you can trust that the products used to prepare these meals are organic, fresh and sourced from the best small farms in the country. To put the minds of the consumers at ease, information regarding the products and their exact origins is available. The dishes are also created to be light and balanced with the right flavours, and the concept of vegetarians having to be satisfied with all things bland and tasteless is fully disregarded. Instead, sandwiches are made with bread baked in a small Florentine bakery, and the appealing vegan burger is carefully crafted with legumes, and a myriad of toppings. Fillings for the sandwiches and burger include fresh tomatoes, caramelised onions, spinach, rocket pesto and fontina cheese (for the vegetarians) – an Italian cow's milk cheese. The seasonal salads, juices and an array of soups are ideal for a quick and light lunch.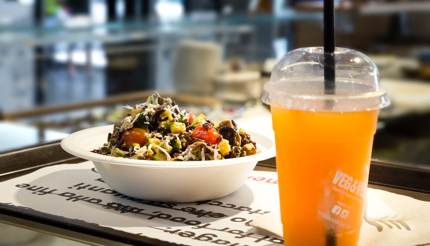 Le Specialità Siciliane
Traditional Sicilian desserts and savoury specialities are prepared at this stall by the chef, Carmelo Pannocchietti. Inspired by recipes steeped in tradition and influenced by France and the Middle East, Pannocchietti seeks to revive traditional Sicilian delicacies made from the very best Sicilian ingredients. Freshness, tradition and innovation are all central to the success of Pannocchietti's creations, and the cannoli are filled with whipped cream on the spot, ensuring that each pastry tube has the perfect crunch. The candied fruit and brioche (a light and puffy bread of French origin) with granita (a semi-frozen dessert made from sugar, water and various flavourings) are both worthy of a mention, and if you're after something more savoury, you can try the classic Sicilian arancini – stuffed rice balls, which are coated with bread crumbs and then deep-fried. These irresistible Italian favourites can be packed with cheese or a selection of ingredients like peas or ham. Another notable Sicilian speciality to sample is scacce modicane (a thin filled focaccia bread), which is simple, but incredibly tasty.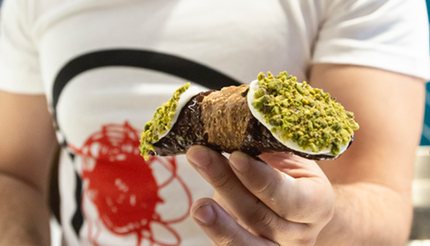 Dinner options
What better way to conclude your day in the enchanting city of Rome than by feasting in such a special setting? Dinner the Italian way can definitely be enjoyed at Mercato Centrale Roma. Non-Italian dishes are also on offer and you can get everything from sushi to ramen.
La Pasta Fresca
The Michelis family has been perfecting the art of pasta since 1919, and are well known for their fresh handmade stuffed pasta, bronze-cut durum wheat pasta and scrumptiously rich sauces. Each product is created through the combination of old family recipes and traditional methods, resulting in powerful and unique flavours. The bronze-cut pasta is naturally dried in the open air, allowing it to absorb the coastal flavours of Liguria, the Mediterranean town where it is made. This pasta is created from free-range eggs, and the stuffing is made with red meat from Piedmont (a region in northwest Italy), the freshest vegetables and cheeses, which have been granted Protected Geographical Status under the European Union law – designed to protect regional foods. The menus at this stall change every month and the ingredients used are dependent on the seasons. Particular highlights include the ravioli pasta and the plin pasta – tiny parcels of pasta with vegetable fillings.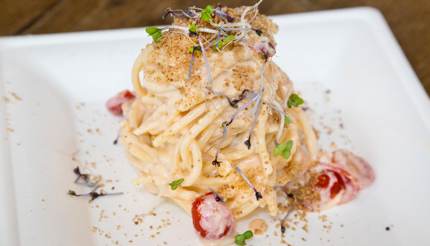 La Carne e i Salumi
Meat lovers will rejoice at this stall, which offers the most excellent Italian meat. With everything from raw and grilled meats to cold cuts, this stall's meat is tasty, genuine, and 100% Italian. The Savigni family of meat artisans behind the stall supervise the entire production cycle of the meat on their stock farm and make sure that their farming standards follow an ethical and natural approach, resulting in genuine products, which are high in quality and flavour, and free from any artificial preservatives.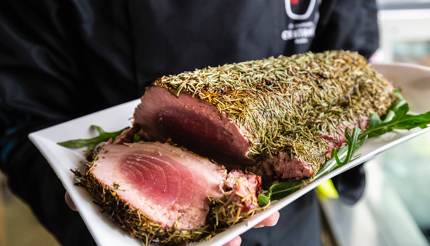 I Carciofi e i Funghi
Put pizza and pasta aside for a moment and make sure that you sample this stall's two specialities: artichokes and mushrooms. Established by Alessandro Conti, the go-to artichoke guy in Rome and Gabriele La Rocca, a local mushroom expert, this stall offers outstanding traditional dishes, featuring raw and cooked artichokes, and deliciously fresh mushrooms. The dishes are prepared at the market on an open table, allowing you to see these artisans work their magic, and the organic products hail from across the country. The crispy carciofi alla giudia (fried artichokes) are a must-have, especially as a tourist in Rome.
II Vino al Bicchiere
Luca Boccoli, a top Italian sommelier, has years of experience in selecting the best bottles of wine. Over time, Boccoli has mastered his expertise so that he can determine just what his customers want. He believes that every bottle of wine is created from hard work, patience and passion, and his stall offers more than 100 labels. If you require some liquid refreshment, you can buy a bottle to complement your meal or taste from a curated assortment of over 40 blends by the glass. The balanced selection includes wines from the Barolo and Champagne regions, with new labels constantly being added.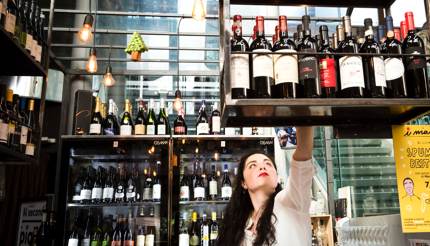 Il Gelato
Let one of Luca Veralli's moreish gelatos cool you down after a day of exploring. Created from Sicilian carob seed flour, the gelato is free from artificial additives, rich in protein and fibre, and perfectly creamy and light. The all-natural flavours are influenced by the seasons, and the gelato is continuously creamed to ensure that it stays soft and fresh. Sicilian pistachio, almond from Toritto, cookie (biscotto), and hazelnut from Piedmont are among the best flavours to choose from. Veralli also sells incredible ice-cream bars made from his own recipes.
La Pasticceria
You can conclude your experience at Mercato Centrale Roma on a sweet note with a pastry or three from this stall run by the De Bellis brothers. Based on the belief that a pastry shop should be centred on emotions, aesthetics and taste, La Pasticceria is now a symbol of authentic artisanal excellence in the city. Brothers, Andrea and Marco, offer pastries that are more innovative than conventional, but still, reflect authentic Italian traditions. The bignès (deep-fried puffs of dough packed with cream), in particular, are deadly but so delicious, as is the tiramisù – a famous coffee-flavoured Italian dessert.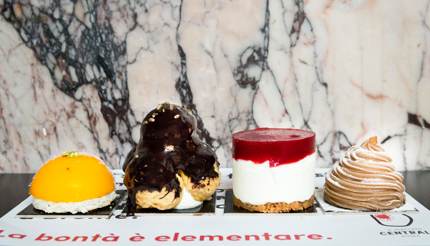 Before you go, check out: