As one of the travel world's most underrated gems, Taiwan's capital delivers on culture, diversity, history and, most importantly for foodies, cuisine
If you're visiting the geographical area known as Taiwan, the Republic of China (ROC) or Chinese Taipei for the first time, a trip to capital city, Taipei, is an absolute must. It is, of course, the cultural, political and financial heart of the country. The island itself and its surrounding islets are something of a natural wonder – with Portuguese sailors and cartographers dubbing it 'Formosa' (beautiful island) when they caught sight of it for the first time.
With a long history that has seen the island's independence challenged by the Dutch, Japan and Mainland China, Taiwan is a country that retains a cultural identity separate from Mainland China. As such, this has led to Taiwan's people producing arts and cuisine that is somewhat distinct from its geographical neighbour. This separation of identity is best seen across the breadth of Taipei's 12 districts – which are packed full of restaurants and street vendors. Here are ten of the top things you should eat and drink while you enjoy your stay in Taipei.
Xiao Long Bao (Soup Dumplings)
These steamed soup dumplings are, quite probably, the country's most famous dish – both domestically and internationally. Despite originating in Mainland China (in Jiangnan to the south of the Yangtze River), the dish is an absolute Taiwanese sensation and is best enjoyed with a serving of side dishes. Available with several different proteins such as chicken, cured ham and shrimp, the pork variant remains the most popular.
Where to try: If you're going to taste Xiao Long Bao (or XLB) when you're in Taipei, then you have to visit Michelin starred Din Tai Fung (No. 194, Section 2, Xinyi Rd). This chain of restaurants is largely responsible for the dish's widespread appeal outside of the country. For dumplings that are a little thicker and heavier, head to Hang Zhou Xiao Long Bao (No. 17, Er Section, Hangzhou South Rd).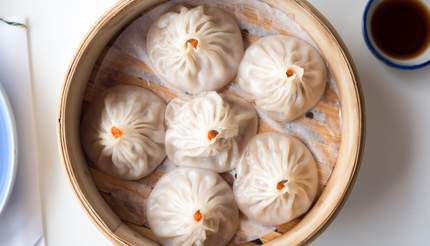 Stinky Tofu
While it doesn't have the most appealing name or, evidently, the most appealing smell, stinky tofu is a resounding hit with locals and visitors to the country – so much so that it is an extremely popular dish. The name comes from the unique smell given off by the fermented tofu that can either by steamed and stewed or deep-fried. It's often served with a side dish to offset the tofu's greasiness.
Where to try: As it's a type of street food, stinky tofu is best experienced when bought from street vendors. The impressive Stinky Tofu Boss (No. 6, Lane 313, Section 2, Zhonghua Rd) found its way onto the Michelin Guide's 2018 Bib Gourmand Selection for its steamed vegan stinky tofu. For choice, Raohe Night Market (Raohe St) has plenty of vendors offering stinky tofu every day from 4pm to midnight.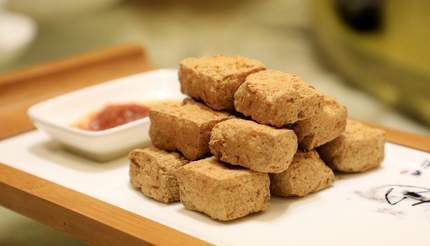 Hujiao Bing (Pork Pepper Bun)
Batches of rolled, individual dough balls are filled with peppered, minced pork before they are stuck to the side of a cylindrical oven – something like a tandoor – to be baked. The result? A tasty, piping hot pork pepper bun known as hujiao bing. This dish comes from Fuzhou – the capital of Fujian province in Mainland China – and is commonly found throughout Taipei's night markets and food stalls.
Where to try: It's another street food delicacy and Fuzhou Shizu Baked Pepper Bun (No. 249, Raohe St) stall at the Raohe Night Market in Songshan district is considered the best – but expect to wait in a line! Another stall, Hu Jiao Bing Kao Di Gua (Guangzhou St), can be found in Wanhua district.
Lu Rou Fan (Braised Pork with Rice)
The dish features marinated braised pork – cut into cubes and drenched in gravy – which is then placed onto a bed of steamed rice. The meat and gravy sauce will then slowly slump into the rice – if you haven't already mixed it together, that is. While braised pork is often the main ingredient, it can be swapped for braised tofu or braised boiled eggs. As somewhat of a national dish, it's an absolute favourite of the Taiwanese populace who consider it to be comfort food.
Where to try: As a staple of Taiwanese cuisine, you'll find the dish wherever food is served. The restaurant most famed for the dish in Taipei is Jin Feng Lu Rou Fan (No. 10-1, Section 1, Roosevelt Rd) where there is always a crowd. It can feel a little chaotic, but it's worth it. You should also check out Huang Ji Braised Pork Rice (No. 28, Lane 183, Section 2, Zhongshan North Rd).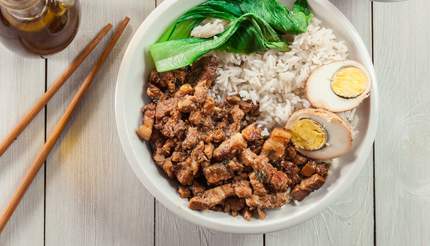 Scallion Pancakes
These scallion (spring onion) pancakes are very similar to the Mainland Chinese version but are served in many distinct ways. They can sometimes be served flaky and light, or they can be served deep-fried. There are also other types of ingredients that can be used in the pancake, with a popular alternative being daikon (radish). Some restaurants and stalls offer toppings – such as ham and cheese – too. Whatever variant you end up with, pancakes in Taipei are pretty delicious and a must-try.
Where to try: One of the most popular places for the lighter version of the dish is Tian Jin Flaky Scallion Pancake (No. 1, Lane 6, Yongkang St). If you want to experience the deep-fried version that many locals enjoy, head to Wenzhou Jie Radish Pancake (No. 186-1, Section 1, Heping East Rd).
Niu Rou Mian (Beef Noodle Soup)
Considered to be THE 'national dish' of Taiwanese cuisine, a bowl of beef noodle soup is part of daily life in Taipei. While its origin is disputed, there are many theories detailing how the delicious dish endeared itself to the Taiwanese people. One is that wartime rations provided by the American Army were mixed with locally produced noodle dishes, while others track it back to Szechuan-style beef noodles. Whatever the case, people are just happy it exists – as evident by the hundreds of stalls and restaurants that have built their business around the dish.
Where to buy: With no less than eight Taipei food joints that specialise in beef noodle soup ending up on the prestigious Bib Gourmand list from Michelin, you're going to be spoilt for choice. For a traditional, genuine experience, visit Lao Shandong Homemade Noodles (No. 70, Xining South Rd) in Basement 1 of the Wan Nian Building. For a more westernised spin on the dish, check out Niu Dian Beef Noodles (No. 91 Kunming St).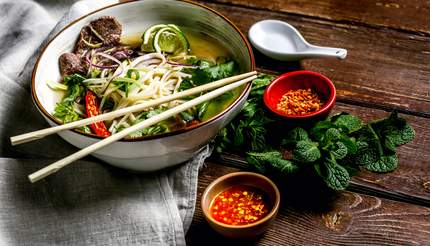 Taiwanese Fried Chicken
Taiwanese fried chicken is known around the world – but under the slightly different name of 'popcorn chicken'. This simple yet immensely popular dish is ubiquitous in the night markets across the city. The chicken is coated in flour and seasoning before then being fried in small, bite-sized chunks.
Where to buy: One of the top places for fried chicken bites is Shi Yun Taiwanese Fried Chicken, which has existed in the Shida Night Market since 1984. Hot-Star Large Fried Chicken (No. 12-2 Underground St) now has chains around the world, but it initially traded from humble beginnings at Shilin Night Market. Their larger variant of fried chicken cutlets will definitely leave you full and satisfied.
Tsuabing (Shaved Ice)
While it may not sound the most appetising, Taiwan absolutely loves shaved ice – also known by the names tsuabing, baobing and cuabing. Ice shavings are either made by hand or by machine before being flavoured with a variety of toppings and sauces. Common toppings include condensed milk, mung beans, tapioca balls and, when seasonally appropriate, fruits. Two of the most popular fruit variants are mango and strawberry.
Where to buy: There are many dessert houses set up to provide you with modern versions to suit the younger generation's collective sweet tooth. For the more traditional version of the dish, visit Bingzan (No. 2 Shuanglian St) between April and October (Mango season). If you want the sweeter version, head to the Smoothie House (No. 15 Yongkang St) in Da'an.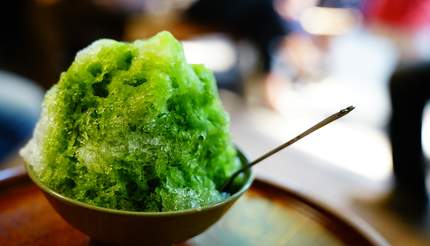 Pineapple Cake
When it comes to dessert, Taiwanese people have a great affinity for pineapple cake. This historical holdover can be traced back to when pineapple was a vital commodity to Japan – which ruled Taiwan from 1895 to 1945. Pineapple was imported to Taiwan to be processed, after which it would be exported to Europe and the USA. When the demand for pineapples fell, locals used the leftover pineapple to make jam fillings that could be used in pastries. Today, these immensely popular sweet treats are made with flour, sugar, eggs, butter, Chinese squash and, of course, pineapple jam.
Where to buy: Due to being popular with tourists, it's quite easy to find pineapple cake being served in most restaurants or packaged in convenience stores. For fresh pineapple cake, head to Chia Te Bakery (No. 88, Section 5, Nanjing East Rd) if you want to sample what many consider to be the best version. If you plan on taking some pineapple cakes home with you, Amo Bakery is ideally located at Taipei Main Station. This is where you get the train to Taoyuan International Airport. Additionally, you'll find the Chia Te Bakery cakes being sold in travel packets at the airport too!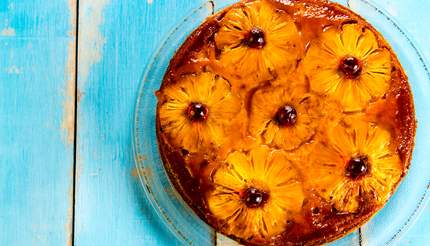 Bubble Tea
While it's now a pretty popular drink around the world, bubble tea has its origins in Taiwan. Its popularity with the youth of the nation all but guaranteed that it would be a worldwide sensation. The origin story, as with many dishes, is murky. One story says that the drink was created in 1986 when a teahouse owner in Tainan observed pearl-like white tapioca balls and decided to make a tea using the balls. This is why it is sometimes called 'pearl milk tea'. As that alternate name suggests, it's very milky and decadently rich.
Where to buy: Another origin story says that the inventor was the owner of Chun Shui Tang (1B1, No. 9 Songshou Rd) tearoom. Given that the brand now has nearly 100 branches, the story clearly resonates with the Taiwanese people. Either way, it's best to try the so-called 'original' for yourself. If you're after a fruity variant of the tea, head over to Yi Fang Tea (No. 66, Section 4, Minsheng East Rd) in Songshan district where you'll find all manner of fruity permutations.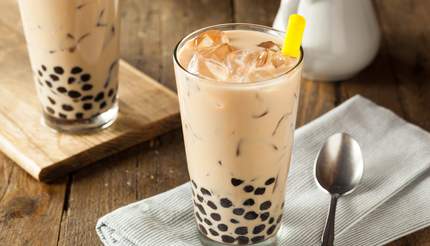 Before you go, check out: