From steamy street stalls to sophisticated Michelin-starred restaurants, Bangkok is every foodie's dream
Thai cuisine has made a name for itself around the world – and despite any attempts to replicate the intricate flavours or specific seasoning, the most authentic Thai cuisine can only be found in Thailand.
While rural Thailand focuses on more unique and interesting ingredients, you'll find all the classic Thai favourites on and off the streets of Bangkok. A word of warning though, as the Bangkok chefs are renowned for not holding back on the spices. If you're unsure of how to navigate the dining scene, here are the top 10 things to try in Bangkok, along with the best stalls, restaurants and bars to try them in.
Kaeng Khiao Wan (Green Chicken Curry)
If you're visiting Thailand for the first time, we suggest easing into the world of Thai delicacies with an authentic green chicken curry. Often served alongside khanom chin (thin rice noodles) or even just rice, this exceptionally aromatic medley is the ultimate mix of sweet and salty – and one of Thailand's most famous dishes. Having grown in popularity during the early 20th century, this scrumptiously creamy curry remains a favourite.
Where to try: It's hard to find a restaurant in Bangkok that doesn't serve this curry – so go out and explore. If you're also tempted to dabble in other dishes from beyond Bangkok – Smooth Curry (Witthayu Road) is sure to do the trick. Promising substantial portions and packing all the flavour, this sophisticated eatery has perfectly mastered the kaeng khiao wan as well as dishes from across Thailand. Those who can't yet handle the spice will find solace at Rose Apple Cuisine (28 Phahon Yothin 6) – serving up green curry variants in a delightful setting.
Pad Thai (Thai Stir Fry)
An iconic street food delicacy, pad thai is a simple stir-fry which is thought to have originated from Chinese traders visiting the region during the period of the Ayutthaya Kingdom (1350-1767). Its main component is dried rice noodles, a trend that arose from the rice shortages that Thailand experienced during World War II. The specific taste stuck with the Thai people, and phad thai is now one of the country's national dishes. You really can't beat the blend of chewy and soft, with a little bit of a crunch.
Where to try: There's no doubt that Thip Samai (313 Mahachai Road) is the place to go for Pad Thai. The restaurant is over 50 years old and is known by many in Bangkok for being the best producer of pad thai for decades. It's popular, it's pricey, but it's worth it. If you'd like a sweeter version of the dish, then Nara (494 Ploenchit Road) is well-suited to foreign taste buds.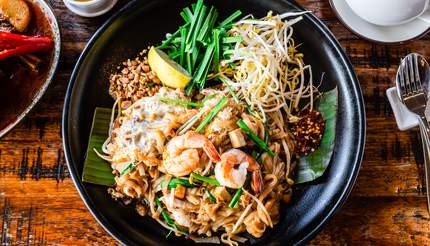 Kaeng Phet (Red Curry)
If you can handle the heat – then sampling Thailand's classic red curry should be next on your list. Renowned for its spiciness, this fiery fare gets its name from the dry red spur chillies that are used to create the paste. Although the chillies steal the show in this dish, coconut milk, cumin and garlic also enhance the flavourful experience.
Where to try: Promising copious amounts of spicy combinations and excellent value for money, Inter Restaurant (Phatthanakan Road) serves up a superior quality of curry dishes. The roasted duck lathered in a red curry sauce is a particular favourite. If you're looking for a red curry with a difference, head straight to Sra Bua by Kiin Kiin (991/9 Rama I Road) in the Siam Kempinski Hotel. Here, you'll discover a frozen red curry complemented with Maine lobster salad, which is as unique as it is pricey.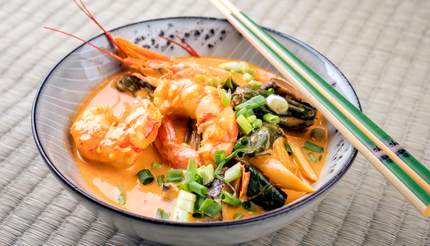 Pak Boong (Morning Glory)
Sometimes referred to as water spinach or (less appealingly) swamp cabbage, morning glory is popular in East and Southeast Asian dishes. This simple Thai staple is often sautéed with garlic, chilli and fish sauce to create a quick, light dish that is big on flavour.
Where to try: Delivering incredibly satisfying dishes at a great price, Jok Pochana (96-98 Soi Samsen 2) is a humble, family-run restaurant, which has been awarded a 'Certificate of Excellence' by TripAdvisor for four years straight. Lek Seafood (156 Soi Phiphat) isn't the most glamorous restaurant, but if the locals love it, particularly the stir-fried morning glory, then they're doing something right.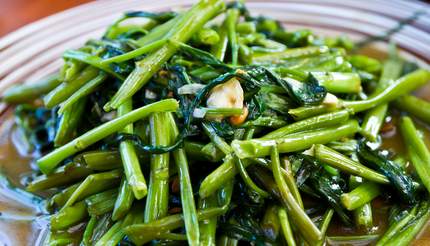 Khao Pad (Fried Rice)
Not the most adventurous with food? Well, don't worry – you can still experience Thai cuisine without journeying out of your comfort zone. Khao pad is traditionally served as a lunch dish, but it can also make for a delicious light evening meal. The modest mix of rice, veggies, basil, onion, chilli, egg and meat of your choice is simply delectable.
Where to try: Khao pad is a popular street food, and is best experienced as a lunch dish. Join the locals for a paper plate of genuine khao pad on Silom Road or go for something more gourmet at the refined Baan Restaurant (Wireless Road).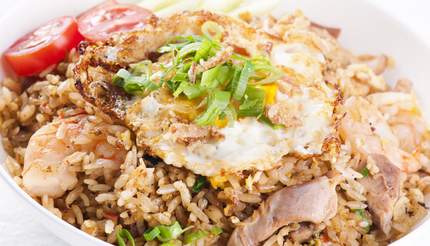 Tom Kha Gai (Chicken Coconut Soup)
Continuing the trend of light dishes, this chicken coconut soup is bursting with authentic spicy and sour Thai flavours. It comes as no surprise that tom kha gai is one of the country's most popular dishes thanks to its creamy and rich texture. If you need minerals, this broth is an excellent go-to given that it's made with chicken bones, cartilage and marrow.
Where to try: For an original Thai version of tom kha gai, you should check out Nalin Kitchen (1463 Charoenkrung Rd). You won't find any dishes adapted to western palettes here, as the menu is all about keeping its flavours authentic. But if you want to take it easy on the taste buds, then you may find the tom kha gai at Bua Restaurant (1/4 Convent Road) is more to your liking.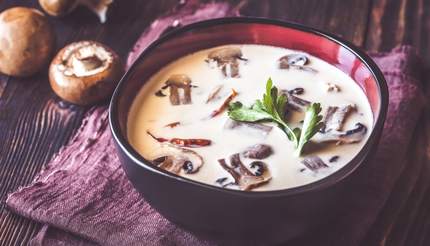 Som Tam (Green Papaya Salad)
Listed as one of the world's 50 most delicious foods by CNN Travel in 2011 and 2018, som tam is Thailand's most famous and popular salad. The name essentially means 'salad made in a mortar' – referring to the garlic and chillies pounded in a mortar and pestle to make the paste. This salad is far from lacklustre with grated green papaya, cherry tomatoes, dried shrimp, fish sauce, tamarind juice, lime juice, sugar cane paste and green string beans, and a side of kow neeyao (sticky rice).
Where to try: Both locals and tourists alike are big fans of Som Tam Nua Restaurant (392/14 Soi Siam Square) which is ideally situated in the city's fashion hub. As its name suggests, its speciality is som tam – but it serves versions that are popular across all palettes. However, if you want the purest version of som tam, head to Siriwan Hoi Tod (120 Prachathipatai Road) – you won't be disappointed.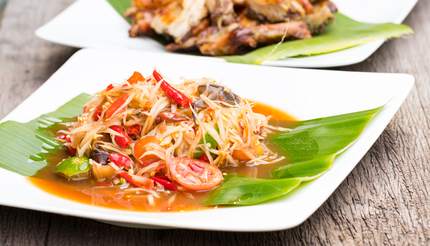 Beer
Those who enjoy an alcoholic beverage now and then would have heard of Thai beers. Both Singha and Chang have risen to prominence in the UK – with the former having sponsored Leicester City during the 'fairytale season' that saw the club win the English Premier League in 2015/16. Beyond these two international powerhouses, there are many more beer brands to be sipped. The price of a malty pint or three won't break the bank either, as beer is exceptionally cheap in Bangkok.
Where to try: You're spoilt for choice in this city when it comes to drinking dens. If you want to line your stomach while sampling the local craft beers, venture to Sala Rattanakosin Eatery and Bar (39 Maharat Road). To get the full experience of Bangkok's beers, head to HOBS (522/3 Sukhumvit 55 Rd) – House of Beers.
Cha Yen (Thai Iced Tea)
Undoubtedly the country's favourite non-alcoholic refreshment, this creamy ice tea is immensely sweet – resembling more of a dessert than a drink. After a busy day of exploring Bangkok, this blend of condensed milk and orange blossom water is the ultimate pick-me-up.
Where to try: You definitely shouldn't miss out on the opportunity to sample a variant of Thai iced tea from one of the many local street vendors (various). Over time and with plenty of practice, these vendors have crafted their tea to perfection. If you're in search of something with name recognition, then Cha Tra Mue (88 Soi Sukhumvit 19) – which translates as 'number one brand' – has 18 kiosks across the city. These vendors have specialised in tea for over 70 years and have remained incredibly popular for just as long.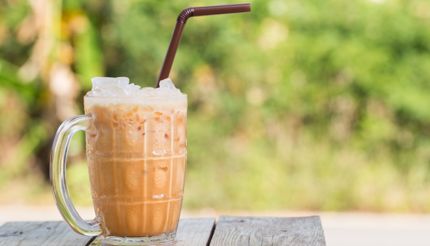 Nom Yen (Iced Milk with Sala Syrup)
This rosy pink drink is irresistibly sweet, downright delicious and loved by the Bangkok locals. Street vendors make good money from the little effort required to put the drink together. Comprised of hot condensed milk and Sala syrup, you'll be happy to find it on almost any street when seeking refreshment from the heat.
Where to try: Much like with Thai iced tea or Thai iced coffee, nom yen is best sourced from street vendors (various). You'll also come across this drink in various restaurants, where it can be served in different ways – sometimes iced, sometimes as a frappe. Condensed milk, sweetened milk or ice cream can also be added.
Before you go, check out: