A trendy cultural hub that brings depth and diversity in its cuisine, San Francisco is of the culinary capitals of America, here are 10 things you can't miss
San Francisco is considered the tech capital of America – drawing people with different cultures and backgrounds from across the world into a vibrant, global city. So it's no surprise that there's a rich variety of local specialities and international cuisines to suit all taste buds in this diverse city.
Thanks to its location in the prolific Bay Area, San Francisco's most famous dishes are seafood based, with plenty of fish and crustaceans adorning menus. With approximately 4,400 eateries strewn across the city, foodies will be spoiled for choice.
Cioppino
While it's certainly not the only dish to have been invented in San Francisco, cioppino remains the city's most iconic recipe. The history of cioppino is an interesting one, dating back to the Italian diaspora that settled and worked in San Francisco's North Beach fishing industry during the late 1800s. It's a stew that combines Italian staples such as garlic, tomatoes, olive oil, wine, herbs and onions with whatever seafood happens to be the 'catch of the day' – such as shrimps, clams or crab. Originally made on boats, the dish was brought ashore and commercialised during the interwar period and has remained popular with locals and tourists ever since.
Where to try: The dish was originally brought to the masses at Alioto's #8 (#8 Fisherman's Wharf), so it's only fitting that you try it there. However, it's common knowledge amongst locals that the best crab cioppino is to be found at Sotto Mare (552 Green St).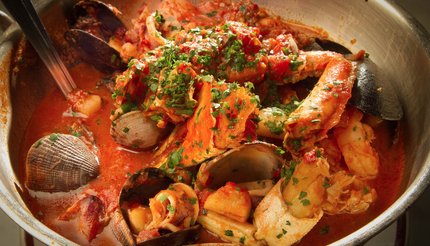 Oysters
Much like cioppino's impact, the influence of oysters in the San Francisco area isn't just seeped in the taste buds of Bay Area locals – it was, at one time, a booming industry. During the early 20th century in San Francisco, oysters were not eaten by foodies but rather; they were enjoyed as a staple by everyone, even being labelled as the "Big Mac" of their generation. Today, the oyster industry has changed – but the love and passion for consuming oysters in the city remain the same.
Where to try: When it comes to oysters in San Francisco, Swan's Oyster Depot (1517 Polk St) is a perennial favourite. Serving fresh oysters since 1912, this very casual restaurant has remained popular amongst locals and tourists alike for a century. However, if you want to cut the long queues and enjoy some stunning views, try out Waterbar (399 The Embarcadero) for an astonishing array of value-for-money oyster variants.
Clam Chowder
Continuing San Francisco's strong connection with the fishing industry, clam chowder is another beloved favourite of the '415' natives. As such, there's no shortage of restaurants serving up bowls of the creamy soup.
Where to try: If you want great clam chowder, you'll find it all in the Embarcadero area. There you'll find the legendary Pier Market (Pier 39), which is renowned for its award-winning clam chowder. Walk a couple of minutes from here and you'll also find the appropriately named Chowders (2 Beach St) serving clam chowder in an iconic sourdough bread bowl.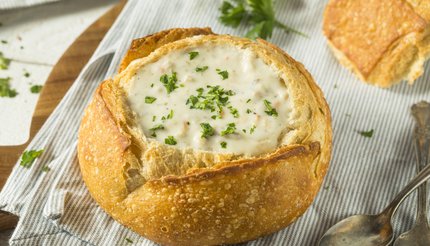 Vegan
You'd be forgiven for assuming that San Francisco's growing vegan population has something to do with its young, progressive workforce. While this is may be somewhat true with respect to the growing number of vegan and vegetarian eateries in the city, veganism has been celebrated in the area for a very long time. The San Francisco Veg Society, for example, was founded over 50 years ago to promote vegetarian and plant-based diets.
Where to try: When you talk of vegetarian and vegan restaurants in San Francisco, there's a name that stands out among most – Greens Restaurant (Fort Mason Center). The restaurant is not just known locally, but the New York Times called the 40-year-old restaurant an "institution" of American vegetarian cuisine. If you want to convert some meat eaters, try taking them to VeganBurg (1466 Haight St) – the first ever 100% plant-based burger restaurant in the world.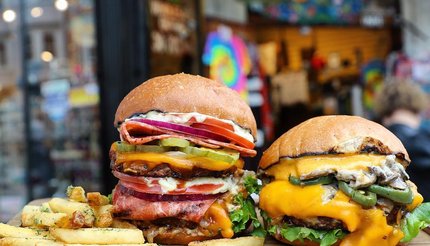 Dim Sum
With roughly 1-in-5 people residing in San Francisco being of Chinese descent, it'll hardly be a shock to hear that Chinese food is incredibly popular in the Bay Area. The city is home to four sizeable Chinatowns – with the largest, situated on Grant Avenue, being one of the largest and oldest Chinese enclaves outside of the Asian continent. The local Chinese cuisine is said to be what instigated the worldwide boom of westernised Chinese dishes and played a big part in bringing Dim Sum to the masses.
Where to try: You're going to be spoiled for choice. If you want something lavish and interesting, try 2018 Michelin Bib Gourmand winner Yank Sing (SoMa) and its revolving carts, which will leave you guessing what you're going to get next. For something more traditional, try Great Eastern (649 Jackson Street). It's so well respected that even former US President Barack Obama dined there in 2012!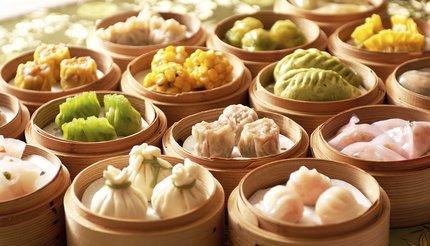 Burritos
Another food that is found in the very fabrics of SF's history is the burrito – or, rather, a particular type of burrito. San Francisco is home to the 'Mission burrito' a culinary craze that burst into popularity during the 60s in the city's Mission District. This period of history saw a number of displaced Mexican immigrants move to the area – causing a proliferation of taquerías (taco stands) selling this larger style of burrito.
Where to try: When it comes to burritos, you'll have to try La Taqueria (2889 Mission St) – which beat 67,000 other restaurants to win FiveThirtyEight/ESPN's 'best burrito in the country' contest. For a different take on the burrito and restaurant experience, try out The Little Chihuahua (581 Valencia Street).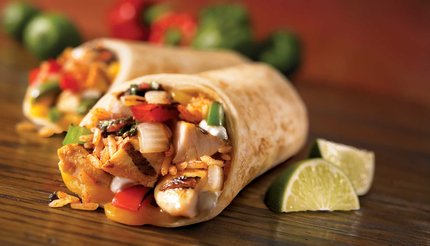 Donuts
While considered a staple of American culture, San Francisco natives love donuts more than most of the nation. The sugary flavours provided by the modern donut offer a much welcome energy-boost for the fast-moving workforce. As such, you'll find a number of donut and pastry shops in and around the city.
Where to try: Originally opened in 1960, Bob's Donuts (1621 Polk St) is a staunchly independent donut shop that still produces handmade donuts from scratch. This bespoke approach makes it incredibly popular with residents as well as tourists. For somewhere more modern, check out wife-and-husband-run Twisted Donuts & Coffee (1243 Noriega St) who offer a revolving door of speciality donuts every weekend.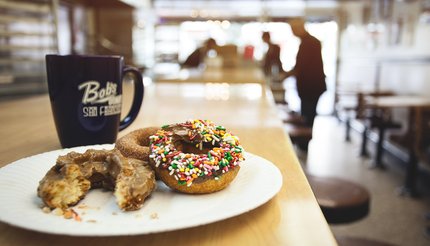 Chocolate
There is no shortage of speciality chocolate makers around the world – and San Francisco is certainly no different. Whether it's dark, milk or white that tickles your fancy, San Francisco has it all.
Where to try: If you love chocolate and ice cream, stop by Ghirardelli Square at Fisherman's Wharf where you'll find The Original Ghirardelli Ice Cream & Chocolate Shop (900 North Point). This quaint shop is located at the former home of a chocolate factory and is immensely popular with locals and tourists alike. If you want a quieter chocolate experience, Dandelion Chocolate (740 Valencia Street) is both factory and café and represents a great choice for anyone with a taste for artisan chocolates.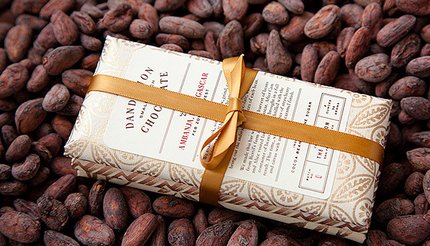 Coffee
Much like chocolate, it's not difficult to find coffee haunts in thousands of locations across the world, but as we've established, San Francisco just does things better – and coffee is no exception. Coffee has a deep, well-roasted history in San Francisco thanks to the city's ports acting as a transient point for much of the coffee imported into the United States. Today, it serves as the beverage of choice for the city's 'tech hero' workforce as they grind towards those deadlines.
Where to try: For a unique SF coffee experience, you'll want to experience the city's top "third wave of coffee" roasters – businesses that roast their beans and run cafe locations. Two of the best-known examples of this movement can be found in the Mission District: Ritual Coffee Roasters (1026 Valencia St) and Four Barrel Coffee (375 Valencia St).
Draft Beer
What better way to finish off a list than beer? Well, not just any beer – we're talking locally crafted beer. Said by some to be the 'birthplace' of the fledgeling craft beer trend of the 21st century, the San Francisco area and Northern California is home to approximately 250 breweries – with 30 to be found within the city limits.
Where to try: For a blend of the hottest local and worldwide draft beers, check out the Mikkeller (34 Mason St) beer hall – the American arm of the famed Danish microbrewery. For a local beer-tasting experience, try Anchor Brewing (1705 Mariposa St). You can tour and taste at the brewery before crossing the street to try out the full range of beers at Anchor Public Taps (495 DeHaro St).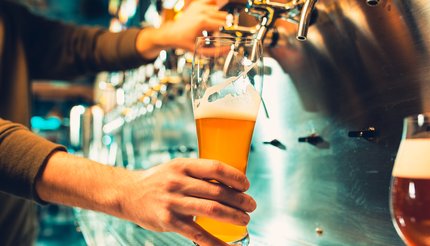 Before you go, check out: