In a city renowned for its culinary prestige, Jack Palfrey heads to San Sebastián's worst-rated restaurant to test how deep the city's gastronomic vein really runs.
The angry-looking balding man is finding little consolidation from the cigarette he's sucking on.
"Hola," I say sheepishly, "are you serving food?"
He shoots a glance that suggests my presence alone offends him.
"Food?" I repeat softly, stabbing fictional fare with a fictional fork and placing it into my mouth.
He scowls, clicks his tongue and flicks away his cigarette butt before walking into his restaurant in silence.
San Sebastián, on the northern coast of Spain, is the Basque region's culinary bellwether, boasting one of the highest Michelin-starred restaurants per capita ratios on the planet.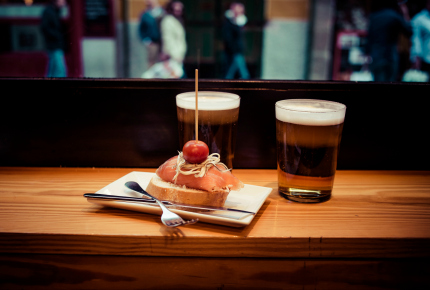 Unfortunately, I'm not in the city to gush over plates of warm oysters in Iberico pork jowl or wax lyrical about flash-fried shrimp drizzled in vanilla compote.
On the contrary, for what has to be the least eagerly anticipated assignment of my journalistic career, I'm here to dine in the city's worst-rated restaurant.
Out of the restaurant's 113 ratings on a popular peer-review website, 100 of those fall into the lowest category: 'awful'.
Evaluations include vengeful ramblings like:
Staff attitude was crap, food was equal to the staff, the prices were too painful to talk about without tearing up. Get out, stay out, find people you hate and send them here.
And deflating personal remarks such as:
Probably the worst meal I have had this year.
As you can imagine, shivers of excitement are sent spiralling through my body as I contemplate a winter evening dining on fare eloquently described as "horrible and overpriced".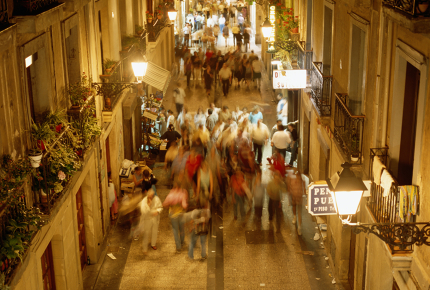 I follow the balding man into the interior of the single-roomed restaurant in the heart of San Sebastián's old quarter, a section of narrow, crisscrossing alleyways that forms the epicentre of the town's culinary chasm.
He takes up a defensive stance behind the small bar and nods towards the large dusty ceramic plates on the counter.
The cornerstone of San Sebastián's culinary heritage, and to an extent its nightlife, is the pintxos; a tiny tapas dish primarily consisting of fish or meat skewered onto a small slab of crusty bread. Pintxos are designed to be eaten with one hand, leaving the other free to hold a beer or glass of wine (of course a major priority).
As the sun slumps behind the brow of Monte Igeldo, swathes of red-faced locals trot from one tiny tavern to the next, gobbling and glugging as they go.
My dining choice, however, appears to be a way off the well-worn pintxos trail.
I point to a plate of fairly inoffensive-looking anchovies.
"Are these good?" I ask.
The balding man shrugs and nods.
Despite such displays of resolute backing I'm not totally convinced, but grab an assortment of pintxos and order half a beer. Unconventionally, I'm asked to pay upfront, presumably because the balding man knows punters would likely refuse afterwards.
I coyly slip away to one of the 20 metallic tables outside the restaurant. Embarrassingly not a single other table is in use.
My measly meal clashes with the stunning surrounds. The restaurant's tables sprawl out onto a grand square; a former bullring where beasts and matadors danced for sell-out crowds.
Taking on my own perilous activity, I pick up a slab of bread topped with a thin strip of Parma ham and lump of greening cheese.
Out of the corner of my eye I notice the balding man hovering around my table, presumably intrigued to see what will happen when someone finally ingests his food.
I take my first bite. It tastes like bum.
I sit for 15 minutes, slowly supping my beer and weighing up whether journalistic intrigue demands I take a bite out of the bread sporting some unappetising green froth, topped by a sad-looking anchovy.
If the question here is: are all chefs in San Sebastián exceptionally talented? The answer, on this evidence, is no. But the city's culinary credentials are evident and widespread, and while you'd struggle to go this badly wrong, the key is getting it right.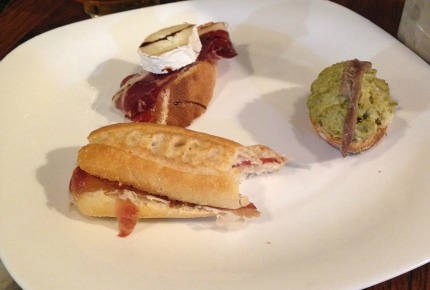 Five of the best pintxos bars in San Sebastián
With approximately 150 pintxos bars in San Sebastián, hungry visitors are spoiled for choice. Here are five of our favourite pintxos bars to get you started. Typically, cold dishes are laid out on the bar, while additional hot dishes are usually available from the kitchen.
5. Mesón Portaletas
Though not the most critically acclaimed, Mesón Portaletas succeeds in its variety, offering everything from skewered fried squid to swathes of braised pork. Located near the port, the bar also houses an on-site restaurant for those in need of a proper feed. Sample a glass of glorious chacolí or a pint of cider, which is still traditionally spurted into the glass.
Puerto Kalea 21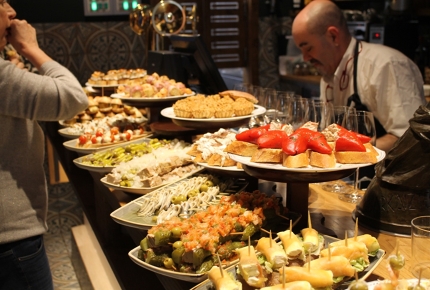 4. La Cuchara de San Telmo
A local favourite, La Cuchara de San Telmo's location, a little off the beaten path, has minimised its need to gentrify to appease the tourist trade. The authentic ambience is aided by the bar's size; it's tiny, and, though bustling most evenings, the veal cheeks and foie gras are worth fighting your way to the bar for.
Calle del Treinta y Uno de Agosto 28
3. La Viña
Typically, pintxos bars are all about skewered fish and meat, but La Viña, in the centre of the old quarter, breaks the mould with its famous cheesecake. Around 50 of these light and fluffy deserts are baked and sold each day. It's the perfect after-dinner snack or alternatively a sumptuous side to an espresso in the morning.
Calle del Treinta y Uno de Agosto 3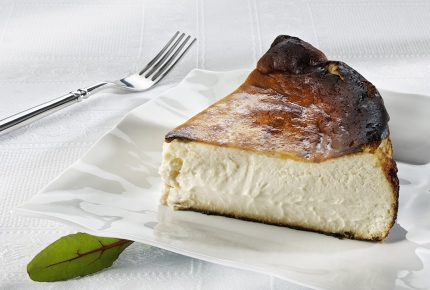 2. Bar Zeruko
A more contemporary take on the humble pintxos bar, Zeruko is famed for its creative and innovative dishes that resemble a form of molecular gastronomy. All of the offerings here are fresh, with some even being cooked on a hibachi-style device at the table. Try the crab or sea urchin.
Arrandegi Kalea 10
1. Bar Txepetxa
Visitors rave about the fish pintxos that line the counters of Txepetxa, and while the anchovies, smeared with an assortment of delectable sauces, take the headlines, the hot wedges of cod are also fantastic. The walls of the bar are adorned with glowing reviews from international newspapers, as well as images of famous patrons, including a large snap of a beaming Sir Ian McKellen.
Calle Pescadería 5