Forget wine or beer – Nione Meakin finds that the best match for steak tartare is a glass of semi-skimmed
Fancy a glass of chilled white with your dinner? Perhaps a nice Jersey Gold Top – single estate, naturally?
We're not talking about wine, or beer, but milk – and Doug Wood (main picture), the UK's first milk sommelier, is on a mission to open our minds.
Wood, recently appointed by Scottish dairy Graham's (milk sommelier really is his job title), wants us to stop seeing milk as something just to be splashed in tea or poured on breakfast cereal. He wants to educate people on its complexities and encourage us to treat it more as we do wine, as something to be savoured and paired with food – as the ideal accompaniment to a chicken roulade, for example.
A traditional sommelier of wine and whisky by trade, Wood believes we can apply the same principles to milk-tasting as we do to the stronger stuff. For a start, we should drink it from a wine glass, he says – "You've got to get the milk aerated just as you do wine, and you should swill it around your mouth too." Don't serve it ice-cold: "It can dull the flavours". Then – concentrate.
"When you focus on it you'll find there are quite a lot of different flavours at play, even in a half-pint from a corner shop. Graham's Organic has more layers of flavour than standard milk, including grassy undertones, while in the Gold Smooth you can taste chocolate, vanilla and nuts. Just as with wine, it's possible to identify the terrain and food the cows have grazed on, although only with a single estate – most milks are blends from various farms."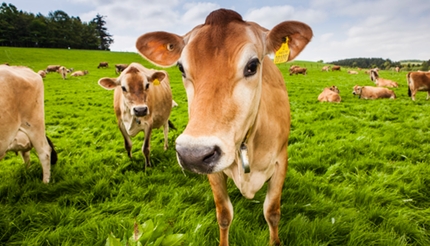 Persuading people to drink milk with anything other than cookies is perhaps a harder sell. But as Wood says, creamy drinks like Indian lassi have long been used as a counterpoint to spicy dishes such as curry. Is a light semi-skimmed with a steak tartare such a leap?
At a tasting event at London's Borough Market on 6 September, he will be introducing five Graham's milks, paired with canapés designed to complement the individual flavours of each. These include semi-skimmed with Longhorn beef tartare on a potato crisp, whole milk with braised oxtail croquette, and Gold Top with tarragon chicken roulade on brioche toast.
Will milk find its way onto the menu at leading restaurants? Even Wood admits it might be a while before that happens. But in the meantime, it's worth trying a glass at home. And a milk moustache certainly beats a hangover.
The Exclusive Milk Tasting with the UK's first milk sommelier takes place at London's Borough Market at 6pm on 6 September.