Robbie Williams, a Nobel winner and a whole lot of Italian wine and food: Elin McCoy previews Barolo's annual Collisioni
What do rock band Placebo and the huge British solo artist Robbie Williams have in common with Nobel prize-winning novelist Gao Xingjian and Italy's famous red wines? In mid-July, they'll all converge in the tiny Italian village of Barolo at a unique cultural festival, Collisioni. Appropriately, the name means "collision."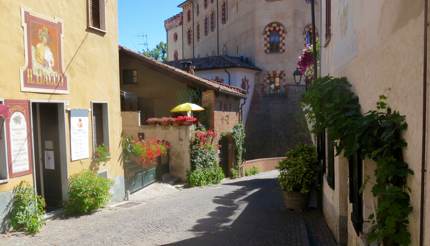 More than 10,000 international visitors will descend for four days on this town at the heart of Piedmont's renowned Barolo wine region. The population in the sleepy hilltop town is normally about 750.
Just think of Collisioni, founded in 2009, as a huge party. The whole town turns into an open air, non-stop stage of author readings, as well as concerts featuring both indie bands and big names. Among this year's writers are the controversial Austrian Peter Handke, American novelist Joyce Carol Oates, and Chinese Nobel winner Gao Xingjian.
You check the banners listing each day's events and hit the narrow, winding cobblestone streets to listen, look, and – remember this is Italy – taste. Hungry guests haunt the tents lining the streets to chow down on pizza, summer truffles, nougat and gelato. The wine-oriented imbibe plenty of the region's Barolos, Barbarescos, and Barberas. The locals make pretty good gin, too.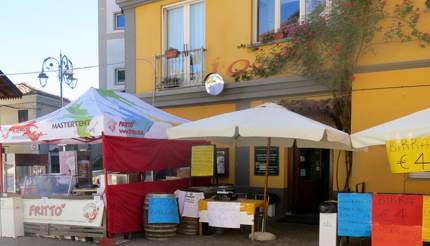 Concerts happen simultaneously in several squares, and crowds pack every alley and courtyard for the big-name evening events. Neil Young, Patti Smith and Sting have performed here; last year's headliner Elton John pounded out favourites like Crocodile Rock as stars came out and the moon hung over the surrounding grand cru vineyards. This year the stars will be Placebo and Robbie Williams.
The festival has a high-minded aim: to break down the barriers between different "artistic languages" and create a global village of literature, music, and food. But the reason to go is that it's great fun. And you're smack in the middle of some of the great vineyards of the world for visits and impromptu picnics.
Collisioni takes place from 14 July. An all-day pass for access to most events and food & beverage stands costs €10. Evening concerts start at €46
Elin McCoy is appearing at this year's Collisioni as a speaker in the wine programme