Whether it's port in the Douro Valley or English sparkling in Sussex, wine and yoga make a perfect match, as Nina Caplan discovers
Breathe in. Breathe out. If you are doing this mindfully, you are probably indulging in one of two disciplines: practising yoga, or indulging in the preliminary appreciation of a glass of wine.
Some consider the two activities contradictory; certainly wine before yoga is not advisable. But in the right order, yoga and wine make a beautiful combination.
Even the craziest yoga poses are less about toning than about grounding: learning to stand firmly where you are, and appreciate and accept that position. And what could be more grounded than a vine, drawing in nourishment from the surrounding soil and returning it in the glass?
Yogis and wine geeks, we are all trying to savour and appreciate the now, to breathe in the joyousness of being. It doesn't hurt that most vineyards are in beautiful locations, where there's actually a sun to salute. And one must, after all, do something between meals, preferably something that offsets the effects on of fine wine and great food waistline and liver. There are many places that have realised that the people with a passion for yoga and those who love wine are frequently the same people: I have one yoga teacher who offers both yoga holidays and yoga retreats, and when I asked what the difference is she replied in one word: wine.
Five great wine and yoga retreats
Pasta, risotto and Tuscan pork butchery at the Castello di Potentino
Emily O'Hare, former head sommelier and wine buyer at London's renowned River Café, is also a serious yoga fan. She has begun holding retreats at Charlotte Horton and Alexander Greene's restored medieval castle in Tuscany. Daily yoga classes by the pool, like the walks through the olive groves, are optional, but those who partake will leave toned and rested, as well as newly furnished with a Level 1 certificate from the Wine and Spirits Education Trust – the industry standard. There are dinners with local winemakers, food and wine matching workshops and afternoon masterclasses in pasta, risotto and Tuscan pork butchery, and for those who have outgrown the habit of study, yoga's ability to focus the mind and enhance the concentration will be invaluable for retaining all that new information. The October retreat includes the chance to pick grapes and then press them the old-fashioned way: underfoot. potentino.com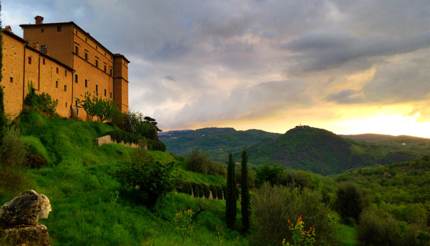 English sparkling and chocolate at Ockenden Manor Hotel & Spa
Forget Champagne: at this beautiful converted Tudor manor house in some of England's finest countryside, you celebrate your me-time with a glass of Sussex. Ockenden is justifiably proud of its relationship with local winemakers, including Ridgeview Estate (which was served by the Queen to President Obama at a state dinner), Bluebell Estates and Bolney Estate – the latter is an hour's walk along the edge of the High Weald, designated an Area of Outstanding Natural Beauty. As well as the indoor/outdoor pool, sauna, steam room and Jacuzzis, and all the usual treatment options of a premium spa, Ockenden has a Yoga & Meditation teacher, Meg Thompson, who gives regular classes, and this autumn will offer several Mellow Moments retreats, with plenty of both Vinyasa Yoga and Yoga Nidra – that's respectively a workout and a chillout, to the uninitiated. Other activities include a guided walk through the vineyards that ends with a tasting at Bolney, as well as lots of delicious wine to accompany meals (the inches-thick restaurant wine list has two pages just on Sussex). And, in case the excitement of all that stretching, relaxing and drinking gets too much, there is also a session in the saltwater flotation tank included in the retreat. This place really is the best of both worlds, which becomes instantly apparent when you enter the spa, to the joyous sight of robed guests taking their ease, some with sparkling wine, some with juice, others with chocolate cake. No judgement here: you can open your mind and expand your consciousness at the same time. www.hshotels.co.uk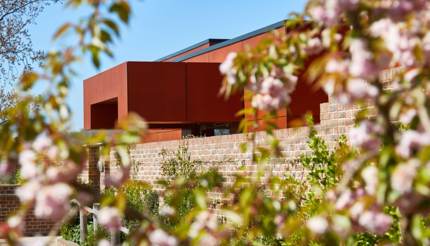 Swim and sightsee at the same time at the Mayacamas Ranch, Sonoma
Sonoma is Napa Valley's little sister: still prime California wine country, but less famous and less slickly tourist-orientated – and the wines are less expensive, too. But this is still the Sunshine State, with all the focus on healthful living you could ask for. There is local produce, from the so-called 'farm to table' movement; hiking through the bush; a hot tub and a pool overlooked by the mountains so you can swim and sightsee simultaneously. There is Hatha and Vinyasa yoga, together with Pranayama – or flowing movement and breathing, for novices who don't speak the lingo. This being the West Coast, you may need to breathe through some verbal yogic fluff – navel-gazing and creative visioning, like hefty Cabernet Sauvignons, aren't for everyone – but, as with wine, when the motivation is genuine and the results well crafted, even a real cynic (ahem) can be moved, or even inspired. mayacamasranch.com
Port and yoga at the Hotel Six Senses, Douro Valley, Portugal
A 19th-century mansion overlooking the vines of the Douro Valley has been converted into a luxury resort with both a wine library and a yoga shala. Programmes in the latter range from private lessons in Hatha Yoga (a gentle, flowing form), to a whole Yoga Nidra (Yogic Sleep) regime, complete with journal to record your sleep patterns and pillow mist to add to your pre-doze calm. And, yes, there's a Yoga Detox, but there is also a daily themed tasting of the local wines (port, and also the region's excellent dry wines, principally red) and the opportunity for a cruise down the Douro river with wine-tasting stops. The Douro Valley vineyard constitutes one of the world's oldest officially-recognised wine regions, its boundaries demarcated in 1756. Even the dry wines tend to be quite high in alcohol, so sleep shouldn't actually be a problem – but a helping hand with truly restorative sleep might be very welcome. www.sixsenses.com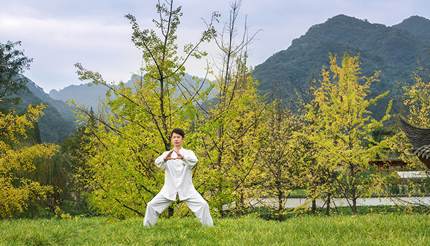 Local wines and Yoga in Polperro Vineyard, in Melbourne's wine playground
The Mornington Peninsula is Melbourne's playground: a fertile outcrop just an hour's drive south of the city, with fantastic beaches and restaurants, farmgate shops – and of course, vineyards. Polperro is a relative newcomer, but owners Sam Coverdale and Emma Phillips have chosen to extend the holistic care they offer guests from tastings, dinner and comfortable accommodation with great vineyard views, to yoga. Just round the corner at HotHut, an airy yoga shala with the room heated to 30 degrees (which may, in a full Aussie summer, count more as air-conditioning), small classes take place daily, after which Polperro guests will be all set for a day of eating local produce and tasting the local wines – there are a formidable number to choose from, and while the Peninsula has historically concentrated on Pinot Noir and Chardonnay, with some Shiraz, they have recently branched out into Pinot Gris and Italian varietals. www.polperrowines.com.au