Darren Smith heads to High Barnet for multi-sensory jellyfish, edible ears and lashings of cross-modal chatter…
Multi-sensory experience is the trendiest thing in food at the moment. It might be a bit over-exposed, but there's no doubt that the science behind it is thought-provoking . It's based on a relatively unexplored understanding of the way our senses work, which is to say, rather than our sense activity being focused on discrete areas of the brain – sound lighting up this part, touch lighting up that – these areas interact in endlessly complex ways.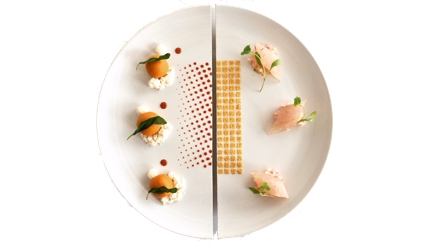 I'm in a warehouse in the unremarkable London district of High Barnet, where I am eating jellyfish with tweezers while wearing a big pair of headphones. In my ears is some intriguingly textured ambient 'music' which, had I not already been told was specially made by research team in Nashville to go with this unexpectedly crunchy dish, I would have assumed was the latest album from electronica duo Autechre.
The warehouse is the venue for Kitchen Theory, where chef Jozef Youssef, late of the Connaught and the Dorchester, is attempting to make his guests more mindful about food through his Gastrophysics Chef's Table.
Youssef has created a 13-course multi-sensory (that word again) menu using research collated over the past five years with everyone's favourite experimental psychologist, Professor Charles Spence of the University of Oxford. This is the man who asked what would happen if we made our knives and forks furry? Answer: people would talk about it excitedly for a couple of minutes, then wonder what comes next.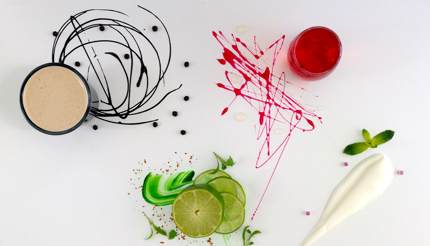 In my case, it's oyster ice cream with lime and red onion pearls, served with a cobalt blue light projection of the sea across my table. It's suddenly and surprisingly delicious, and pairs very satisfyingly with my Domane Wachau Gruner Veltliner, but it's around this time – or perhaps it's as the Marinetti cube comes out with the monkfish and tempeh course – that I begin to wonder, am I buying this, or is it just a forgettable foray into what trendy dining looks like in 2017?
As Youssef freely admits, such manoeuvres are no longer the bleeding edge of gastronomy. Heston Blumenthal has been serving his 'Sound of the Sea' since 2007, and the futurist Filippo Tommaso Marinetti – he of textured cube fame – was serving up polyrhythmic salads in the 1930s.
So is this gastrophysics gone mainstream, I wonder as I get started on my duck three ways on a bed of Pablo Picasso's face made out of beetroot. Maybe. Perhaps every 'foodie' has six sets of bespoke dining tweezers in her cutlery drawer these days and punctuates each course with desultory squirts from an aromatiser.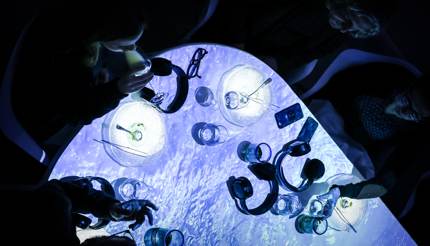 Not that I'm someone who simply views food as fuel. I'm really not. I've worked as a chef and I cook all the time. I like to eat out. I like to eat. I also like ambient music and light shows. But – that old complaint – I can't help but think there's something unseemly about turning dinner into an art installation. Too much crossing of the streams, too much of the oral fixation about it.
But then a gold-painted ear – a human ear, that is, made of some kind of ganache covered in thin chocolatey shard – is placed before me, while an edgy Amon Tobin track blasts through the speakers. I change my mind again. I may be a bit of a traditionalist foodwise, but I'm all for sensory stimulation and learning more about that dark forest, my brain.
We are told that only 4 percent of the population are bona fide syntesthetes, but as Youssef illustrates throughout the course of the evening, we all experience a certain level of cross-modal chatter, so that we get an instinctive sense of which colour refers to which basic taste, or that soft, sweet, creamy dishes are 'bouba', while sharp, tart, crunchy ones are 'kiki' (words to ask the chef about). It's hard not to find this compelling.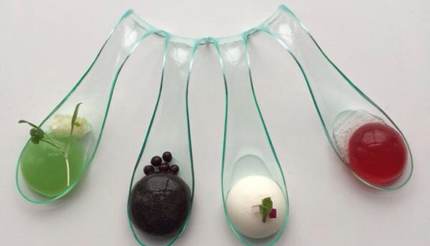 The evening at Kitchen Theory begins with a statement that its aim is not to intellectualise food (unlike futurists such as Marinetti), but to heighten awareness of it.
"Chefs hate the idea of manipulation," Youssef says. "And that's why we're constantly saying, look, we're not looking to manipulate people's senses, we're looking to allow people to understand their senses so that they can enhance their enjoyment of what they're eating. They can get a greater degree of satiety out of it because they're just being more mindful of it.
"Loads of chefs are now are looking for ways to engage more and more of their diners' senses. Because the more sensory you can make it, the more sense you can engage with, the more rich and memorable you are making that experience."
Count me in, I conclude as I pick up the shattered pieces of multi-sensory chocolate that have flown off my plate.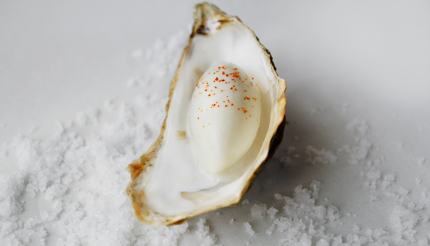 Kitchen Theory's Gastrophysics Chef's Table takes place on the last Friday and Saturday of each month; the evening costs £160 for 13 courses, including a welcome drink and a selection of wines and cocktails paired to the dishes. The space can also be booked for private groups.