The founder of Noma, one of the world's most celebrated restaurants, talks foraging with Carla Capalbo
In less than a decade, Scandinavia has gone from gastronomic obscurity to being one of the cutting-edge food centres of the world. Much of that is thanks to René Redzepi, of Noma restaurant in Copenhagen.
He – along with other chefs in Denmark, Stockholm, Faviken, Oslo and beyond – has changed the way we think about the Nordic countries.
Not only did they introduce the idea of foraging and the exploration of the wild habitats of this largely-unknown part of the world, they modernised their food with a stylish Scandinavian naturalism that has been adopted by the world's top chefs, including at top tables such as 11 Madison Park in New York and Narisawa in Japan.
A trip north to eat in any of those ground-breaking restaurants continues to be de rigueur for every self-respecting foodie.
The World's Best Restaurant
Redzepi may have reached the pinnacle of fine dining when Noma was awarded top place four times on The World's 50 Best Restaurants List, but he didn't stand still. He closed the original Noma in late 2016 and plans to open what he's been calling Noma 2.0 in January 2018 (the opening was scheduled for this December, but it was delayed when builders found remains of an ancient wall buried on the site).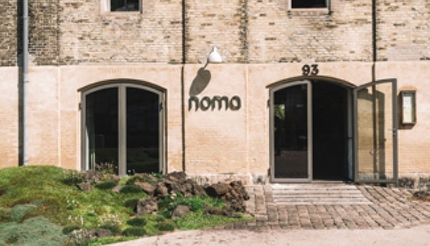 I talked to him at Vild MAD, the new event he has launched to encourage families in Scandinavia and beyond to learn about, and eat, foraged foods.
"Mad means 'food' in Danish, and seven years ago we initiated the MAD Food Symposium to get young chefs from around the world thinking about the bigger questions facing today's cooks and eaters," he says.
"Vild MAD has evolved from that: we're all surrounded by wild food and yet many people don't have a clue about what's edible and what isn't, and about the issues of sustainability."
Redzepi's team created an app which, at its launch at the first Vild MAD Festival in Copenhagen in September, was downloaded by over 75,000 people.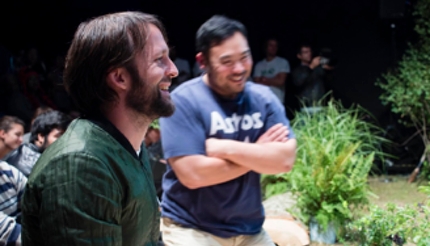 The foraging app
The app, called VILD MAD, is basically a dynamic index of wild plants – from berries and mushrooms to herbs and leaves – with descriptions of their habitats, tastes and characteristics as well as simple recipes.
It's intended for the general public and it's interactive: foragers can upload information about where they've been and what they've found.
Redzepi asked chefs to supply the recipes (making sure they are easy to prepare) and his expert foragers to help educate this new wave of food hunters.
He stresses that he doesn't expect people to "just plunge into the countryside unaccompanied" so the team has spent two years training 50 rangers throughout Scandinavia to lead guided foraging expeditions in the Nordic woods, meadows and coastlines. They will take people on four-hour walks, teaching them about the use of wild food as they go. Autumn foragers will scour the forests for wild mushrooms and berries, and discover edible lichen varieties; coastal walks will focus on seaweeds and the salt-fertilised seaplants growing at the water's edge.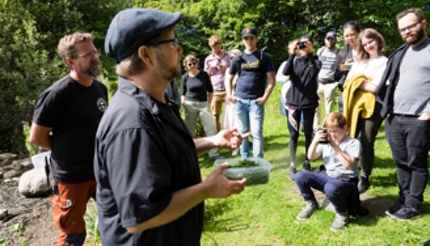 Vild MAD is a long-term project and the idea is to expand the app to other countries soon. "Human beings are foragers," Redzepi says. "That's what made us who we are. We use a combination of traditional and recent knowledge that is shared around the community."
Redzepi has been busy too preparing for the new Noma, located about three kilometres from the centre of Copenhagen. The food world has been abuzz with speculation about it.
Experimental garden
And the new restaurant has regenerated Redzepi and his team's enthusiasm for cooking, he says. "We felt we had gone as far as we wanted with the previous format. So now we're planning a large experimental garden for herbs and seeds from further afield, and rethinking the way the restaurant's year will be structured."
Instead of presenting an 18-20-course tasting menu that varies as new ingredients become available, Noma 2.0 will be focused on the seasons as they are experienced in the Nordic sphere.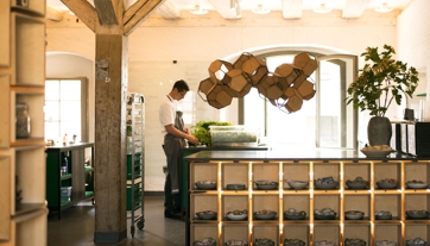 "We've basically got three distinct seasons here: winter, summer and autumn, since spring is just a very short period in which not much is ready to eat," Redzepi says.
"Winter is cold, it can be frozen over, but that's when the oceans are in their main season. Summer brings an abundance from the plant kingdom, while autumn is when we start taking care of the forests and we have wild mushrooms, game and berries."
The point, he says, is that we shouldn't worry about keeping to the traditional meal structure which builds up to a main meat course.
"Why should that be the same here as it is in Paris, New York or Madrid? In summer we'll rely on plants but we'll have to cook up a meal that's as satisfying as eating steak."
Noma 2.0 will have an expanded repertoire of ingredients. They are going to plant a wide variety of seeds in the vegetable garden, including those coming from edible plants from other continents.
"I too am an immigrant…"
"Anything that flourishes and produces excellent-tasting results will appear on the menu. We've made such close ties with people in Mexico and Japan from when Noma created its extended pop-ups there in 2017 and 2015. We don't want to lose connection with them. I can't imagine not being able to serve the special seaweeds that were dried for us in Japan, or use some of the amazing spices that we used in Mexico as well as those that have long been imported into Scandinavia from the Far East, like dried ginger which has played an important role in our food's history.
Redzepi's passionate about local foods, but he's also insatiably curious. This is in large part due to that his roots lie elsewhere.
"I also come from an immigrant story. My family's roots are in Albania and Macedonia and I was brought up eating Turkish food, so why should I deny that?"