The world-renowned chef plans to tailor-make dishes that will connect with personal memories. Laurel Bibby reports
Michelin-starred chef Heston Blumenthal, who is passionate about the power of nostalgia in relation to food, hopes to create dishes inspired by his guests' own memories – an idea he has already tried and tested on astronaut Tim Peake and award-winning British comedian David Mitchell.
Blumenthal, who owns The Fat Duck in Berkshire, one of only four British restaurants to have been awarded three Michelin stars, creates dishes inspired by his memories. Now, he is planning to tailor-make dishes for his guests to bring out a personalised nostalgia.
The chef was speaking at New Scientist Live, a wide-ranging 'festival of ideas' organised by the popular science magazine, which took place at the end of September. He was the only chef speaking at the event, which also hosted astronauts, marine biologists, and even a beatboxer.
A multisensory wonderland
The influence of nostalgia on Blumenthal's cooking is not surprising: it was a childhood memory that originally inspired him to be a chef.
He spoke of going on a family holiday to France aged 16. It was in Provence that Blumenthal first encountered a Michelin-starred restaurant, L'Oustau de Baumanière, which he described as having had a profound impact on him.
Blumenthal said that his visit to the restaurant, where he had sat in a valley of olive trees surrounded by the smell of lavender and the sound of crickets and clinking glasses, "was like [falling] down this rabbit hole into this multisensory wonderland. That was the moment where cooking got into my blood".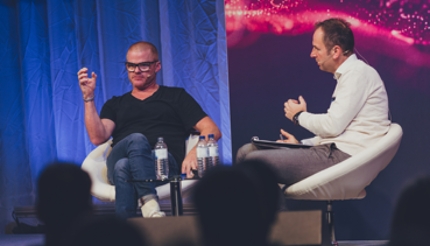 The Sound of the Sea
In the past, Blumenthal has drawn on memories that could apply to many people – family holidays at the seaside, for example – when creating dishes for his menu.
The Sound of the Sea, a signature dish at The Fat Duck, was made up of seafood, an edible wave, and seaweeds "foraged from estuaries around Cornwall" – a likely nod to the holidays of his childhood. The dish was served with a seashell and hidden iPod playing the sound of waves.
"It was one of the most pivotal dishes", Blumenthal explained to a packed auditorium at ExCeL London.
"People started to cry because it just took them back. It was really quite profound to have that effect, and you realise that it just so happened that the combination of what they were hearing, tasting and seeing triggered a memory".
Creating a personalised experience
Blumenthal is now working towards creating dishes personalised for guests, based on their own memories – "though quite ambitious", he admits.
When guests book a table at The Fat Duck, they will be prompted to complete a questionnaire that will provide Blumenthal (and his 80-strong staff) with the knowledge he needs to create a personalised experience.
"The very first people I tested this out on was Vicky and David. About a year ago it was David's 40th, and I said come to the Duck", Blumenthal told the Telegraph last year, speaking of his friends Victoria Coren and her husband David Mitchell.
In honour of the celebration, Blumenthal recreated Mitchell's ninth birthday cake – a rocket-shaped black forest gateau.
After hearing the story of a young party guest who had attempted to pour black pepper over the original cake, Blumenthal asked his Maitre d' to sprinkle vanilla salt over the recreation, in a re-enactment of Mitchell's party.
"It was very powerful", Blumenthal said of the occasion.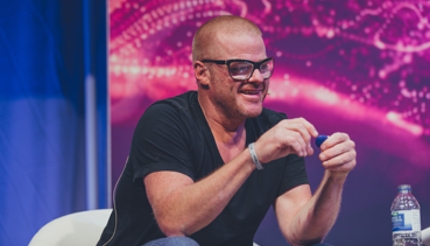 The power of food, memory and imagination
Following the success of Mitchell's birthday cake, Blumenthal wanted to achieve a similar result when cooking for astronaut Tim Peake while he was living aboard the International Space Station.
"I couldn't think of anywhere else that could be further away from your friends and family. With Tim, I did tests on how he perceived flavours, aromas, the sort of things he liked. The whole thing was about trying to personalise something for him."
In addition to a bacon sandwich and Thai red curry, there were five other meals, including beef stew, apple crumble – and sausages.
"Tim had a memory of having sausages at a campfire with his kids and, in fact, I got more emotional than he did. That's the power of food and the power of memory and the power of imagination."
A sense of playfulness
It is clear that Blumenthal often revisits his childhood through his work, and encourages guests at his restaurant to do the same; he hopes they leave with "a sense of playfulness and curiosity and adventure".
"When you look at a toddler in their own imaginary world, you think, 'wouldn't it be lovely to be like that again?' Well, we all can be."