While Canada celebrates its 150th anniversary, Treve Ring raises a glass to the country's wonderful vinous heritage
That's right, a glass of Canadian wine. Not beer, and not whisky (though Canada has an honourable history of brewing and distilling). Canada's wine industry is booming, with high acclaim for styles from crisp and ageworthy traditional method sparkling, to flinty and limestone-laced Chardonnay,  to desert-sunned, full-bodied Syrah. With a country as large and diverse as Canada, it's not surprising that there are countless terroirs and microclimates suited to grape growing. Even frozen grapes.
Canada makes the greatest – and the most – ice wine in the world. The province of Ontario alone produces 80 per cent of the world's ice wine. And while other countries, like Germany, can make authentic (frozen naturally on the vine) ice wine, Canada's climate allows us to make it consistently every year, under much stricter quality guidelines than anywhere else on the globe.
In order to be called ice wine in Canada, the grapes must be frozen on the vine at a minimum of minus 8C for a minimum of 4 hours before picking. The grapes, little frozen marbles, must be pressed immediately, yielding mere drops of precious juice per berry. That exceptionally sweet juice requires a lengthy ferment before bottling, finally resulting in a precious, super sweet elixir. It's labour intensive, which is why it's so expensive: it averages CDN$60 for a half bottle. And it's big business for such a little bottle: Ice wine is responsible for a quarter of Canadian wine exports – or $18.6 million in 2015. People joke that it's so rare and precious they're unwilling to open it, so it's the most gifted wine in the world.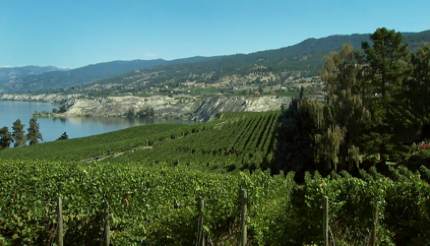 Drinking Local What many Canadians do drink every day, however, are our table wines. In the main wine-producing provinces, British Columbia (BC) and Ontario (ON), half the wine sold is locally produced. We're thirsty folk. Canadians drink more than 1.2 billion glasses or 247m bottles of Canadian wine, made by 700 wineries, a year.
The main Canadian wine regions, and recommended wines and wineries to watch for.
British Columbia
Wineries: 270 5 Designated Viticultural Areas (DVAs): Vancouver Island, Gulf Islands, Fraser Valley, Similkameen Valley, Okanagan Valley.
Canada's westernmost province, with mountainsides, oceans, lakes and the only classified desert in Canada, has diverse climates that produce a wide variety of grapes. The Okanagan Valley, the main growing region, is warmer and more arid than California's Napa Valley, with nearly two hours more sunlight per day during the peak of the July and August growing season. Top whites include Chardonnay, Riesling and Pinot Gris while top reds are Pinot Noir, Syrah and Cabernet Franc. Sparkling wine, across all styles, does very well.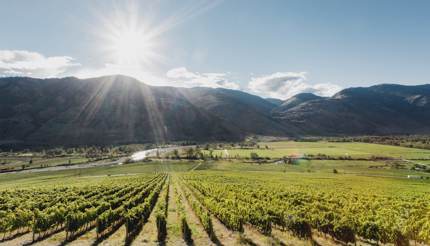 Haywire 2015 Pinot Gris Secrest Mountain Vineyard, Okanagan Valley, BC. From the limestone Secrest Mountain Vineyard in Oliver, this organically-farmed Pinot Gris was wild yeast fermented and aged in concrete tanks. Broad and wide, perhaps reflective of the warm 2015 vintage, with dusty herbs, persimmon, creamy pear and yellow apple floating on a creamy leesy cushion. A gentle swell of acidity works hard to carry the orchard fruit to the tropical fruit-fed finish. okanagancrushpad.com $23 CDN Red Squirrel Wines redsquirrelwine.com/
Synchromesh Wines 2015 Four Shadows Vineyard Riesling, Okanagan Valley, BC. Synchromesh has earned their street cred as THE Riesling producers in Canada. This is one of four single vineyard Rieslings released this year. Four Shadows Vineyard is an exciting, higher altitude steep sloping gravelled site on Naramata Bench, facing east towards Penticton. Fragrant apricot blossoms, apricot flesh, honeysuckle are drawn across an Auslese-styled, Pfalz-like palate, with concentrated viscosity matched by surging limey acidity. Lemoned caramel lingers on the lengthy finish. $23 CDN www.synchromeshwines.ca
Le Vieux Pin 2014 Syrah Cuvée Classique, Okanagan Valley, BC. $44 CDN A stunner from three vineyards across the Black Sage Bench, North Oliver and South Osoyoos. Thirteen months months in new French oak barrels before being bottled unfined and unfiltered. Fresh, with cracked pepper, violets, cured meats, salted black liquorice, medicinal cassis and a savoury vein of bacon fat. Firmly structured without severity, plus effortless acidity. Graceful and alluring now, but will age well. Impressive. levieuxpin.ca $44 CDN www.tourdeforcewines.com
Ontario
Wineries: 150 3 Designated Viticultural Areas (DVAs): Niagara Peninsula (with 10 additional sub-appellations), Prince Edward County, Lake Erie North Shore
Latitude, lakes and limestone define Ontario. Its appellations all enjoy the moderating effect of breezes from the Great Lakes, creating an ideal environment for cool-climate grape growing. Focus on the core varieties of Chardonnay, Riesling, Pinot Noir and Cabernet Franc.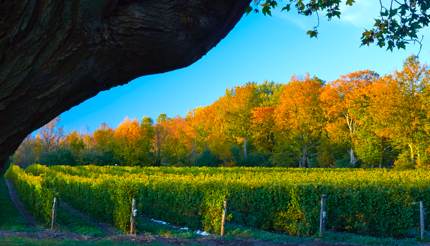 Norman Hardie 2013 County Chardonnay Unfiltered, Prince Edward County, ON. The County chardonnay was grown on five separate sites, is a blend of two clones, was wild yeast fermented (started in horizontal stainless tanks and finished mostly in 500L French barrels, 30 percent of which were new). No sulphur was added for a year, after which the wine was bottled unfined and unfiltered. Toasted popcorn, kernel, broken stone and mineral. Limestone distinctiveness throughout. Lovely flint edge, into an alluring and characteristic reductive note. Wild herbs, salted and brown butter savouriness lingering on the finish. The finest Chardonnay I've tasted from Canada, and on par with any, anywhere. www.normanhardie.com $40 CDN www.justincases.co.uk
Domaine Queylus 2013 Reserve du Domaine Pinot Noir, Niagara Peninsula, ON. This Pinot Noir is sourced from two organically farmed vineyards, one from Beamsville's Lincoln Lakeshore sub app and the other from the Twenty Mile Bench sub app. Destemmed and fermented wild, this spent 16-20 months in French oak (1/3 new). This vintage is ripe and concentrated, with perfumed and sapid black raspberry and cherry drawn along lengthy, lightly grippy tannins and streaming along a juicy palate. Elegance and style are hallmarks of this drinkable-now pinot, but this will reward with five to eight years ageing in the cellar. 1000 six-packs available. $30 CDN www.queylus.com
Tawse Winery 2015 Riesling Quarry Road Vineyard, Vinemount Ridge, Niagara Peninsula, ON. Perfumed concentrated stone, pear, tangerine, lime, green apple throughout this electric and exciting Vinemount Ridge Riesling. A streamlined linear focus right through to a hum on the finish. Vibrating with minerals and energy from top to tail, and one that will hold for the next decade. Certified biodynamic. $24 CDN www.tawsewinery.ca
Nova Scotia
Wineries: 20
On the eastern Atlantic coast, Nova Scotia's wine growing region stretches between the shores of the Northumberland Strait to the fertile Annapolis Valley. Major varieties are L'Acadie, Muscat, Seyval Blanc, Lucy Kuhlman, Leon Millot and Marechal Foch. This area is known for its specialisation in sparkling wine, especially premium traditional method fizz.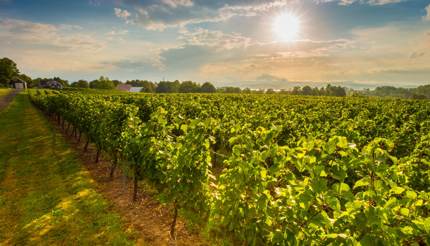 Benjamin Bridge 2011 Brut Méthode Classique, Nova Scotia. This newly released, 100 percent Chardonnay Brut from Gaspereau Valley spent four years on the lees before release, and is still extremely tight, fresh and precise. Tasting beautifully now, this has a long life ahead. Orange and lemon, pear skin and oil, and herbaceousness throughout to a shimmering vibrato on the finish. Serious stuff, from Canada's top sparkling wine producer. www.benjaminbridge.com $45 CDN www.friarwood.com
Blomidon Estate Winery 2013 Crémant Méthode Traditionelle, Nova Scotia.This méthode traditionelle blend of 57/23/20 Seyval, l'Acadie Blanc and Chardonnay from Annapolis Valley is expressive, tight and nimble with green apple, lemon pith, pear and light toast. Fine chalky spicing and a grip of tannins though the lingering finish. Alluring and impressive at 10.4 percent alcohol and lighter and creamier than the typical méthode traditionelle due to lower bottle pressure. One to watch. $25 CDN blomidonwine.ca
Jost 2015 Tidal Bay, Nova Scotia. Tidal Bay is an appellation of style, and wines are meant to reflect the fresh, bright, light atmosphere of coastal Nova Scotia. The grapes are L'Acadie Blanc and other white varieties, and cannot exceed 11% alcohol. This has perfumed lime blossoms, a light lavender note and off-dry sweetness on a soft, light, lifted palate. $20 CDN jostwine.ca