From five-star luxury to boutique winery stays, Tuscany has it all. Filippo Bartolotta explores one of Italy's most beautiful regions
"This is the fairest picture on our planet, the most enchanting to look upon, the most satisfying to the eye and spirit. To see the sun sink down, drowned in his pink and purple and golden floods, and overwhelm Florence with tides of colour that make all the sharp lines dim and faint and turn the solid city to a city of dreams, is a sight to stir the coldest nature, and make a sympathetic one drunk with ecstasy."
So Mark Twain described Florence, the capital of Tuscany. It's a place of such beauty your first thought is, "I want to live here."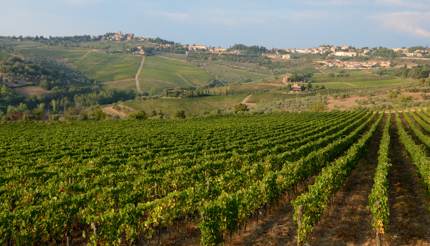 This landscape holds traces of thousands of years of ancient culture, co-existing with the contemporary, such as outstanding new winery architecture. But the secret of Tuscany is that aesthetics meet content: you can be part of an exquisite landscape while drinking some of the world's most prestigious wines, and eating the simple and delicious food of the region.
In one day it's possible to visit San Gimignano, the medieval heart of Tuscany, where Vernaccia di San Gimignano, one of Italy's finest and longest-lived white wines (it can age 30 or 40 years) is produced, or Siena, with its enchanting Duomo and the famous Palio horse race, which takes place in July and August each year. You could spend a day in Orcia Valley where family-run estates and fortress-like wineries produce Brunello di Montalcino, the purest expression of Sangiovese. Another Unesco site, Pienza, is 20 minutes away, and then there's Montepulciano, where the lovely Vino Nobile di Montepulciano is aged in 15th-century cellars.
Florence City Centre
A fine way to enjoy this beautiful city is to go for an early morning stroll, before the shops open and the tourists congregate, to get an idea of what the city was like 500 years ago.
For architectural hints about the importance of wine in the city's past, look out for the bucchette del vino, the small wine windows next to the main doors of the old palazzi. These were used to serve food and wine to the public – and according to some accounts were used during plague years as a convenient way of selling wine without too much contact with possibly infested travellers.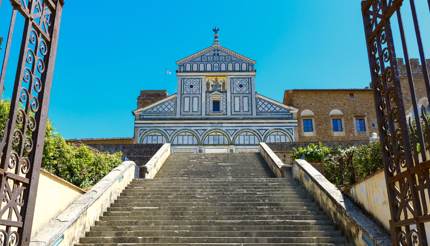 There is a very pleasant stroll from the Ponte Vecchio to Piazzale Michelangelo. It takes you away from the crowds, gives good views of the city, and leads to the stunning Cathedral of San Miniato.
From street food to one of the world's great wine cellars
A classic, and ubiquitous, Florentine street dish is panino al lampredotto, a kind of pastrami sandwich. If you're after something more substantial, the original 19th century Florence market has been restored and now the Mercato Centrale offers an incredible variety of gourmet food, from excellent pizza to Chianina beef burgers. Cheap and delicious.
Then there's a multitude of small independent wine bars like Le Volpi e l'Uva, Pitti Gola e Cantina or Il Santino: all great options for a glass of wine and a bruschetta.
But if you fancy visiting one of the world's most renowned restaurant wine cellars, then check out three-Michelin star Enoteca Pinchiorri, whose 70,000-bottle cellar contains the very finest wines from Bordeaux, Burgundy, Tuscany, California and elsewhere.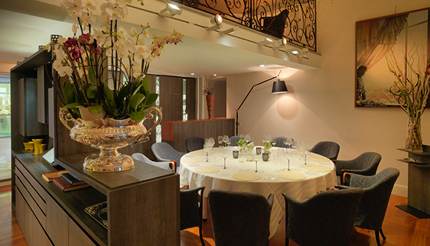 Other Michelin star restaurants – not part of hotel groups and of outstanding quality – include: Un'Ora d'Aria near Ponte Vecchio (Via dei Georgofili), run by Florentine chef Marco Stabile, and the Filippo Saporito's new La Leggenda dei Frati on the hills overlooking the city.
Classic Trattoria
Da Ruggero, Via Senese 89: One of Florence's classic and best-loved trattorie
Sabatino: rustic, homely and friendly, and great value for money
Vecchia Bettola, Viale Vasco Pratolini: for forgotten Florentine dishes, old-fashioned and popular with the locals. Low tourist count.
Ristoro del Cambi: traditional Tuscan dishes; locals come here for the Florentine steak
La Giostra: classic, popular and atmospheric – book early
Da Cammillo, Borgo S. Jacopo: for the classical Tuscan atmosphere, popular with tourists but the quality of the food is compelling
Harry's Bar: the first to be founded after the Venice original, it has hosted everyone from Burt Lancaster to Chelsea Clinton
Wine
Enoteca Alessi: an old-school delicatessen with a comprehensive wine selection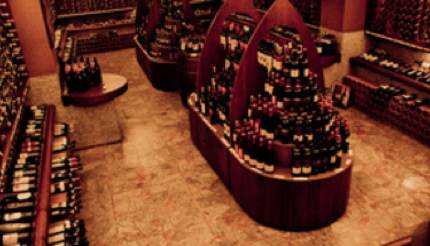 Enoteca Millesimi, Borgo Tegolaio: one of Florence's best wine merchants, with a fine selection of old Tuscan vintages
WHERE TO STAY
Two classic five-star Hotels with two-Michelin star restaurants, in a central and tranquil part of town overlooking the river. The restaurants are Da Caino Florence at the St. Regis and Se-Sto by Lorenzo Bartolini
Rooms from 467€ to 2495€
Five-star option, popular with international guests as well as fashionable Florentines. Great location in Piazza Santa Maria Novella. Rooms from €385
Luxury is the raison d'être of the Four Seasons chain, and they pulled out the stops for this one. It's in one of Florence's most beautiful properties, a 16th-Century convent near Giardino della Gherardesca. The garden is an Eden of ancient trees, every room is decorated to a level of Renaissance splendour. Astonishing, expensive, and utterly seductive. Rooms from €434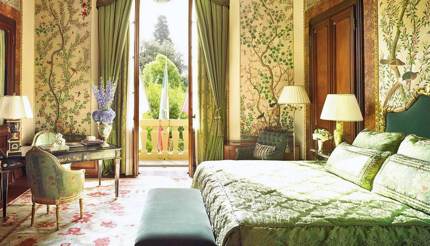 Boutique hotels
On the Oltrarno, Florence's left bank, is this seven-room boutique hotel located in one of Florence's lovely gardens. Every room is individually designed and furnished with mid-century Italian furniture – a nice Florentine artisan touch. The building is an old Palazzo with a huge garden overlooking the Giardino all'Italiana. Rooms 250€
Central, reasonably-priced and comfortable, apartment-based and so good for families and groups. Price From €120
Chianti Classico
Dining options an hour and half's drive away from Florence
Arnolfo: Two Michelin stars in the heart of the pretty Chianti village of Casole d'Elsa
Osteria di Passignano: One Michelin star by the XI century abbey of Passignano. Owned by the Antinori family and run by the charming Marcello. The perfect Tuscan lunch.
La Tenda Rossa: The Santandrea family has been running this special restaurant for over 30 years. A 15 min drive from Florence in the Chianti Classico region, elegant and excellent value.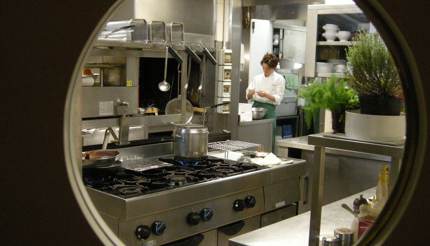 Dario Cecchini: A world-renowned butcher who has reinvented the craft: he has three restaurants and trattorias where you can watch him preparing the perfect Bistecca alla Fiorentina. Delicious Chianti Tuna (pulled pork), great Tuscan burgers and also a good vegetarian option. You can also bring your own wine.
Badia a Coltibuono: Tuscany is dense with wineries, organic farms, medieval abbeys, Italian gardens, wine resorts, cookery schools and simple trattorias. Badia a Coltibuono has all of these, plus a swimming pool. Hidden in the forested hills of southeast Chianti Classico, room prices start at €120 a night for the double and apartments for five people starting from €190
Wine resorts
This is the first luxury hotel created in the Chianti region. There are 12 rooms in a 15th-century mansion; designer furniture, a one Michelin Star Restaurant with a terrace overlooking the vineyards, pool and a spa with frescoed massage rooms. Prices from €410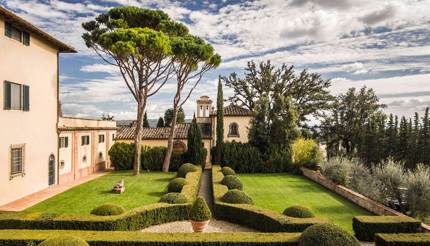 Borgo del Cabreo,  Via Giuseppe di Vittorio
Simple and elegant accommodation from the Folonari Wine Family. Eleven rooms, and a pool surrounded by olive trees and vines. Prices from €110
The birthplace of Lisa del Giocondo (better known as Leonardo's Mona Lisa), according to some historians. A rare example of a Renaissance villa in Chianti, it's been used for several films, notably Kenneth Branagh's 1993 Much Ado About Nothing. Simple country house B&B with prices starting from €170