With endless deserted beaches and basic accommodation, Comporta is loved by celebs for its low-key charms. Ian Belcher discovers an unspoilt paradise
Julio Luis Maria is an unlikely interior design guru. With dust-covered shoes, crumpled brown slacks and mismatched blue shirt he sits under a shady tree surrounded by his sought-after merchandise: old peeling doors, abandoned lifebelts and rusting bedsteads.
Remarkably Senhor Julio and his self-proclaimed 'Ali Baba's Cave' – a roadside corrugated iron shack – have featured in some of the planet's glossiest interiors magazines. Arriving in their Tory Burch espadrilles their readers pick through his scattered goods, resurrecting old wooden tables on which pigs were slaughtered as garden benches and old farm troughs as elegantly distressed flower boxes.
Sunbathe and socialize off the grid
Senhor Julio clearly knows his market. An antique clay wine pot will hit you for €500. But why not? The 56-year-old former farmhand has been a key player in the tasteful development of one of Europe's most discreet A-list retreats. His rustic artifacts are simply perfect darling for the artfully unpretentious vibe of holiday homes in Comporta: Portugal's barefoot answer to the Hamptons.
Each late spring and summer the low-key gaggle of coastal villages welcomes its elite clientele: BCBG (bon chic bon genre) Parisians, well-connected Portuguese and internationally renowned designers and artists. In their slipstream are the likes of actresses Kristin Scott Thomas and Isabel Adjani, photographer Mario Testino and long-term visitor Princess Caroline of Monaco. All come for the same thing: to swim, sunbathe and socialize under the radar and off the grid, free of prying eyes and rapacious paparazzi lenses.
Powdery sand and acres of room
Of course Comporta's beach helps. It's almost as important as Senhor Julio. At 60km long it's one of the continent's greatest uninterrupted stretches of sand (Lithuania's Curonian Spit claims top spot) with no development, bar the occasional shack or wooden restaurant. It's almost southern hemisphere in scale.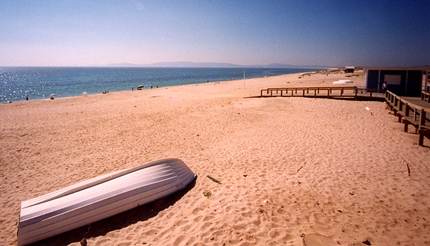 It seems as good a place as any to start my trip. It doesn't matter where I lay my towel. Invisible barriers separate different stretches of sand – Pego, Carvalhal and Alberta Nova – but the formula's identical: powdery grains, safe waves and acres of room. Even on a busy weekend on Comporta Beach, you can move a couple of hundred yards and the claustrophobia evaporates.
There's no need to escape anyone today. At Alberta Nova I have the Atlantic to myself – as well as two lifeguards, Francisco and Andrea. 'It's just us and the fish,' say Francisco, sitting back with his orange jacket, sun block and shades. 'It was busier this morning.'
'Really, how many people?'
'Two couples.'
Comporta – as exhilarating as it gets
Swimming's one thing. But to really appreciate the scale of the beaches – along with Comporta's A-list appeal – I'd recommend a horse ride with José Ribeira, known fondly as The José of Ribeira. I clamber onto one of his perfectly behaved rides and follow the dusty tracks that dissect the area's rice terraces, a landscape so green it's almost CGI. We rise through pine forest and over a crest of dunes. Suddenly there it is: a Rothko like layered abstract of blonde sand, Caribbean emerald ocean and cyan sky. I've ridden through the Zimbabwean bush and across Argentinian wetlands but Comporta is as exhilarating as it gets.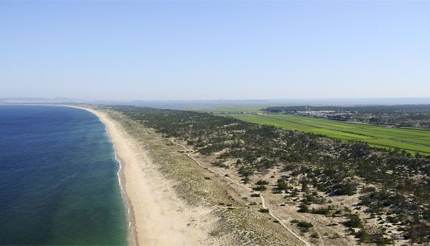 As we amble through the edge of the frothing surf, Jose, who visited Comporta as a child, tells me about his more high profile clients including the Casiraghis (of Monaco), Christian Louboutin, cobbler to the stars and artist Anselm Kiefer. He recounts bumping into a friendly stranger. They struck up conversation and the man explained how amazing the local dunes would be for riding his fat-tyred electric bike.
When Jose admired its photo on his phone the stranger explained he'd designed and built it himself. "I make things. My name's Philippe . Philippe Starck."'
Fame and money doesn't matter around here, stresses Jose. 'It's what the visitors like. Nobody hassles them. They can relax and forget everything.'
Fishing cabanas into holiday homes
It must be manna from heaven for a certain type of star. So why the indifference? In our celebrity obsessed, social media fuelled age, why is Comporta so confidential? The answer lies in history. Comporta usually refers to the Herdade da Comporta, a once private Alentejo estate boasting seven small villages – one of which, pay attention at the back, is also called Comporta – and a pristine beach with dunes protecting the largest rice paddies in Portugal alongside fields spawning everything from watermelon and pumpkin to artichokes; much of it a protected national park.
In the 1950s it was bought by the now bankrupt Espirito Santo banking dynasty who converted thatched fishing cabanas, hooped with tightly packed grasses, into earthy holiday homes. After the temporary interruption of the Carnation Revolution the family resumed the restoration of their estate in 1991, simultaneously selling land to wealthy European friends including fashion and design hotshots.
The conversion of hippy chic boltholes continued, happily co-existing with the area's traditional rural community who appreciated the annual upmarket invasion as a boon for the local economy. At the same time Portugal's conservation laws helped prevent the major coastal development erupting further south. The area's mosquitoes, drawn to the rice irrigation might also prove a deterrent to speculators.
Sublime Comporta – an absolute peach
The classic way to sample Comporta's unique vibe is to hire a private property, perhaps one of the gorgeous sand-floored houses at Casas Na Areia. Hotel accommodation is thin on the sandy ground but the main choice, Sublime, is an absolute peach. Nestled among the trees southeast of Muda it embraces linear contemporary design with pared back Aman-lite interiors of brushed concrete and glass.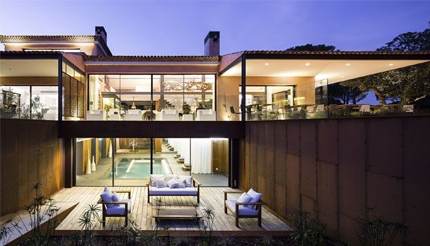 After early success the 14-room retreat has recently expanded with leading Portuguese architects creating gorgeous two and three-bedroom pool villas, a new dining area and outdoor massage pavilion. It's a world away from the area's small pimped fishing cabanas but the hotel gives a clever nod to the local aesthetic with antique decorate flourishes from Senhor Julio, of course.
Decent scoff for a sophisticated clientele
Sublime also keeps it local by serving superb seasonal Alentejo produce, including some of the 300 aromatic herbs and vegetables grown on-site. They feature at the new Sem Porta restaurant, on the menu created by consultant chef, Ljubomir Stanisic, award-winning star of Portuguese TV and the alchemist behind Lisbon's 100 Maneiras (which has just been voted No 1 in Monocle magazine's Restaurant Awards.
Comporta's fine food shouldn't surprise. You'd expect decent scoff for a sophisticated clientele. There's also fabulous summer pop-up Cavalariça in Comporta village's old horse stables. The chef, who worked with Nuno Mendes of London's Chiltern Firehouse, rose to prominence at Sublime, and now offers the likes of roast octopus and salt-baked chicken.
All tracks lead to the beach
But this is a glorious stretch of coast for heaven's sake. All roads, or at least sandy tracks, lead to the beach. Sal's, the area's unofficial social club right on Pego Beach, has a lovely al fresco deck, nautical memorabilia and wonderful marine photographs washed with aquamarine light through massive oceanfront windows. It's famed for its black rice with cuttlefish, huge shrimps grilled in lemon and, according to charming owner, Joao Raposo, its condensed milk pie 'made by a little old local lady'.
So where do I go to hang out with the locals? True locals who present all year round? It has to be the ocean. That's right, the Atlantic. I head north to where the beach tapers into a sand spit, to the marina where Pedro Narra launches his dolphin spotting trips across the Sado Estuary and along the coast. The mini cruise doesn't disappoint. The resident bottlenose pod turn up, gamboling and tail slapping next to our catamaran for 45 memorable minutes.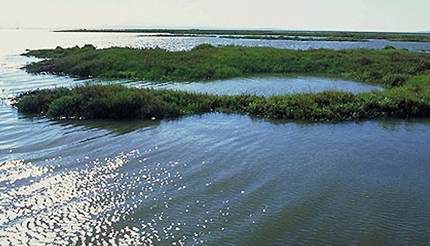 When we return to land I wander around Troia Marina. There are high-rise towers, apartments and villas, along with a Lacoste outlet and casino: the antithesis of Comporta's understated charm and empty dune-backed beach. I'm no celebrity addict but this proves that, just occasionally, the A-list know a worthwhile secret of two. I'd take their lead, drive past Troia and continue for half an hour until you hit Comporta. Then stick around. It's worth it. It really is.
The Knowledge
Fly with TAP to Lisbon from £86 return, flytap.com
Sublime Hotel has doubles from €195, sublimecomporta.pt
Villa Rentals Casas Na Areia: casasnaareia.com Almond Blossom: almondblossom-rentalvillas.com
Dolphin Watching Three-hour cruise €35 (€20 children) vertigemazul.com
Car Hire: holidayautos.co.uk
Like Comporta? Then discover these other low-key celebrity escapes …
Pantelleria, Italy
Sixty miles south of Sicily this petite Mediterranean jewel attracts billionaires and big names from Sting to Georgio Armani. A former Roman penal colony and Byzantine military base (check out the rock tombs) it's famed for its succulent capers, sweet Passito wine and utter silence, as well as the enticing palate of blue sky, green cacti and black basalt.
You won't find beaches but you can dive into a translucent emerald ocean to see archeological ruins or stay on land and dip into the cool volcanic Mirror of Venus lake with its turquoise water, healthy mud and rocks pools doubling as a natural spa. There are exclusive rental properties (those basalt farmhouses) and now there's a hotel to match: the boutique 20-room Sikelia which The Times describes as a 'Moroccan-Berber-meets Italian-Bahaus retreat'.
José Ignacio, Uruguay
Offering a similar back-to-basics, in-the-know barefoot vibe as Comporta, José Ignacio is a small former fishing village with a big appeal to A-list summer visitors. As well as Latin film stars, South American hip-swiveller Shakira (she owns a property nearby) and international playboy, restaurateur, Giuseppe Cipriani, it has hosted the likes of Princess Caroline of Monaco and Rolling Stone Ronnie Wood, along with a glut of well heeled Argentinians and Brazilians.
Forty kilometres and a world away from the blingy, model-filled resort of Punta del Este, José Ignacio has scalloped beaches, boho boutiques and sandy-floored eateries like beachfront La Huella with its acclaimed grilled seafood. There's also the exclusive, über contemporary Playa Vik lodge with an imposing titanium and glass cube.
Torfino, Vancouver Island, Canada
Petite Torfino, originally a quaint fishing and logging village swaddled by the pine forest of Clayoquot Sound (a Unesco biosphere reserve) and the Pacific Rim National Park, has long attracted laid-back outdoorsy dudes. Recently its earthy charms have received an upmarket polish and the increasing attention of A-list types dropping in to drop out.
Justin Trudeau and family holidayed here last year, and recent visitors include Reese Witherspoon and Neil Patrick Harris. The nearby Wickaninnish Inn has often served as an escape for stars working on film sets in Vancouver – dubbed Hollywood North – 35 minutes away by Learjet, with past guests including Uma Thurman, Danny DeVito and Susan Sarandon.