In South Korea it's the infinite variety of the side dishes that make the meal. Paul Stafford takes a gastronomic tour of the beautiful former capital, Gyeongju
One thing that makes Korean food unique is the way the country's history and culture are conveyed through its different dishes. Forget for a moment the modern Korean variants of fried chicken or barbecue, which are so getting popular worldwide thanks to their oriental twist on ubiquitous western themes. Instead, it is the healthy slow food approach of most Korean cuisine that best defines the country's palate.
Korean slow food isn't a response to the global domination of fast food: people here have been eating this way for centuries. This is best illustrated by the side dishes known as banchan. Almost every meal in Korea is served with at least two or three banchan. They can often be very simple; many of them, like kimchi, are prepared using methods that haven't changed for hundreds of years.
In Gyeongju, the country's capital for a thousand years until the 10th century CE (or AD), side dishes become the main attraction. Gyeongju is South Korea's primary historical site. UNESCO listed buildings are some of the best examples of architecture on the Korean peninsula from the Silla Dynasty. That's one way of exploring the past in Gyeongju. Another, more intriguing way is at the dinner table.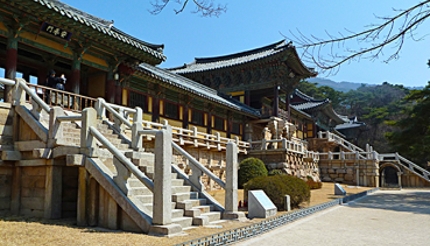 Banchan explained
Side dishes accompany every meal. Kimchi is almost obligatory, but other sides may include simple condiments like gochujang (a paste made from red chilies), small samples of marinated vegetables like kongnamul (bean sprouts in sesame oil) or more substantial plates like gyaelanjjim (a thick broth of steamed eggs) or kimchijeon (kimchi pancake).
Banchan will often be tailored to the main meal, although it is not uncommon for restaurants in Korea to specialise in only one or two types of dish, and so they will also only offer only a few side dish options. As soon as you get away from the major urban areas, banchan becomes an art form, rather than just a little something on the side. The types of side dish are innumerable.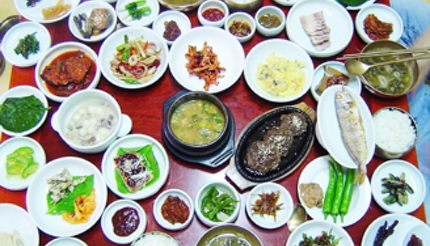 The other Kimchis
Fermented, salted vegetables may not be many people's idea of refined food. Lately however, kimchi, in its most popular form of cabbage leaves, has taken over the health food scene, buoyed by its high vitamin B and healthy bacteria content. It's actually delicious, and works especially well as a sharp, tangy side note to a main meal like chicken galbi.
There are over 200 types of kimchi alone, although often factors like the size of cabbage leaves, amount of fermentation time and species of cabbage account for the difference. Kimchi is not just a cabbage concoction. The fermentation process is applied to other vegetables: Kkakdugi, for example, is radish kimchi and often comes on the side of meaty soups, like seolleongtang (ox bone). Oh-i sobagi is a seasonal kimchi made from cucumbers. Its cold, crisp freshness is a great antidote to a humid summer's day in Gyeongju.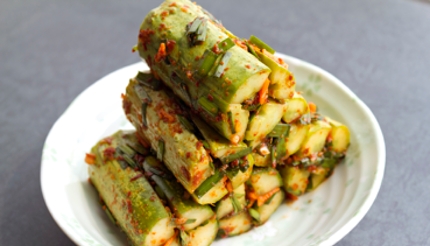 Seaweed banchan
Seaweed finds its way into a lot of different banchan dishes in Korea. It comes in many forms; you're most likely to find it as kim, a laver seaweed that is dried, toasted with sesame oil, salted, and pressed into rectangular sheets. Kim is used as the outer wrapping of a kimbap. It is also served as banchan, and is perfect for wrapping little parcels of rice and kimchi to be devoured whole.
Kim is especially significant in Korean cuisine because it is one of the first recorded forms of seaweed used in the region. In fact the first mention of it goes all the way back to the Silla kings, the dynasty responsible for turning Korea into a serious regional power, bequeathing the country a deeper sense of identity and culture than it had ever known.
Other popular seaweed banchan include seaweed soup and doljaban, made from hydrated laver seaweed mixed with sesame oil, soy sauce and garlic. Miyeok is a brown seaweed and is often seasoned with soy sauce and vinegar.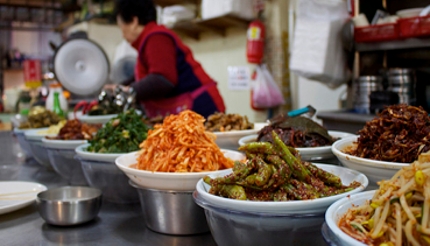 Ssambap
The culinary marvel of Gyeongju, ssambap is celebrated for its healthy, delicious and eclectic range of banchan.
About 20 different banchan will accompany a house special, like bulgogi (barbecued beef). But that main dish is often overlooked, or at least overshadowed, by much of what else is laid out on the table before diners.
Each banchan comes in its own little dish. You may be given an assortment of green leaves, like perilla leaves and different types of lettuce, in which to wrap meat from the main dish (invariably meat), or various bits from the side dishes. You'd be doing well if you could work out what's in even half of these side dishes. Expect some unusual ingredients like lotus root, pickled garlic cloves, chewy dried squid and spicy tofu. The range of textures and tastes is infinite.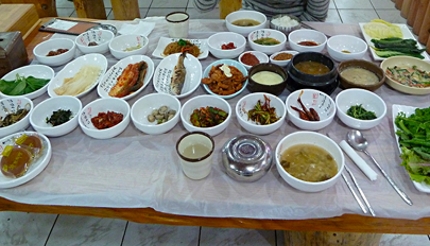 Where to find the best ssambap – Gyeongju
Many of Gyeongju's best ssambap restaurants can be found in the Hwangnamdong region. For ssambap novices, Eepungnyeoguro Ssambap (106-3 Hwangnam-dong) is as fun as it's unpronounceable. If two people are dining together you can expect to receive upwards of 30 banchan on individual plates, including kimchijeon (pancake), a number of different types of kimchi – including a full cabbage leaf variety – shiitake mushrooms, pork and soup dishes.
One of the most popular places is Byeolchaeban Gyeodong Ssambap (328-1 Hwangnam-dong). You'll get get 15-20 sides served with the main dish (which will be big enough in itself). Unlike many of the more traditional Korean restaurants, Byeolchaeban Gyeodong has tables and chairs, as opposed to the more traditional floor-seating option.
Shilla Ssambap (194-9 Hwangam-dong), now in its fourth decade, has perfected the art of the banchan. It's a bit of a tourist trap but the selection of dishes is excellent, with attention paid to tradition and authenticity.
Ssambap in Seoul
For anybody lacking enough time to make it down to Gyeongju, there are a couple of great places to have the authentic ssambap experience in the South Korean capital. Wonjo Ssambap (135-011 35, Bongeunsa-ro 1-gil, Gangnam-gu) is one of the best. It has become so successful that it's now a franchise but the original restaurant in Gangnam is still considered to be the best. At least 20 banchan are served, often including lotus root and doenjang jiggae, a pungent fermented soybean soup.