We tend to think of single malt whisky as either smooth or peaty, but there's a world of other flavours out there, as Vivien Yap discovers
The old saying about the angel's share (the amount of alcohol which evaporates from casks during maturation) is often retold at the Scotch Malt Whisky Society (SMWS), a worldwide club that has been promoting the unique characters of single malt single cask whiskies for over three decades.
When drinking whisky, young or aged, Highland or Lowland, aged in bourbon or sherry casks, there is usually a dominant profile: malty, peaty, oaky, or herbal. The taste is often a gentle blast of sweetness before a generous warmth. To get the undertones in whisky is not always easy. Even as you taste it, you can't be sure if the flavour is real or simply your imagination.
Take the oily and coastal flavour for instance – does the salty ocean air really exist in your glass? This is where the SMWS comes in. Passionate about flavours, the society aims to heighten our senses and showcase flavour profiles which we may not have noticed. In one of their 'Think Flavour' events , for example, guests get to experience the oily and coastal flavour of a cask strength whisky by pairing it with dried wakame seaweed. Highly unusual, but people genuinely love it.
Indeed, the society has been relentless in its pursuit of unique flavour profiles from single cask whisky. Since it was founded 30 years ago (there are now branches and partner bars in 19 countries), it has been sourcing single casks from some 130 distilleries, in Scotland, Ireland and Japan, and bottling them at cask strength in the society's distinctive green bottles. Some of the casks are truly rare, sourced from "silent" distilleries that are no longer in commercial operation.
The whiskies are given wonderful names, ranging from the suggestive (Toute Fruity Booty, Deep, Dark and Desirable), to the poetic (Flower Meadow in Spring, A Sonata of Sapidity, Moonlight Night at the Beach), to the surreal (Riding a Duck Bareback up Mount Etna), or the cryptic (Could Pacify a Mob).
Tasting events are held in chic studios and cosy bars in big cities across the world. The society runs talks and exchanges pairing ideas with local food vendors. One of these events – the Flavour Fanatics Sensory Symposium – was held in London this month. Its aim was "to explore the role of flavour and the never-ending journey into the complexities of our single cask, single malt whiskies, and how our unique flavour profiles can be paired with a diverse range of products."
Broadly, the society has grouped flavour profiles into 12 categories: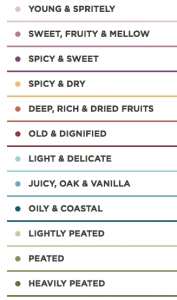 Each cask produces a limited number of bottles and is categorised into one of the 12 profiles. Cask number 2.98, Frothy Cappuccino, is categorised spicy and sweet. The honey-roasted tone is surprisingly cinnamony, and its sticky toffee fig finishing is best brought out by creamy Lancashire cheese with a fluffy texture and nutty finish. Or Daisy Chain, cask number 9.122, with a sweet, fruity and mellow flavour profile.
Then there's cask 37.90: The Path Less Trodden. This golden syrupy Speyside spey is given the profile deep, rich and dried fruit. Its long black-tea depth is balanced by a tender herbal finish, and it works wonderfully with a cup of warm Ethiopian coffee.
Though whisky pairing is a relatively new subject to the British, across the Atlantic they have been doing it for years: bourbon with flame-grilled meat in the deep south, for example. The Knob Creek Rye, a premium bourbon founded by the grandson of Jim Beam, is never far away when the barbecue is fired up. This winner of IWSC's (International Wine & Spirit Competition) Worldwide Whiskey Trophy 2016, it has a 'rich malty nose, with coconut, vanilla and spice', and goes extremely well with blue cheese-stuffed filet steak and charred asparagus.
On the other side of the globe, the Taiwanese have a long history of pairing whisky with food too, street food is the star in this case – fish balls, oyster omelette, juicy 'bao' (steamed bun with a piece of braised meat in the middle) – are some favourite choices. To get the best flavours out of the deep-amber single malt Kavalan Concertmaster, another IWSC gold medal winner, try pairing it with crispy roast duck.
The next SMWS event in London is called the New Outturn Tasting on 3 June where guests will have the opportunity try five single cask, single malt whiskies and pair them with a selection of artisan cheeses. To find out more, visit their website www.smws.com
Food and whisky matching (food selections made by Fiona Beckett of matchingfoodandwine.com). All whiskies are International Wine & Spirit Competition medal winners

● Ardbeg Dark Cove, peaty and spicy, this single malt sings big notes of 'jam roily-polly [sic] on a field with mossy grass topping in the late autumn heat'. Peaty Islay whiskies are particularly good with blue cheese. Salty Roquefort is the classic pairing but try other sheeps milk blues such as Beenleigh Blue and Crozier Blue. You'll also find it goes well with full-flavoured mutton dishes.

● Auchentoshan 18 Year Old. A star performer of the Lowlands. There's a sweetness here that makes one crave a nice crumbly old-fashioned fruit cake like a Dundee cake. Or a wheatmeal biscuit with a thick slice of farmhouse cheddar.

● Bain's Cape Mountain. This South African whisky is making a sweet swirl with its delightful 'banana fritters with double cream and grated dark chocolate on top' nose. You can echo the notes you find in this seductive grain whisky in the food you pair with it. A banana cake with chocolate chips would be perfect. But it's a whisky you could also drink long at a braai (barbecue), particularly with grilled pork. Or a fruity Cape Malay curry, even.

● Ballantine's 21 Year Old. A polished blend with 'wonderful nose of mille feuille, white chip-dry port and green apple, and a sweet and delicious finish'. A simple square – or three – of fine dark chocolate is probably all you need with this complex whisky – or maybe, if you're feeling a little more adventurous a few slivers of smoked beef (cecina)

● Russell's Reserve 10 Year Old Bourbon. Notes of 'cherry stones, strawberry and rich black forest gateaux, with some lighter notes of newer oak, vanilla and cloves.' Whether served on the rocks or as a cocktail such as a Manhattan or an Old Fashioned the Russell's Reserve would be a great go-to in a steakhouse with a well-charred rare steak or even a gourmet burger. You could also drink it with spare ribs.
Liked this article? You might also like:
Whisky or Whiskey? What makes different types of whisky… so different How whisky distillers all over the world are taking on the Scotch