In Piedmont's gastronomic wonderland, the white truffle is king. Chris Allsop travelled to an oak grove in northwest Italy to unearth his own fungal jackpot.
The hunt has yet to begin but already Lilla, our truffle dog, seems tired.
We are gathered in a sloping oak grove just beyond Alba, Piedmont, on a warm Sunday afternoon in October. It's the height of tartufo bianco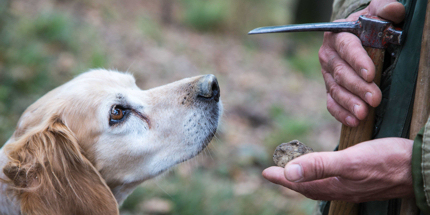 (white truffle) season, in the heart of the tartufo universe, so her weariness is hardly surprising. She sinks slowly forward, pulling herself up like a nodding commuter.
Sweet Lilla, pure panna cotta white with a drizzling of caramel spots, is not the pedigree I had anticipated. A cross of hound, Pointer and Breton, she's more mongrel prospector – three gun dogs in one.
"Any breed can be trained to find truffles," says weathered hunter Gianni as he leans on his crook, "but we don't use pigs. Pigs are very hard to work with."
Piedmont's soil is unusually rich. Its dishevelled hazelnut groves helped Michele Ferrero (of Ferrero Rocher fame) become the richest man in Italy. Langhe's gentle, vine-contoured slopes of Barolo and Barbaresco are valued at €1 million per hectare – not that anyone's selling.
But enter Alba during the White Truffle Fair (held annually through October and November) and it is all eclipsed by the fanaticism for the great white fungal deity, Tuber Magnatum Pico (the Alba White Truffle).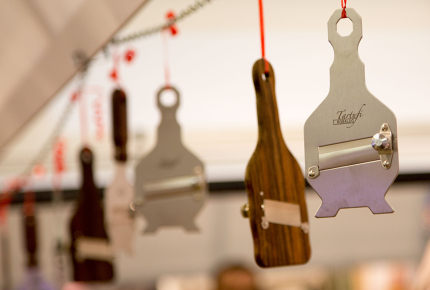 The Fair is a frantic furore of medieval pageantry, cooking demos and 'shroom bartering. During a Saturday there, I'm exposed to a surfeit of truffle science and lore, and now the distinction between the two is blurring.
The tartufo is an underground mushroom; the Alba variety has never been successfully cultivated; the god Jupiter used lightning bolts to fertilise the land with truffle; the fungal fruit can offer 120 aromas; the most overt flavours are garlic, honey and wet hay; tartufi exude a porcine pheromone and pigs (still employed by the French) literally lust for their quarry. This, though, makes them difficult to work with as they often eat the truffle or damage the fungus.
But I have sympathy for the swine. Truffle's exquisite pong has a way of lodging in your snout. After an hour submerged in its chemical fog, I escape the fair's indoor marketplace to stroll Alba's narrow medieval streets. The truffle odour strolls with me. Eventually, I locate a pot of chestnuts roasting at a stall in Piazza Savona and draw a lungful of their acrid burnt caramel scent, which evicts my olfactory squatter.
By evening, it's lodged again, presented to my nose before being sliced raw onto a typically neutral dish to showcase the truffle's complexity. Tonight it's arranged like fallen leaves over a Gordian bolt of butter-cooked tajarin pasta. Sliced, white truffle looks like paper salami. Its texture falls between Parmesan shavings and Catholic wafer; its taste is as delicious as sin.
In the oak grove, I miss Gianni's signal that transforms Lilla from punch drunk to prowling. Perhaps it is instinctual, psychological shorthand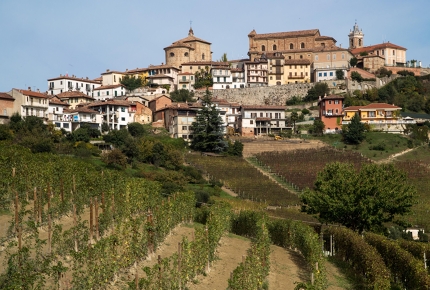 between dog and master. Lilla scours the woodland floor, nose low, while Gianni follows closely behind, herding and encouraging in soft Piedmontese.
After 20 seconds, Lilla begins pedalling the dirt. Gianni dashes over, falls on his side, and restrains the dog beneath one arm. He grins at us, his cobalt blue eyes as bright as a child's on Christmas morning.
This commotion is all thanks to Giacomo Morra, remembered locally as the "inventor of the truffle". Morra, a born hustler in a wide-brimmed hat, turned a regional farmer's market into an international event.
In 1949, he rebranded the local underground mushroom "the white truffle of Alba" and every year sent the finest specimen to a celebrity: Rita Hayworth, Winston Churchill, Haile Selassie.
Suddenly the world had the smell lodged in its nose and mushrooms transmuted into diamonds. At the time of going to press, white truffles weigh in at around €250 per 20 grams (the less aromatic, more common black truffles fetch half of this).
Gianni hands me his specialist truffle hoe. Digging is fearful work: I can't damage the truffle. There is black soil, humus, high anxiety. Gianni is kneeling close by; his work clothes smell like he's wearing Tuber Magnatum for Men. I hack, hew, and chisel.
Feel out the black spots, I'm told. The clay-rich soil bleeds white on my navy coat sleeve. In two languages, I'm warned not to damage the springy roots. I clear a circle around the lump and tentatively strike closer. To my surprise, the truffle dislodges easily at first strike, like a rock. Gianni puts it to my nose and there it is again: garlic and pig sex.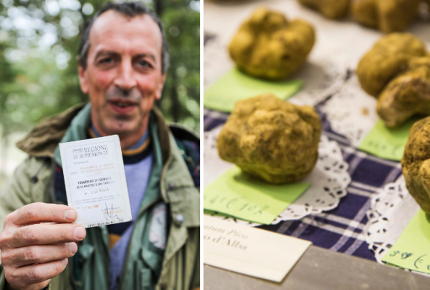 My picture is taken with hoe, crook and truffle. I am blooded. Then Gianni, with his fierce can-you-believe-my-life grin, takes my prize. "As you have no license, he is saving you from a €4,000 fine," my translator explains.
The black, rough-skinned Scorzone variety, worth about €30, disappears into one of the hunter's numerous pockets.
"How many do you average a year?" I ask. Gianni grins again and holds up the truffle.
"Uno," he fibs.
Suddenly Lilla resumes digging, inches from the last hole.
"A second?"
Gianni shakes his head. The three of us watch as the dog clears the leaves, digs a small hole in the soft, generous earth and curls up inside.
NEED TO KNOW
Getting There British Airways and Ryanair fly direct to Turin Caselle airport from Gatwick and Stansted respectively. Public transport from the airport (which is outside of the city) can be convoluted, so your best bet is to hire a car.
Where To Stay VinCafè (www.vincafe.com) is the beating heart of Alba's nightlife (close to the White Truffle Fair), and combines an excellent local wine list with friendly staff and stylish rooms.
More Information Alba's White Truffle Fair: www.fieradeltartufo.org Langhe Tourist Information: www.langheroero.it