The use of hops in brewing is still relatively new when you consider people have been drinking beer for 7,000 years but only using hops for the last 1,200.
The idea of making beer without hops might seem strange to our modern ways, but if you were ordering the equivalent of a pint more than a 1,000 years or so ago it would have been made from an array of herbs, spices and botanicals we would expect today to find in a gin. Not a beer.
It is hard to pinpoint exactly when the first official beer was brewed with recent discoveries showing Neolithic pottery that contained a fermented beverage made with heather, meadowsweet, and royal fern.
Beers made in Britain in the Middle Ages used a complex blend of herbs and spices known as gruit, to help balance the sweet malt notes with the often sour or wild yeast flavors and aromas.
This was a serious business back in the day with the particular blend of herbs and spices used in gruit sold under state control for brewing beer. The blend usually included sweet gale, sage, common yarrow pine resin, wormwood and broom in varying quantities. So now you know.
Thanks to the Dutch
The Dutch claim to have stamped their mark on beer making in the 16th and 17th centuries when adventurous Dutch sailors and explorers would circumnavigate the world, bringing back ships laden with exotic herbs, spices and botanicals.
Ingredients that were then used to make what could be arguably claimed to be the origins of some of the craft beers we all drink today.
A local Dutch craft brewer, Lowlander Beer, is looking to re-invent those style of beers for the modern beer lover by introducing a range made from a combination of botanicals and exotic herbs and spices.
It works closely with Jacob Hooy, the oldest spice store in Amsterdam, which dates back to 1743, to source the right combination of ingredients for its unique range. Ingredients that might be very similar to what goes in to the average gin.
Complex affair
But brewing with botanicals is no easy feat. In fact it is a very complex affair that takes a lot of trial and error to get all the botanicals and herbs working together in the right ways. But as the brewers behind Lowland Beers it is all a case of trial, test and drink!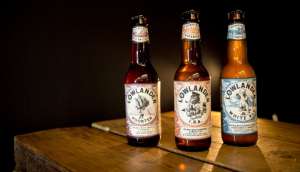 It took them some 18 months of trialling and failing before they came up with a r ange of beers they think offer a genuine point of difference.
Frederik Kampman, Lowlander's chief botanical officer, worked for years both in breweries and gin and genever distilleries. "I entered the world of distilling and fell in love with botanicals," he said.
"As a beer-lover I grew curious about what kind of characters these special flavours could give to beer."
And so the idea for Lowlander beer was born. There are three varieties in the range:
Lowlander White Ale
This has refreshing fruity notes and 5% abv. The beer is a tribute to the rugged spirit of renowned Dutch explorer Willem Barentsz, whose attempt to navigate the Northeast passage saw his crew fight twin terrors; polar bears and frozen beer.
* Ingredients include: curacao orange, elderflower and chamomile giving it a fragrant fruity finish.
Lowlander IPA
Inspired by Dutch seafarers returning from Asia – or the 'East' – who would often bring back monkeys, which they would then sell to tavern-keepers to pay off drinking debts.
Ingredients: Indonesian flavours such as coriander and white tea is infused through the brew to give it a citrusy, fruity and bitter taste.
Lowlander Poorter
Named after the 'poorters' who would haul sacks filled with herbs and spices from tradesmen's ships to the city gates.
Ingredients: Typical Dutch beer with liquorice root and vanilla that delivers a robust, sweet and very drinkable style.
Food matching
All three Lowlander Beers make great matches for various different foods. Lowlander White Ale can be paired with seafood, salads or spicy food. The IPA works wonderfully with Asian cuisine and the Poorter can be drunk alongside roasted or grilled meats and (chocolate) desserts.