Streets in Mexico burst alive with color and merriment for the annual Day of the Dead, and we celebrate with a fine bottle of Altos tequila
The beaming smiles of skull-painted faces poking out of vibrant costumes have set the scene, reminding you that this is not an ordinary celebration. The faint aromas of orange marigold flowers and the exuberant cries of laughter further add a heady touch. There's more though. The crème de la crème moment is when someone pulls out a bottle of tequila and pours the amber liquid into empty glasses – with a loud cheer, the celebration kicks into high gear.
Day of the Dead or Día de los Muertos is a two-day holiday held on November 1-2 every year in Mexico. This festival is all about the dearly departed but it is far from morbid. In fact, it is a jubilant celebration complete with uplifting music, eye-catching costumes, moving floats, eardrum-bursting noisemakers, and countless waves of face-painted celebrators.
In poet Octovio Paz's words, the Mexican is 'familiar with death, jokes about it, caresses it, sleeps with it, celebrates it.' Celebrate is the keyword here. And being a Mexican event, it is only natural to have a tequila party… in our case, an Altos Día de los Muertos party for the very much alive.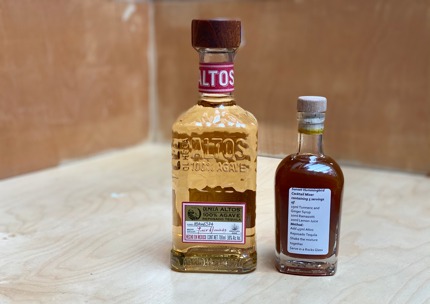 A sprinkle of history
Steeped in ancestral history, Day of the Dead is an annual celebration that dates back over 2,500 years to pre-Hispanic and Aztec civilizations, who deemed mourning the dead disrespectful because they are still alive in memory and spirit. Back then, the celebration reportedly lasted a whole summer month, however, since colonization, the celebration falls on November 1-2 to coincide with All Saints' Day and All Souls' Day.
The Día de los Muertos tradition
This celebratory reunion with the deceased loved ones is actually made up of three celebrations. The first is Día de los Angelitos (Day of the little angels) which starts at midnight on November 1. Families with departed children will set-up an elaborate altar (ofrenda) filled with the departed child's favourite toys and snacks. It is believed that the child's spirit will be reunited with the family.
Exactly 24 hours later, Día de los Difuntos (Day of the dead) shifts the focus to honor the departed adults. This time, the altar is filled with baked goods, tequila, and other alcoholic beverages as family members sit together and recount the good old times they had with the deceased.
The celebrations than reach the climax on Día de los Muertos, honoring spirits of all the dead. Families gather at cemeteries and decorate graves with sugar skulls, gifts, and marigold flowers – it is thought that the strong aromas of marigold can help to entice the deceased into joining the celebration. In recent years, towns and cities across Mexico also host parades to commemorate the dead, with participants dress up in costumes.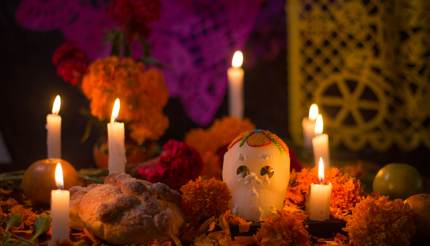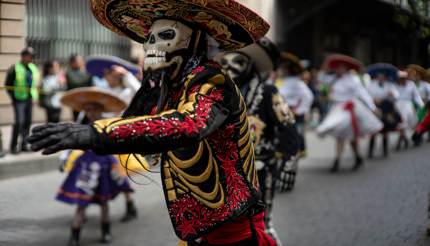 A compelling tourist attraction
Unsurprisingly, Día de los Muertos offers an immense source of tourism for Mexico, with a stream of over 7.5 million tourists visiting the country annually during this period. With the effervescent vitality of the celebration attracting people from across the globe, it's hard not to admire their approach to death as well as their appetite for a party.
Despite the tradition of skull and skeleton iconography worn by participants, any mention of 'Halloween' will rightly elicit a look of disdain, as Día de los Muertos holds no such associations. This charismatic celebration cuts to the core of Mexican culture, and as such, UNESCO recognized its significance by including it in a list of Intangible Cultural Heritage of Humanity in 2008.
Variety is the spice of life
It is important to note that the celebrations differ in different parts of Mexico, with southern and central regions holding a particular reverence for the tradition. For example, Oaxaca, in southern Mexico, celebrates for up to a week. Elsewhere, San Andrés Mixquic, a village just outside of Mexico City, is decorated with paper chains and stars in order to guide the spirits, whereas in Patzcuaro, Michoacán, people travel to the cemetery via candle-lit boats, ridden across the lake at night.
What are we drinking?
Ingrained in cultural history for over 2,500 years, the joyful reunion with the deceased spirits signifies the heart of the Día de los Muertos – and deserves the finest alcohol to match – in this case, the Altos tequila, made with 100% hand-cut Mexican blue agave.
Celebrated for its 'exceptional character and outstanding smoothness', this delicious delicacy is produced in the Highlands of Central Mexico in the Los Altos Region, known for mineral-rich soils ideal for growing agave. Just one sip of this exceptional tequila is enough to get you in the Día de los Muertos mood.
For those with a soft spot for a cocktail, we recommend mixing 9ml of our Olmeca Altos with Sunset Hummingbird Cocktail mixer consisting of 3ml of turmeric and ginger syrup, 2ml of Ramazotti and 4ml of lemon juice. For optimum pleasure, mix thoroughly and serve in a rocks glass.
Salud!
About Altos Tequila
Award-winning Altos Tequila is a masterclass created from the Highlands of Central Mexico. Made authentically from 100% pure, hand-cut blue Agave, Altos is widely acclaimed as one of the smoothest and tastiest tequilas out there. It is best enjoyed neat or on the rocks. You can purchase it online or find a store near you by clicking on this link.
If you liked this article, you might also like: