A feat to be admired, we take you through Thai wine's remarkable journey to success
Long associated with white sandy beaches, elephant rides and idyllic Instagram shots, Thailand is a popular travel destination but has not stood out as a hotspot for wine. Yet nowadays, tourists are beginning to visit one of Thailand's major vineyards.

A taste of history
In 1986, Charlerm Yoovidhya began his quest to make Thai wine the leading player in Asian wine by founding Siam Winery. Buoyed by his success in branding Red Bull (which was co-founded by his father), Charlerm's aim was to raise the appreciation of locally produced wine; first in Thailand, then globally.
Integrating wine into a drinking culture long set on beer and spirits was no easy task, so Charlerm and his team set out to adjust the taste of wine for the Thai palate and also the hot climate. As a result, they launched SPY, a brand that focuses on refreshing mineral water infused with sparkling wine. Today, SPY is wildly popular in clubs and events (including various full moon parties) across Thailand.
Given further confidence by the success of SPY, Charlerm now felt ready to make high-quality and undiluted wine. In 2001, he found a vineyard at Tab Kwang in Khao Yai. The area is said to be suitable for winemaking due to its fertile soil and less severe climate conditions.
Motivated by this find, Charlerm kept searching and found what he was looking for in a valley in Baam Khork Chang, 35km (22 miles) from the beautiful Hua Hin beach. Now referred to as 'Monsoon Valley', this site quickly became the principal vineyard for producing Monsoon Valley Wines.
Monsoon Valley Wines
Monsoon Valley Wines was now born; as Charlerm used these vineyards to produce excellent Thai wine and sold it under the Monsoon Valley label.
With over 350,000 bottles produced every year, 'Monsoon Valley' has become the face of Thai wine and the first Thai wine producer to win "Brand of the Year' at World Branding Awards 2017-18. Its Premium range also Gold at the 2015 Decanter World Wine awards.
The 'Classic', 'Premium', 'Signature' and 'Flagship' ranges of Monsoon Valley are widely produced from grapes grown in these three vineyards:
1. Hua Hin – the principle site of Monsoon Valley Vineyards (2002)
Situated just two hours from Bangkok, this 110-hectare stretch is the largest vineyard operated by Monsoon Valley. The site used to be a wild elephant sanctuary and boasts stunning views.
Grapes produced here include Shiraz, Chenin Blanc, Sangiovese and Colombard.
Monsoon Valley's research facility lies here, where winemakers can create new winemaking techniques.
2. Tab Kwang in Khao Yai – the second largest vineyard (2001)
Proudly billed as Charlerm's first found vineyard, the soil here is ideal for producing red wine grapes such as Rondon, Shiraz, Dornfelder and Sangiovese.
3. Chiang Mai (2013)
The most northern of all the vineyards, the site at Chiang Mai was founded in 2013 and it is an ideal experimentation site.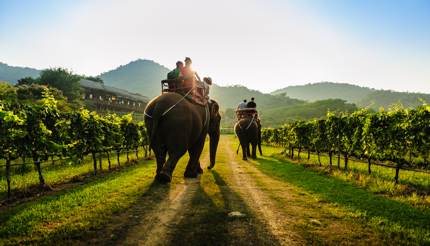 Against the odds
Viticulture in Thailand marks a revolutionary step in wine. Many experts doubted whether producing fine wine as close to the equator as Thailand would even be possible. Before, it was almost assumed that only regions situated at 30 to 50 degrees latitude north or south of the equator (like France, Italy, and Australia) were suitable for growing grapes suitable for wine production.
By operating at the 13th-degree latitude of the northern hemisphere, Thai wine proudly forged the way for 'New Latitude Wines'. Wines made in Kenya, Brazil and Indonesia join the list of wines created similarly close to the equator.
Unsurprisingly, to produce wine in this part of the world, the Thai wine industry had to overcome a number of challenges.
The challenges faced by Thai winemakers
A volatile climate Thailand's tropical and often volatile climate force Thai winemakers to target the dry season (typically September/October to March) for those 120 to 130 days usually required for grapes to ripen. Other troublesome issues caused by the climate include:
Heat and humidity – compared to more traditional wine growing regions, Thailand's vineyards experience more fungi, pests and inexplicable diseases due to heat and humidity, as well as sporadic bud-bursting periods.
Tropical winds – which can damage vines.
Rain, lots of rain – a constant worry for winegrowers. In Hua Hin on the Gulf of Thailand for instance, September and October see downpours that can erode soil and severely damage grapes.
Consistently daylight hours In traditional wine growing regions, vines thrive off long daylight hours and periods of dormancy, but in Thailand, the daylight hours are pretty much constant throughout the whole year, meaning vines can grow too excessively.
An increased need for labour A lack of dormancy period caused by Thailand's climate makes winegrowing a labour-intensive exercise. Grapes need to be removed early during the rainy season for their protection, for example. This additional labour is both expensive and difficult to find as the existence of numerous manual labourers willing to take on a high workload is a thing of the past.
Volatile soil This causes grapes to mature at different rates.
Innovative solutions used by Thai winemakers
The Thai wine industry is resilient. At Monsoon Valley, the winemakers continually test out innovative solutions including:
They work with the Geisenheim Research Centre in Germany to find types of grape that can flourish in Thailand's volatile climate.
They continue to experiment with grapes and climate conditions in their Hua Hin research facility.
They plant grasses to prevent soil erosion during monsoon season.
During the rainy season, water gets collected in several ponds to irrigate the plants during the dry season.
Elephants even help workers by transporting them around the vineyard.
A remarkable success story
Once written off as an impossible feat, Thailand now produces over 1 million bottles of wine every year – with approximately 350,000 of those distributed under the Monsoon Valley label. Most of the major wineries competing with Monsoon Valley can be found around the rolling hills of Khao Yai, 130km (81 miles) northeast of Bangkok. They include PB Valley Winery, GranMonte Vineyard & Winery, J&J Vineyard, Village Farm and Winery, to name but a few. Tourists can delight in tours and wine tasting sessions at all these vineyards.
Popular grapes include:
White wines – Chenin Blanc, White Malage, Colombard
Red wines – Shiraz, Pokdum, Sangiovese
Rose – Colombard, White Shiraz
Sparkling wine – Colombard
If you enjoyed this article, you might also be interested in:
This article was first published in August 2016 and updated in November 2019.