Rum is synonymous with Cuba, and Havana Club is synonymous with Cuban rum, so we sent Robin Brown to Cuba with Havana Club to drink rum in copious quantities
Is there any coincidence that the word 'rum' is the main constituent of the word 'rumba?'
It gets even more conspiratorial too: the word 'rumba' originates from the Spanish word rumbear, which means having a good time, partying and dancing. After all, what would a good rumbear be without an excellent bottle of rum?
Cuba of course, has all three – rum, rumba and rumbear – in copious quantities, so join me to dive deeper into the partying spirit that fuels a good rumbear, in this case Havana Club rum.
I love rum and my taste buds have flirted with popular Caribbean spiced staples to cask-strength rums from Panama and Nicaragua. I want to experience the endless, beguiling varieties of rum available, which is why I'm here in Cuba, the home turf of Havana Club.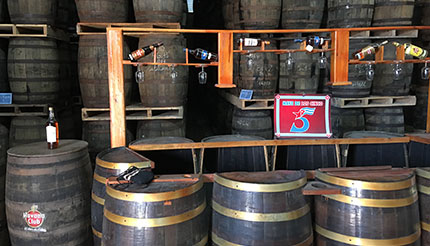 Cuban Rum
Havana Club's distillery warehouse, specifically the makeshift tasting bar with plenty of rustic charm, makes the rightful start of my trip. There must be at tens of thousands of barrels of ageing rum stacked neatly from floor to ceiling. The heady scent of warm molasses and musty oak perfume the air. With all that angel's share I feel a slight intoxication just by inhaling the air. The lady behind the bar points to the bottles signed by Asbel Morales (one of the world's foremost rum masters) and asks if I'd like to sample some. I nod, dropping my chin so low that it almost seems like a bow. Perhaps it's time to kowtow to the master.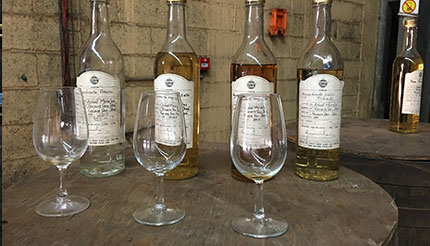 She pours me a few glasses of base rum from different years and I study them with respectful reverence.
There's something about a libation that embodies the spirit of Cuba. First the colour; Havana Club's dark rum usually burns with a shade of gorgeous gold or reddish brown. Then there's the caramel-like aroma and the taste – I take a sip, let the swirls of liquid roll across my tongue and awaken my receptors.
My favourite, I soon discover, is Havana Club Unión. A lovechild born from the desires of Havana Club's Maestro Ronero Asbel Morales and Fernando Fernández, a renowned Cuban cigar sommelier, Unión aims to create the perfect blend for the discerning rum and cigar aficionado. It has a pleasant vanilla-like sweetness, a deep lingering richness and distinct smoky note that commands every attention from my taste buds like a demanding mistress.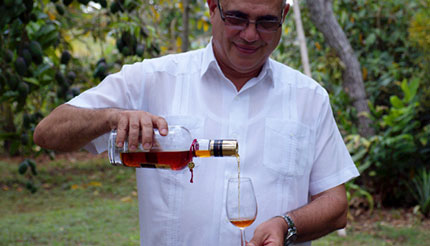 Will the real Havana Club please step forward?
The brand Havana Club is synonymous with Cuban rum. The family of Jose Arechabala first launched the brand in Cárdenas, about 147-km (91 miles) east of Havana in 1934. In 1959 during the Cuban Revolution, the brand was nationalised and the Arechabala family left Cuba. Later in 1994, the Cuban government launched a joint-venture with Pernod Ricard to produce Cuban rum under the Havana Club brand and sell it worldwide, barring the United States.
During the same year, the Arechabala sold the rights to the brand to Bacardi. Rumour has it the Bacardi also bought the original recipe from the Arechabala family, who did this to spite the Cuban government. So Barcardi began to produce rum in Puerto Rico under the same name and selling it to the United States. The upshot is, the two companies have been engaging in a bitter battle over rights and trademarks for the Havana Club brand ever since. As of August 2018, the legal case is still yet to be resolved and some say President Trump may get involved, which will be interesting if it happens.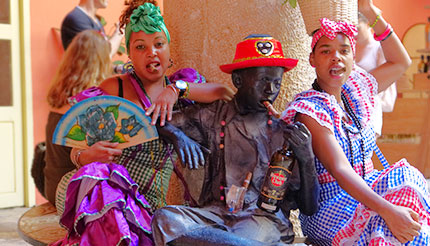 With one version of Havana Club being produced in Cuba and the other claiming to use the original recipe, the rivalry is stirring, but it does add an intriguing touch to both versions when you try to explore the differences they offer. Personally, I just love rum, and I'm happy to drink them all.
Rum & the mojito
White rum, the toddler version of dark rum, is the centrepiece to a great mojito, the go-to aperitif in Cuba. Refreshing, yet invigorating, this long drink is a firm favourite among many people when the sun is out and the mercury inches upwards to the upper 20's Celsius. In other words, it is a perfect drink for the positively tropical Cuba.
The mojito's popularity has inspired countless variations at bars around Havana. Apart from simple tricks like adding Angostura bitters and replacing lime juice with lemon juice, some bars in Havana also add their own extravagant decorative twist to the final presentation. After drinking more than a dozen versions across Havana, I think – I'm certain – that they are all equally delicious which means I should keep trying in the name of research.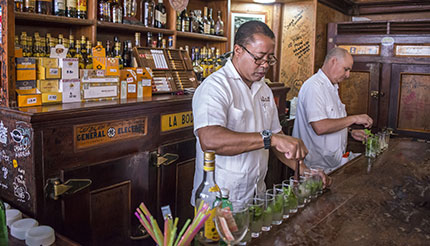 La Bodeguita del Medio (Calle Empedrado 207, Havana, 10100, Cuba) credits itself as the birthplace of the mojito, although many myths surround the mojito's origins. Some stories trace the origins of the drink back to the times of Sir Francis Drake when he sailed into Havana, where a drink, provided by locals with similar ingredients, was used to treat an outbreak of dysentery and scurvy onboard. Others contend that it originated from the African slaves working in the sugar cane fields.
Among the many stories and variations, one elegant version of the mojito stands out, the Old Cuban, invented by Audrey Saunders in New York City in 2002. Think of the Old Cuban as the Americana mojito – replacing soda water with a middle-class favourite, champagne.
Rum & the daiquiri
The daiquiri is said to owe its origins to an American named Jennings Cox who was in Cuba around the time of the Spanish-American war, working as a mining engineer. It's also the name of a beach and an iron mine near Santiago de Cuba. Just as the mojito has a credited birthplace, so does the daiquiri, and that would be La Floridita (Calle Obispo 557, Havana, Cuba).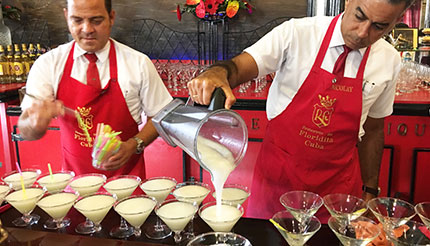 Rum & 'grog'
By the 1740s, the British had got hold of rum from the New World and the Royal navy wisely introduced 'grog' to its servicemen as a means to prevent dysentery and scurvy. To make a good grog you need only four ingredients: rum, water, sugar, and lemon or lime juice; essentially just a mojito without the soda and hold the mint.
Rum & Hemingway
No drink is complete without a famous benefactor, and in the case of both the mojito and the daiquiri, it's none other than the famous American writer and prolific traveller, Ernest Hemingway. Hemingway was a frequent patron of both La Bodeguita and La Floridita, so much so La Foridita has a bronze likeness of the author in the exact spot the author liked to sit at. Each day a fresh daiquiri is placed by the statue in homage to the great man. Not surprisingly, it's a magnet for tourists armed with selfie sticks. At La Bodeguita, you can see a quote on the wall by Hemingway that reads "My mojito in La Bodeguita, My daiquiri in El Floridita."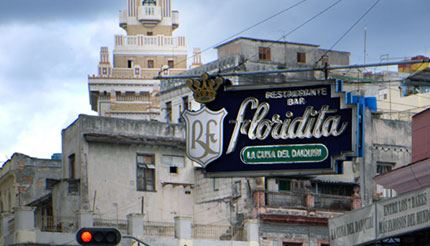 Best places to drink rum in Cuba
Apart from La Foridita and La Bodeguita, read on to discover offbeat places to enjoy rum in Cuba.
Havana Club Rum Museum
This is an excellent starting point for rum-loving souls. You can try different rum-based cocktails, plus taste and purchase a wide range of Havana Club rums. Tours around the museum are also available, giving you a chance to learn the complete history of rum production in Cuba and check out the absolutely amazing scale model of a rum distillery, complete with working model railway and effects. Tours run every 30 minutes and cost around US$5, and you get a shot of rum at the end too. Address: Museo del Ron Havana Club, Sol, Old Havana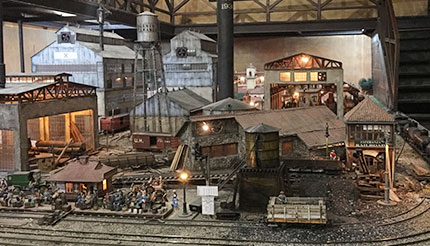 Cuban Art Factory
If you want to enjoy rum in an artistic setting, then head to Fabrica de Arte Cubano (F.A.C.), one of Cuba's hottest night spots. Set in a former cooking oil factory, the surrounding is quite industry but the air is unmistakably artistic. The venue now promotes local Cuban artists, writers, photographers, filmmakers and performers. The bars serve most varieties of local rum, including of course, Havana Club. It's usually packed to the rafters by 11pm. Address: Fabrica de Arte Cubano, 26, Vedado, Havana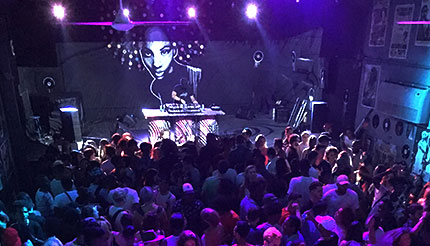 La Guarida
One of the newer bars on the scene, La Guarida is a very trendy upmarket rooftop bar offering excellent views over Central Havana. It's attached to La Guarida restaurant, one of Havana's best paladares (authentic Cuban home-style dining) and famous for its celebrity diners. Address: 418 Concordia, Habana Centro
El Del Frente
Tucked away behind an unassuming doorway in the popular O'Reilly thoroughfare, a climb up narrow stairs leads to a bar and eventually a rooftop bar. A buzzing atmosphere at lunchtime or evening, El Del Frente serves huge and artistically decorated cocktails, especially the mojito. The ceviche and tacos make a great accompaniment to a superb rum cocktail experience all backed by chilled tunes from the local music scene and large umbrellas to shade under. Address: 303 O'Reilly, Habana Vieja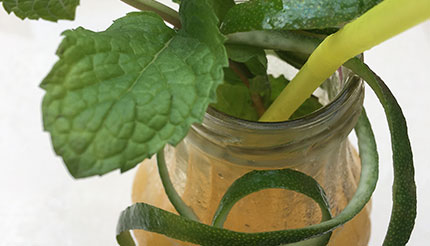 Havana Club Rums
One of the great attributes of Havana Club is the wide range of rums designed for every taste and occasion.
The 3 Anos: this is an awesome light rum best used as the base of a mojito and other tall light rum cocktails.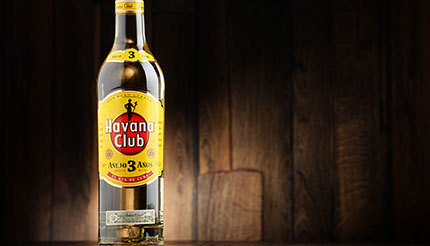 The Anejo Especial: the perfect base for a Cuba Libre and tall dark rum cocktails.
The 7 Anos: ideal for more shippable cocktails like the Rum Old Fashioned.
The 15 Anos: if you enjoy a touch of luxury and taking gentle sips to feel the complex flavour profile, this limited edition rum is for you.
Havana Club Cohiba Atmosheres Union: born out of a passion for matching the perfect rum with the perfect cigar, the Union may hurt your pocket but it's worth every penny.
Havana Club Maximo Extra: cream of the crop. Only 1,000 bottles were produced, and with it revealing a multitude of flavours as I sip, I must say it is an exceptional rum on any level.
For a complete list of Havana Club's range of rums check out their site at www.havana-club.com.
Also check out Havan Clubs contribution to the local art music and culture scene, through the Havana Cultura website.