Never mind the origin of the dish (France and Belgium both claim ownership), French fries, or chips, are ubiquitous. We slather them with ketchup, dunk them in mayonnaise, pour salt and vinegar all over them; we cut them thick and thin, straight and curly. The possibilities are endless.
And no topping is too exotic. Melted cheese or spicy chilli may be common, but how about garlic crab French fries, with the most succulent crab meat, or cheese curds and gravy, or satay sauce? Caroline Statile delved into different cultures around the globe to explore the infinitely varied ways of preparing the humble potato.
Poutine, Canada
In the province of Quebec, these thick-cut fries are served hot and topped with cheese curds, a Canadian food staple made from the solid part of curdled milk. For the final touch, a savoury brown gravy is drizzled on top. Other variations include adding sausage, chicken, bacon, or Montreal-style smoked meat. Tasty and comforting, Poutine is so popular that you can even buy them at McDonald's across Canada.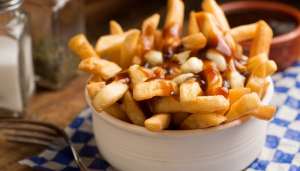 Masala Chips, Kenya
Potato is one of the most consumed produce in Kenya and many Kenyans love Masala chips, fries that come smothered in a spicy tomato sauce. The sauce is typically made from tomato and garlic paste, along with a blend of spices such as garam masala, chillies, and turmeric. To finish off the dish, tangy lemon juice is squeezed on top.
Patatas Bravas, Spain
A classic tapa dish, Patatas Bravas aren't deep fried but cubed roast potatoes covered in a sauce which differs depending on the area in Spain. In Burgos, it's typically tomato-based with added spices to give it bite. In Valencia or Catalonia, the sauce is made from olive oil, garlic, red pepper and vinegar. If you ever go to Madrid, check out the legendary restaurant Las Bravas which patented its secret sauce in 1960.
Salchipapas, Peru
Sausage and fries are always a winning combination and Salchipapas are just that – the fries come mixed with thinly sliced pan-fried beef sausages and a side of salsa or coleslaw. The dish is also served with an array of sauces: ketchup, mayonnaise, crema de aceituna (olive sauce), and aji (chilli peppers). Though originating in Lima, Peru, this dish has become a classic street food throughout Latin America.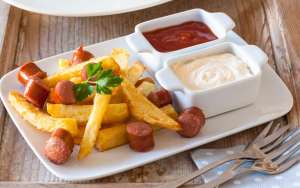 Patatje oorlog, Netherlands
The Dutch love Indonesian food, so much so that they use the sauce and topping for satay (peanut sauce and raw onions) for fries as well. Called Patatie oorlog or "war chips," this common street food in the Netherlands typically comes piled high in a paper cone. Along with peanut sauce and raw onions, a dollop of mayonnaise is added for extra creaminess. Yum!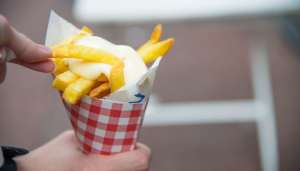 Curry Chips, UK & Ireland
Don't expect to find this in India. Curry chips (curry fries) are unique to the UK and Ireland whose residents frequently voted curry as their number 1 dish. The curry here is known as 'Chip Shop Curry', referring to the British version of curry that you get from some Fish 'n Chips shops. Pour the curry all over thick-cut chips, serve it with a piece of fried fish or on its own; this dish is a favourite among Brits and Irish.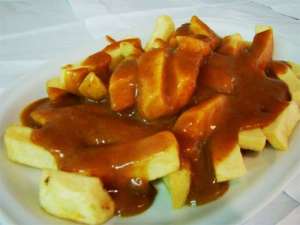 Slap Chips, South Africa
South Africans keep their fries simple, with vinegar serving as the star component of the dish. To begin, thickly cut potatoes are soaked in a vinegar bath to give them a tangy taste. Next, they are fried twice to ensure that each batch is crunchy on the outside and soft on the inside.
Bratkartoffeln, Germany
Crispy bacon and sautéed onions are combined with pan-fried potato wedges to create this German dish. It's topped with salt, pepper, and often fresh parsley.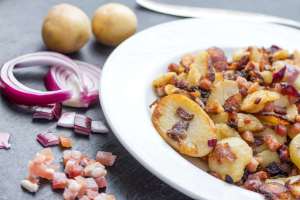 Khoai tây chiên, Vietnam
Forget the notion that fries are supposed to be savoury. In Vietnam, fries are dipped in butter and then swirled in white sugar – soft and sweet, great to go with a cup of Vietnamese coffee.